Enjoy this delicious crispy chili beef that's deep-fried to perfection and tossed in a five spice and chili flake seasoning.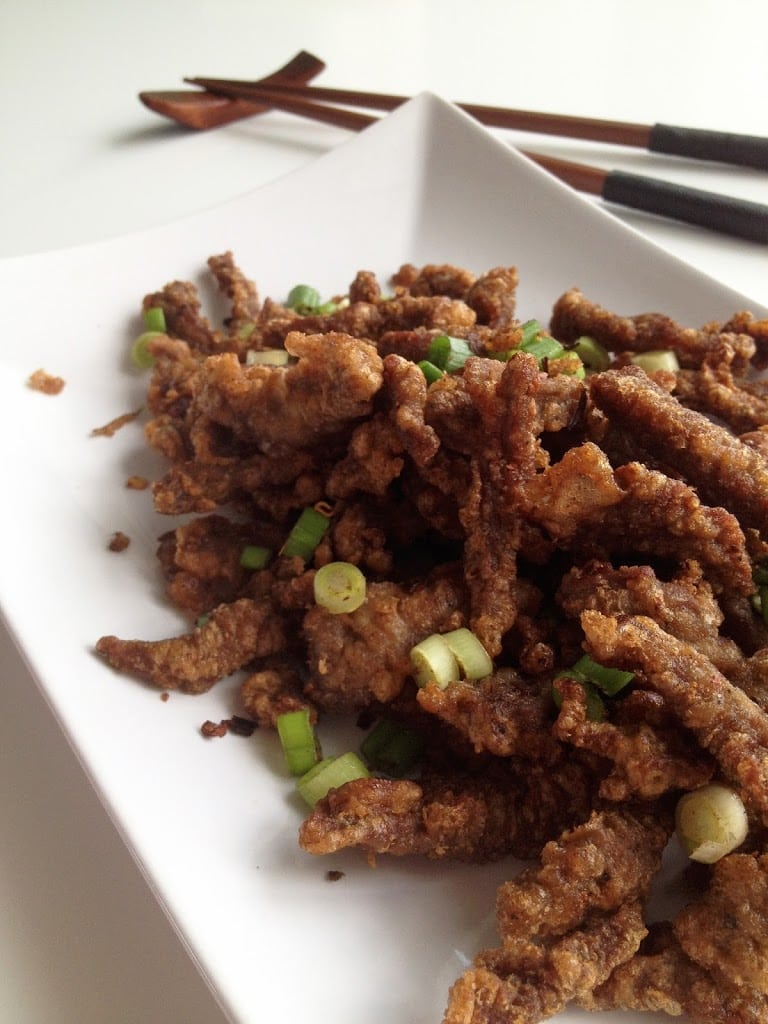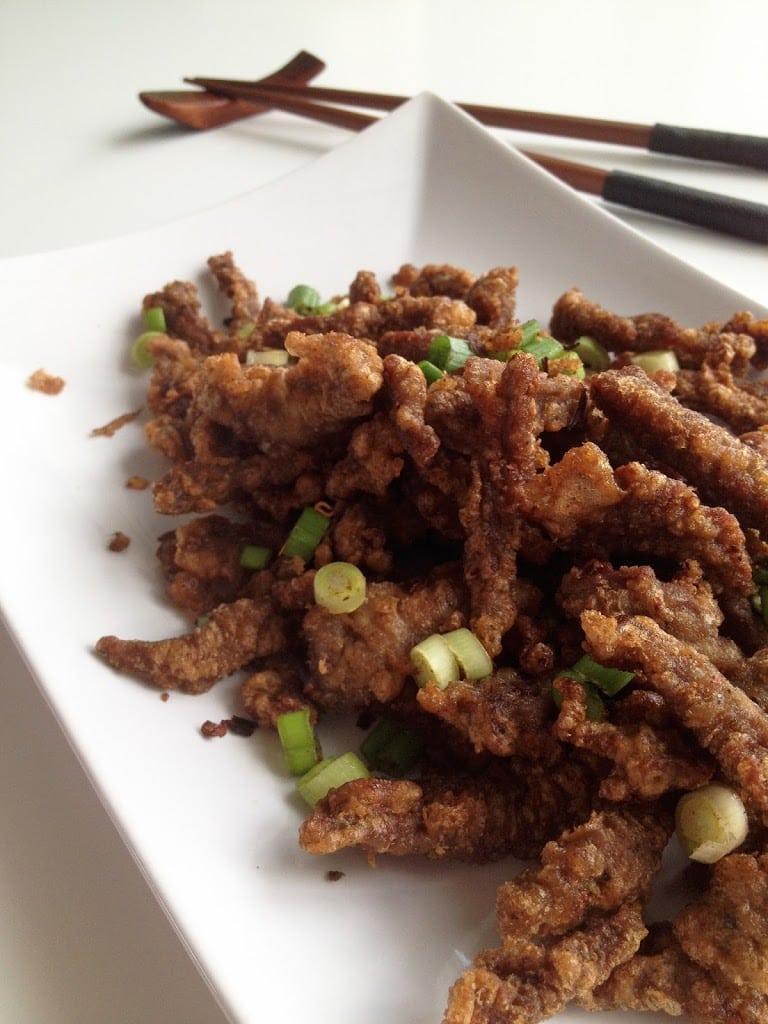 If there's one thing I love it's crispy anything. People tend to give me weird looks for only devouring the crispy skin of deep-fried chicken with gusto while begrudgingly finishing off the white meat underneath. The same thing goes for turkey on Thanksgiving; while family members would be enjoying long slabs of white meat, I'd be enjoying long unappetizing-looking strips of crisp skin. Probably not good for me, actually I know for a fact it isn't good for me, but it's one of those simple pleasures in life.


I thoroughly enjoyed Taiwanese Popcorn Chicken with five spice seasonings in them so when I came across this recipe for five spice seasoned crispy beef strips, I knew it would be making a debut here. The original recipe called for deep-frying accompanying garnishes as well but I thought that was a little too much deep-frying for my taste. However, if you want to take that additional step, you can add in deep-fried onions, green onions and chili slices.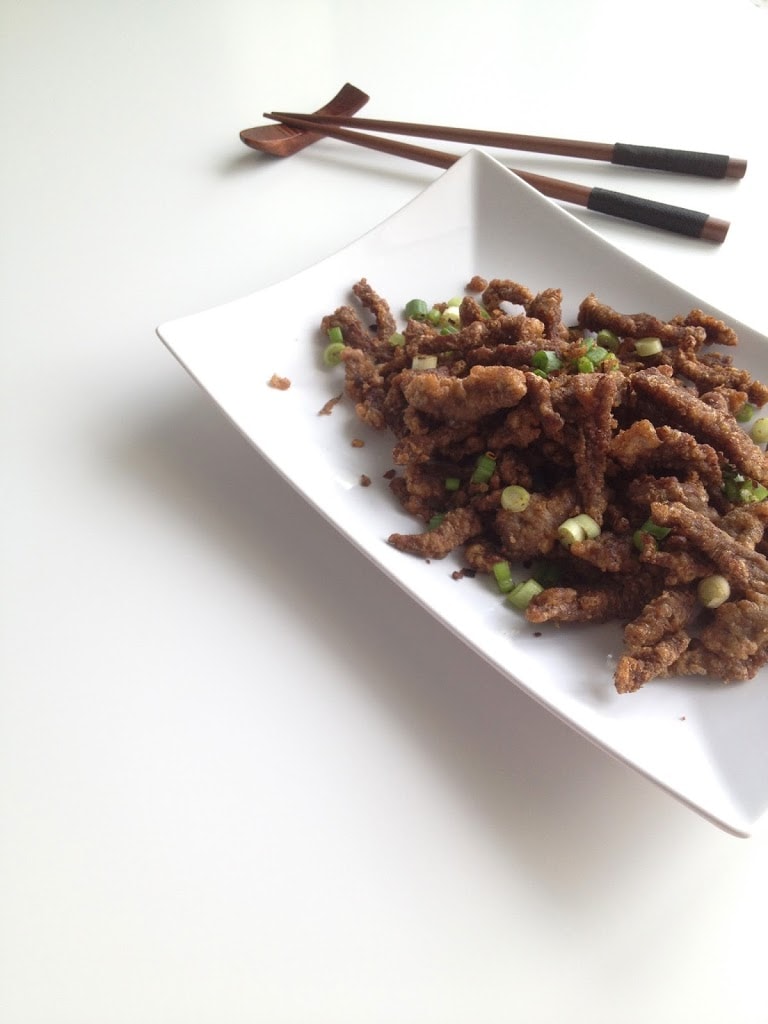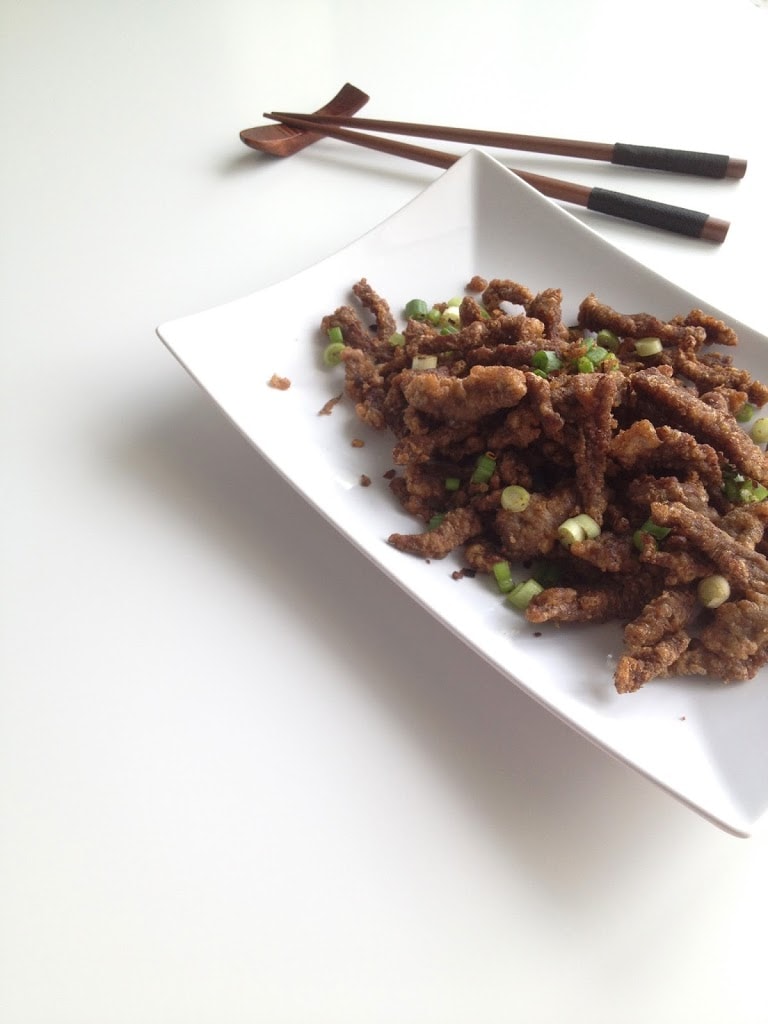 CRISPY CHILI BEEF RECIPE TIPS
Beef – Use beef flank or a cut of beef that's good for stir-frying. Avoid any tough cuts. Slice along the grain to have strong, thin strips that don't break apart.
Frying – Allow about 10 seconds or so during the deep-frying stage for the individual battered strips to 'settle' before stirring them or they will clump together. Lower the heat to medium once the oil is hot and splatters.
And that's it. Enjoy!
Did you make this recipe? Rate it!
♡ If you liked this recipe, giving it a star rating ★★★★★ in the comments below really helps! For more recipes, subscribe to my newsletter or follow me on Facebook, Instagram and Pinterest.
Print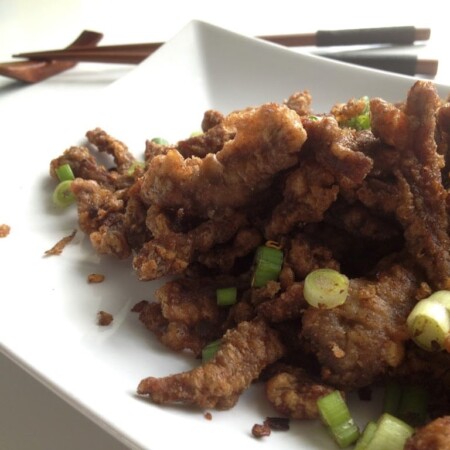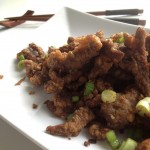 Crispy Chili Beef
---
Description
Enjoy this delicious crispy chili beef that's deep-fried to perfection and tossed in an addictive five spice and chili flake seasoning.
---
1/2 lb. beef flank, cut into thin strips
2 1/2 tablespoons cornstarch, divided
1 1/2 teaspoons five spice powder, divided
1 teaspoon chili flakes
1 large egg, beaten
1 teaspoon sea salt
1/2 teaspoon pepper
---
Instructions
Toss the beef strips in 2 tablespoons of cornstarch and coat them thoroughly.
Mix salt, 1 teaspoon five spice powder, 1 teaspoon cornstarch and pepper with the egg, beating to get rid of any clumps.
Toss the beef strips in the batter.
Over medium-high heat, deep-fry the battered beef strips in batches for 2 minutes or until golden brown. Drain on paper towels.
Mix the remaining five spice powder with chili flakes and toss with the fried beef strips.
Dish and serve immediately.
Enjoy!