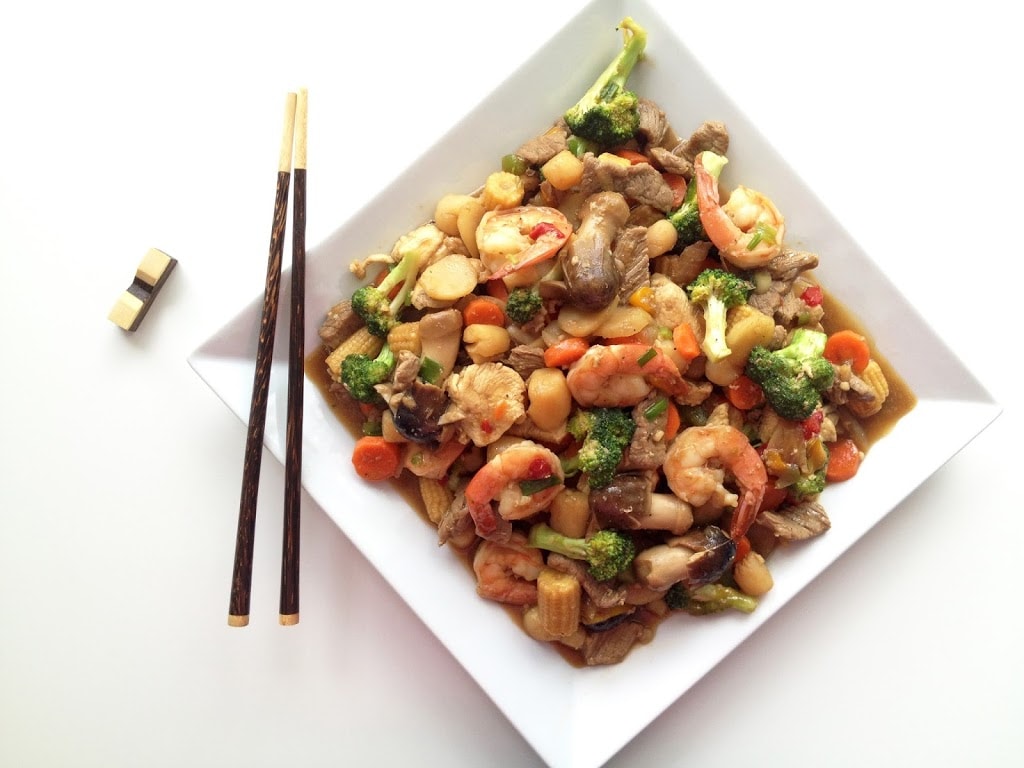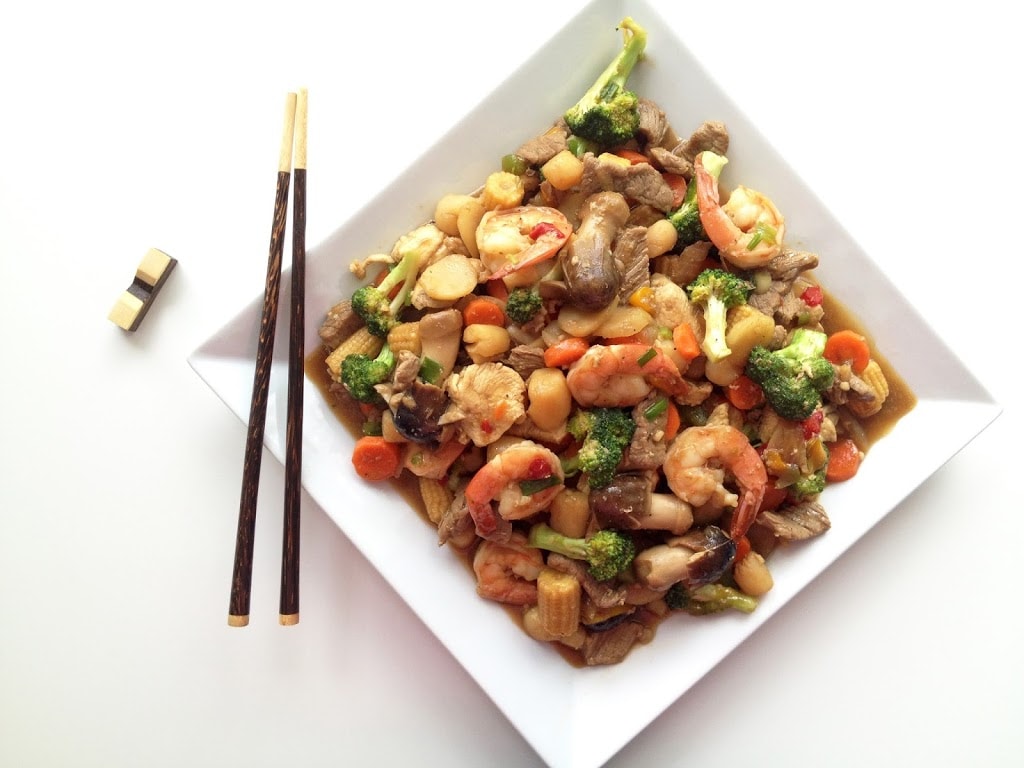 Happy Family is an American-Chinese dish and the premise behind the unique name is that every ingredient can co-exist in culinary harmony despite their differences. This one-pot meal contains all the proteins and nutrients you need for a balanced meal and goes great paired with steamed rice.
At the heart of it is a robust Asian brown sauce with several levels of flavor thanks to the addition of a variety of sauces. You'll need a big wok or pot for this one so you can toss it around without worrying about a mess. Let's get started.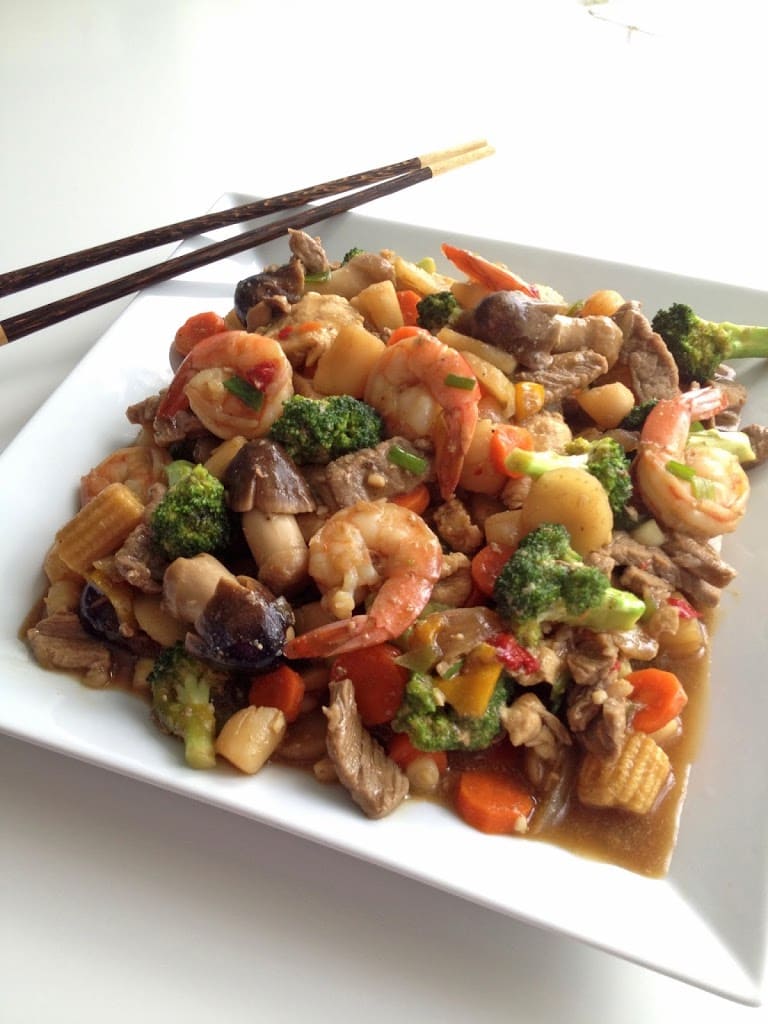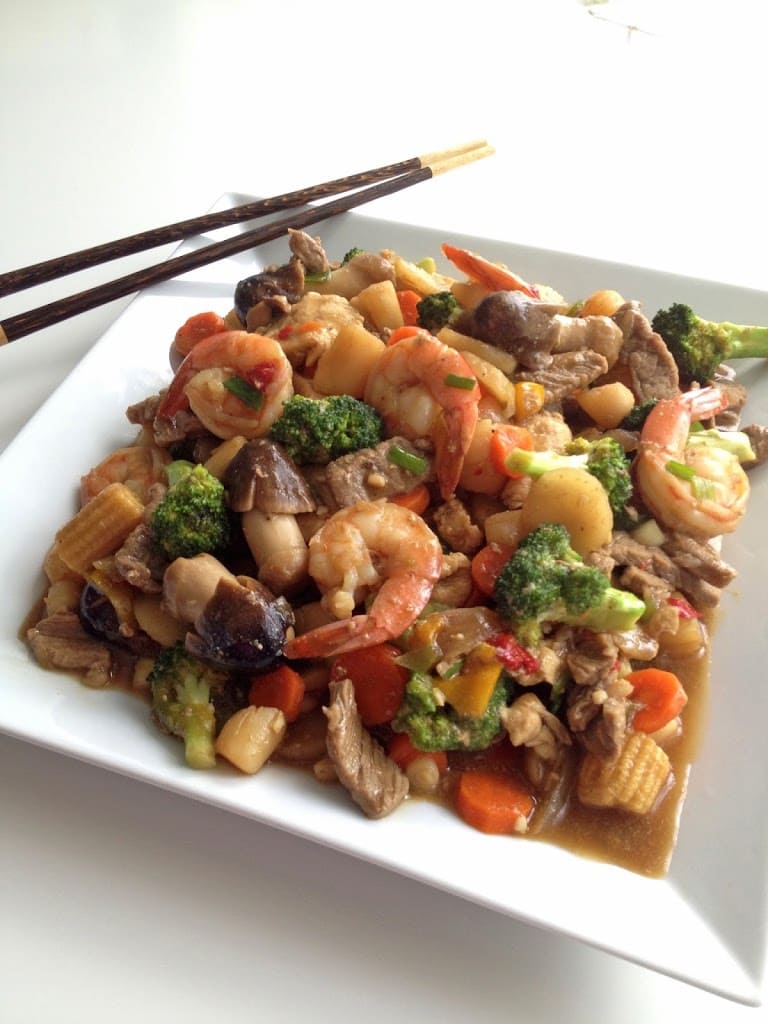 Given the huge quantity of ingredients, it's not expected to have everything in your pantry unless you specifically shop for it, so feel free to mix and match and omit if needed. The only thing you need to really stick to are the aromatics and the brown sauce, which is the base flavor for the entire dish.
This meal will feed a crowd, or happy family if you will. It's cooked over high heats and quickly as are most stir-fries, so I suggest prepping everything in advance and having it all close at hand. Some veggies will be added at varying times since they cook differently and the aim is to have al dente veggies while still keeping the crunch factor. Soggy veggies are a big no-no.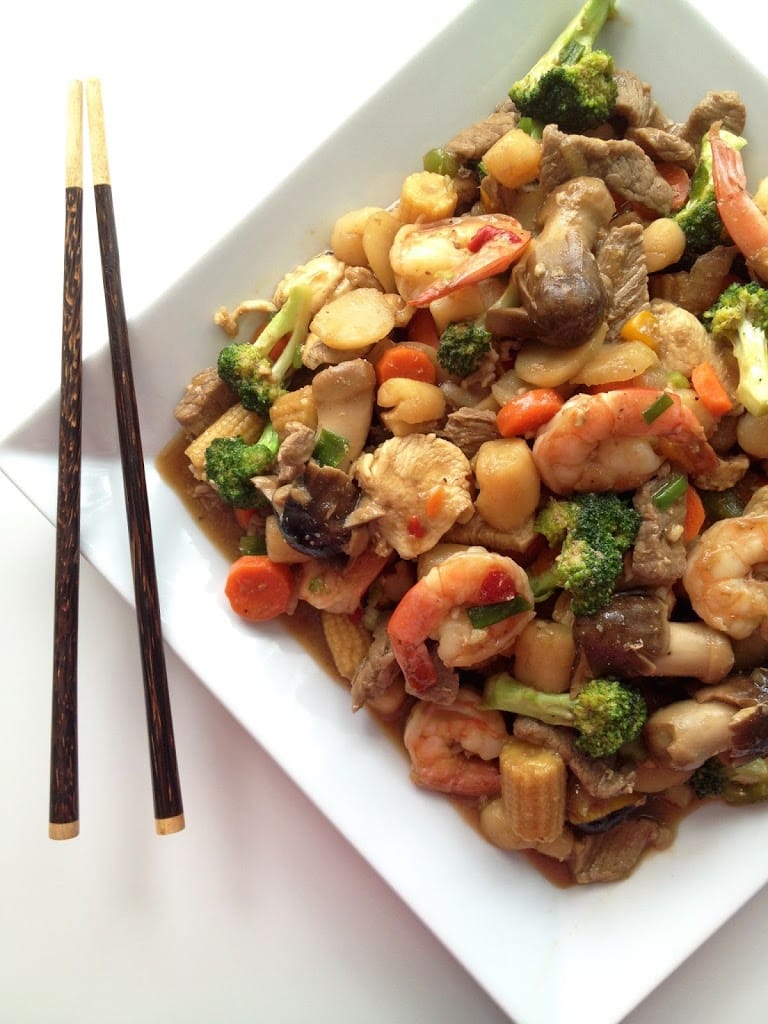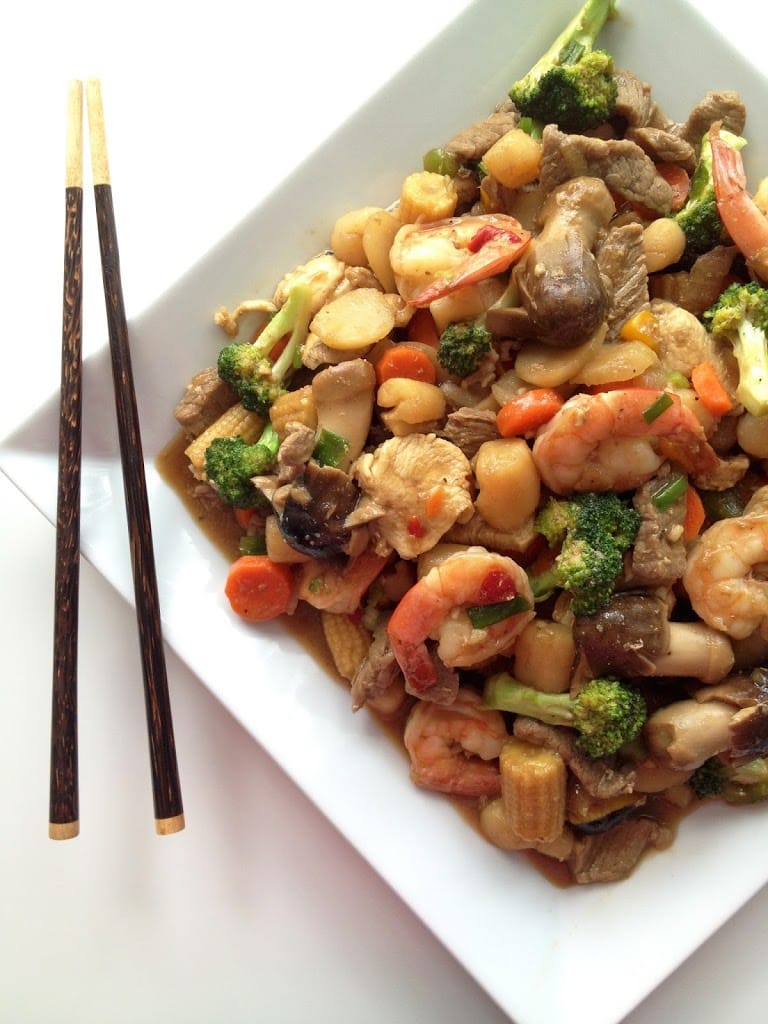 You can find most of the ingredients in regular grocery stores, with water chestnuts and baby corn in the ethnic aisle. Straw mushrooms can be found in your local Asian grocery store but again, you can substitute it with shiitake or any other mushrooms you have at hand. I've actually seen a pretty good selection of Asian mushrooms in my local grocery store, hanging out with the rest of the mushrooms so you might get lucky there. All the sauces can be found in an Asian grocery store.
HAPPY FAMILY STIR-FRY RECIPE TIPS
Thin soy sauce: This is your regular, everyday salty-based soy sauce like the Kikkoman. You will not need to add any more salt to the stir-fry because it all comes from here.
Thick/sweet soy sauce: This soy sauce is thicker with a consistency like molasses, darker, and sweetened with sugar. I like using the ABC brand of Kicap Manis which literally translates to 'sweet soy sauce'. Besides adding sweetness to a dish, it also adds color.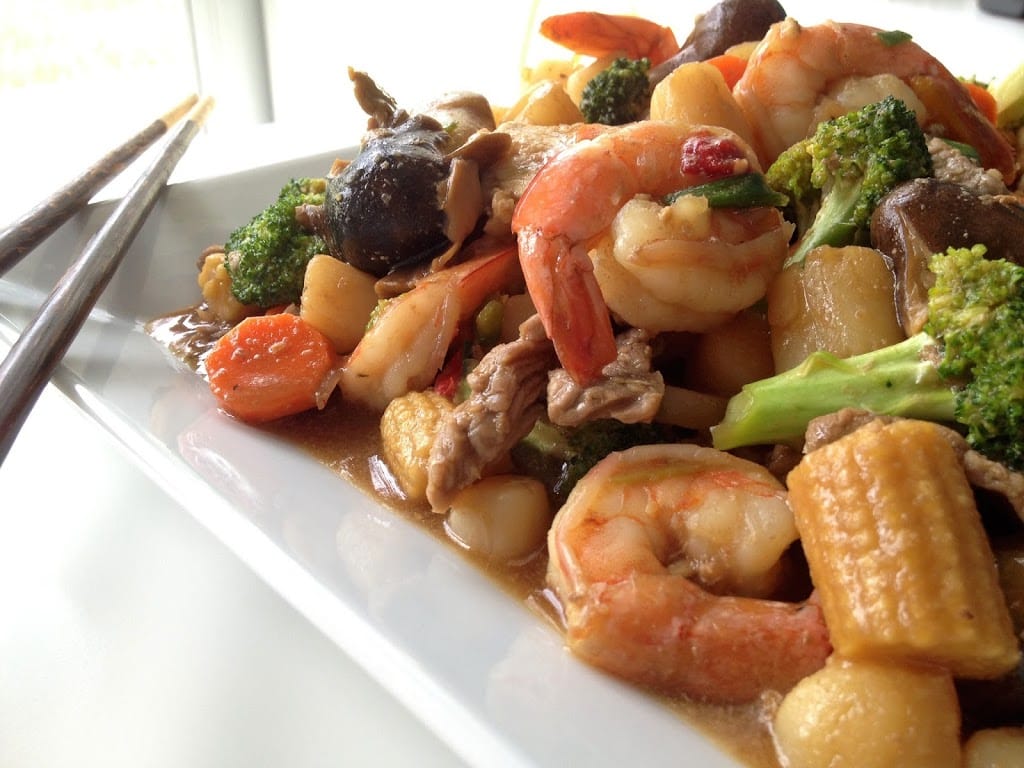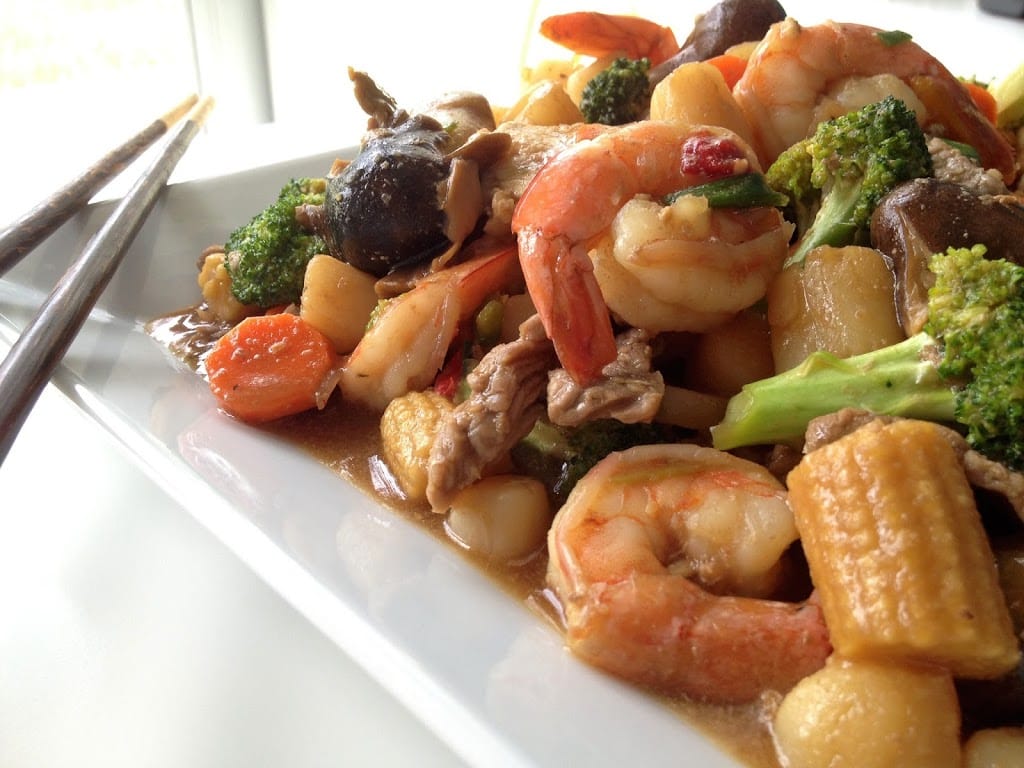 Oyster sauce: You can't substitute this with anything else. It has a very unique flavor and brand selection is important or you'll end up with a subpar and totally different taste from how it should be. My go-to brand for oyster sauce is the Lee Kum Kee panda brand. I do not suggest shopping for the oyster sauce in the ethnic aisle of your regular grocery store. I've tried some brands they keep there and it was completely different from the flavor profile I grew up with and love. You can make plenty of other things with oyster sauce once you invest to add it to your pantry. it goes great with Asian-inspired vegetables like baby kailan in oyster sauce or mushrooms in oyster sauce. It also goes great with noodles; I like adding soy sauce, sweet soy sauce and oyster sauce to my noodles as a base.
Sesame oil: This is a finishing oil, not oil you cook with. It's intended to add a smoky flavor to the finished dish so a light drizzle at the tail end of the stir-fry is all you need. My favorite brand for this one is Kadoya sesame oil.
And that's about it. Happy cooking and enjoy.
Did you make this recipe? Rate it!
♡ If you liked this recipe, giving it a star rating ★★★★★ in the comments below really helps! For more recipes, subscribe to my newsletter or follow me on Facebook, Instagram and Pinterest.
Print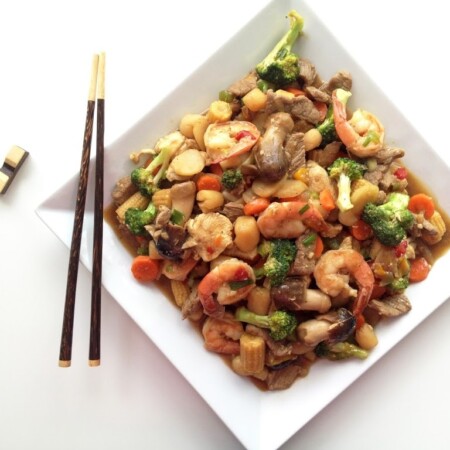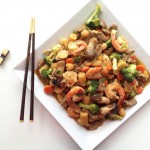 Happy Family Stir-Fry
---
Meats
1 boneless, skinless chicken breast, sliced thinly
1/2 lb. beef, sliced thinly
6 large prawns, shelled with tail on
1/2 cup scallops
Vegetables
2 cups broccoli florets
1/4 cup carrots, sliced
1/2 cup straw mushrooms
1/2 cup water chestnuts
1 cup baby corn
1/2 cup snow peas
1/2 cup green, yellow, red bell peppers, chopped
3 green onions, sliced
Aromatics
1/2 tablespoon garlic, minced
1/2 tablespoon ginger, minced
1 teaspoon sesame oil
Sauce
1/2 cup beef broth
1 1/2 tablespoons oyster sauce
1 1/2 tablespoons thin soy sauce
1 1/2 tablespoons sweet/thick soy sauce
3 tablespoons sugar
Pepper to taste
1 tablespoon cornstarch mixed with 2 tablespoons cold water
---
Instructions
Combine the sauce ingredients except for the cornstarch slurry.
Over medium-high heat in a wok or big pan, saute the garlic and ginger until fragrant.
Toss in the beef, chicken, prawns and scallops and stir-fry until the beef is browned, chicken is no longer pink and prawns turn pink.
Toss in the vegetables, leaving out the broccoli and green onions, and toss to combine, stir-frying for 2 minutes.
Pour in the sauce mixture and stir to mix thoroughly.
Pour in cornstarch slurry and simmer until the sauce thickens.
Toss in the broccoli and green onions and stir-fry for another minute.
Remove from heat, drizzle with sesame oil and add a dash of pepper, mixing well.
Dish and serve hot.