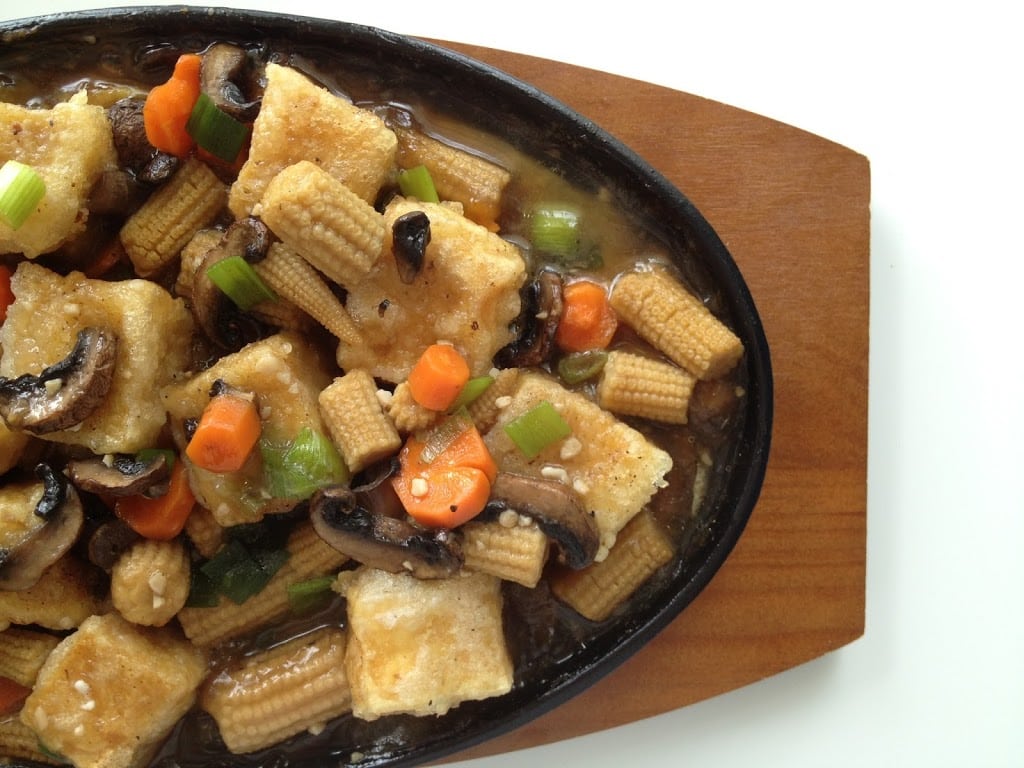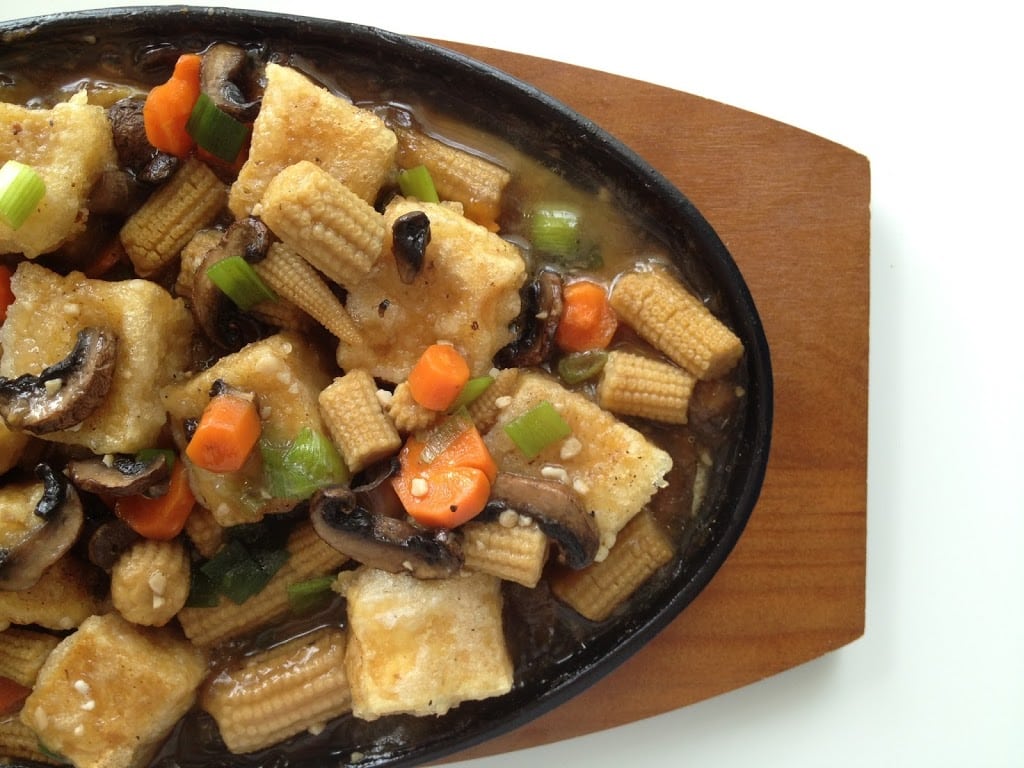 These deep-fried tofu rest on a bed of vegetables covered in bubbling hot, brown sauce and is served on a sizzling plate. And we all know everyone loves sizzling hot plates! Hot plate tofu was always one of my favorite go-to dishes eating out, where the sizzling hot plate delivered to your table was always an occasion for celebration and much envy. I never liked tofu before then. But this really changed my mind. And it's not just the sizzle factor that makes this great cause for being just a plate of vegetables, it tastes really freaking great.
I would convert to vegetarianism if all the food was like this. That's how good it is!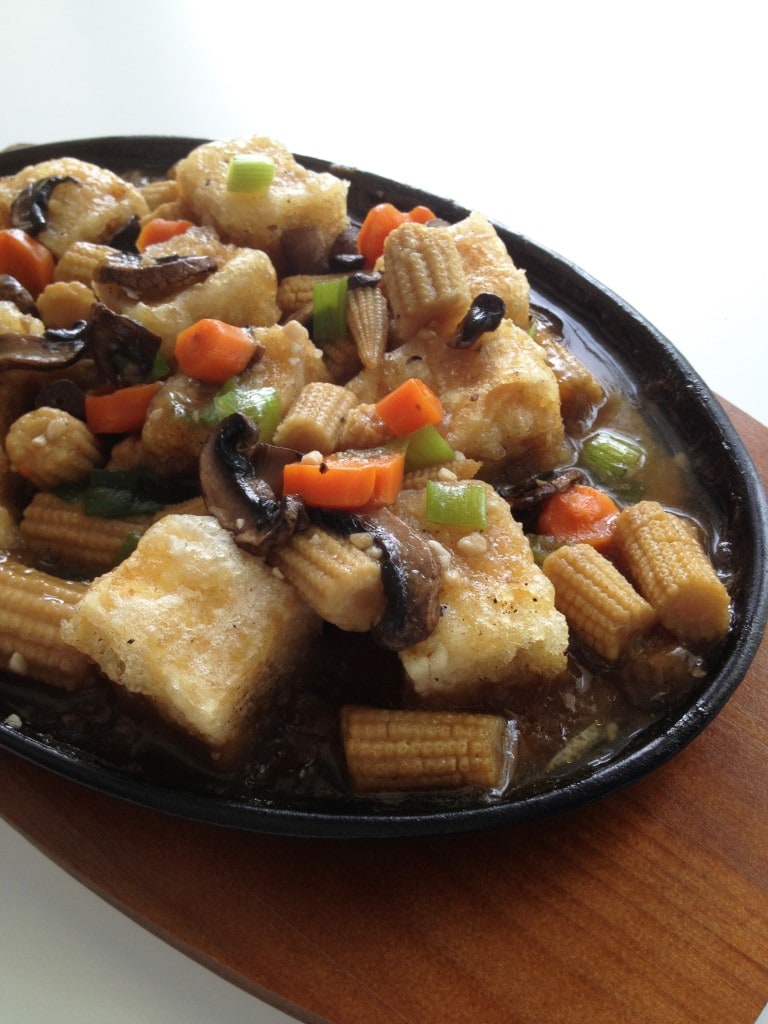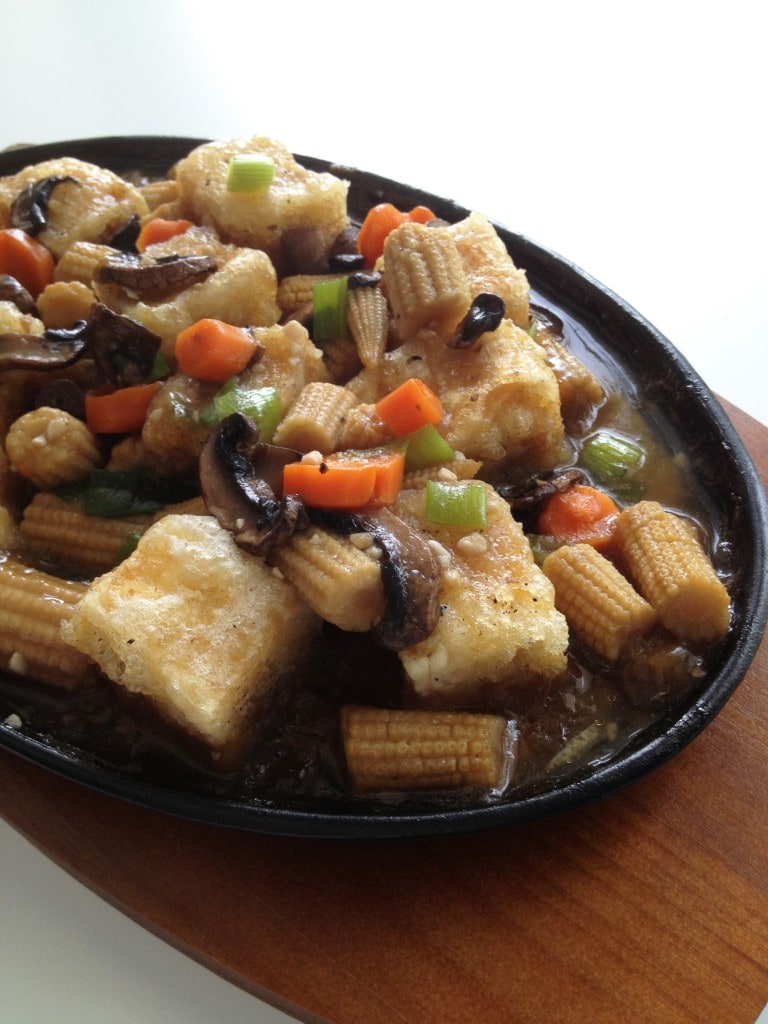 So here's a modified version of hot plate tofu. If I recall, the version I used to order at restaurants used fried egg tofu, not the firm kind.  I've had problems frying the egg tofu and keeping it intact, so I need more practice. Using firm tofu is easier. There's also a variation on the types of vegetables paired with it.
It's a three-part process preparing this: the deep-frying of the tofu, the preparation of the sauce in the background and finally, the coming together of both on a hot plate. I use a fajita pan so if you have one sitting in your kitchen, try this out. It's good enough to turn people who snub their noses at tofu, into tofu lovers. No, really!
Now if you're strictly vegetarian, use vegetable broth in lieu of chicken broth. Otherwise, if you don't mind the chicken, use that. Happy eating!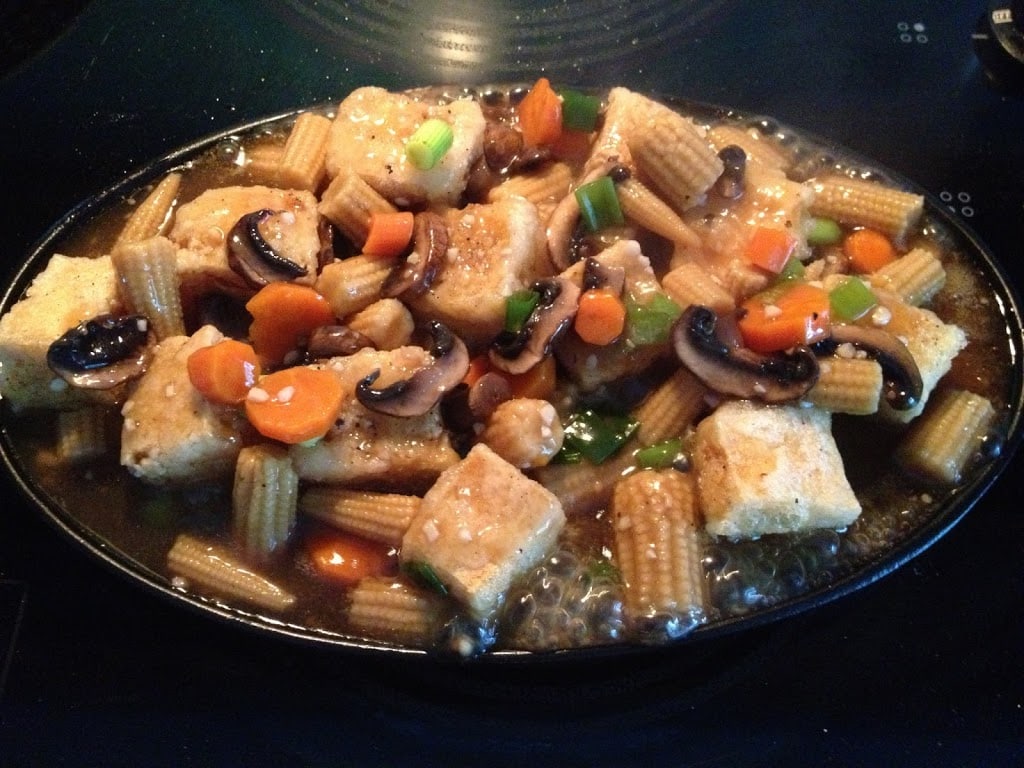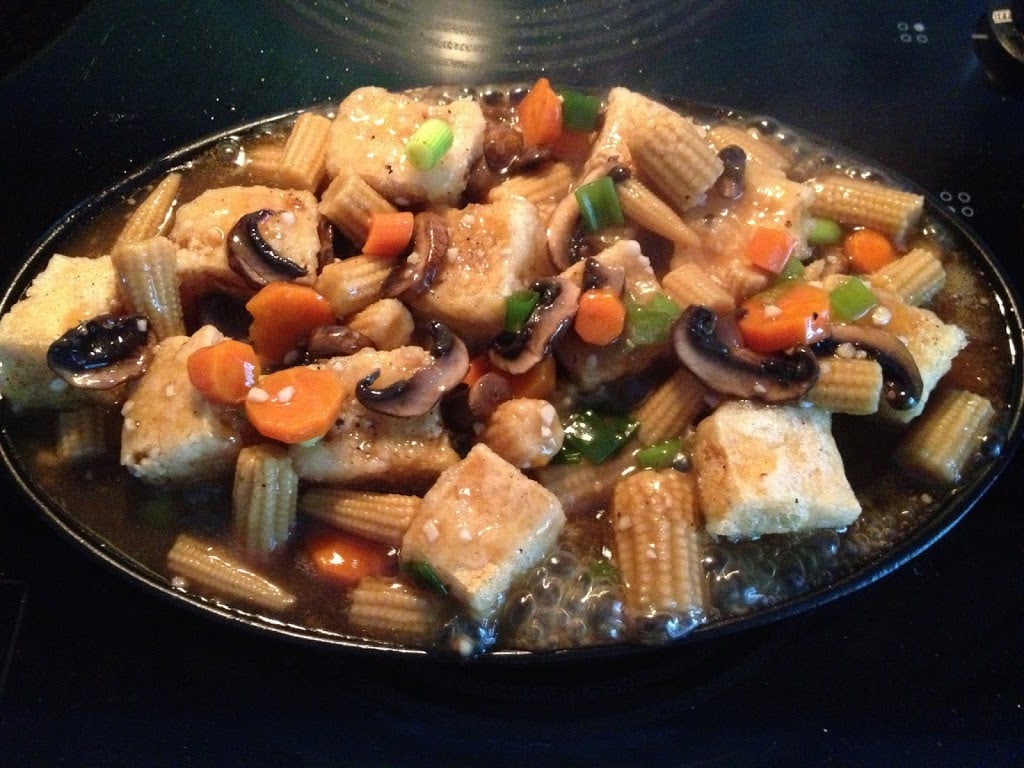 Print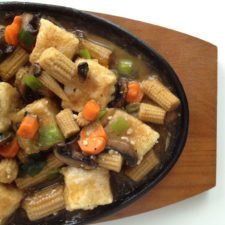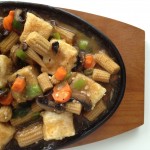 Hot Plate Tofu
---
2

blocks of firm tofu, cut into cubes, about

12

pieces

3 tablespoons

cornstarch

2 cups

sweet baby corn, straw or sliced portobello mushrooms and sliced carrots

1

green onion, sliced

1

egg, beaten

2 teaspoons

cornstarch mixed with 2 tablespoons cold water
Sauce:
1 cup

chicken broth/vegetable broth

1 tablespoon

garlic, minced

1/2 teaspoon

ginger, minced

1 tablespoon

oyster sauce

1 teaspoon

light soy sauce

1 teaspoon

sesame oil

1 tablespoon

sugar
Pepper to taste
---
Instructions
Dredge the tofu in cornstarch and deep-fry in batches until golden brown
Drain on paper towels and set aside
Over medium high heat, pour chicken broth into a saucepan
Add garlic, ginger, oyster sauce, light soy sauce, sugar and pepper to taste
Toss in sweet baby corn, mushrooms and carrots and bring to a boil
Add cornstarch mixture to thicken the broth
Add green onions and stir to combine
Remove from heat and add in sesame oil
Heat up a fajita plate on the stove and season with oil
Pour the egg over the base, spreading it to all corners
Once the egg is half cooked, arrange the fried tofu on the plate and slowly pour the sauce mixture over it
Simmer until the sauce starts bubbling
Remove from heat and serve sizzling hot
♡ Affiliate disclosure: As an Amazon Associate, I earn commissions from qualifying purchases from Amazon.com. You can learn more about it here.