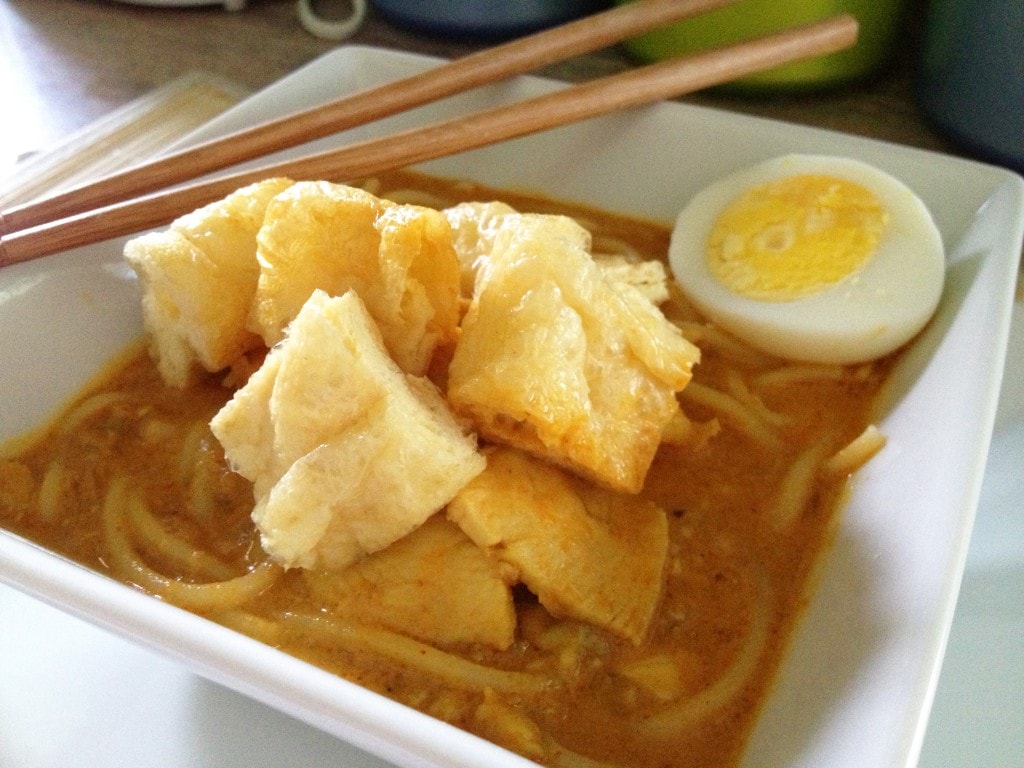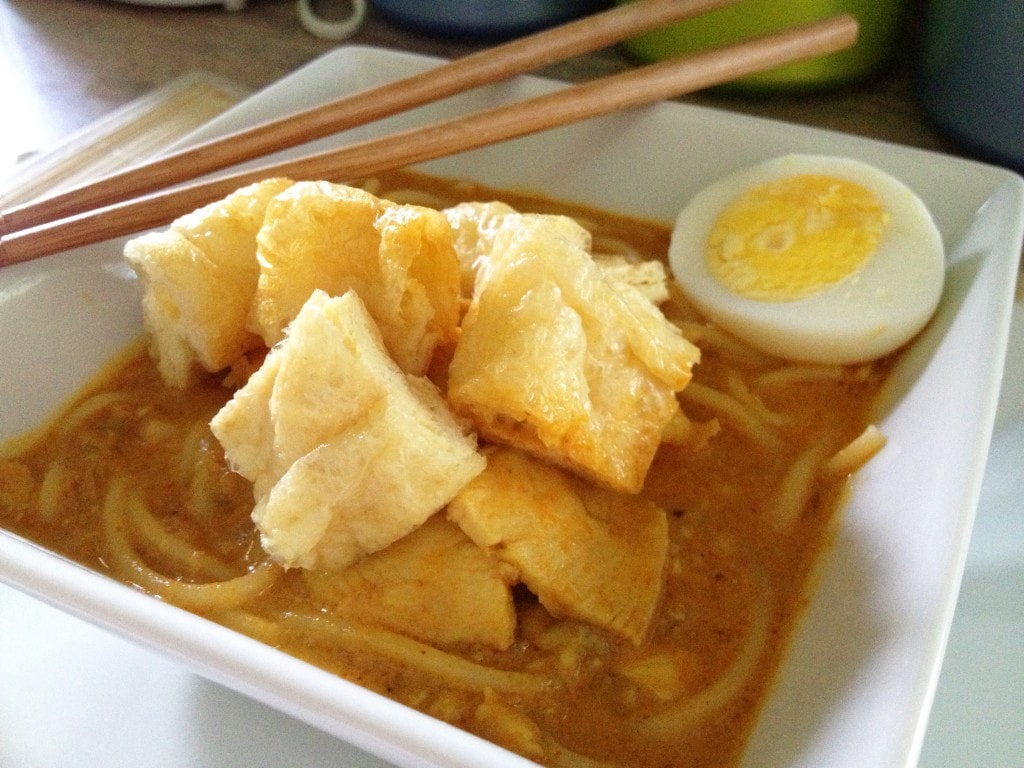 This is one of those dishes where who cooks it makes a world of difference. It can be merely passable or meh, or it can be absolutely in your face perfect. I've had my fair share of mouthwatering curry noodles where the soup is just the right thickness and consistency. Then I've come across others that just plain sucked. That being said, my absolute favorite thing about this dish are the deep fried tofu or soy puffs. These things are like little sponge cubes that are full of magic. Magic you say? And why is that? Well I'll tell you.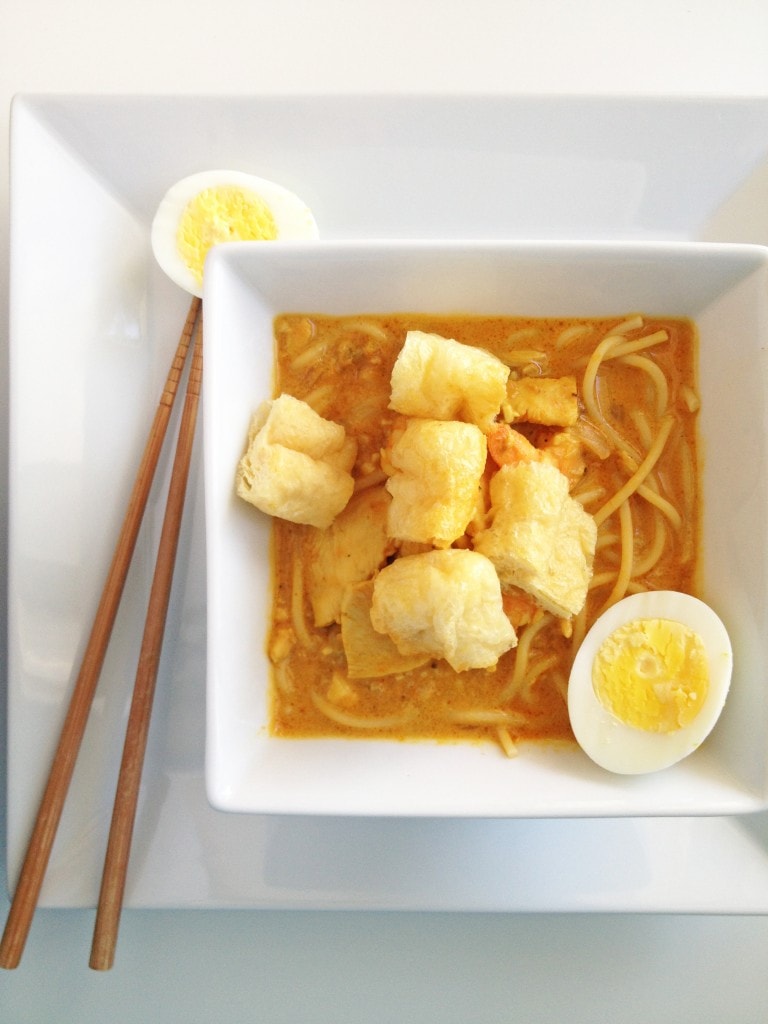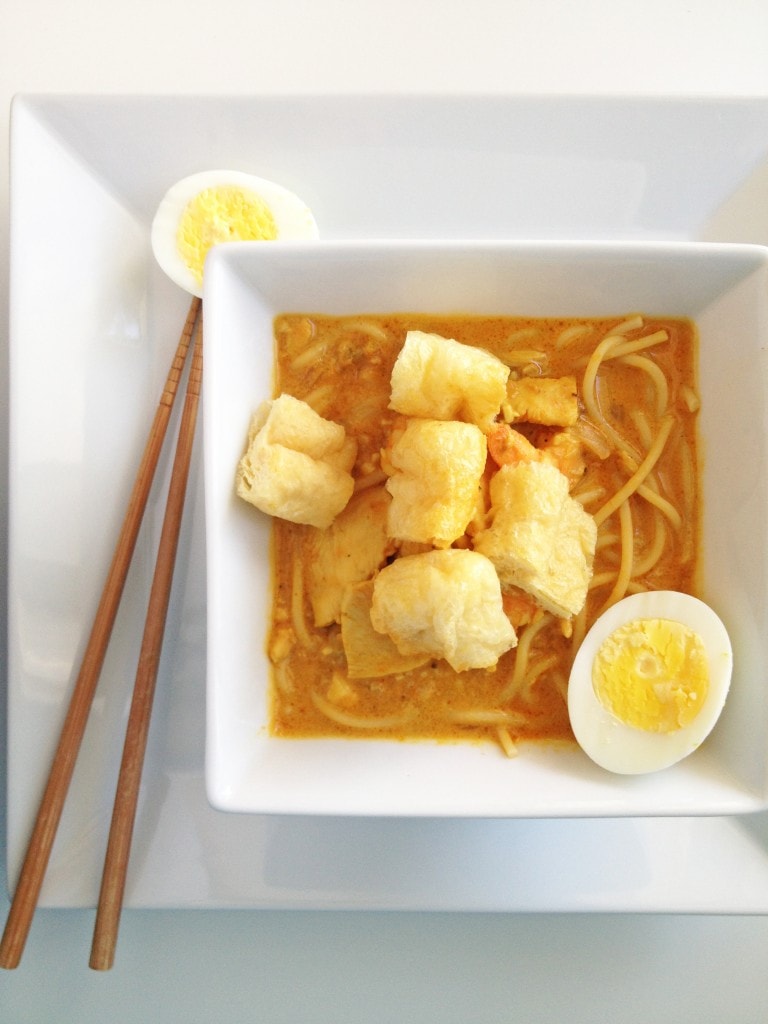 The deep fried tofu has a rubbery exterior and is chewy on the outside but porous enough on the inside to absorb liquid. Like I said, sponge. So imagine biting down into a delicious curry-filled tofu sponge. It's absorbed so much curry that when you bite, a rush of curry bursts into your mouth. A RUSH. One minute nothing. Next minute you have a curry flood in your mouth. Oh my god.
You should be able to find this kind of tofu in the frozen section of your local Asian grocery store. It's not the same as firm tofu! While firm tofu has similarly tough skin, the inside is not as porous so you won't get as much of a magic rush. If you can't find fried tofu, go ahead and substitute, but if you can, find that magic tofu! I got used to buying them fresh so it took some figuring out on what to do with the frozen types but here's what you do! They do not need to be re-fried or cooked, just soak them in warm water for five minutes then wring them out once they have thawed.  Easy, right? Here's what they look like.
And onto the recipe!
Print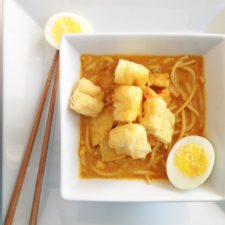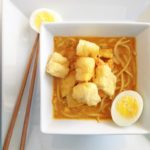 Coconut Curry Noodles (Curry Laksa)
---
1/4

lb. egg noodles / 1/4 lb. spaghetti cooked al dente

1

chicken breast, sliced thinly

6

medium sized prawns, peeled and deveined

2

hard boiled eggs, peeled and halved

1/4 cup

clams or cockles (optional)

2

blocks fried tofu, cut into squares

2 cups

coconut milk
Salt to taste

1 tablespoon

sugar
Spice paste:
2

shallots, sliced

2 tablespoons

garlic, minced

2 tablespoons

lemongrass, minced

4 tablespoons

chili paste/ sriracha sauce

1 tablespoon

coriander powder

1/4 teaspoon

pepper

1/2 tablespoon

shrimp paste
---
Instructions
Blend the spice paste ingredients
Over medium high heat, saute spice paste until fragrant
Pour in coconut milk and bring to a boil
Add in chicken and clams and cook until chicken is no longer pink
Season with salt and sugar
Lower the heat to medium and simmer for 15 minutes
Add prawns and cook for another five minutes
Arrange noodles in a bowl and ladle curry over it
Top with fried tofu and hard boiled eggs
Serve hot
♡ Affiliate disclosure: As an Amazon Associate, I earn commissions from qualifying purchases from Amazon.com. You can learn more about it here.