This quick and easy browned butter shrimp makes perfectly seared, sweet and savory shrimp with a buttery nutty flavor!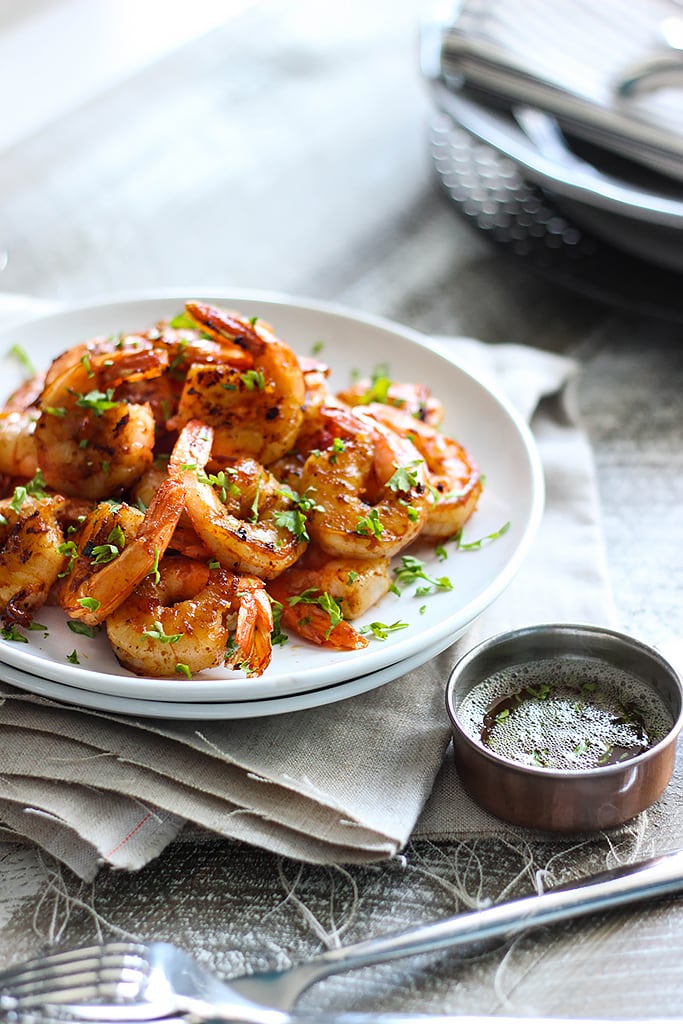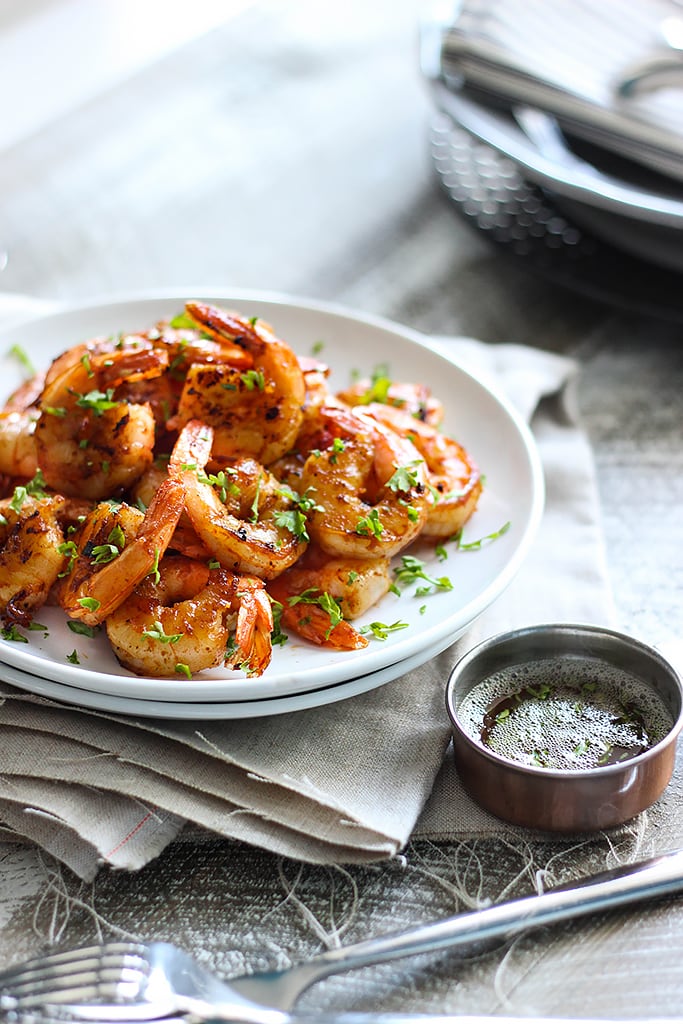 Today we're making some browned butter shrimp. Now there's something magical that happens to butter when you simmer it for a long time. It turns brown which is nothing special in and of itself. The magical part is the nutty aroma and flavor that comes with the browning. It's crazy addictive! So count this meal as something to indulge in and treat yourself with because you've earned it.
The recipe has about five main ingredients, kinda like my honey garlic shrimp skillet. It's easy and you should have most of the stuff in your pantry already. There's the browned nutty butter, garlic for that garlicky taste, brown sugar to caramelize flavors a little and smoked paprika to make it smoky! Sounds good? Then let's get started!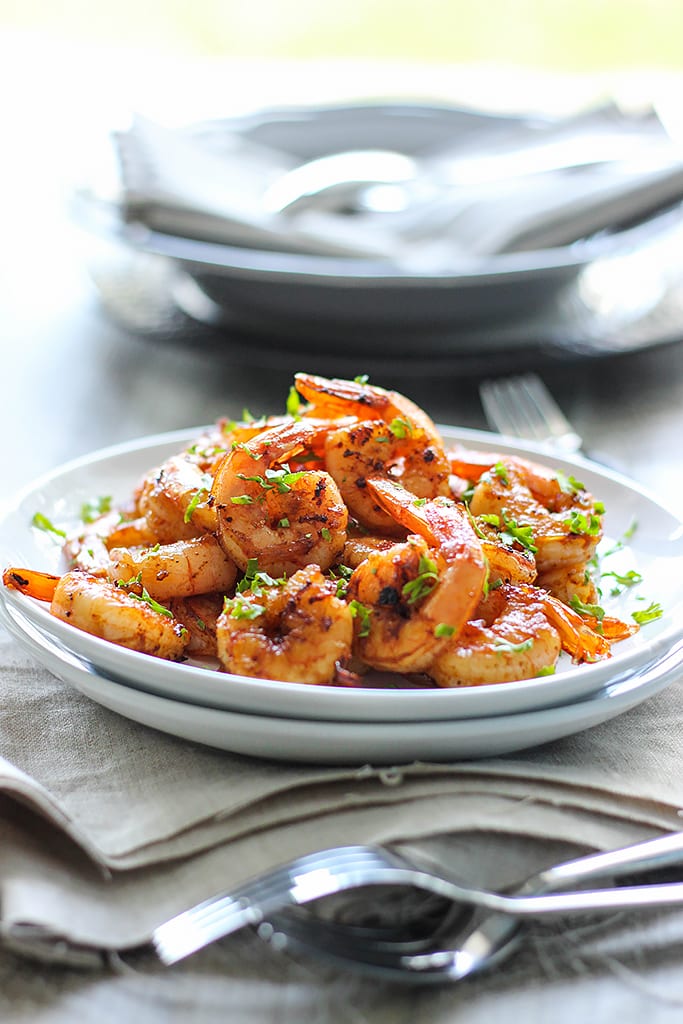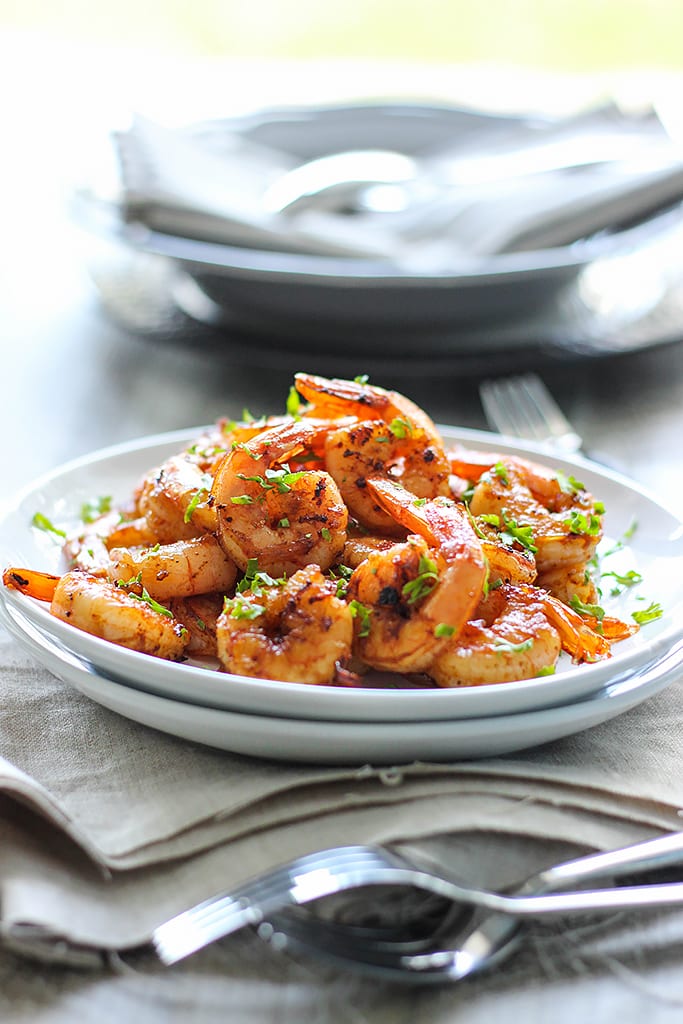 BROWNED BUTTER SHRIMP RECIPE TIPS
I used jumbo shrimp and a big stainless steel skillet. As much as I wanted some cast iron pics (cause they turn out so beautiful), the trick to making browned butter is to have a light-colored pan so you can see the change in hues from bright yellow to brown.
Do this over medium to medium-low heat so you don't burn the butter. If you're not confident or a little nervous, brown it over medium-low or low heat. It will just take a little longer. Once it starts frothing, it should take 3-5 minutes to brown. Some dark golden flecks will start to appear. If you're interested in the science of it, here's a great guide to learn more. It helped me understand what I was aiming for. You'll want to stir the butter once it starts foaming. I did this with a silicone spatula to get to all the corners.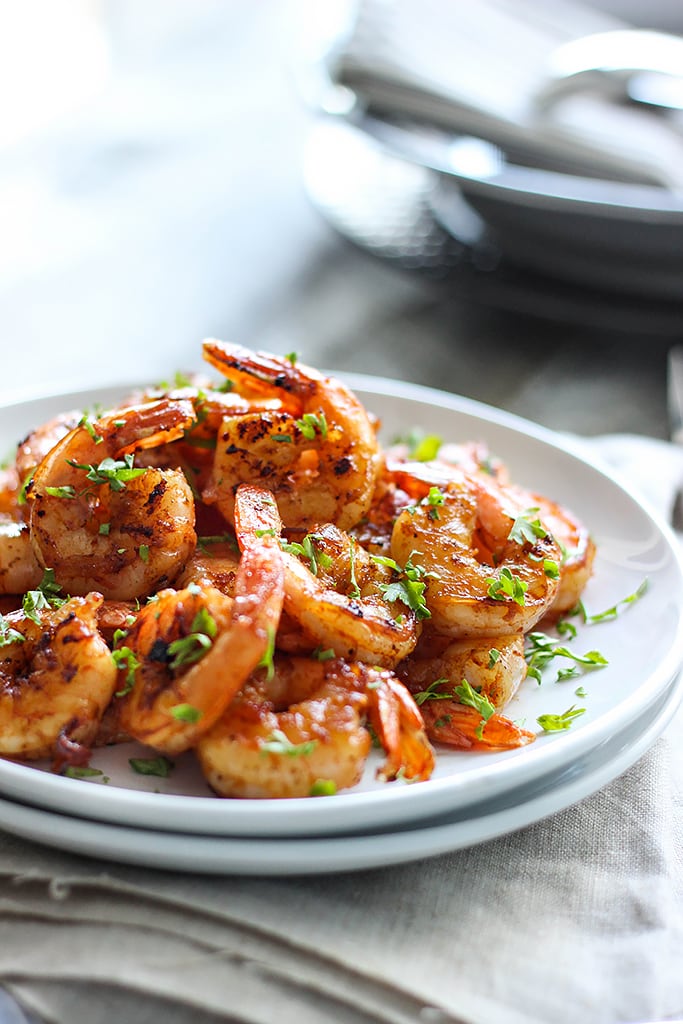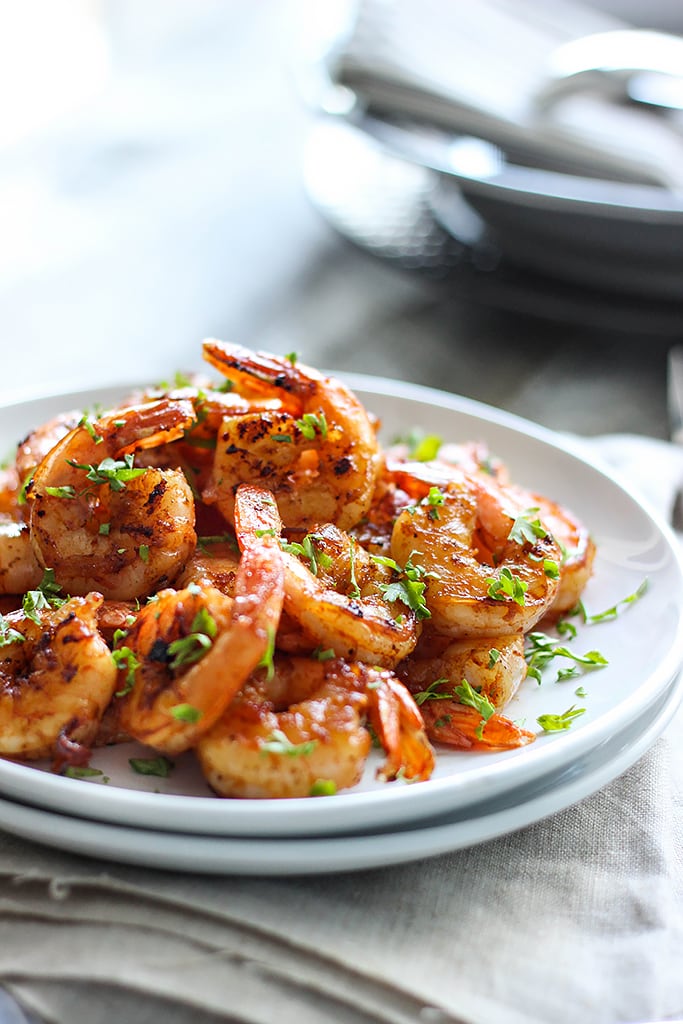 Once the butter has browned, remove about 3/4 of it from the pan and let it sit. This will be your drizzle later. With the remaining butter start cooking your shrimp. Mix the shrimp with garlic, brown sugar, paprika and salt and pepper to taste and cook over medium heat until pink. This should take about 1 minute per side but if you want a nice sear, cook it slightly longer. I generally use some tongs to grip the shrimp and rub them into the caramelized bits sticking to the bottom of the pan while it's cooking for this.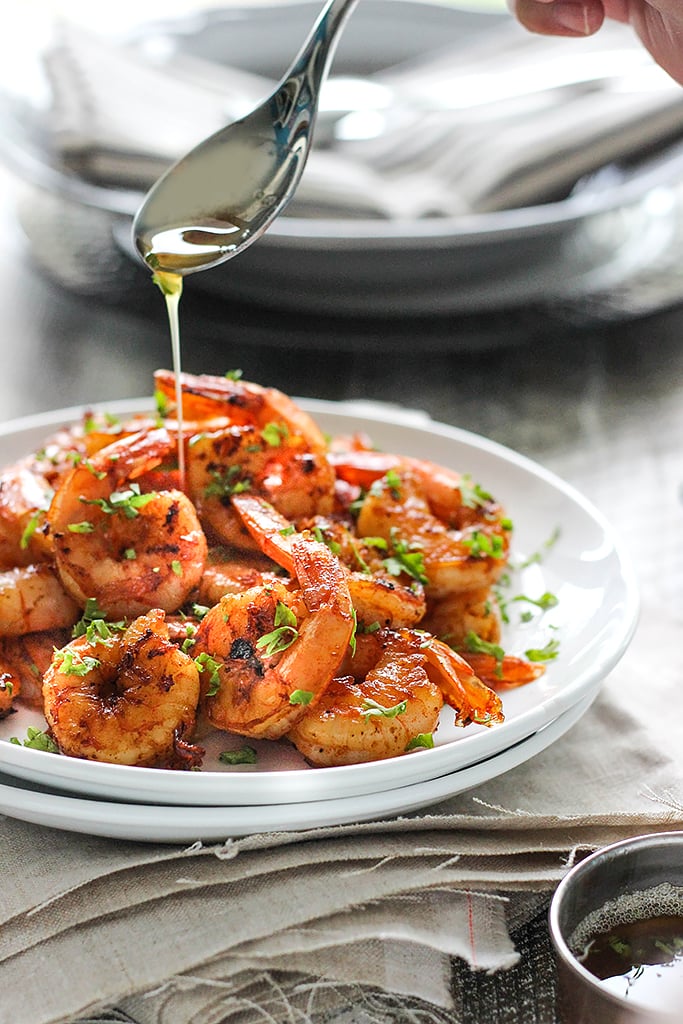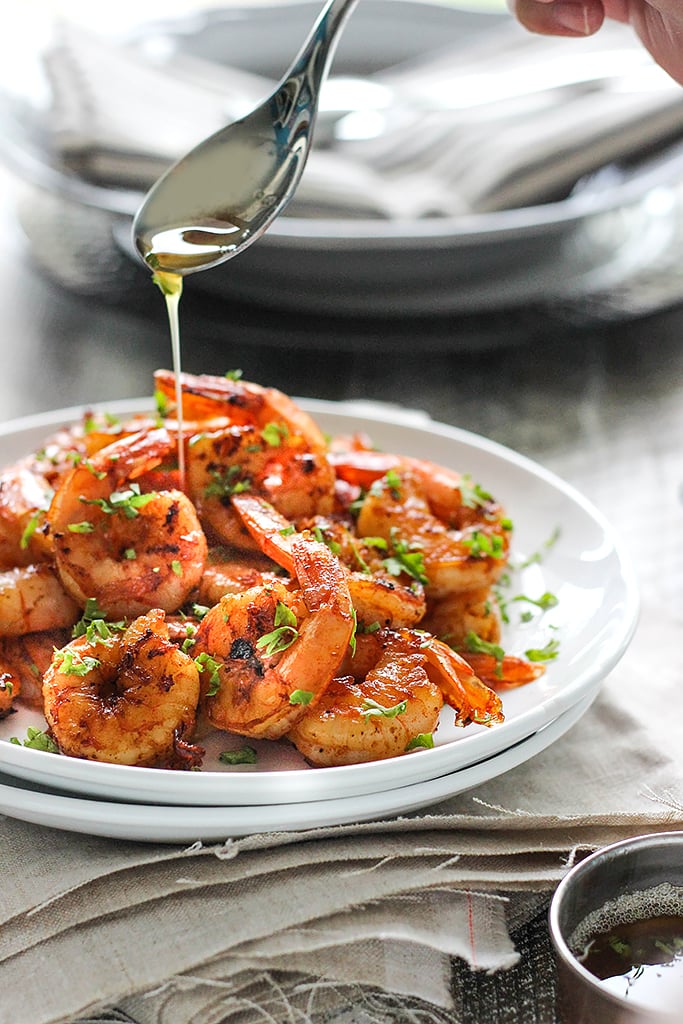 One thing to note is the longer shrimp cooks, the smaller it gets. If this is an issue for you and you want big, juicy shrimp don't cook it too long. If you want it charred but want big shrimp, remove the shrimp from the skillet after 2 minutes of cooking and wait until browned bits start to form in the pan. Reintroduce it to the skillet and start rubbing your shrimp into the browned bits.
And that's really all there is to it! Use the browned butter as a drizzle while serving. You can use as little or as much as you want but this should yield enough for 4 servings. Serve with other stuff like some greens and enjoy!
MORE SHRIMP RECIPES TO TRY
Did you make this recipe? Rate it!
♡ If you liked this recipe, giving it a star rating ★★★★★ in the comments below really helps! For more recipes, subscribe to my newsletter or follow me on Facebook, Instagram and Pinterest.
Print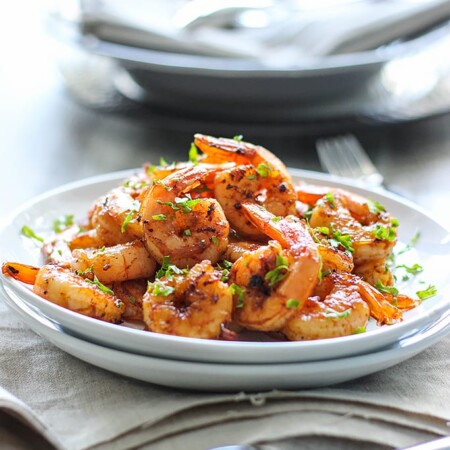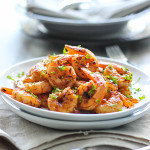 Browned Butter Shrimp
---
Author:
Total Time: 20 mins
Yield: 4 1x
Description
This quick and easy browned butter shrimp makes perfectly seared, sweet and savory shrimp with a buttery nutty flavor!
---
1. lb jumbo shrimp, peeled and deveined
4 tablespoons butter
1 teaspoon garlic, minced
1 tablespoon brown sugar
1/2 teaspoon smoked paprika
Salt and pepper to taste
---
Instructions
Over medium heat, melt the butter in a skillet.
Once the butter begins to foam, reduce heat to medium-low and start stirring.
Stir and simmer for about 3-5 minutes until butter browns.
Remove from heat and pour 3/4 of the butter into a bowl and set aside.
Return pan to heat and increase heat to medium again. Add in garlic and saute for 30 seconds until fragrant.
Toss in the shrimp and season with brown sugar, smoked paprika and salt and pepper to taste.
Sear the shrimp on both sides until cooked, about 1-2 minutes per side.
To blacken the shrimp, cook a little longer and use tongs to rub the shrimp into the caramelized bits on the bottom of the pan.
Dish and serve hot drizzled with remaining browned butter.
Enjoy!
Prep Time: 5 mins
Cook Time: 15 mins