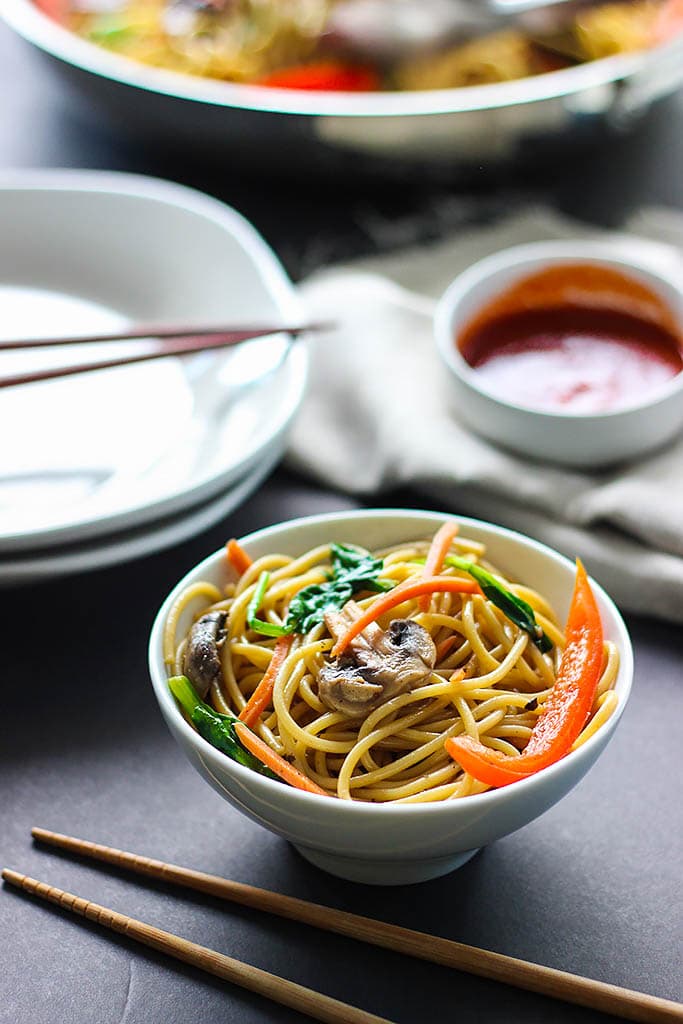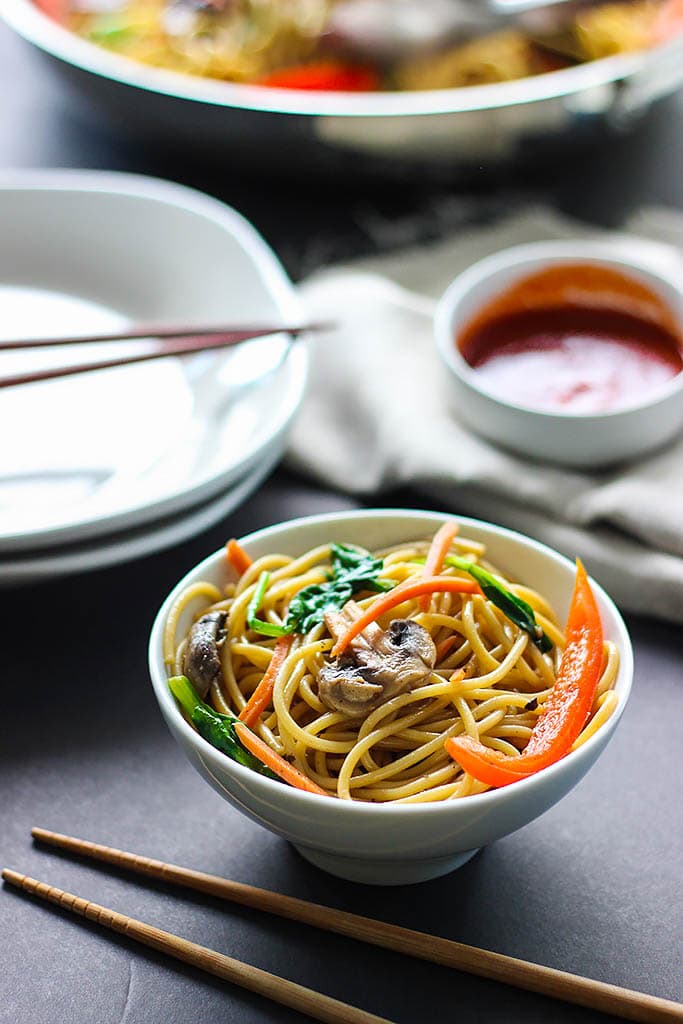 Today we're going to make a quick vegetable lo mein. It's jam-packed with veggies and pretty accommodating with stuff you can get at most grocery stores. Best of all? It takes less than 30 minutes to make.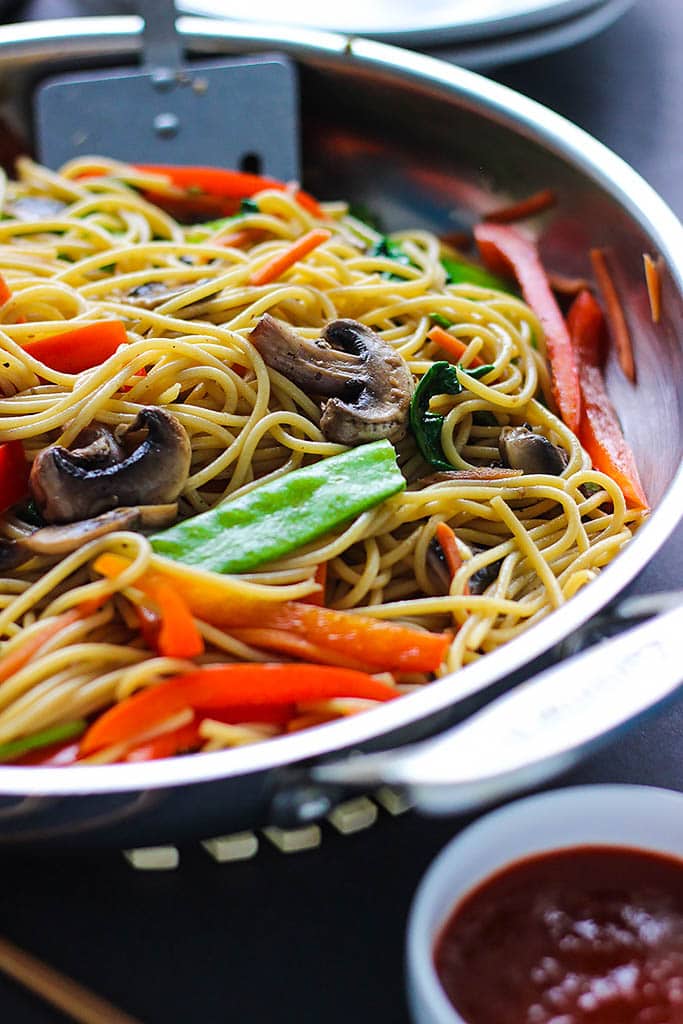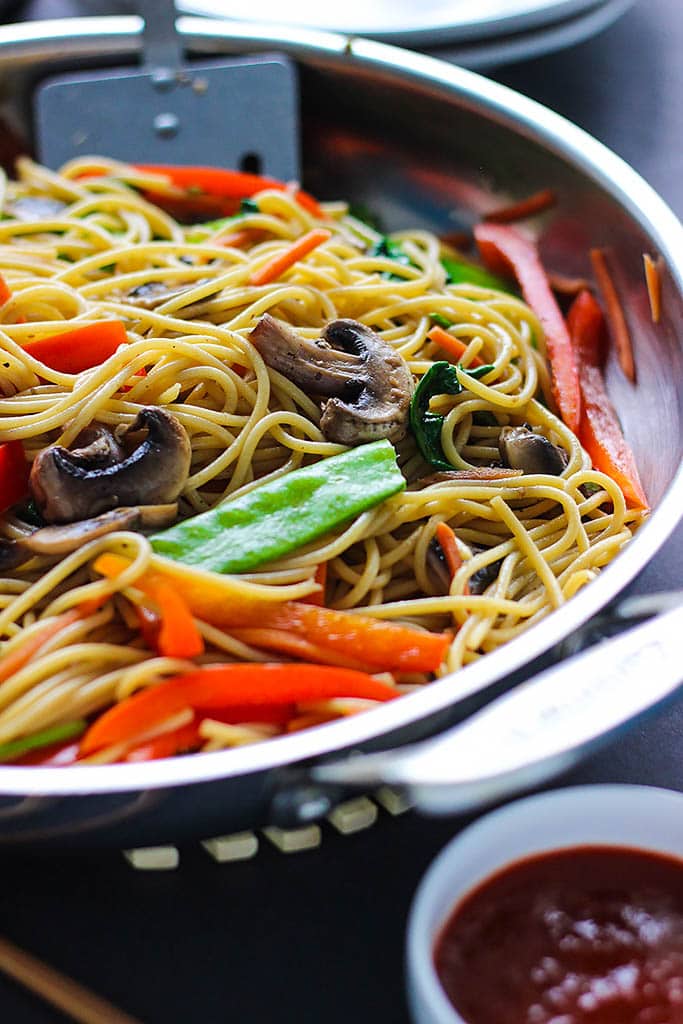 It's kind of in the same vein as hibachi noodles, only full of stuff on the side. And it's a great way to clean up your fridge with whatever veggies you have left in there. Use whatever veggies you have at hand or pick your own veggies. I used mushrooms, carrots, bell pepper, snow peas and baby spinach but you can try it with cabbage, bamboo shoots, zucchini, cucumber, baby corn or bean sprouts.
So let's get cooking!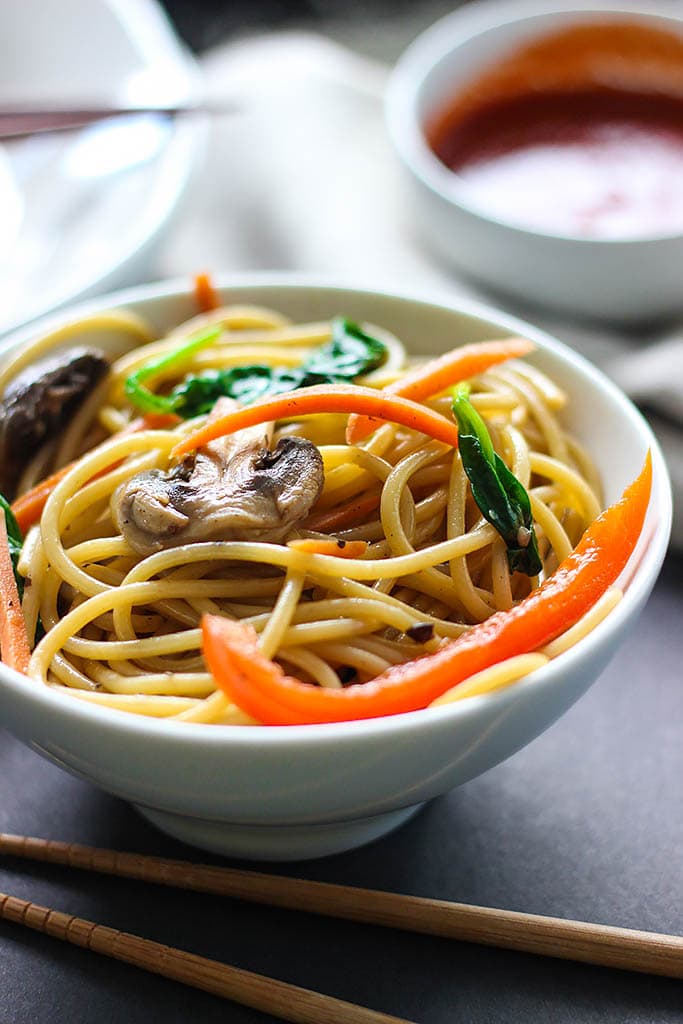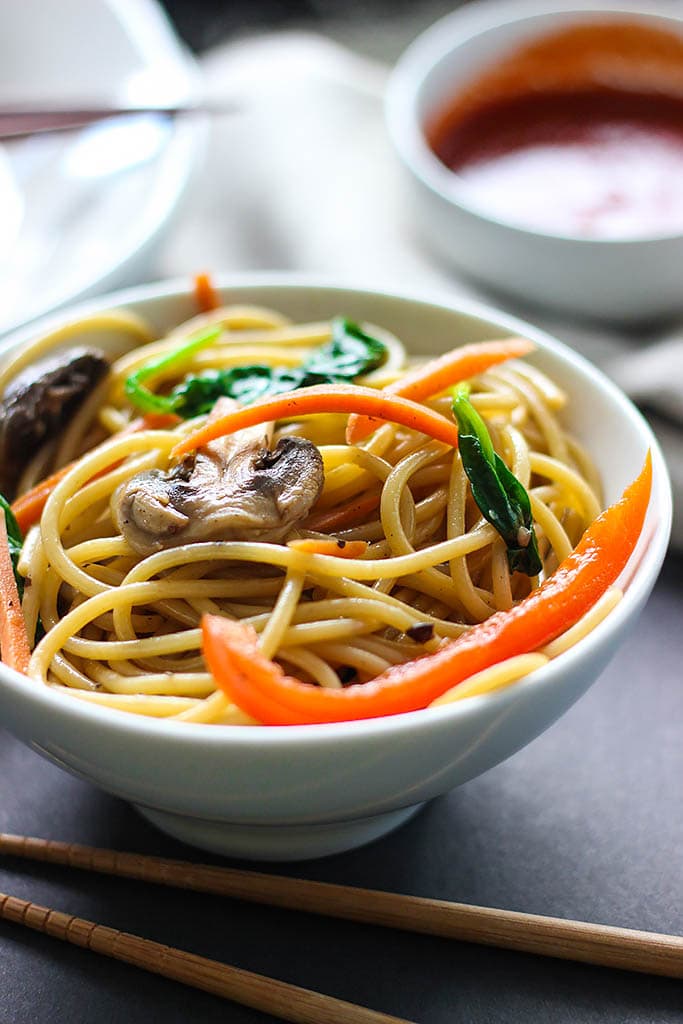 First, you'll want a large pan for this, about 12″ or bigger. I usually use this 14″ stir-fry pan for my noodles and fried rice but today I wanted to try it out in a slightly smaller 12″ skillet to see if it was feasible. It was a little crowded and I had less room to toss and mix, but I feel it was doable. The more space you have, the easier it for you to mix things all up. I used a metal spatula to cook with but you can also use tongs. You'll need something heavy duty like this to properly toss everything together.
I couldn't find any lo mein noodles so I subbed with spaghetti. Linguine works too. So if you can't find lo mein noodles in the ethnic aisle at your grocery store, don't stress about it too much.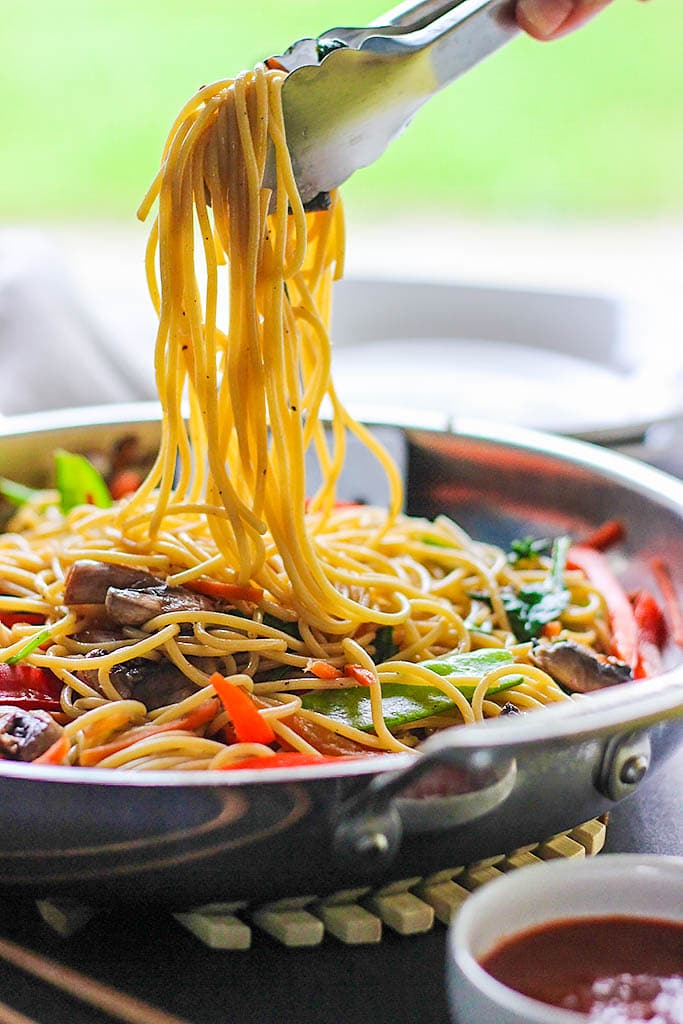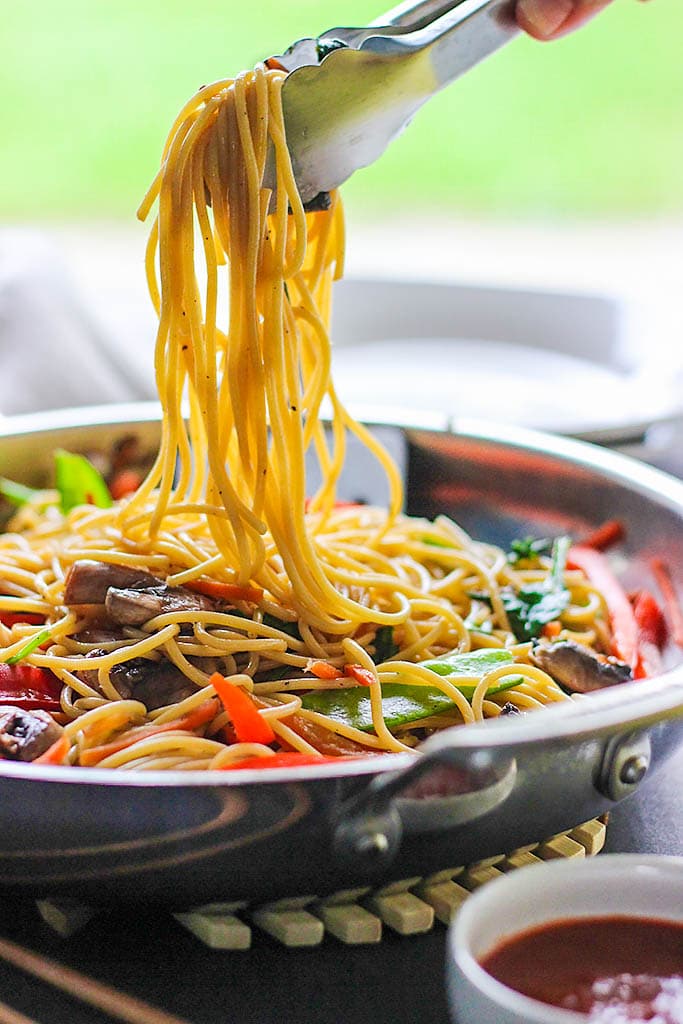 The main sauce ingredients which flavor these noodles are soy sauce, sugar, pepper and sesame oil. I used low sodium soy sauce for this recipe but if you don't mind sodium you can use regular. To add even more flavor and spice things toss in some Sriracha or red pepper flakes in there. Finally, for the best flavor you can get, add some oyster sauce. Oyster sauce can be found in small bottles in the ethnic/Asian aisle. I found it at Target and Walmart. It's a thick, sticky sauce with tons of flavor so if you can, go look for it. It's only a couple of bucks.
Failing that, just stick with the regular sauce ingredients that's more popular and if you need more flavor, add them as you go along. The more soy sauce you add, the darker and saltier it gets. You can balance this out with sugar. For this recipe, I tried to stick with the traditional way American lo mein is prepared so people know what to expect. But if I had my way, I'd add tons of oyster sauce. It's just that good!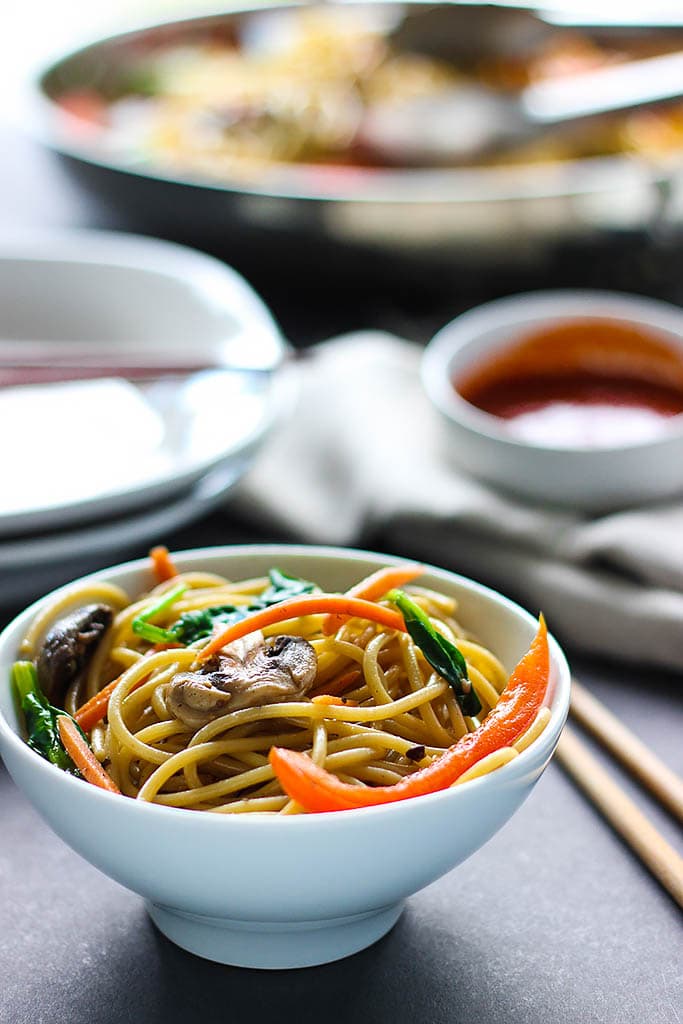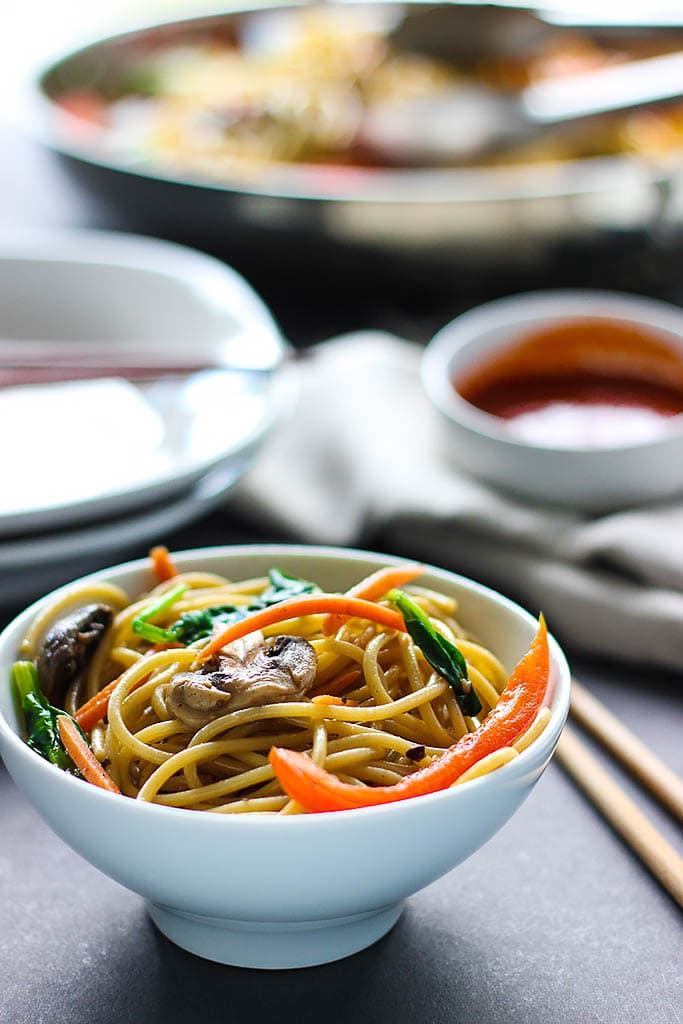 So even though we have lots of veggies, we don't cook them all in one go. Some need to go first to cook down and others later because they don't take as long. Saute some ginger and garlic and start with cooking the mushrooms, carrots and snow peas first. I found some pre-packaged matchstick carrots in the vegetable aisle that work well, so you have even less work. The mushrooms will cook down and shrink so don't worry about the bulk.
Then we add the bell pepper and baby spinach and cook those till the spinach wilts. A handy trick is to heap all the other veggies on top of the spinach. This will help the spinach cook down faster.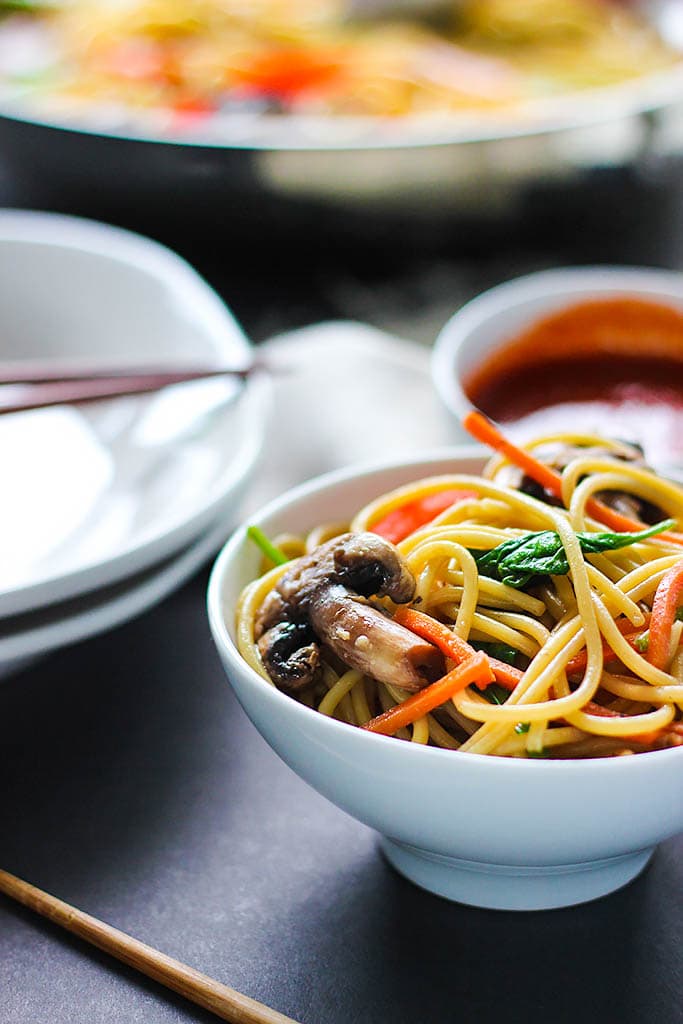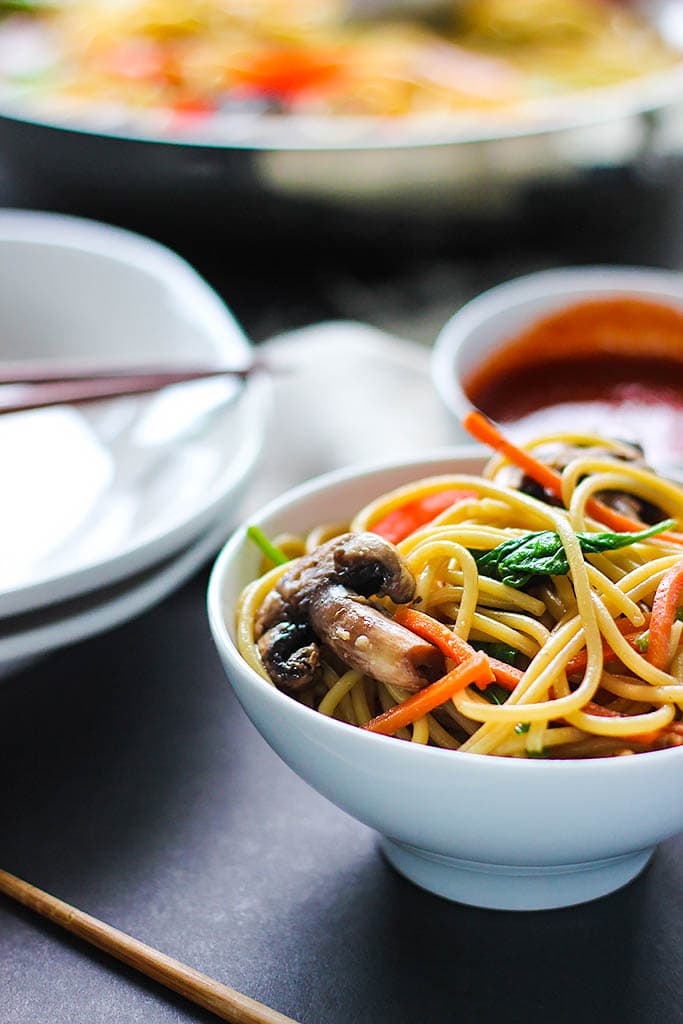 Add the noodles and the sauce ingredients and stir to mix it well with the veggies. Remove from heat and use sesame oil as a finisher to give it that nice, smoky flavor.
And that's it! Happy eating!
Print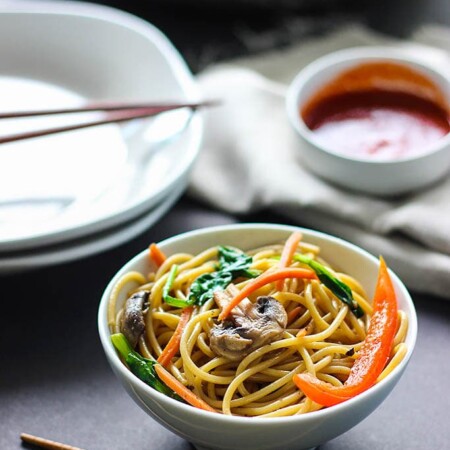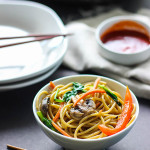 Easy Vegetable Lo Mein
---
Author:
Total Time: 25 mins
Yield: 4 1x
8 oz. lo mein noodles/spaghetti
1 teaspoon garlic, minced
1/2 teaspoon ginger, minced
8 oz. cremini mushrooms, sliced
1 carrot, julienned/1 cup matchstick carrots
1 cup snow peas, ends trimmed
1 red bell pepper, cut into strips
4 cups baby spinach
4 tablespoons low sodium soy sauce
1 tablespoon oyster sauce (optional)
1 tablespoon Sriracha (optional)
1 tablespoon red pepper flakes (optional)
2 teaspoons sugar
Pepper to taste
1 tablespoon sesame oil
---
Instructions
Cook the noodles according to the package directions
Over medium high heat, saute garlic and ginger until fragrant
Add in mushrooms, carrots and snow peas and cook until tender, about 2 minutes
Toss in bell pepper and baby spinach and saute for 2-3 minutes until baby spinach cooks down
Add in noodles, soy sauce, oyster sauce (optional), Sriracha (optional), red pepper flakes (optional) sugar and pepper to taste and stir to mix
Remove from heat and finish with sesame oil
Dish and serve hot
Prep Time: 10 mins
Cook Time: 15 mins
Nutrition with low sodium soy sauce: