Try this no-fuss recipe for chicken, spinach and mushroom pasta bake with tons of melty cheese. Serves 6 and heats up well.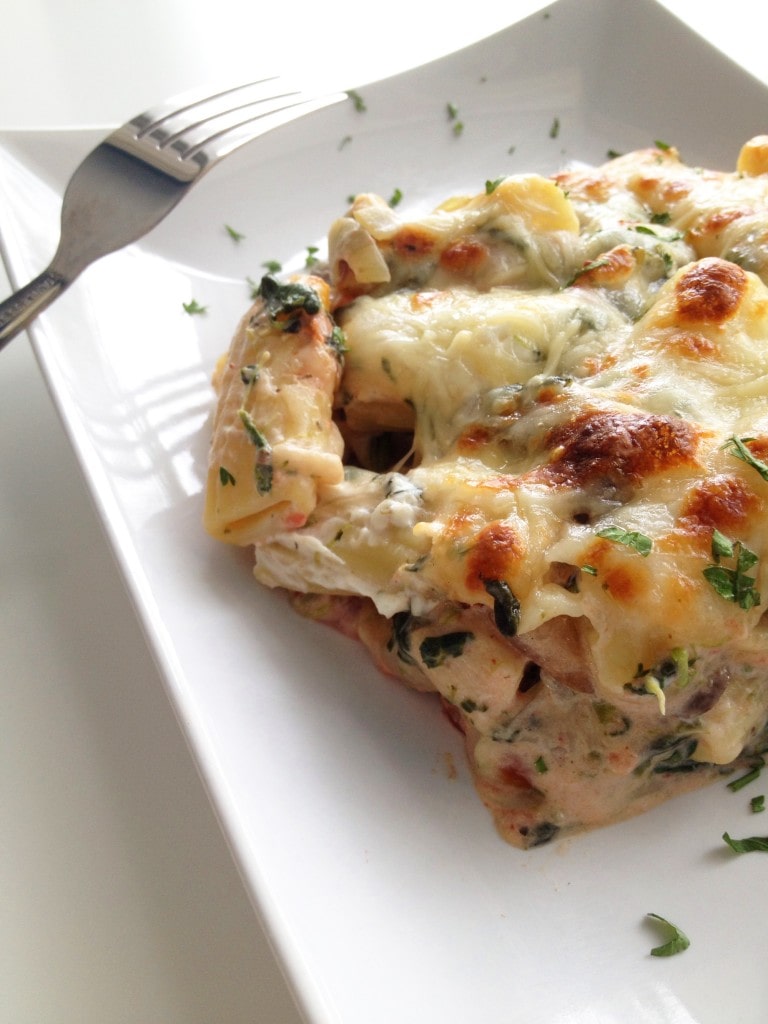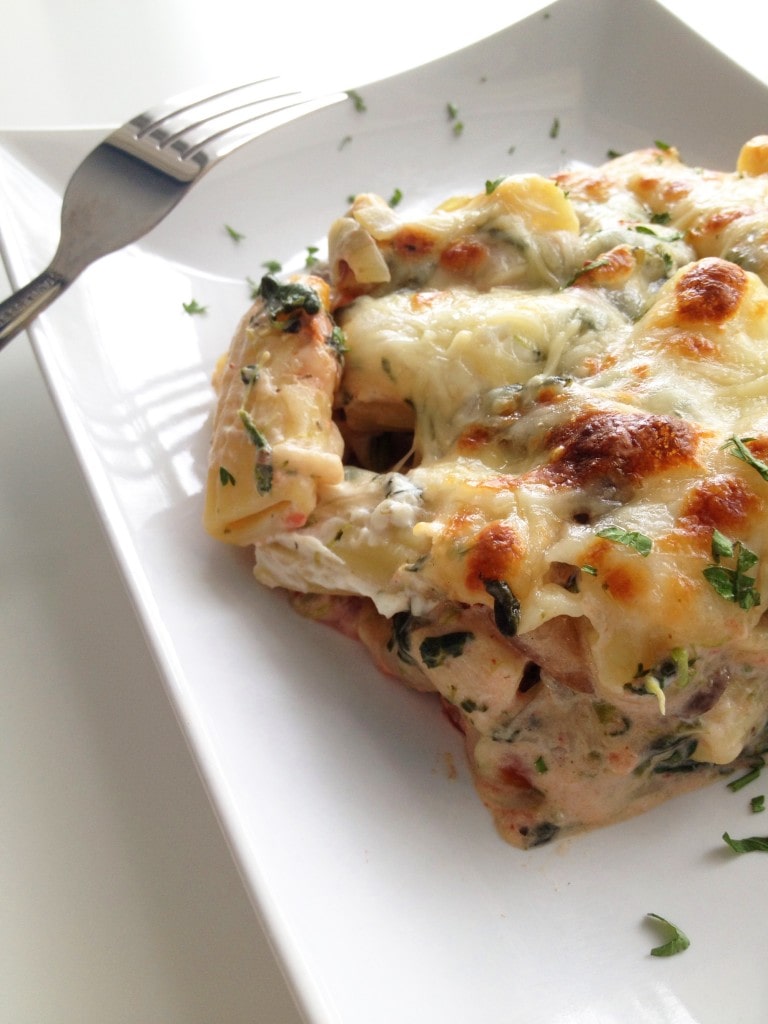 Days are shorter and chillier now so casseroles, stews and one-pot meals have made a frequent appearance at my table for obvious reasons. They're easy to make, they last longer and give me more time to enjoy the dwindling hours of daylight.
This chicken, spinach and mushroom pasta bake is really perfect for days like these. It has six servings so for the two of us, that means lots of leftovers. But just because it's a casserole for a lazy day, it doesn't mean it skimps on yummy goodness. Au contraire, it has a lot of yummy goodness! I really love the combination of spinach, mushrooms and cheese in this and the crusty broiled cheese on top. So let's start cooking!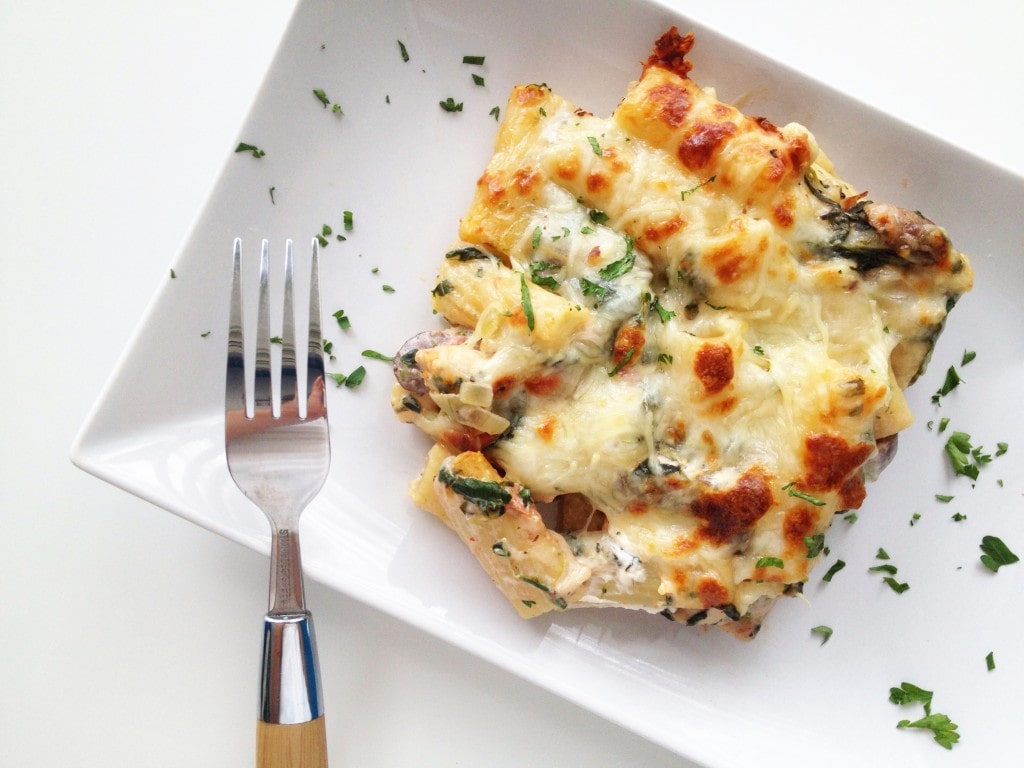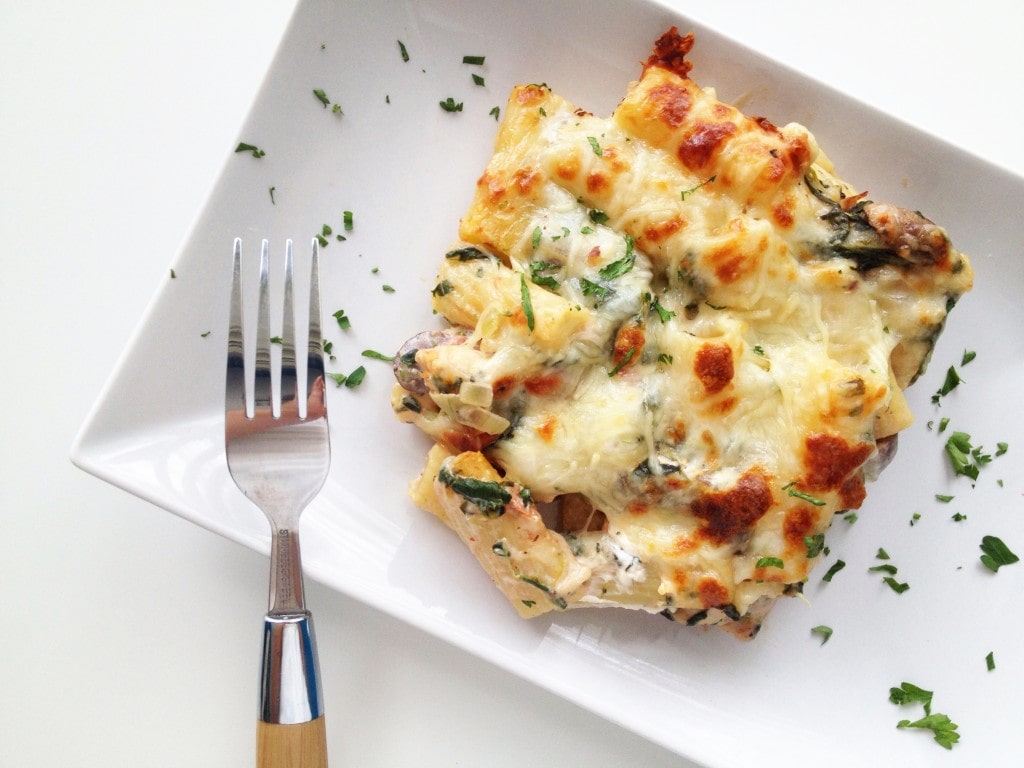 Let's take a moment to drool over all that cheese.
Cheeeeeeeeeeeeeeeeeeeeeeeeeeeeese.
CHICKEN, SPINACH AND MUSHROOM PASTA BAKE RECIPE TIPS
Okay, let's talk cooking method. With a previous unsatisfactory attempt at baked ziti (2015 update: finally got made a good one!), I've come to realize that pasta used in casseroles should be cooked to the point where it's just before al dente, or it'll end up a soggy mess.
This worked for me: If the instructions call for 12 minutes for rigatoni to al dente, cook it for 10 minutes instead. Then drain and rinse it under cold water to stop the cooking process. It'll finish getting to al dente in the oven.  Since everything is already cooked, you won't have to bake the casserole too long. Just enough to melt the cheese. You can also broil it for a few minutes to get the golden-brown crust. I went with that of course. I'm sure you didn't miss the golden layer of cheese. It's hard to miss!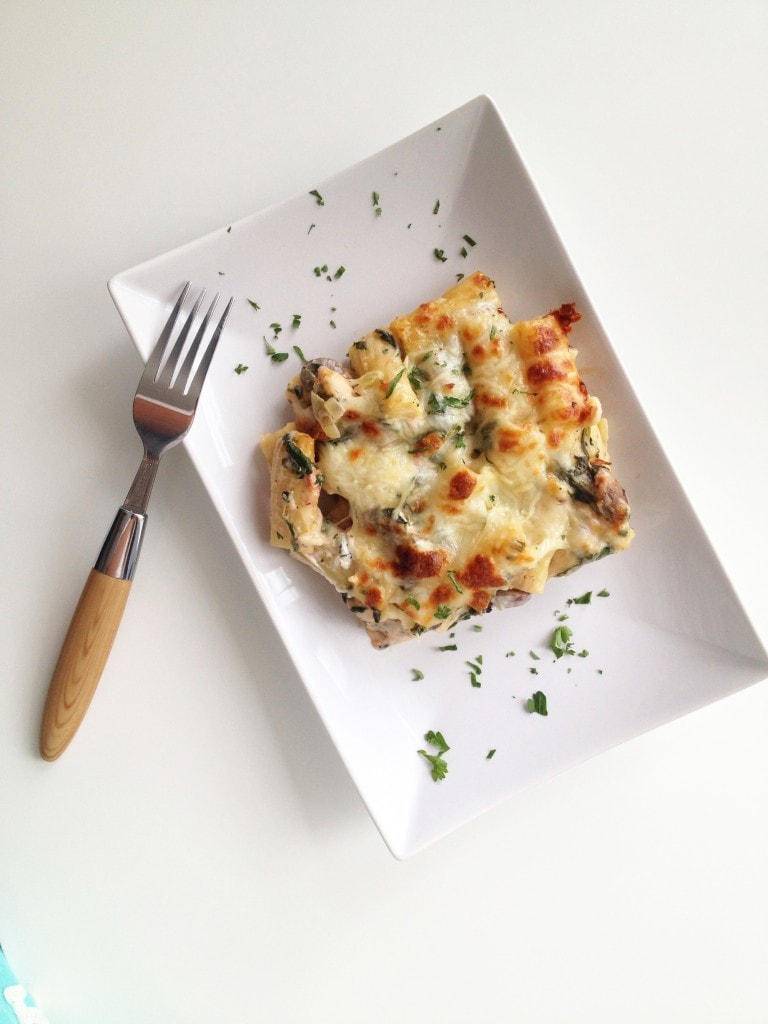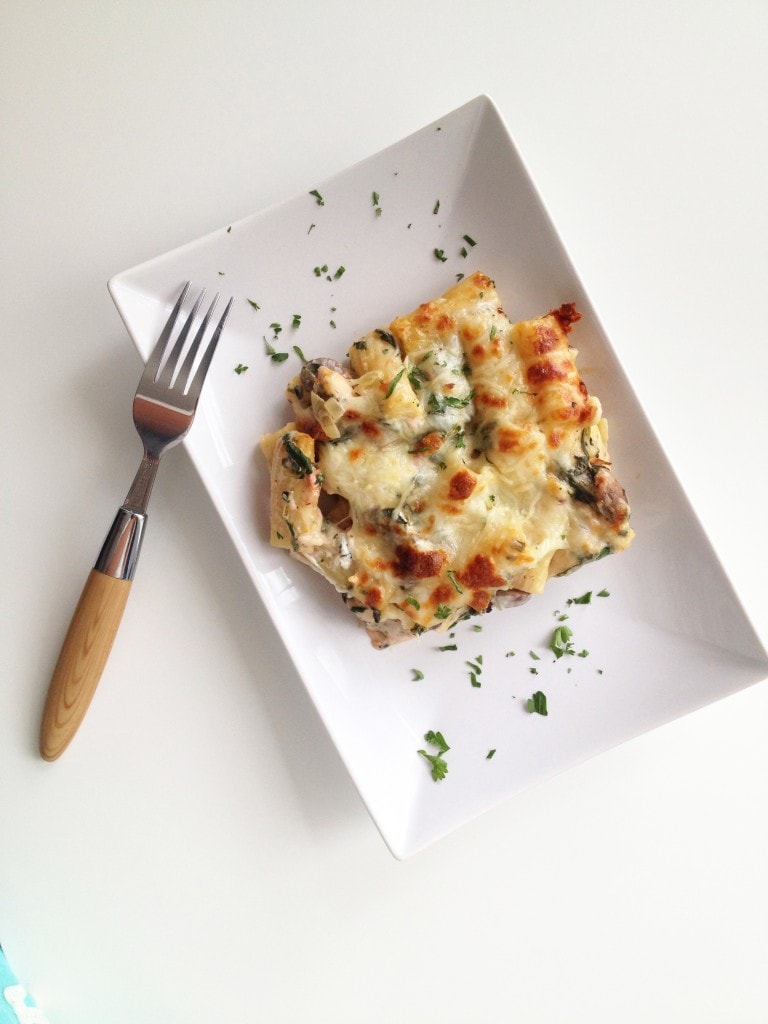 The important thing about casseroles with pasta in them is to reach a good balance of moisture so it isn't too dry but isn't soggy either. There are three culprits here that can add too much moisture if not taken care of properly: the spinach, the mushrooms and the tomatoes.
So drain the spinach of water as best as you can and cook the chicken and mushroom mixture until all the liquid from the mushrooms has evaporated. The moisture needed for the entire dish can be borrowed from the liquid of the canned tomatoes. If there's too much moisture it'll be a soggy mess. So rely on those tomatoes and they should see you through!
And that's it! Happy cooking and enjoy digging in 🙂
MORE PASTA BAKES TO TRY
Did you make this recipe? Rate it!
♡ If you liked this recipe, giving it a star rating ★★★★★ in the comments below really helps! For more recipes, subscribe to my newsletter or follow me on Facebook, Instagram and Pinterest.
Print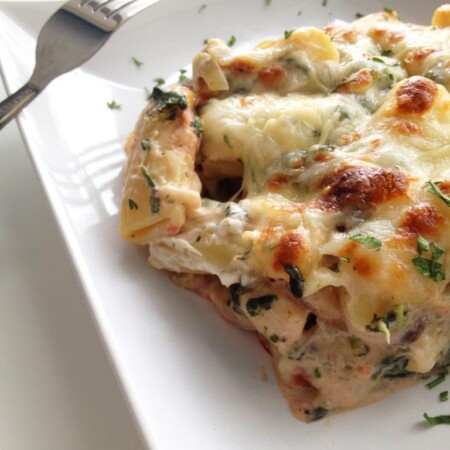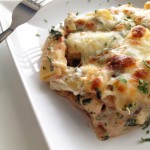 Chicken, Spinach and Mushroom Pasta Bake
---
Author:
Total Time: 40 mins
Yield: 6 1x
Description
Try this no-fuss recipe for chicken, spinach and mushroom pasta bake with tons of melty cheese. Serves 6 and heats up well.
---
8 oz. rigatoni
1 yellow onion, diced
1 teaspoon garlic, minced
10 oz. frozen spinach, cooked and drained
2 boneless, skinless chicken breasts, cubed
8 oz. portobello mushrooms, sliced
1 can (14 oz.) diced tomatoes
1 tub (8 oz.) chive and onion cream cheese
2 cups mozzarella cheese, shredded
2 teaspoons sugar
1/4 teaspoon Italian seasoning
Salt and pepper to taste
---
Instructions
Bring a pot of salted water to a boil and cook the rigatoni until just before al dente.
Saute the onions and garlic in olive oil over medium-high heat until fragrant.
Add chicken and cook until chicken is no longer pink.
Season with salt, pepper and Italian seasoning and toss to combine.
Add mushrooms and simmer until the mushrooms cook down and liquid evaporates, about 10 minutes.
Drain the pasta and rinse with cold water to stop the cooking process.
In a large mixing bowl, combine the pasta, chicken mixture, tomatoes with their liquid, spinach, cream cheese and sugar. Mix thoroughly.
Transfer to a 9×13 casserole dish and top with mozzarella cheese.
Bake uncovered at 375°F for 15 minutes until cheese melts and is bubbly.
Broil for 2-3 minutes to get a golden crust.
Dish and serve hot.
Enjoy!
Notes
To substitute fresh spinach for frozen, cook it down with the mushrooms until all liquid has evaporated.
Prep Time: 10 mins
Cook Time: 30 mins