Fork-tender strands of pull-apart flank steak simmering in a spicy tomato sauce make this slow cooker Cuban Ropa Vieja something you should not miss.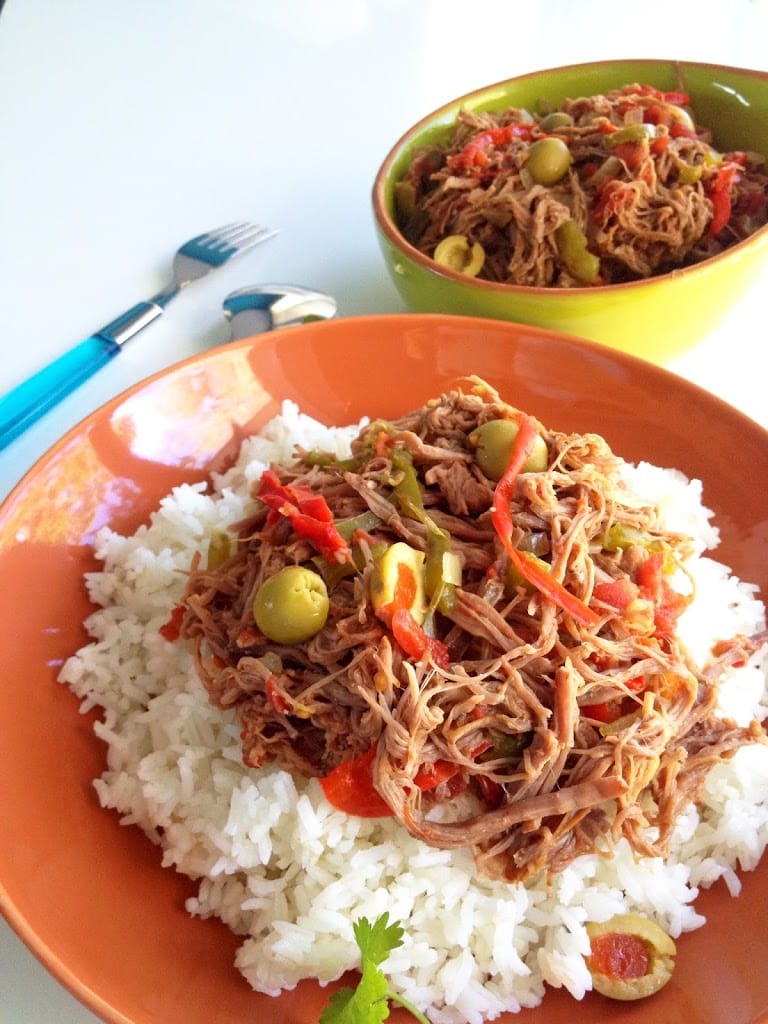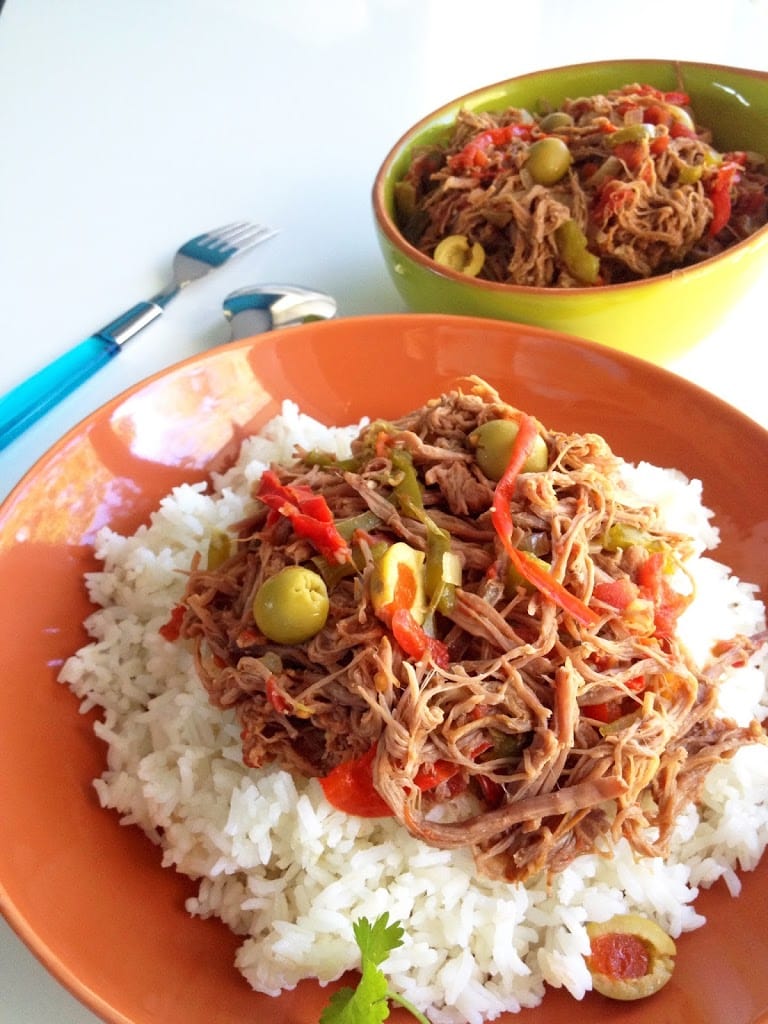 This Cuban stew has a whimsical name and quaint story behind it.  Ropa Vieja is Spanish for 'Old Clothes' which is a strange name to be associated with tenderly shredded flank steak in a spiced tomato-based sauce. Some say the shreds of meat, peppers, and onions resemble remnants of colorful old rags. I can kinda see it but that's not my favorite origin story.

My favorite story tells of a man whose family was coming home for dinner. Being so poor, the man could not afford to buy enough food and so he gathered some old clothes from his closet and imbued them with his love (this is my favorite part). When he cooked the clothes, his love for his family turned the clothes into a wonderful beef stew. Whatever the origins of this wonderful pulled flank steak, it's delicious served over rice and a comforting, filling meal. So let's start cooking some Cuban Ropa Vieja.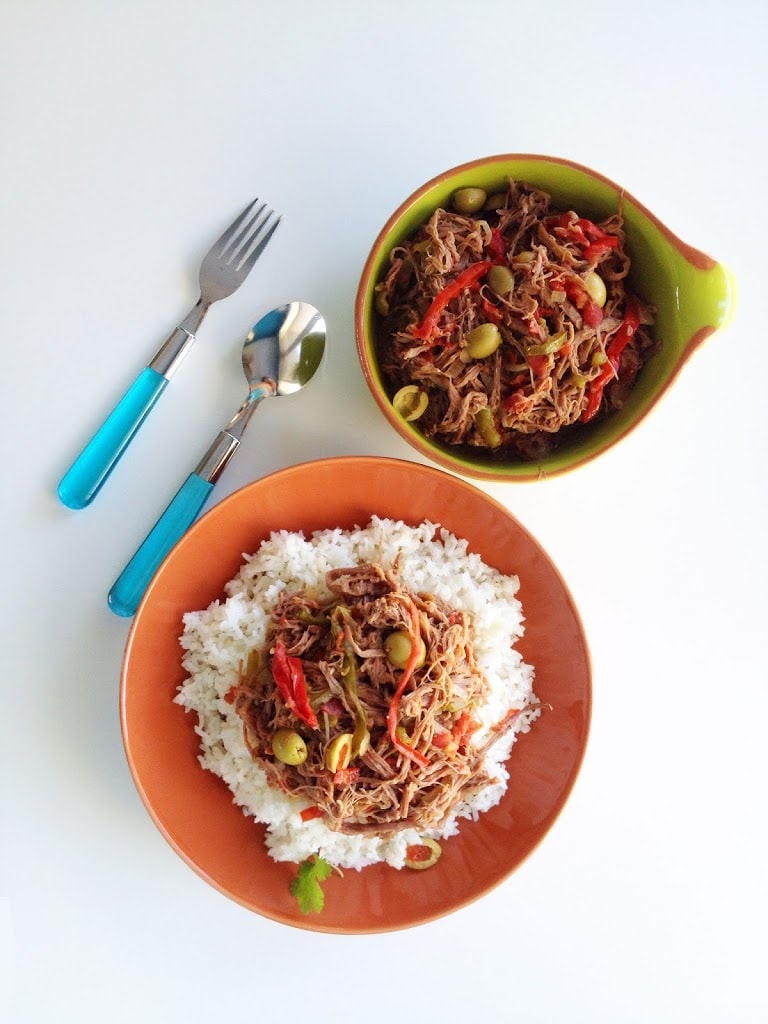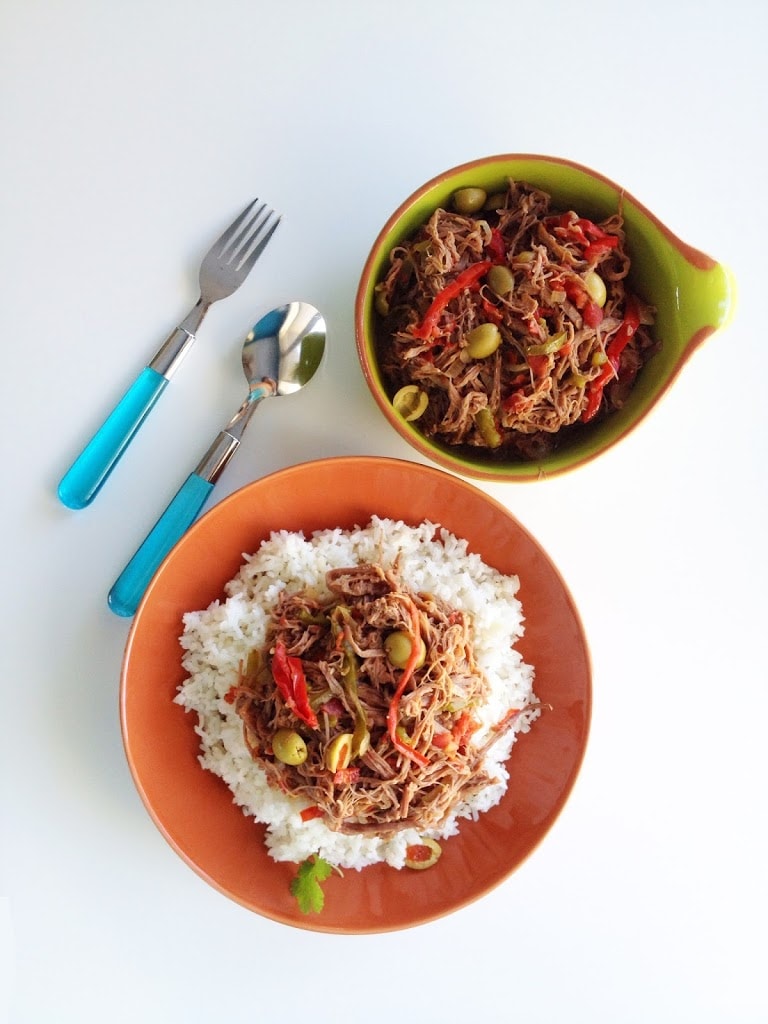 Those of us with a rational state of mind know this to be just a wonderful fairy tale but even so, it's always great to find new ways of strengthening the saying that the secret ingredient to amazing home-cooked meals is love. It gives you that warm, fuzzy feeling and makes home chefs puff up their chests with pride because cheesy or not, we believe it.
Most of us, no matter how much we love cooking, can't be bothered to cook for ourselves but throw a loved one into the mix and we'll go through extravagant steps to whip up a feast for them.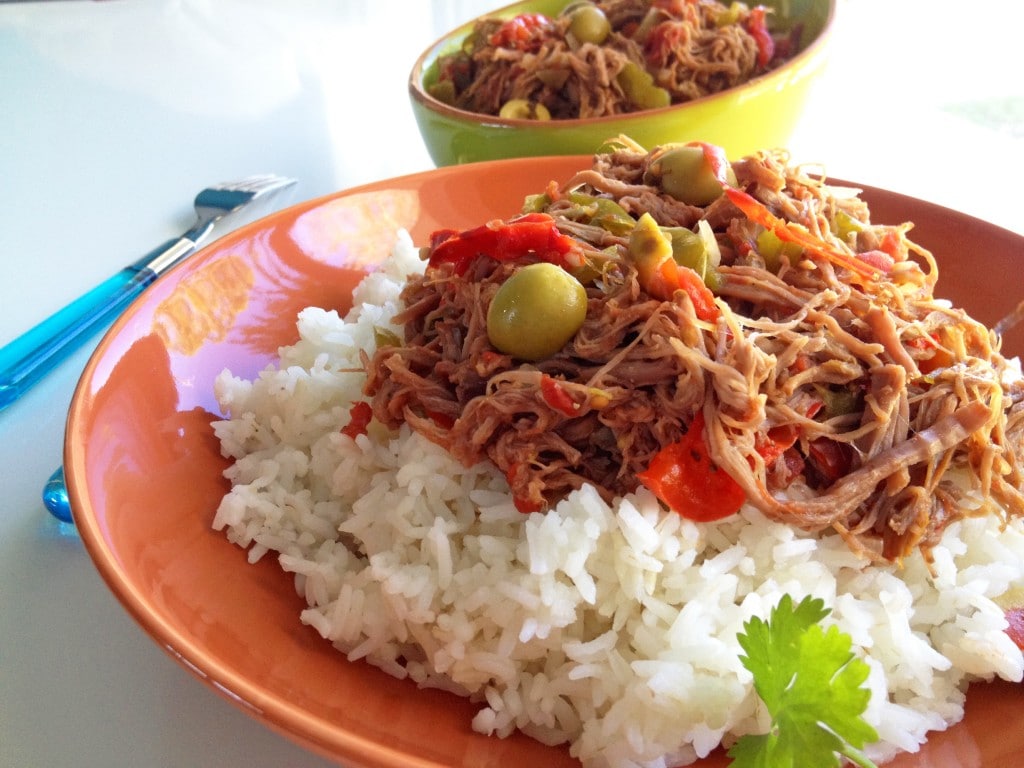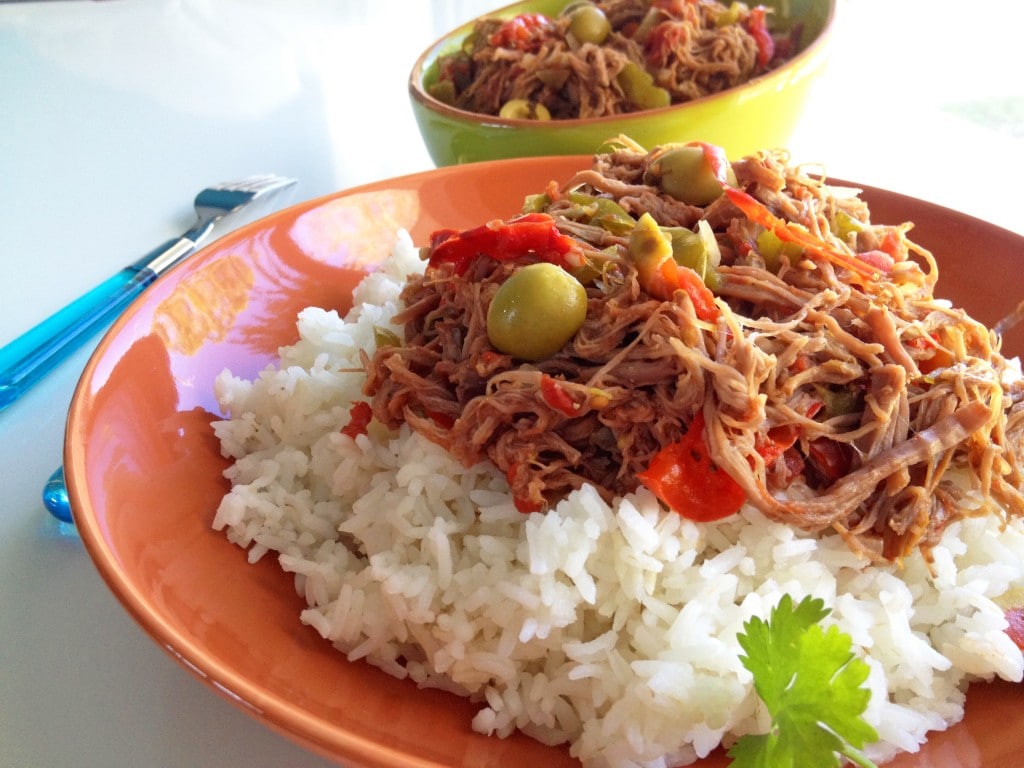 This is true for myself, where the most I'll do to feed myself is tear open wrappers of breakfast bars or heat something up in the microwave, but throw Mr. Cooking Jar into the situation and I willingly subject myself to two hours in the kitchen to make sure he has a warm meal to come home to.
Update: Since this recipe cooks up a huge batch of food, you might be wondering what to do with the leftovers. I made some of them into burritos and used the very last of whatever was left to make shredded flank crostini. It was really yummy!
Now that you are (hopefully) all fuzzy and warmed up inside from the origin story, let's warm up our tables too with some Ropa Vieja!
Print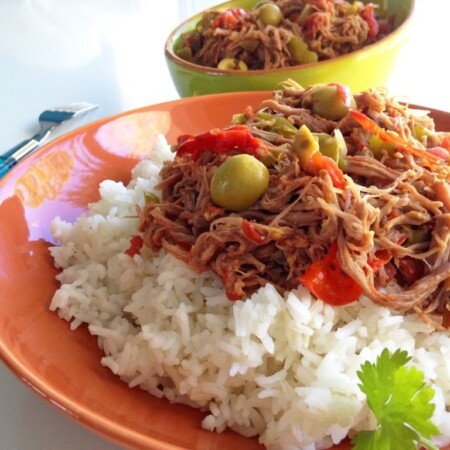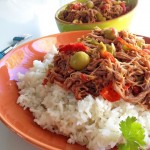 Cuban Ropa Vieja
---
Author:
Total Time: 8 hours 15 minutes
Yield: 6-8 1x
Description
Fork-tender strands of pull apart flank steak simmering in a spicy tomato sauce make this slow cooker Cuban Ropa Vieja something you should not miss.
---
2 lb. flank steak
1 yellow onion, diced
1 teaspoon garlic, minced
1 can (28 oz.) diced tomatoes, undrained
1 red bell pepper, thinly sliced
1 green bell pepper, thinly sliced
1 jalapeno, seeded and thinly sliced
1/2 teaspoon dried oregano
1/2 teaspoon cumin powder
1 bay leaf
1/2 cup green olives, halved
Salt and pepper to taste
2 teaspoons capers (optional)
1 tablespoon cilantro, chopped (optional)
---
Instructions
Season the flank steak with salt and pepper.
Combine the onions, garlic, tomatoes, bell peppers, jalapeno and spices in the slow cooker.
Add flank steak, cover and cook on low for 8 hours.
Remove meat and let it rest 10 minutes.
Discard bay leaf and stir in olives, capers (optional) and 1 tablespoon cilantro (optional) into the sauce.
Shred the meat with two forks into fine strips.
Return the meat to the sauce, stir to mix and season with salt and pepper.
Serve hot over steamed white rice, Cuban-style yellow rice or warm tortillas.
Prep Time: 15 mins
Cook Time: 8 hours