Chicken Cacciatore is a hearty stewed Italian chicken dish in a rustic tomato sauce with fresh bell peppers and basil. It's a simple but comforting meal to serve over pasta or mashed potatoes.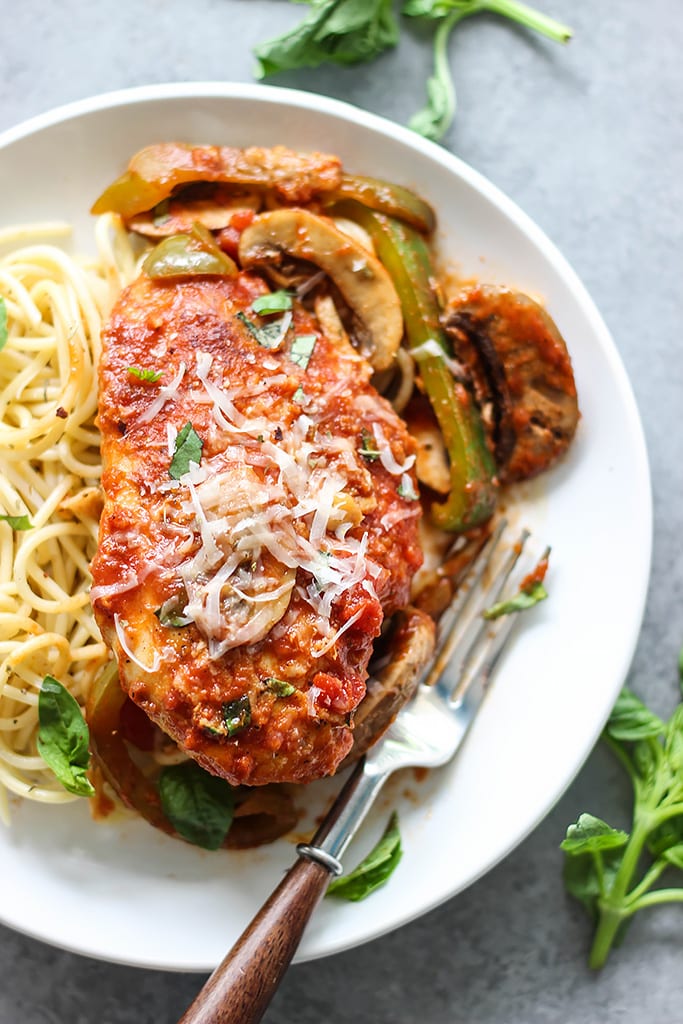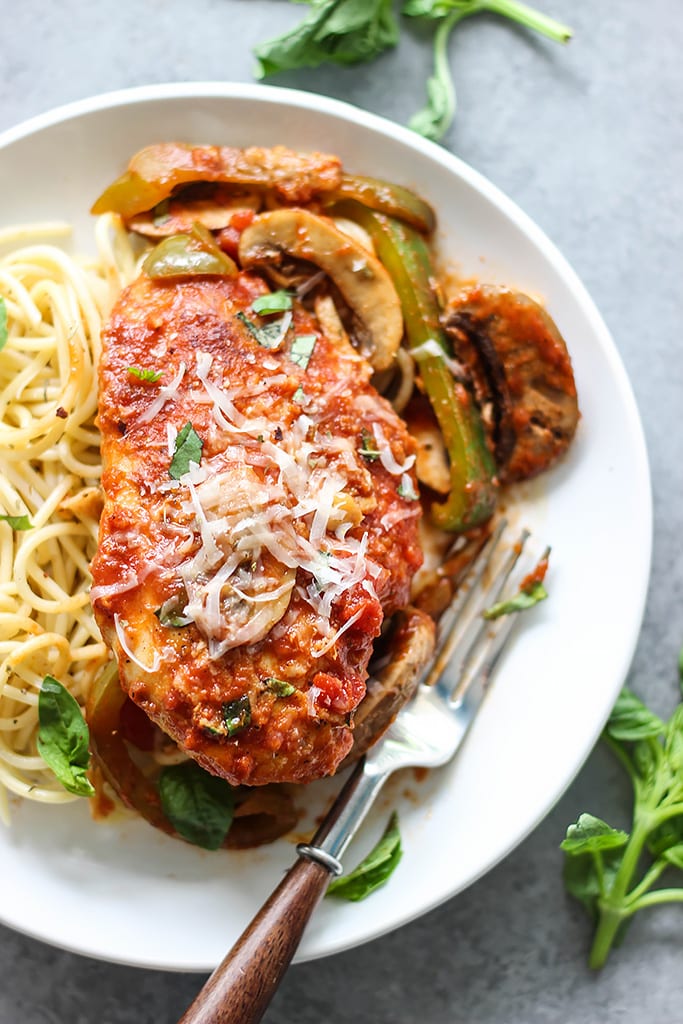 Today we're making a simple Italian classic called chicken Cacciatore. It's an easy dinner to love with chicken stewed in a hearty vegetable red sauce to serve over some pasta or creamy mashed potatoes.
With onions, garlic, bell peppers, baby bella mushrooms and fresh basil, this is an easy-to-love meal to bring to the dinner table. Pair it with some garlic bread, garlic knots, or a salad and you're good to go.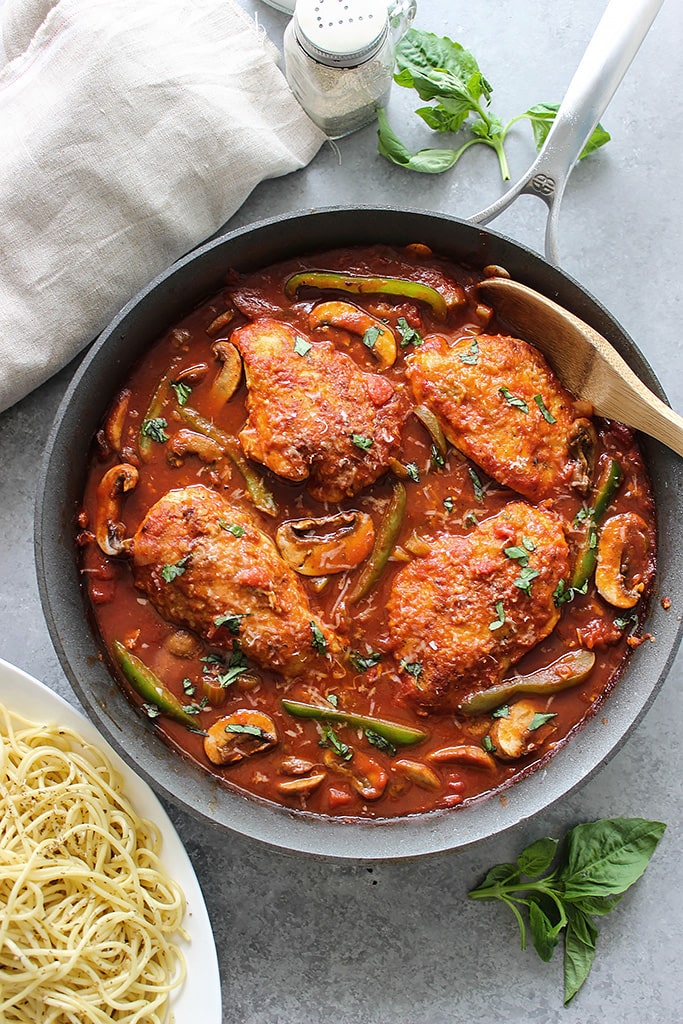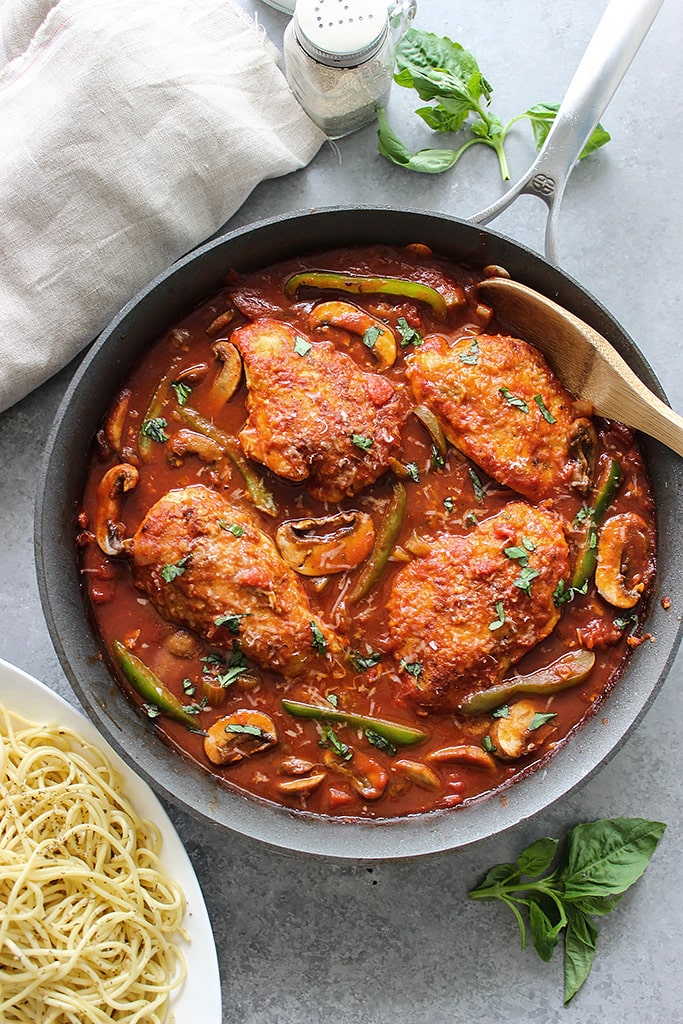 For more Italian-inspired chicken recipes, try out skillet chicken Parmesan or Italian-baked chicken. In the meantime, let's get started making some delicious chicken Cacciatore!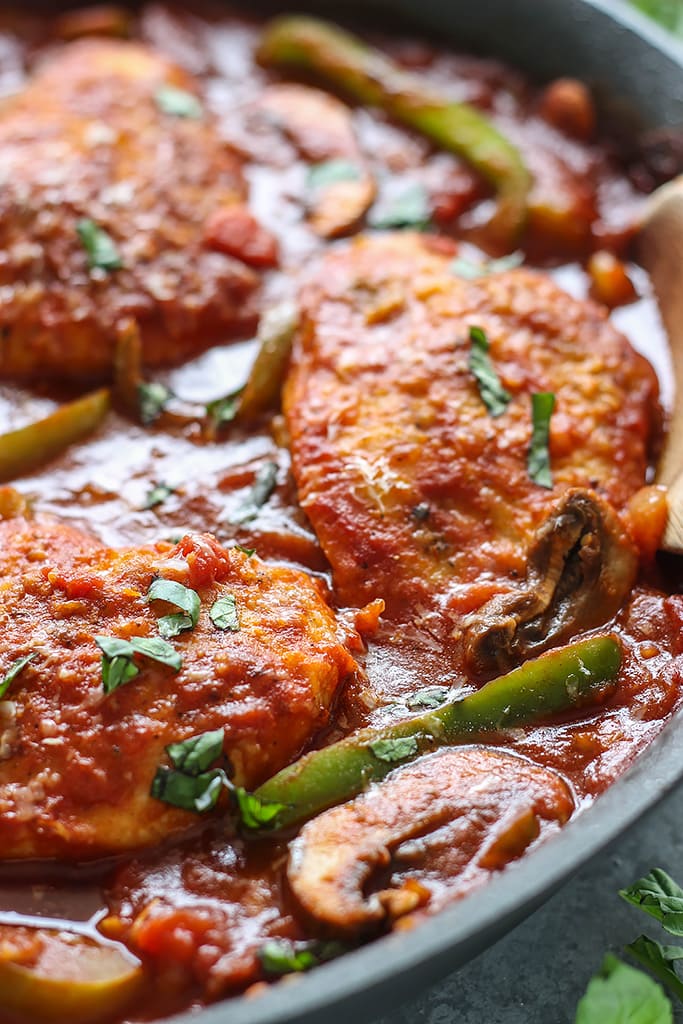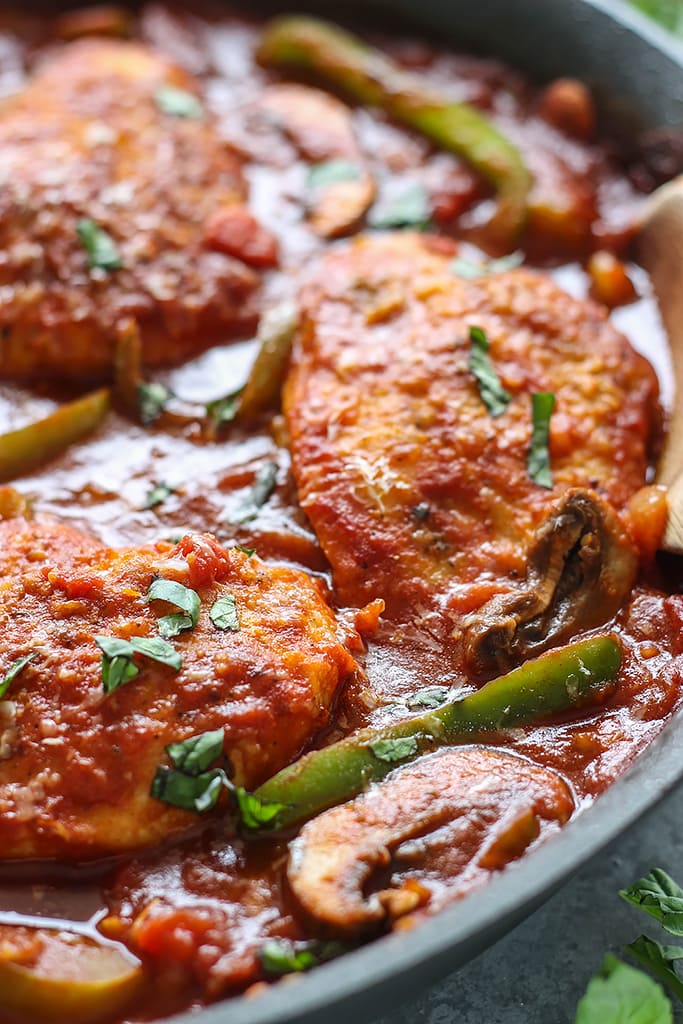 CHICKEN CACCIATORE RECIPE TIPS
First, we trim the chicken breasts of fat and then season them with salt and pepper to taste. If your chicken is pretty thick, you can opt to pound them down for quicker cooking times. You can also use chicken thighs if you prefer them. Then, dredge the chicken in some flour and sear them on both sides until browned.
Next, we'll be sauteeing the veggies in the same skillet until they're nice and sweaty before adding in some wine or chicken broth to deglaze the pan. Pour in the tomatoes and tomato sauce with the rest of the seasonings. I added some sugar to balance out the tartness of the tomatoes but you can skip that if you prefer. Before we add the chicken back to the pan, do a taste test for salt and pepper and adjust as needed.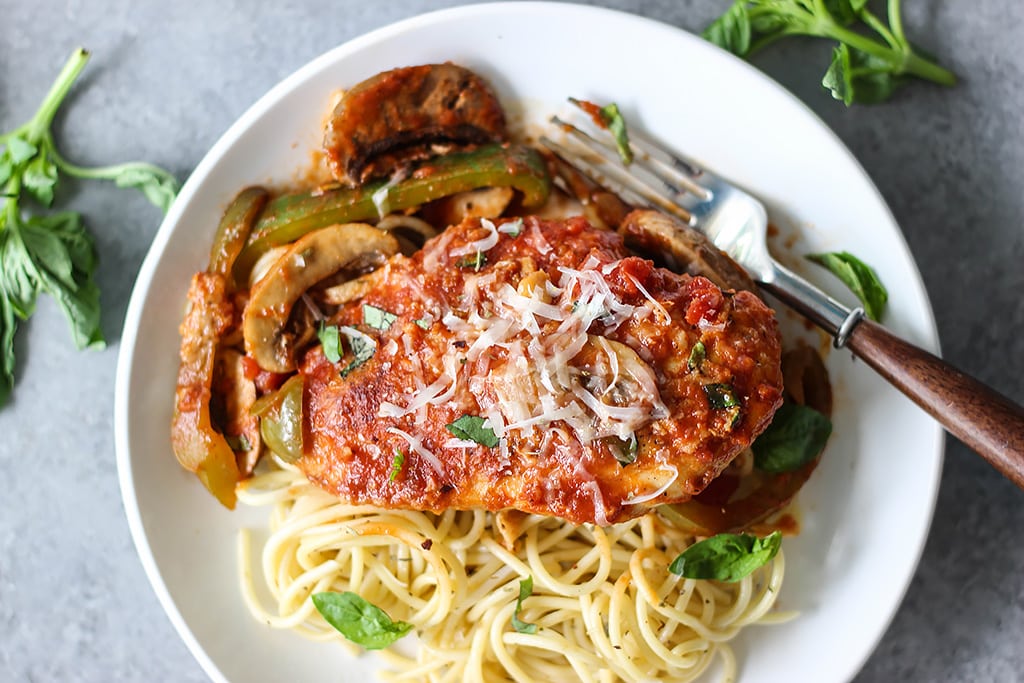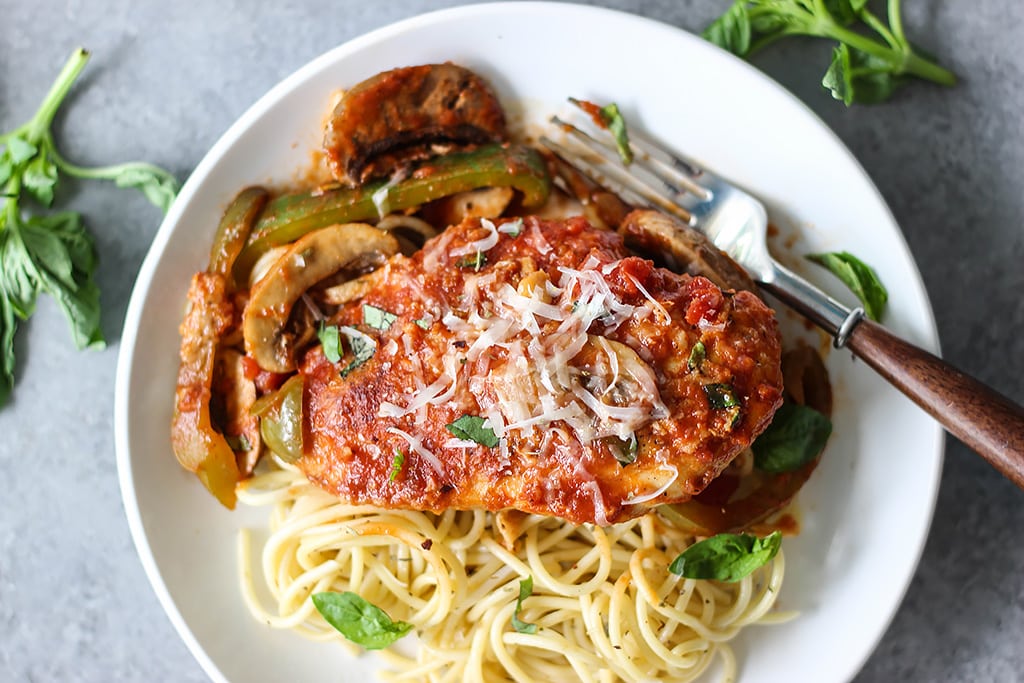 Then we add the chicken back into the pan, cover and simmer over low heat until the chicken is fully cooked and has had time to simmer in the sauce. Mine was done in 10 minutes but if in doubt, it's always a great idea to check with a meat thermometer.
Once it's ready, serve the chicken cacciatore over a bed of pasta or mashed potatoes and top with fresh basil and Parmesan. Enjoy your meal and happy eating!
MORE CHICKEN RECIPES TO TRY
Did you make this recipe? Rate it!
♡ If you liked this recipe, giving it a star rating ★★★★★ in the comments below really helps! For more recipes, subscribe to my newsletter or follow me on Facebook, Instagram and Pinterest.
Print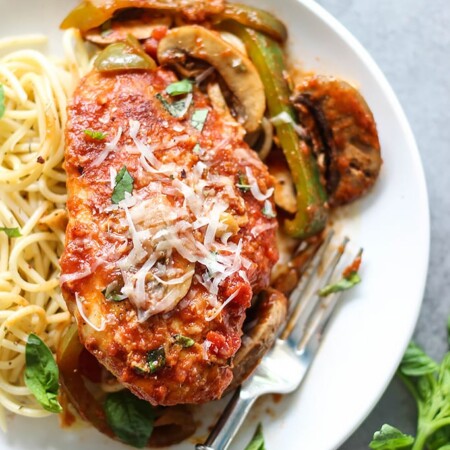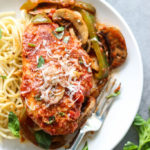 Chicken Cacciatore
---
Author:
Total Time: 45 minutes
Yield: 4 1x
Description
Chicken Cacciatore is a hearty stewed Italian chicken dish in a rustic tomato sauce with fresh bell peppers and basil.
---
4 boneless, skinless chicken breasts/thighs
1/4 cup all-purpose flour
Salt and pepper to taste
2 tablespoons olive oil
2 tablespoons butter
1 large yellow onion, chopped
3 medium garlic cloves, minced
1 green bell pepper, sliced
8 oz. baby portabella mushrooms, sliced
1 can (15 oz.) fire-roasted tomatoes
1 can (15 oz.) tomato sauce
1/2 cup white wine/chicken broth
2 tablespoons tomato paste
2 teaspoons Italian seasoning
1 tablespoon sugar
1/2 cup fresh basil, chopped
---
Instructions
Season both sides of the chicken breasts with salt and pepper and dust with flour.
Over medium-high heat, sear the chicken in oil and butter until browned. Remove and set aside.
In the same skillet saute onions and garlic until fragrant, about 2 minutes.
Add in bell pepper and mushrooms and saute until they start to sweat, about 3 minutes.
Pour in tomatoes and wine/broth and add tomato paste, Italian seasoning, sugar and salt and pepper to taste.
Stir to mix and add the chicken back into the pan.
Reduce heat to medium-low, cover and simmer until the chicken is cooked through or until a meat thermometer reads 165 ºF.
Dish and serve hot garnished with fresh basil.
Enjoy!
Prep Time: 15 mins
Cook Time: 30 mins