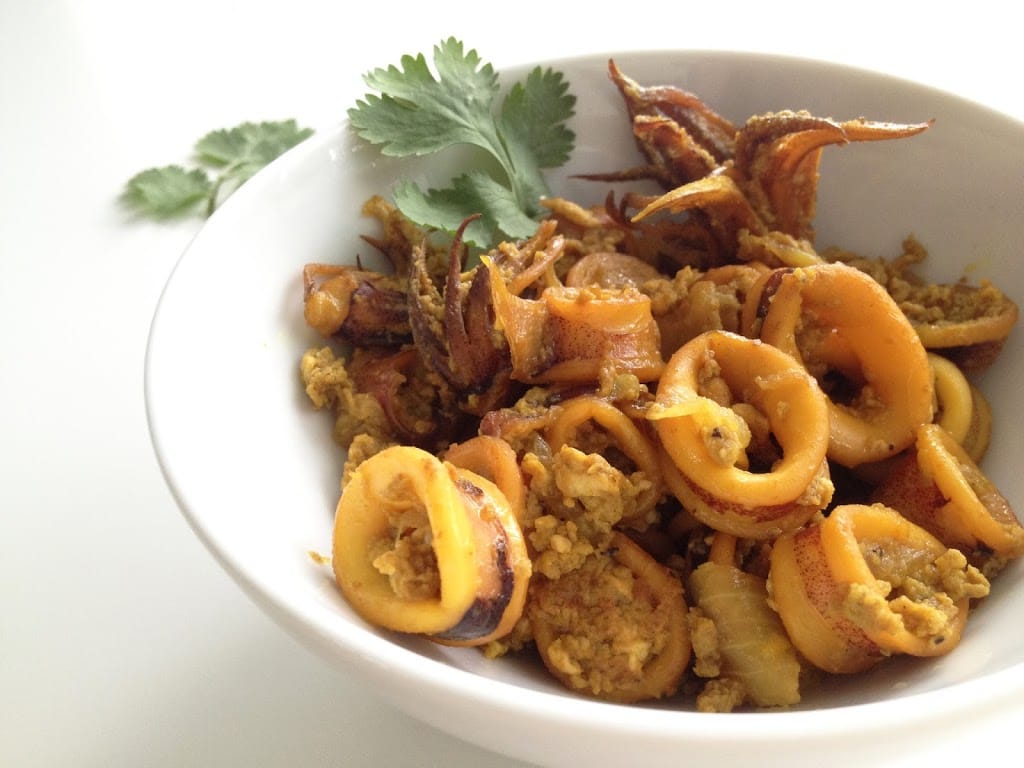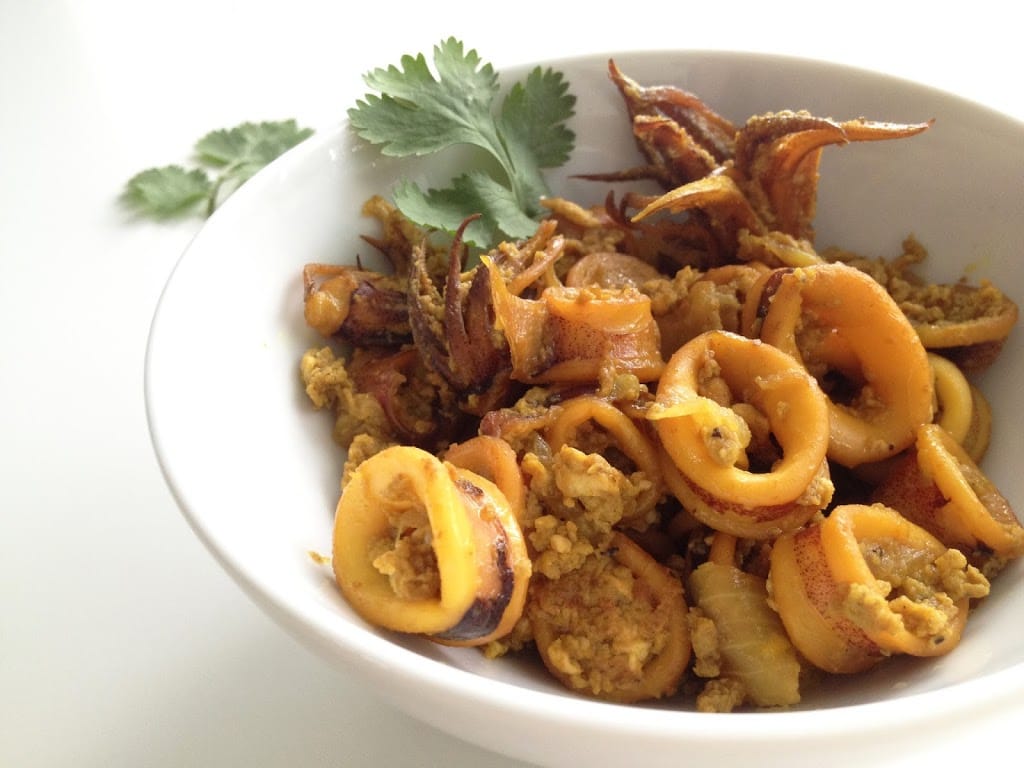 This is a dish my mom taught me as an easy, no fuss way to prepare squid for the dinner table. The turmeric imparts a unique taste that compliments the texture of the squid. Her traditional way is to use all ingredients I've listed except for the egg, yielding a somewhat wetter and less denser version. I've modified it slightly to add a scrambled egg to thicken the dish while adding additional texture, but you can opt to do it either way. It all depends on if you want more sauce or prefer it dry.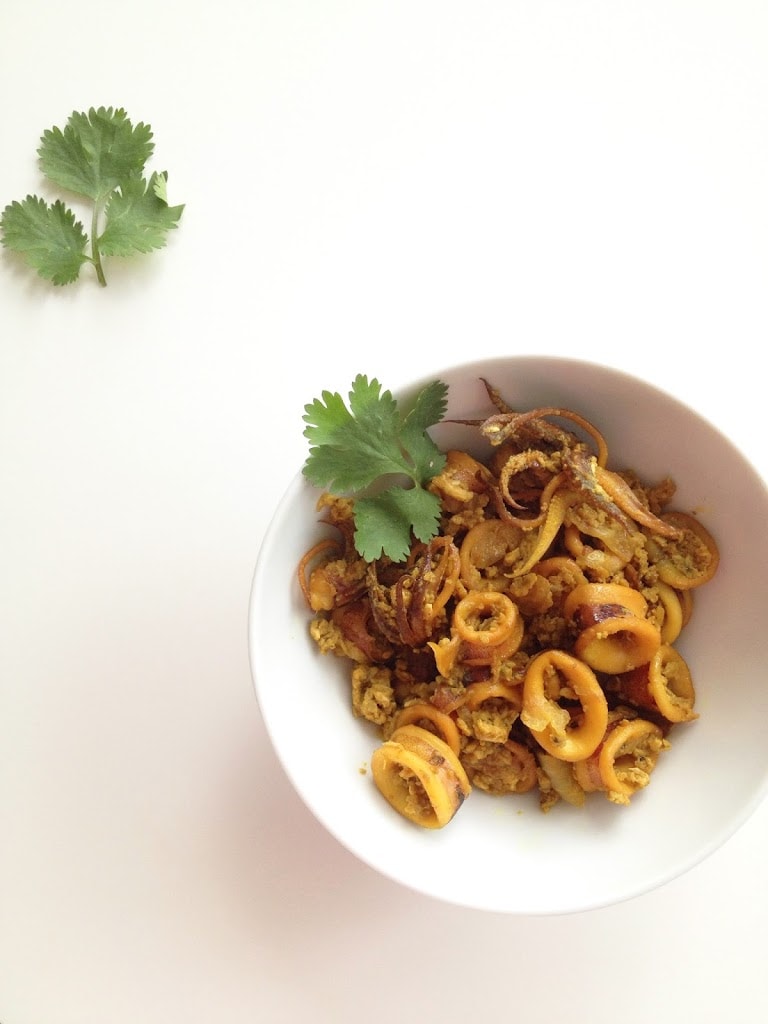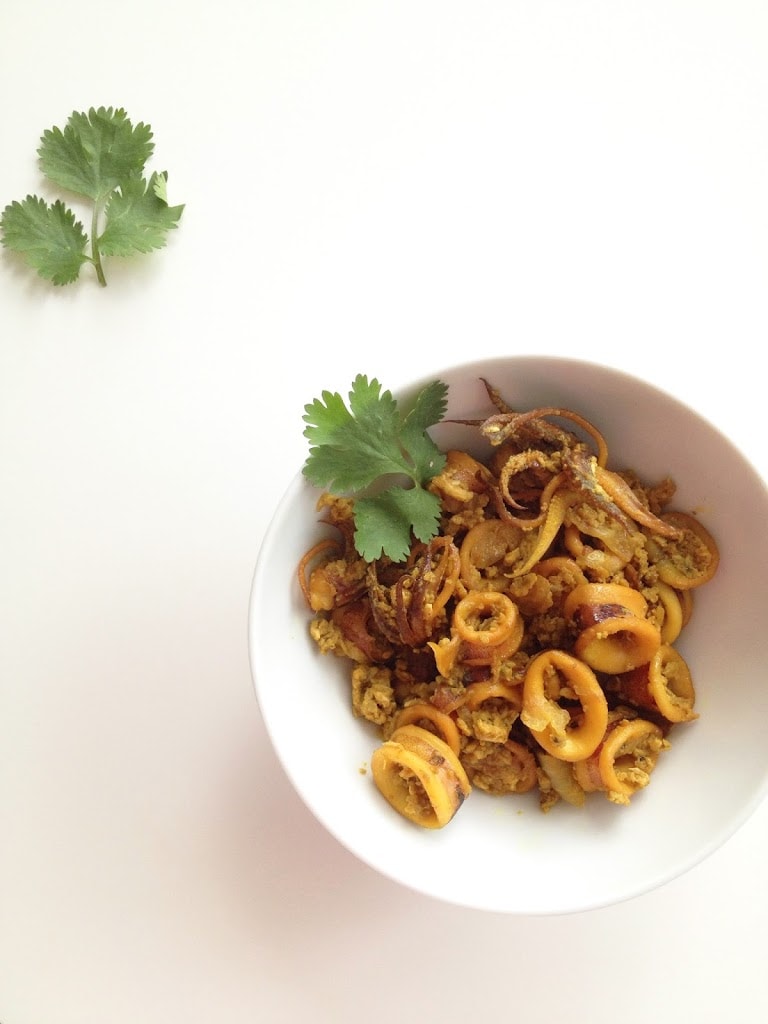 There can be some confusion on the difference between squid and calamari. Some say calamari is cooked squid and is the Italian word for it. Some say there is no difference. Some swear by the the distinct difference in the tenderness. I myself got quite confused. Regardless, the easiest, foolproof way to distinguish between what you're cooking is by the flaps; calamari's wings, or flaps are longer and more triangular and spread all the way across their bodies. Squid have smaller, pointier flaps that are very narrow at the end.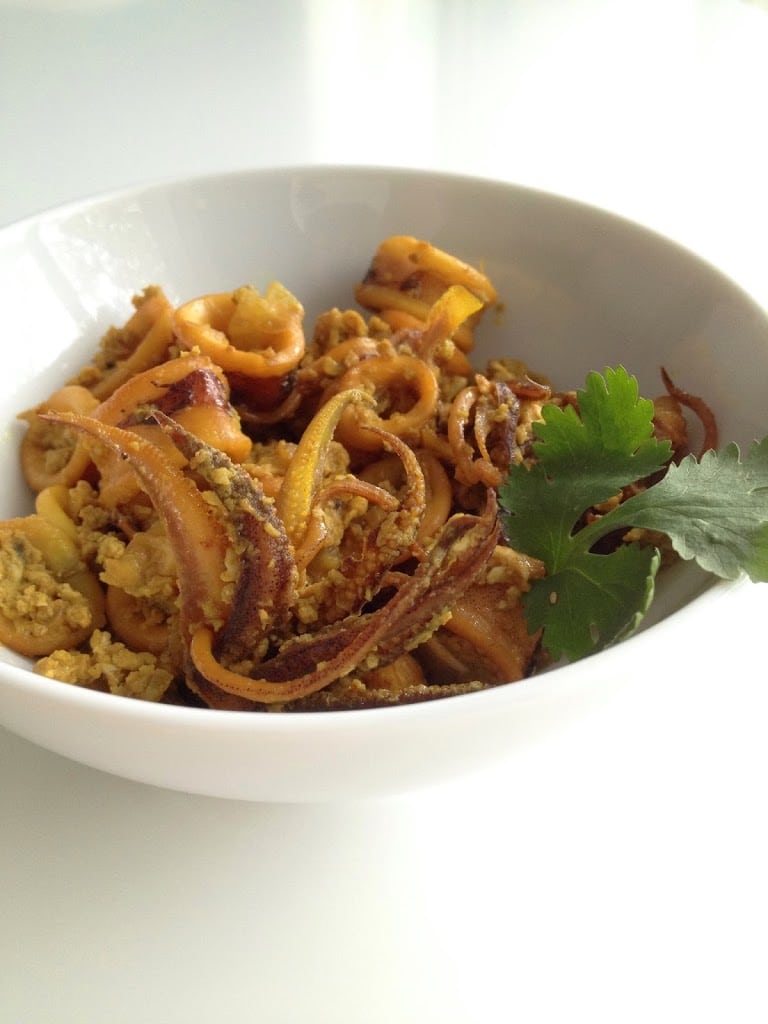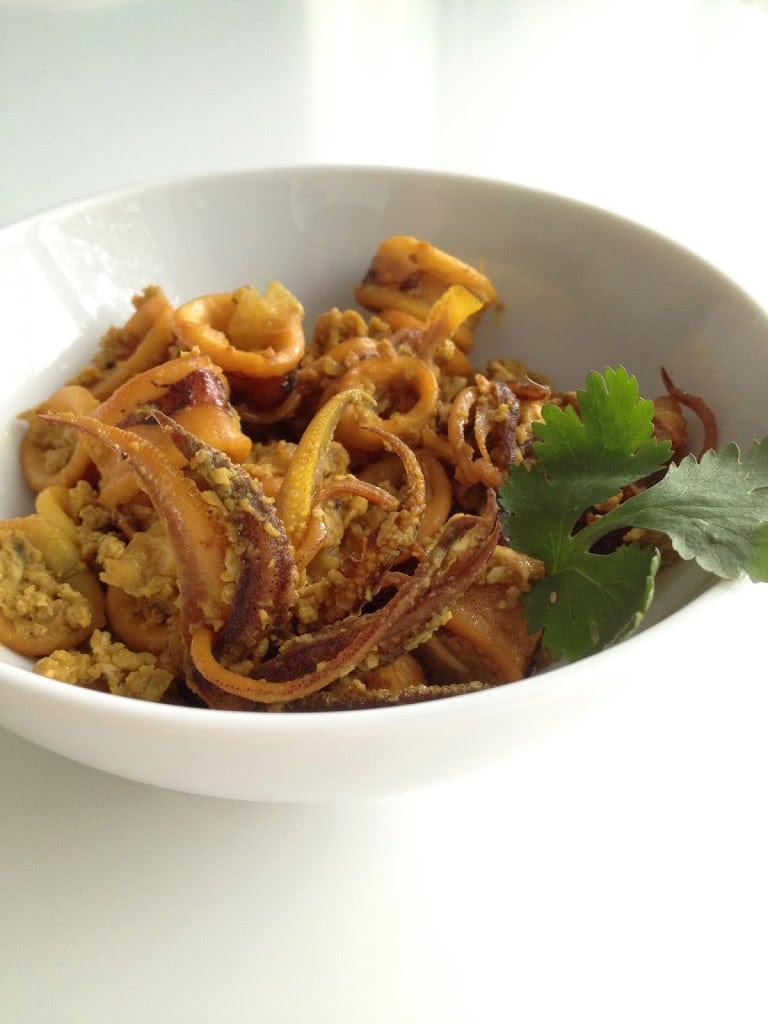 Back to the dish, just make sure you prepare and clean the squid well as it can make all the difference between a good dish and a bad, slimy one. Always remove the cartilage running along the entire length of the squid. pull it out and it comes off clean. It should look like a clear sliver of glass. Rinse, rinse and rinse to get nice, clean rings.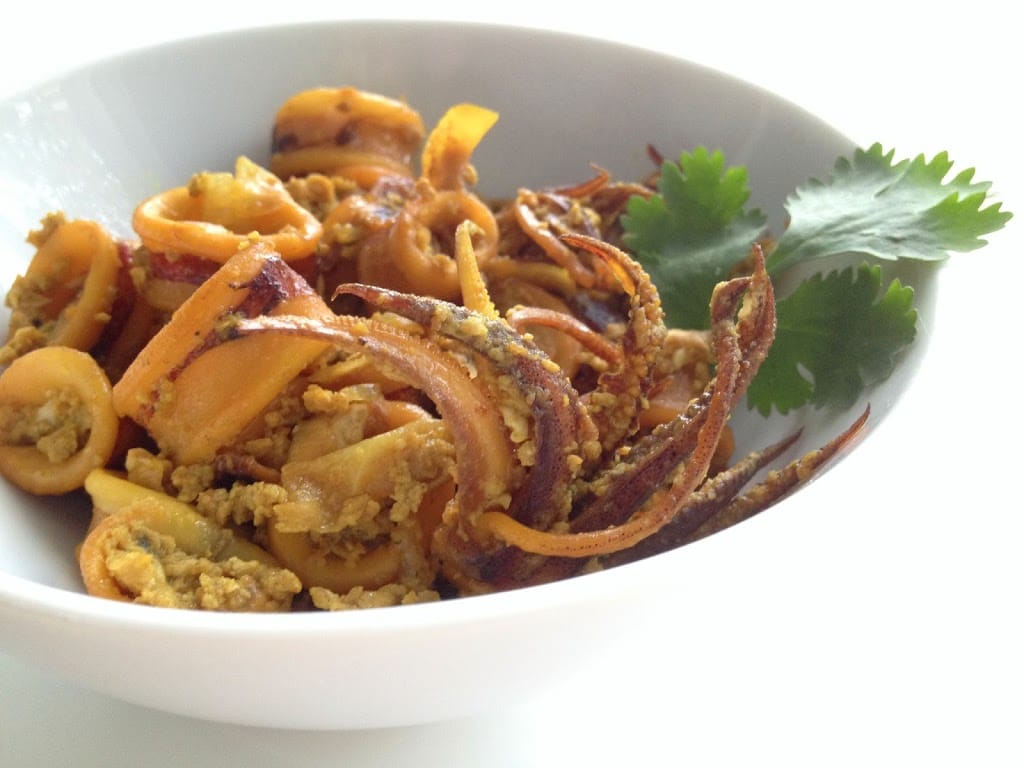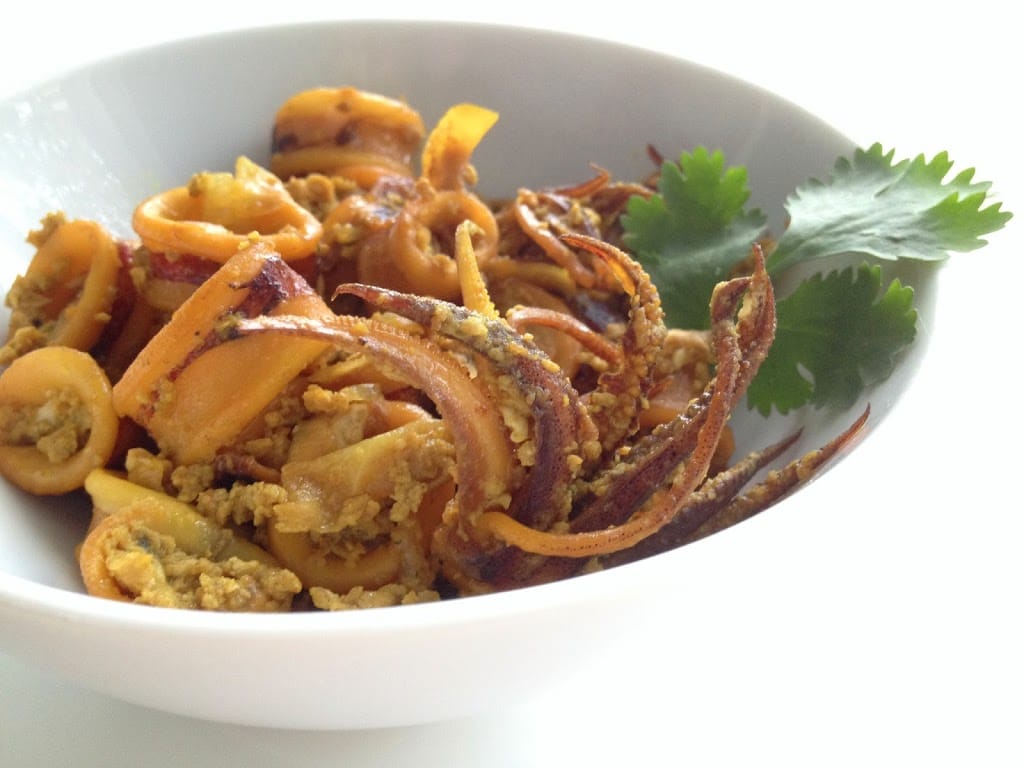 The result should be tender squid rings which have absorbed the flavor from turmeric, an ideal side dish to go along with rice.
Print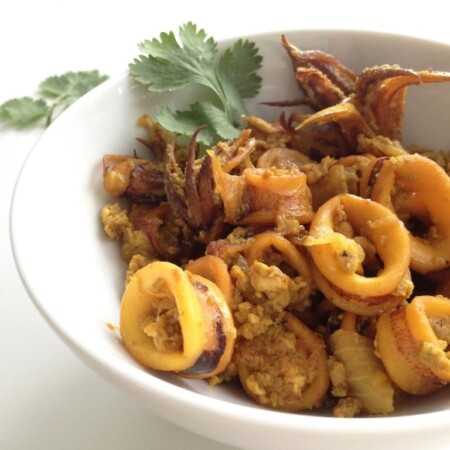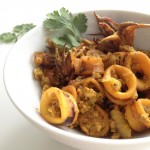 Turmeric Squid Stir-Fry
---
1 lb. squid, cleaned and cut into rings
1/4 yellow onion, sliced
1/4 teaspoon turmeric powder
Salt to taste
1 egg, beaten (optional)
---
Instructions
Prepare the squid accordingly and rinse thoroughly. Pat dry with paper towels
Over medium high heat, saute the onions until translucent
Toss in the squid rings, turmeric powder and salt to taste
Simmer until all the liquid has evaporated and the squid has cooked down, about 5 minutes
Pour in beaten egg and whisk continuously, until the egg has cooked into a dense scramble. Mix thoroughly
Dish and serve hot