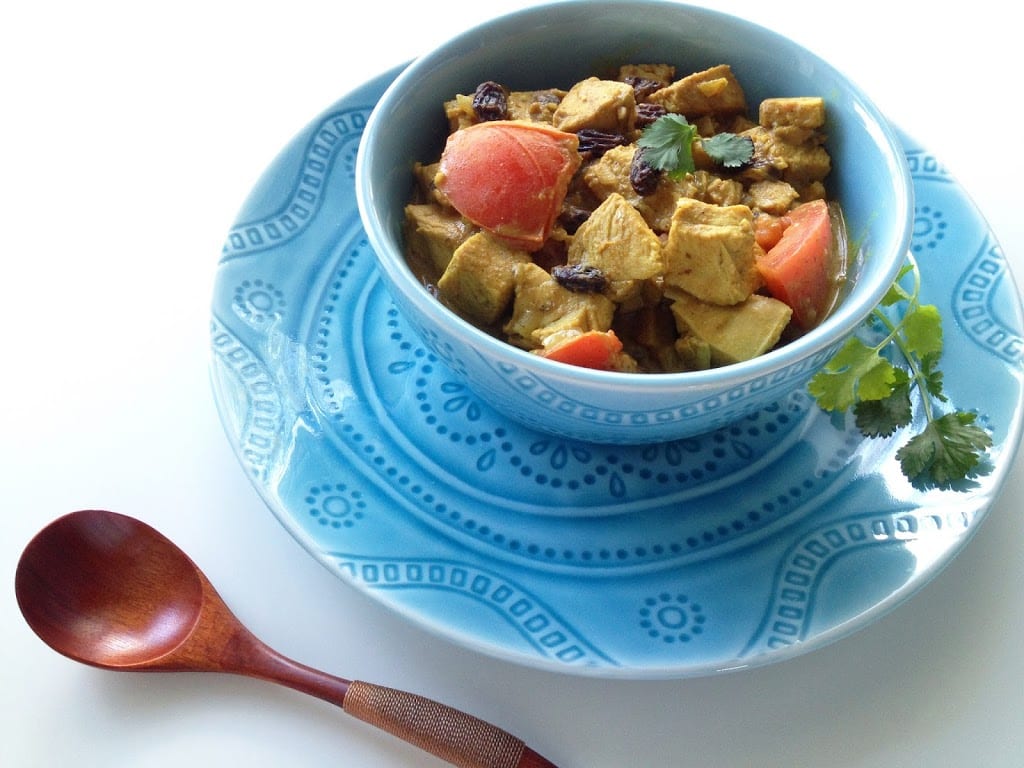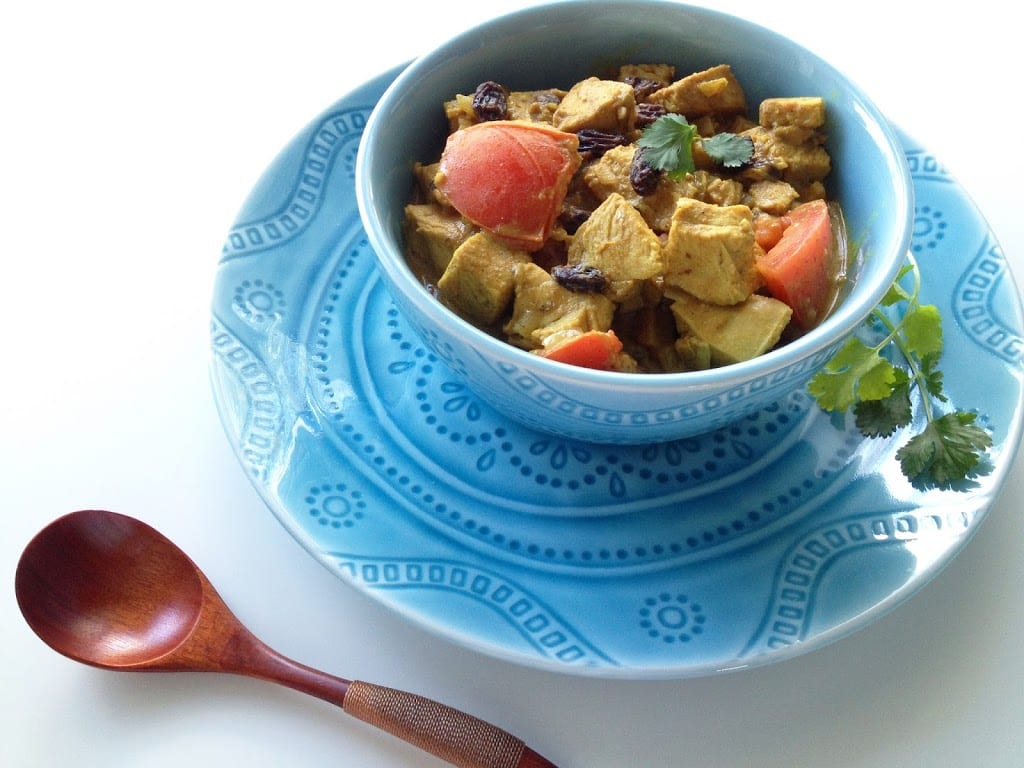 Thanksgiving has come and gone and much to my distress, my initial grand plan to post Thanksgiving recipes were undermined by time and hungry relatives. By the time we were done in the kitchen, the sun had set and I lacked the natural light to take the pictures. My backup plan of doing it the next day with leftovers didn't come into fruition either as there wasn't much left. Oh well, I'll have to hope for better planning come Christmas time.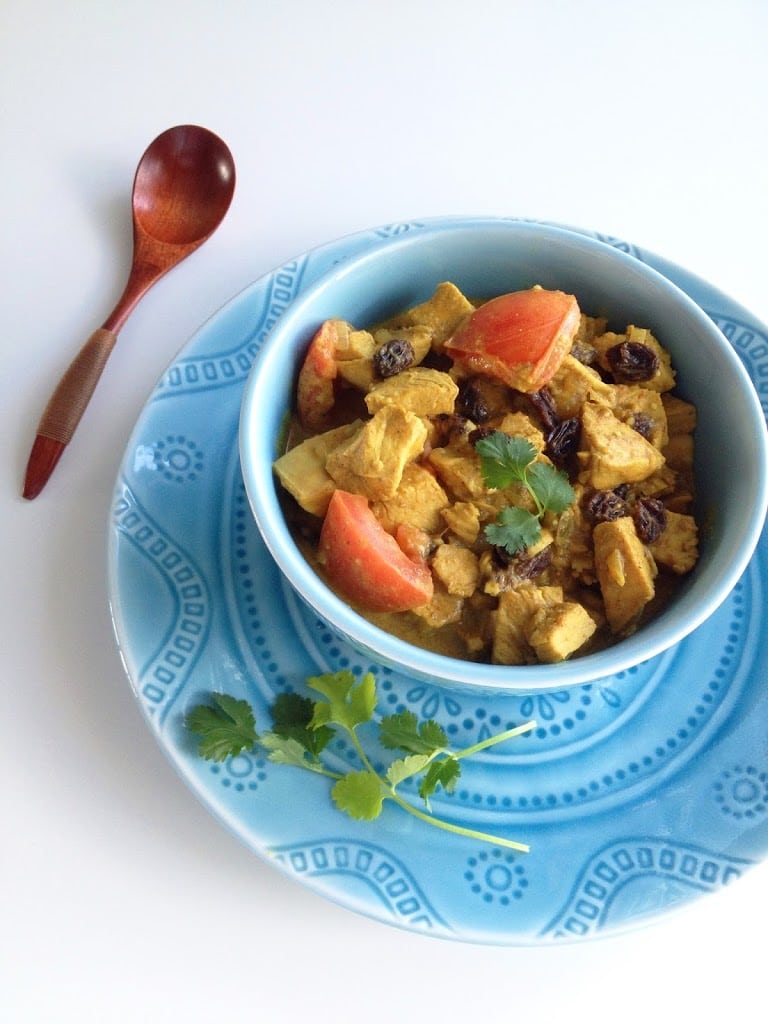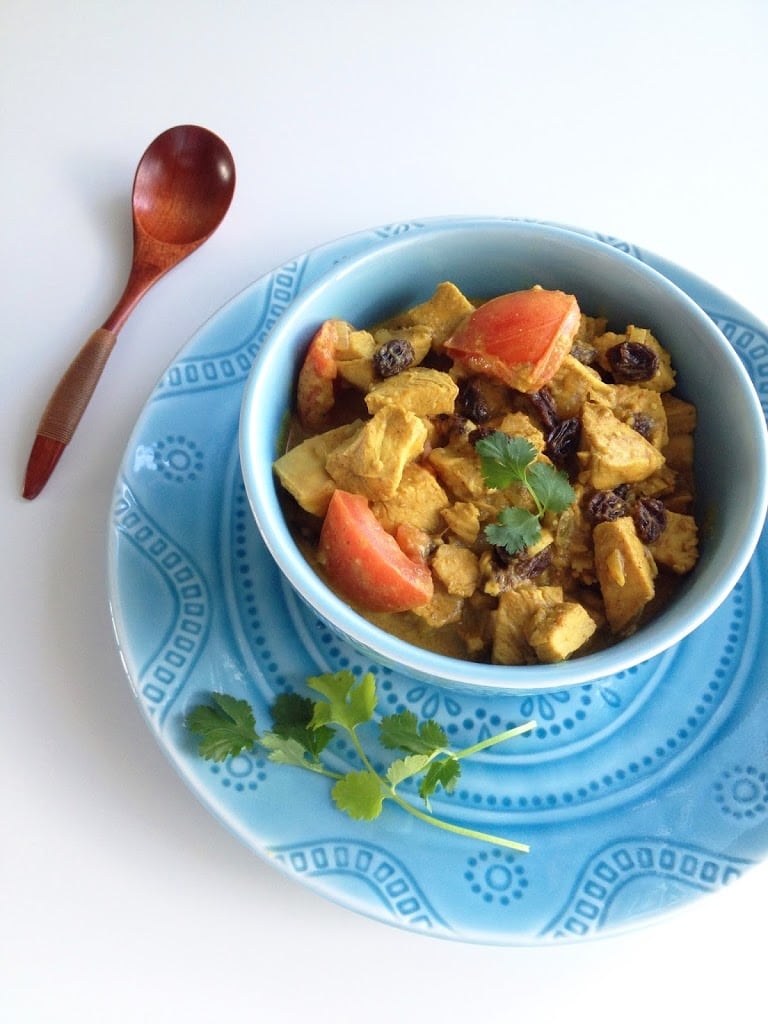 In the meantime, I settled for the idea of doing something with the leftover turkey, something completely different from the taste and flavor of a traditional Thanksgiving dinner; I decided to give it a little Indian twist and make a curry. This Turkey Curry has all the characteristics you would come to expect from a curry; heat and spiced flavor but I have also added the sweetness of raisins. Pair it with rice and you'll have a unique dish from your Thanksgiving leftovers. Enjoy!
Print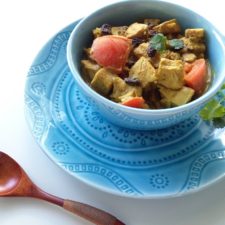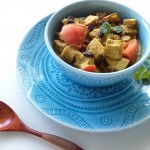 Turkey Curry
---
1

lb. cooked turkey breast, cubed

1 tablespoon

ghee

2

shallots, diced

2 teaspoons

garlic, minced

1/2 teaspoon

ginger, minced

3

cloves

1

cinnamon stick

3

green cardamoms

1 tablespoon

cumin powder

1 tablespoon

coriander powder

1 teaspoon

chili powder

1 teaspoon

garam masala

1/2 teaspoon

turmeric powder

2 cups

coconut milk

1

plum tomato, cut into wedges

1/2 cup

raisins

2 tablespoons

cashew nuts

1 teaspoon

lemon juice
Salt to taste
---
Instructions
Over medium high heat, melt the ghee and saute the shallots, garlic, ginger, cloes, cinnamon stick and cardamoms until fragrant
Add in the turkey and stir to combine
Pour in 2 cups of coconut milk and mix well
Add cumin powder, coriander powder, chili powder, garam masala, turmeric powder and salt to taste. Simmer for 5 minutes
Grind the cashew nuts into a powder with a coffee grinder or pound it with a mortar and pestle
Add in cashew nut powder to thicken the curry and simmer for another 5 minutes, until the curry has thickened
Toss in the raisins and tomato wedges and stir gently to combine
Add lemon juice and mix well
Dish and serve hot
♡ Affiliate disclosure: As an Amazon Associate, I earn commissions from qualifying purchases from Amazon.com. You can learn more about it here.