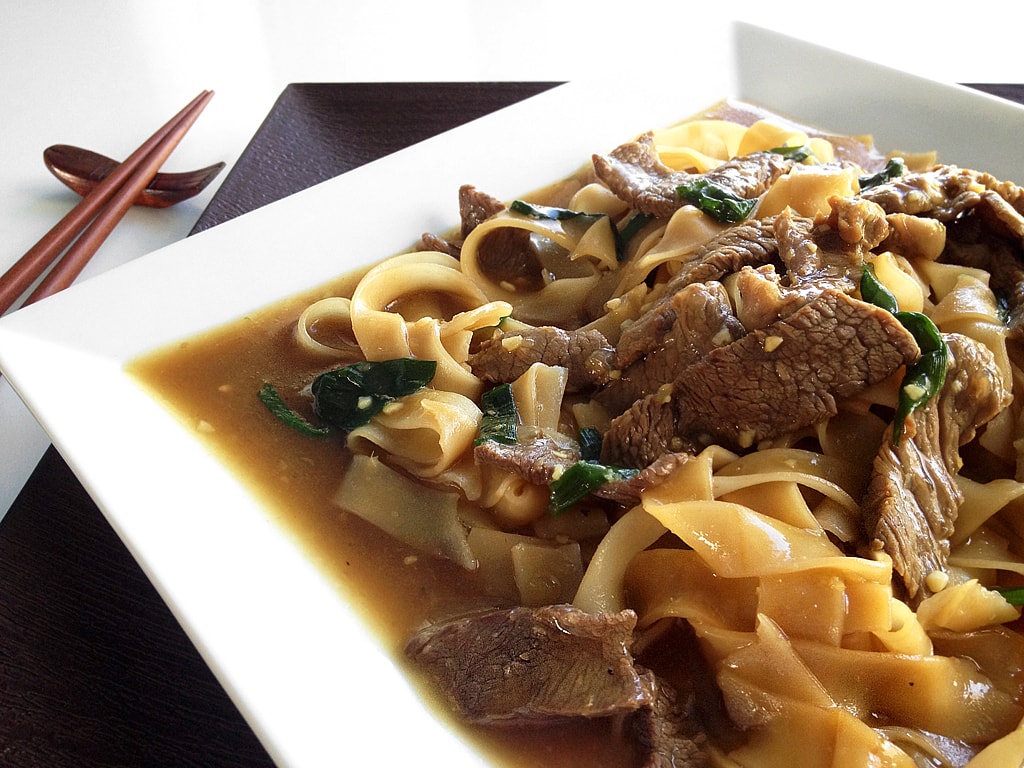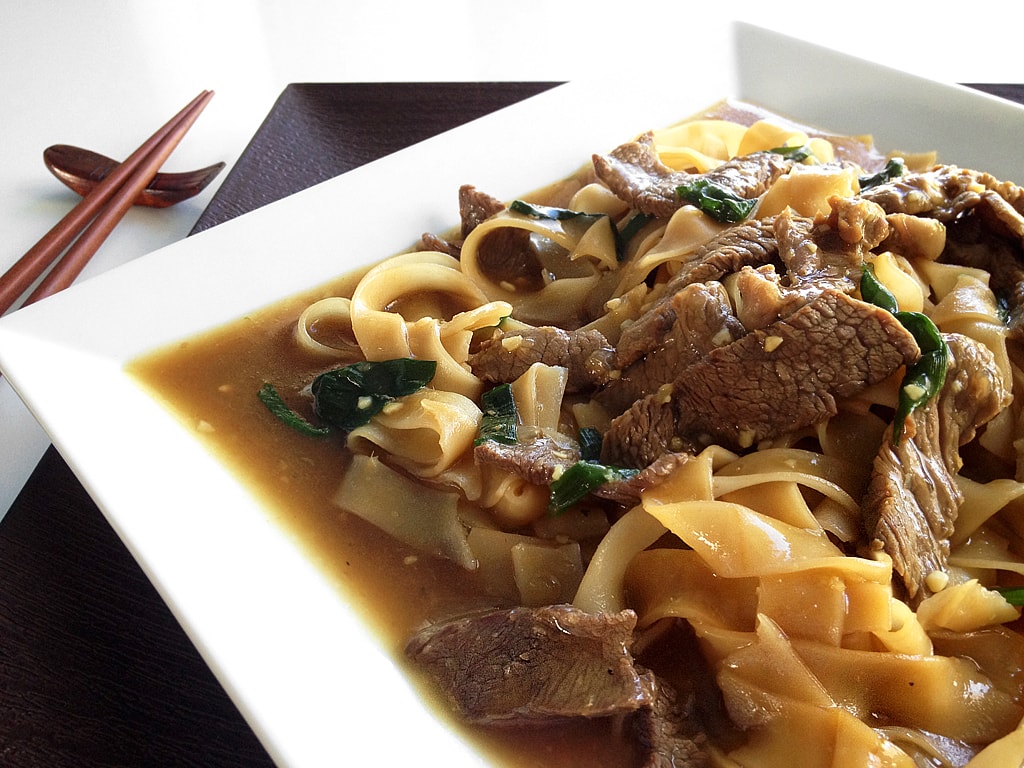 Here's another great way to enjoy rice noodles, almost similar to Flat Noodles with Egg Gravy (Wat Tan Hor) but this combines soupy noodles with the savory flavor of beef and ginger in Ginger Beef Stir-Fry
You'll get a wonderful soup-style noodles infused with the flavor of oyster sauce and ginger, with thin soy sauce to add some saltiness and some sugar to balance to it out. It's a perfect quick fix for cold winter days when you want something warm and soupy but are craving noodles too.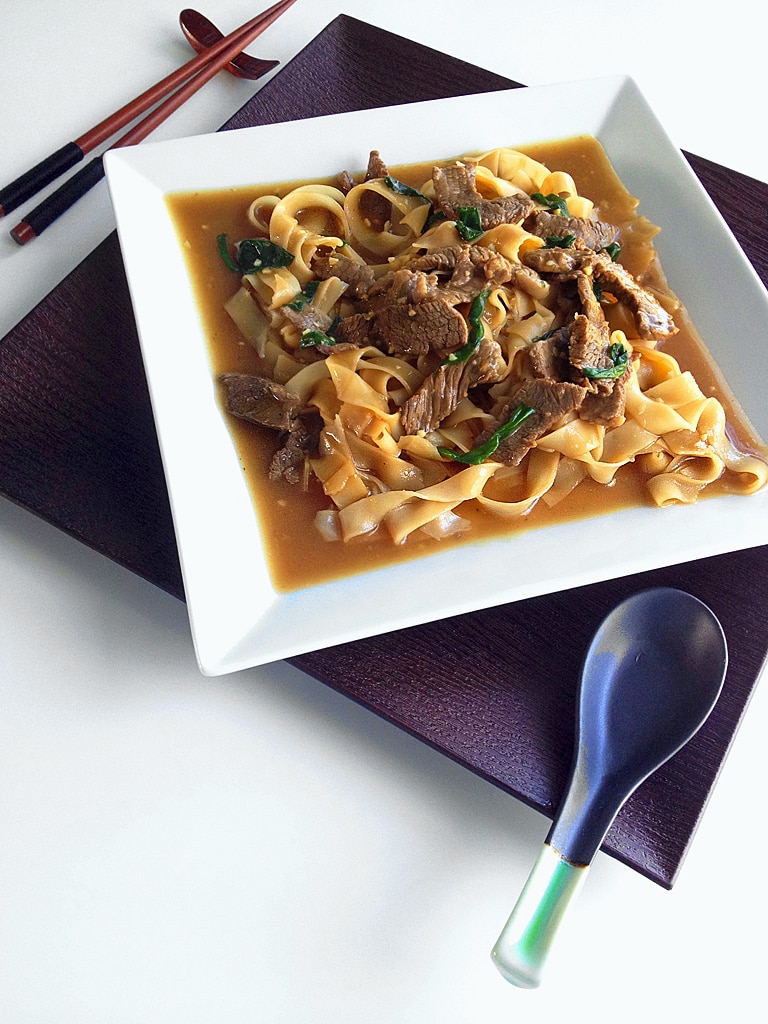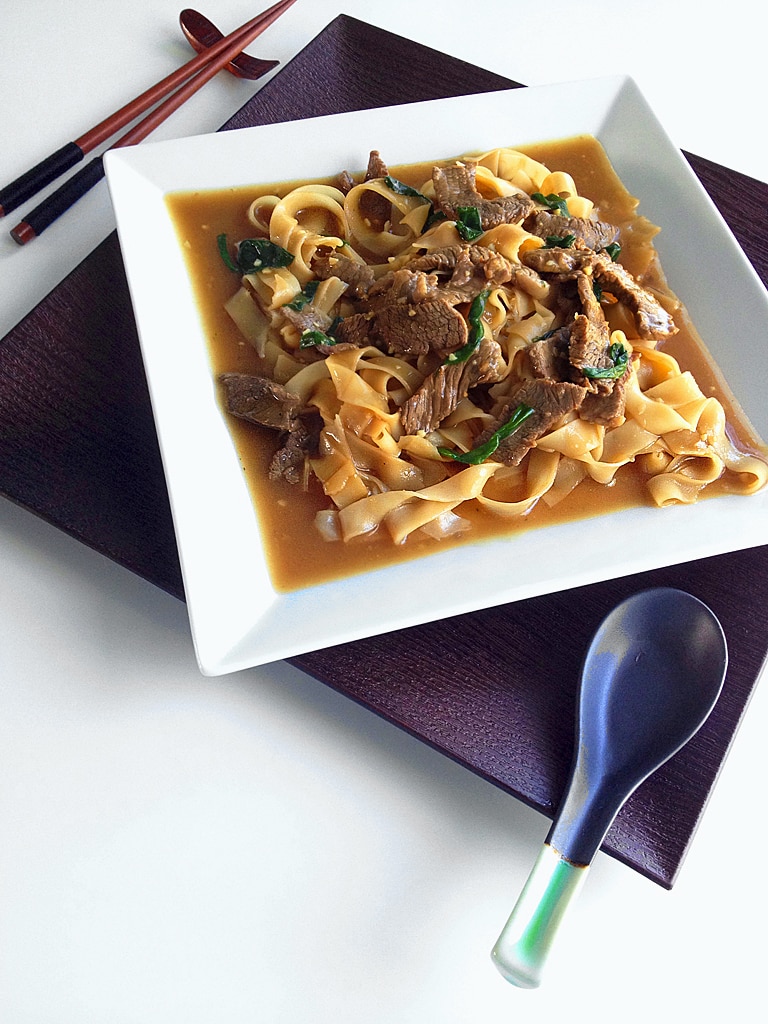 As usual, you can find the flat rice noodles in your local Asian grocery stores for a little more than a buck. Look for dried and very wide, flat translucent noodles in a packet. Each packet is enough to make about two meals for two people.
It's very important to soak them till they are malleable and to cook them down in a stir-fry to get them to al dente or you'll end up with very chewy and tough noodles, similar to eating pasta which isn't cooked fully. The goal is to soften them up to absorb the gravy. Once you've cooked everything, combine the gravy with the noodles only when you're ready to eat or the noodles will soak up all the gravy and become soggy if left too long.
Another thing to note is once the noodles are cooked and sit for awhile, they will clump together. Simply use a fork or tongs to gently separate them before serving. Enjoy!
Print
1/2 lb. flat rice noodles
1/2 lb. flank steak, cut into thin strips against the grain
1 teaspoon garlic, minced
2 cups chicken stock
2 tablespoons thick soy sauce
1 tablespoon oyster sauce
1/2 tablespoon thin soy sauce
1 teaspoon sesame oil
2 teaspoons sugar
3 green onions, sliced diagonally into 2" pieces
1 1/2 tablespoons cornstarch mixed with 2 tablespoons cold water
Pepper to taste
Marinade:
2 tablespoons thin soy sauce
1 tablespoon oyster sauce
1 teaspoon ginger, minced
1 teaspoon sugar
---
Instructions
Mix together the marinade and marinate the beef strips for 30 minutes
Soak the rice noodles in warm water for 15 minutes, making sure they are completely submerged
Over medium high heat, stir-fry the noodles in 1 tablespoon oil and 1 tablespoon dark soy sauce until the noodles have cooked down and absorbed the color, tossing continuously for about 5 minutes. Add water if needed to prevent sticking. Remove and set aside
In the same pan, saute garlic until fragrant
Add in the marinated beef and cook thoroughly, about 2 minutes
Pour in chicken stock and stir to combine, adding oyster sauce, thin soy sauce, sugar and pepper to taste
Bring to a boil then pour in the cornstarch slurry and simmer until the gravy has thickened
Add in green onions and toss to combine
Remove from heat and add sesame oil
Arrange the noodles on plates and ladle the beef and gravy on them
Serve hot