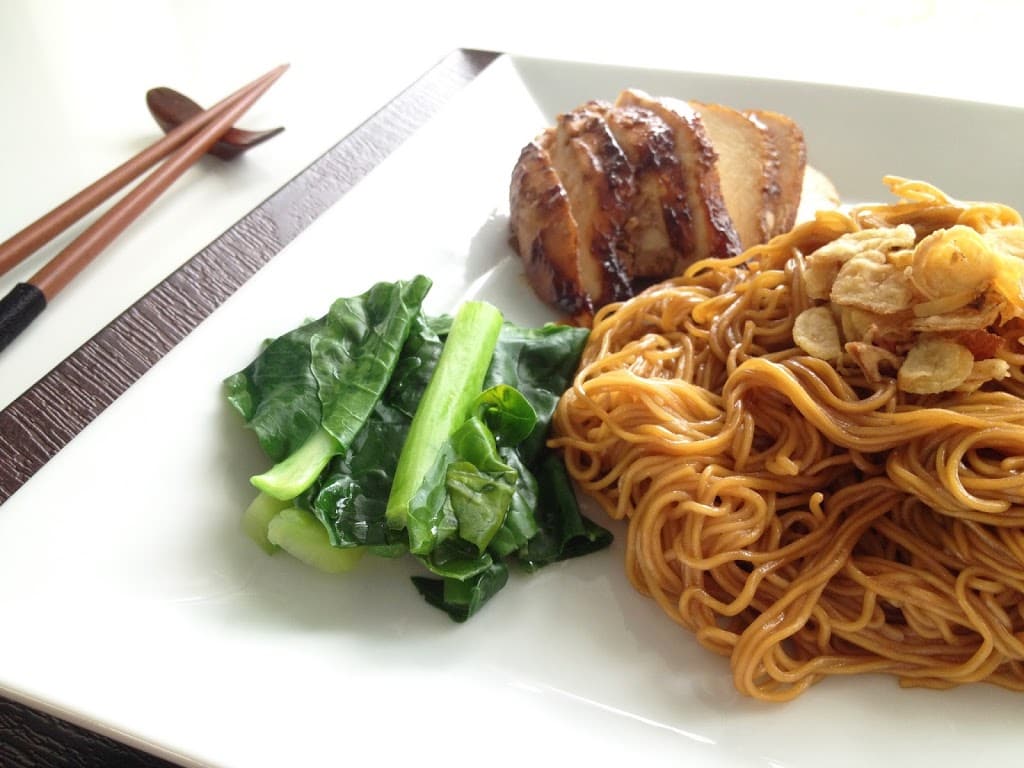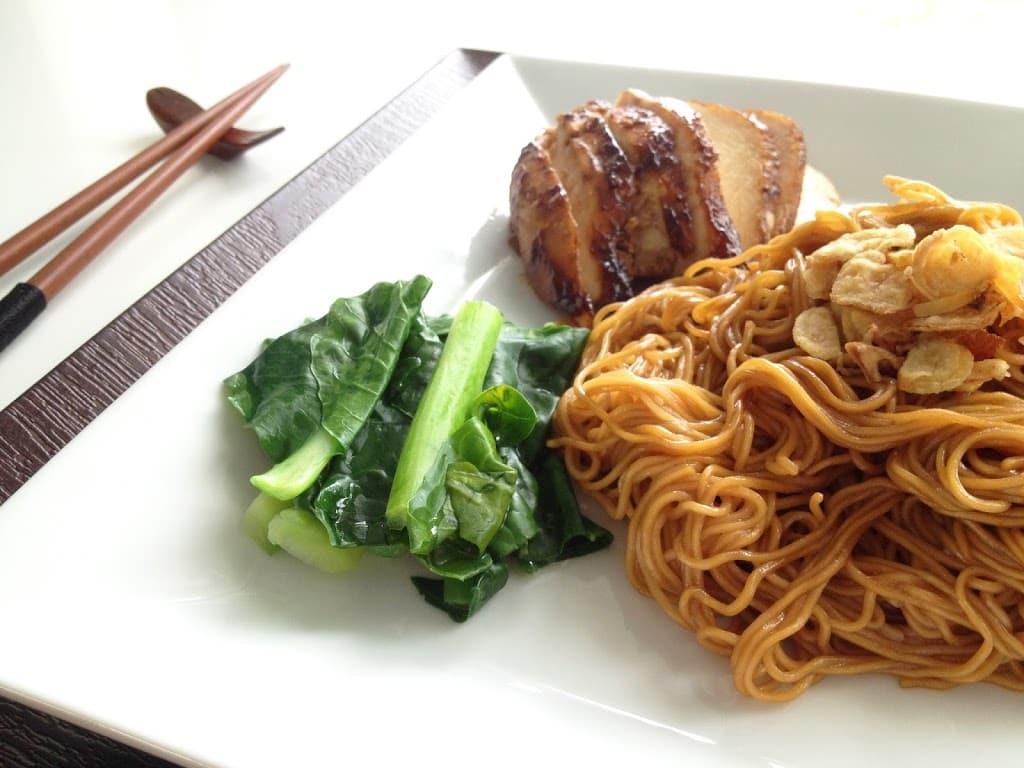 Noodles. It's the one thing I can never get tired of. It's rooted deep in my system where some internal programming pulls at my hunger lust and like clockwork, I start craving them. Perhaps it's the soup or gravy that comes with them, or the chewy textures of different noodles, or maybe it's the accompaniment of innocuous but compelling garnishes that draw me in.
I love soaking the fried tofu puffs in Curry Laksa and drawing all that curry goodness in like a greedy sponge, only to bite down on it and have all that curry burst in my mouth. And let's not forget the comforting embrace of lobster sauce drenched flat noodles in Flat Noodles with Egg Gravy (Wat Tan Hor).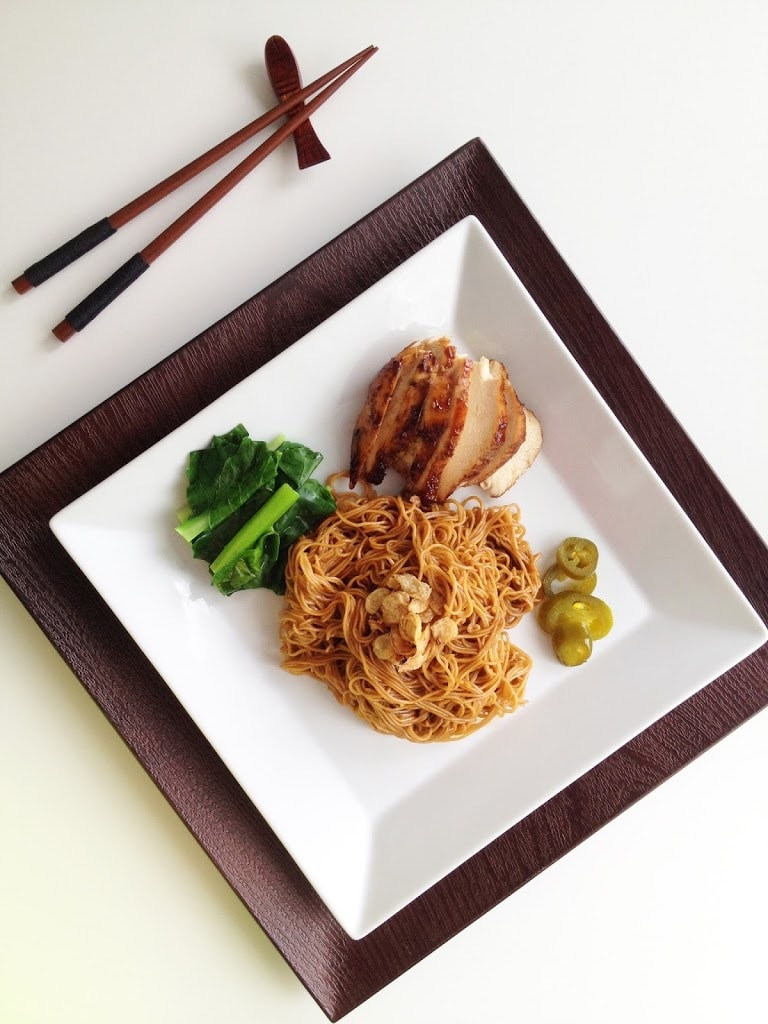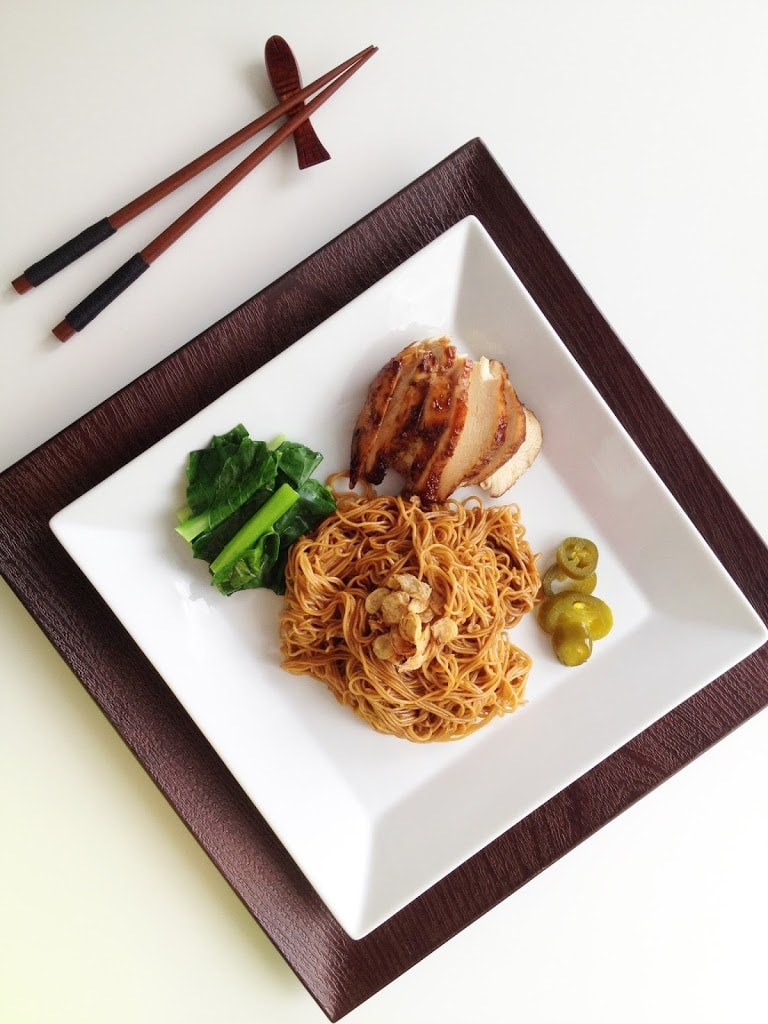 The magic doesn't stop there. I'm going to be slowly exposing everyone to the noodles wonderland that is out there, ripe for the picking, so today let's try Soy Sauce Noodles.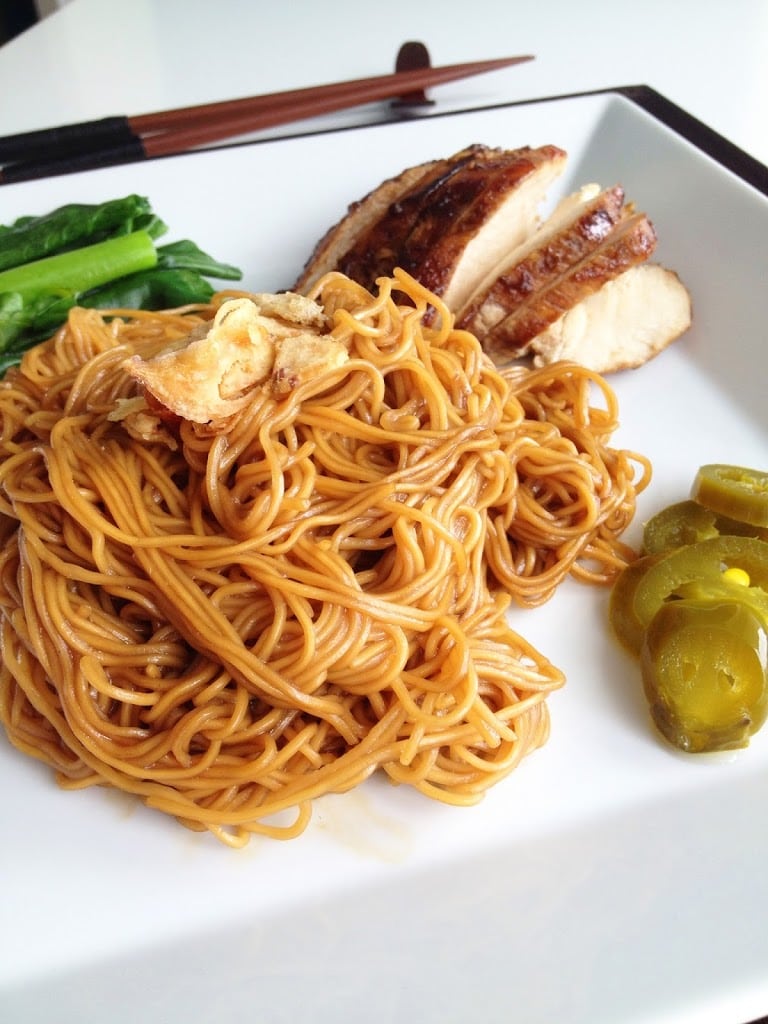 If you've been stocking up on the basic Asian sauces for cooking (thick soy sauce, thin soy sauce, oyster sauce, sesame oil), you only need a little more to make this. There are two types of oils used to flavor these noodles which are entirely blanched or boiled (if you are using angel hair pasta). I use sesame oil and shallot oil. Both can easily be found at your local grocery store and makes a world of difference, so don't skip on these!
As for the noodles, I've used won ton noodles, which can be found in the frozen section of Asian stores. They'll come all packed and wrapped up in coils with the hardness of a hockey puck but once tossed in boiling water, it will cook within minutes. Faster than pasta.These noodles are very thin and stringy-like but if you have problems finding them, you could try to substitute with angel hair pasta.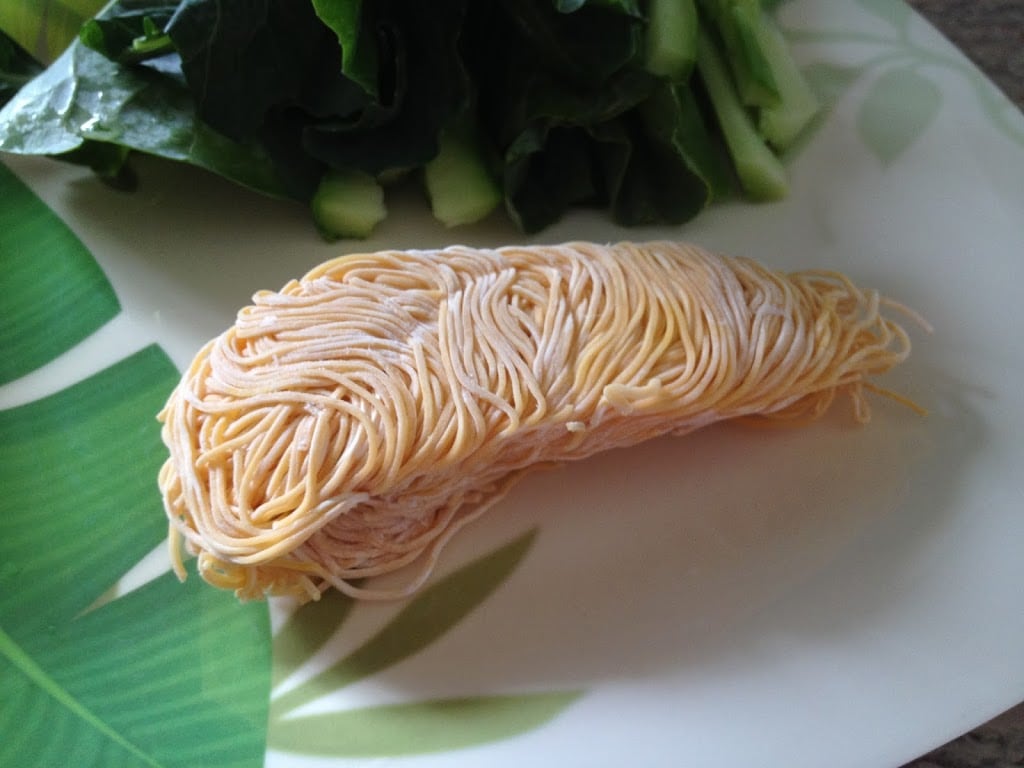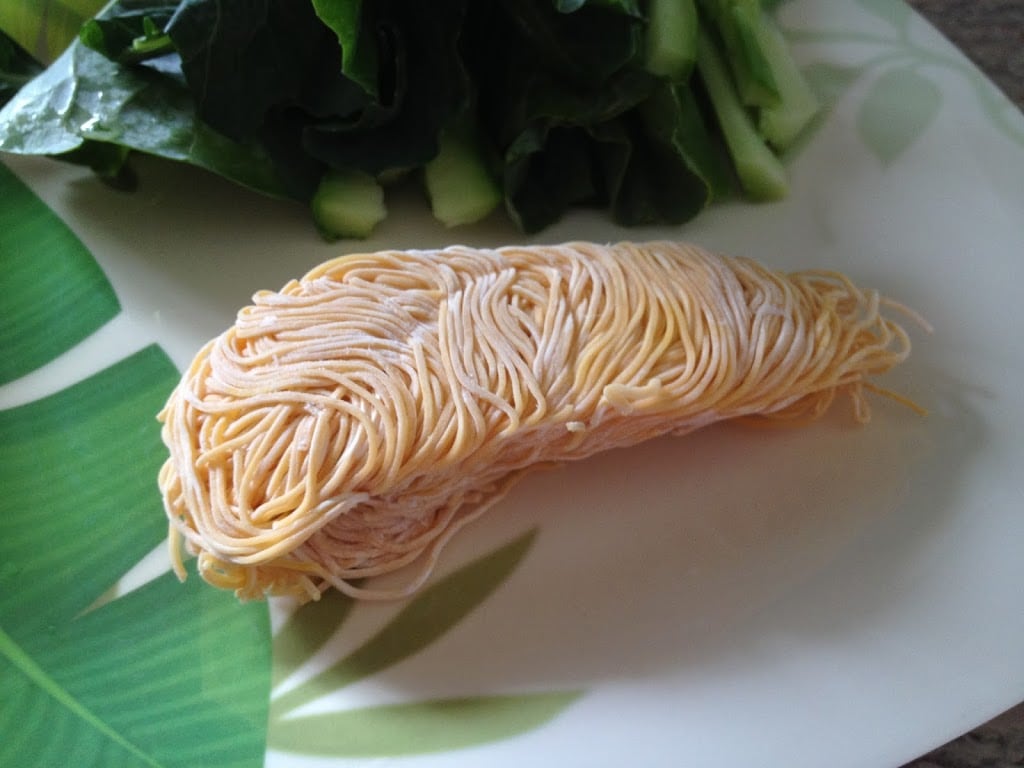 The trick is to cook the noodles until they are slightly glutinous and to add to that with the reserved pasta water. Not mushy, glutinous. The great thing about these noodles aside from the flavor is the texture. I'm unsure if this works just as well with angel haired pasta but it's worth a try. Let me know!
Mix them up with all the sauces and voila, you have noodle heaven within your reach and just to sweeten the pot, I've also added chicken in an Asian barbecue sauce, coated with a combination of hoisan sauce, oyster sauce, honey, thick soy sauce and five spice powder. The result is a crisp chicken with strong awesome Asian flavors to compliment your equally awesome noodles.
If the chicken is too much work, or you want to go vegetarian, just omit the chicken which is something I usually do when I cook for myself.
Print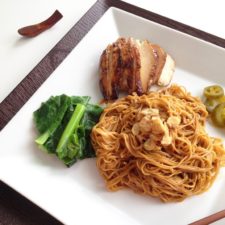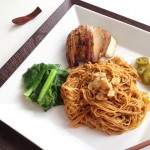 Soy Sauce Noodles
---
1

coil wonton noodles / 1/4 lb. angel hair pasta cooked al dente, reserve pasta water

1 tablespoon

pasta water

1/2

stalk Chinese kale (kai lan), separate stalks and leaves

1 teaspoon

pickled jalapeno

1 teaspoon

fried shallots
Sauce:
1 1/2 teaspoons

thick soy sauce

1 teaspoon

thin soy sauce

1 teaspoon

oyster sauce

1/2 teaspoon

sesame oil

1/2 teaspoon

shallot oil
Pepper to taste
Chicken:
1

boneless, skinless chicken breast

1 1/2 teaspoons

hoisan sauce

1 teaspoon

honey

1 teaspoon

oyster sauce

1 teaspoon

thick soy sauce

1/2 teaspoon

five spice powder
---
Instructions
Combine the chicken sauces together and coat the chicken on both sides
Line a baking tray with foil and bake the chicken at 350 degres F for 20 minutes
Baste the chicken with the remaining marinade and broil at 450 degrees F for 8 minutes. Cut the chicken into slices
Bring a pot of water to a boil and blanch the wonton noodles for 3-4 minutes, until the water becomes thick and starchy
Mix together the sauce ingredients and toss the noodles in it, adding 1 tablespoon of reserved pasta water
Blanch the greens in the remaining water for 30 seconds or until it turns bright green
Dish the noodles with the greens, arrange the chicken slices with it and garnish with pickled jalapeno and fried shallots
♡ Affiliate disclosure: As an Amazon Associate, I earn commissions from qualifying purchases from Amazon.com. You can learn more about it here.