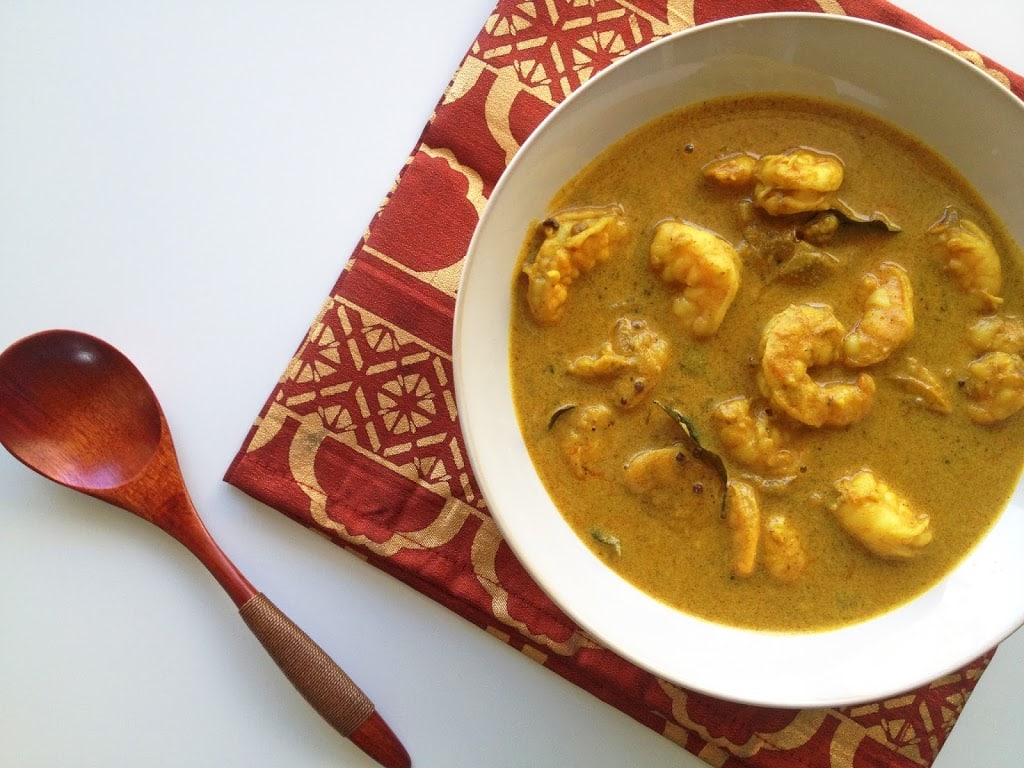 I like curries. I suppose I had no choice but to like them as I grew up with them. We had fish curry served with Indian flatbread for breakfast, or the tamer dal if you couldn't handle the heat (*cough* my brother *cough*). There was also beef curry with potatoes that melted in your mouth paired with net crepes  (crepes with lotsa holes in them made to resemble a fishing net) and regular chicken curry.  Although I grew up with curries being a semi-staple, my interpretation of the varieties were tied to those three. I had no idea there were a million varieties out there beyond being differentiated by the type of meat used. Fish curry, check. Beef curry, check. Chicken curry, check. Kerala Shrimp curry…uh, what is this Kerala you speak of and why does it suddenly make the curry sound so exotic? Well, Kerala is a state in the Southern part of India and supposedly, each state prepares their curries differently. So let's explore this Kerala-exotic-curry.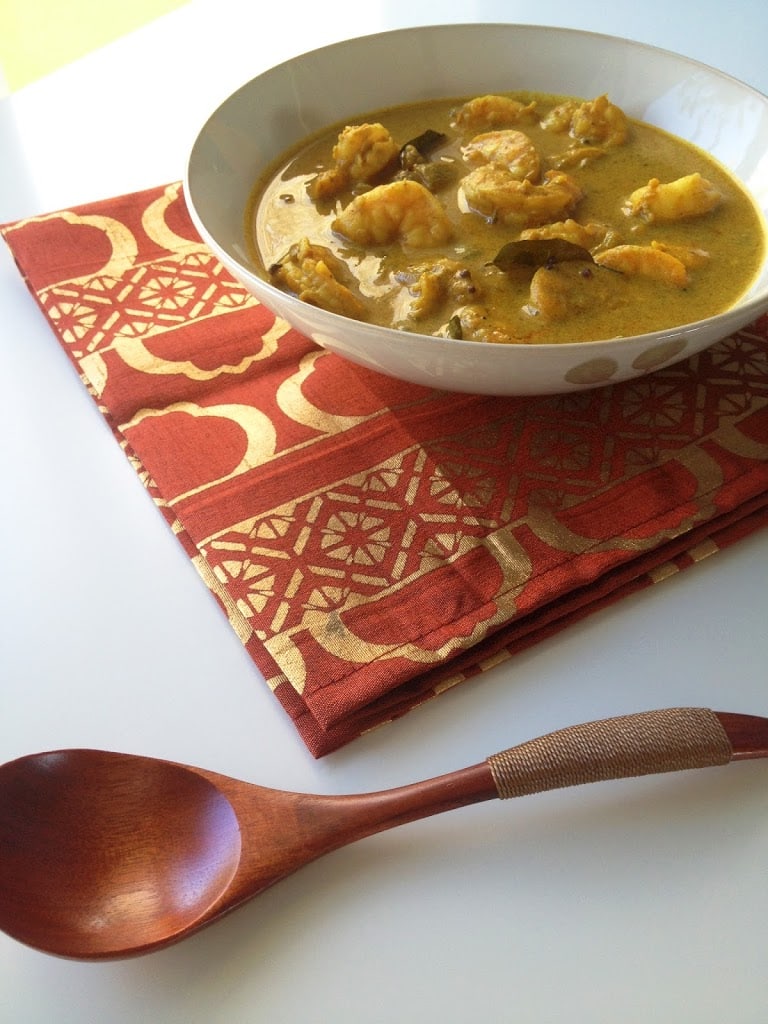 Like many other curries, there's creamy coconut milk simmered in rich, Indian spices. There's such a variety of them, you're almost guaranteed a flavorplosion in your mouth. And though I'm not particularly used to shrimp in curries, it worked.
Shrimp tends to cook super fast though, so babysit it and don't try to be a super kitchen multitasker, or you'll end up with ugly, shriveled up shrimp like I did. I was so tempted not to post this and hide my shrunken shrimp shame from the food blogging world, but after tasting it, I quickly changed my mind. That curry was delicious! It was so delicious it was delicioso. So here I am sharing this with the world.
Also, make sure your coconut milk is thick. You want a creamy curry and not some watered down wannabe curry. There's a lot of prep involved but the actual cooking process is pretty quick and straightforward. You can pretty much use your nose to guide you and the release of fragrance will signal when it's ready to move to the next step. So let's get cooking!
Print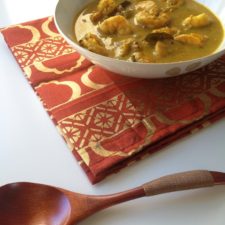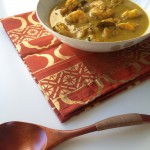 Kerala Shrimp Curry
---
1/2

lb. jumbo shrimp, peeled and deveined

1 cup

thick coconut milk

1

shallot, sliced

1 teaspoon

garlic, minced

1/2 teaspoon

ginger, minced

2

green chillies, sliced

1 tablespoon

tamarind paste

1 teaspoon

mustard seeds

1/2 teaspoon

fenugreek seeds

1 teaspoon

coriander powder

1 teaspoon

garam masala

1 teaspoon

chili powder

1/2 teaspoon

turmeric powder

1 teaspoon

brown sugar
Salt and pepper to taste

2

sprigs curry leaves
---
Instructions
Over medium high heat, saute mustard and fenugreek seeds until they start to sputter
Add shallots, garlic, ginger, green chilies, curry leaves and saute until fragrant
Add coriander powder, garam masala, chili powder, turmeric powder and black pepper and stir for 1 minute
Pour in coconut milk, tamarind paste, salt and sugar and stir to combine
Add shrimp and simmer covered for about 5 minutes
Dish and serve hot
♡ Affiliate disclosure: As an Amazon Associate, I earn commissions from qualifying purchases from Amazon.com. You can learn more about it here.