Enjoy this chicken and mushroom rigatoni pasta with chicken sauteed in thyme and sage and Portobello mushrooms in a creamy white sauce with a hint of nutmeg.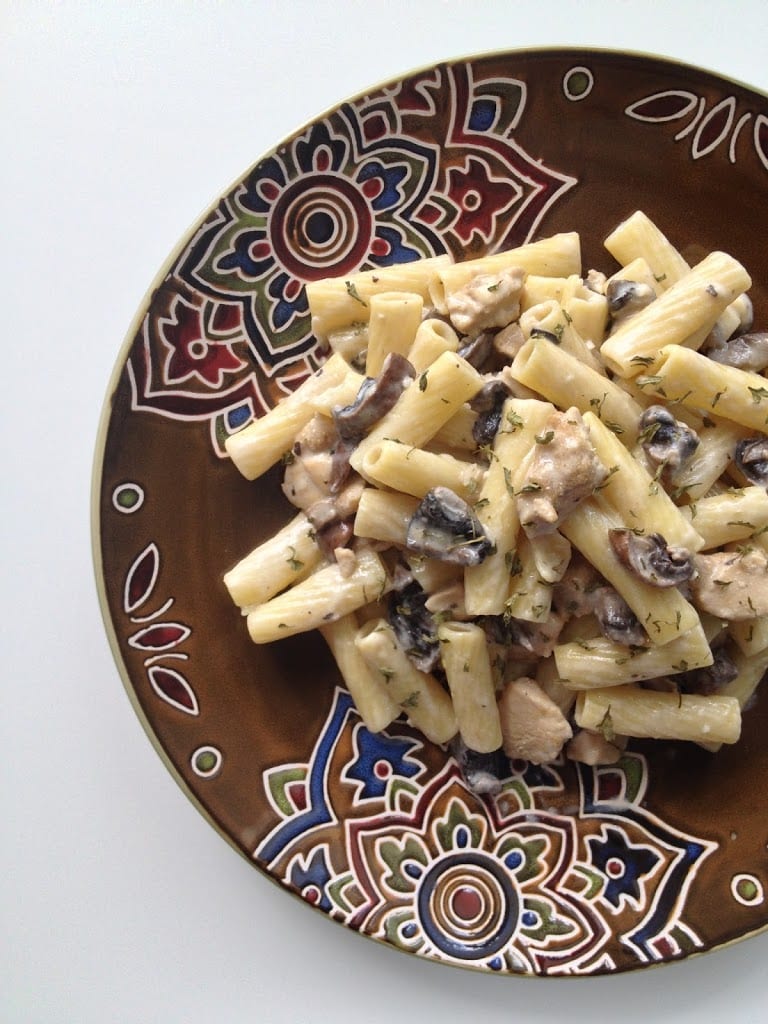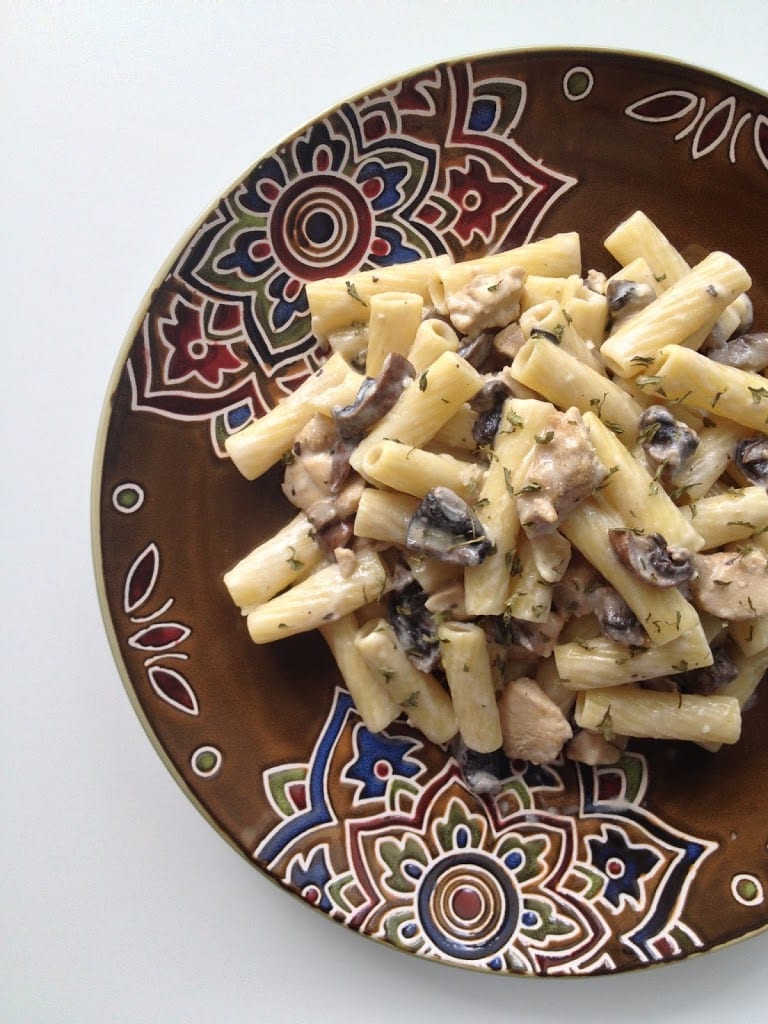 This simple chicken and mushroom rigatoni pasta feature herbed chicken deliciously pan-seared in some thyme and sage on a bed of pasta smothered in a creamy pasta sauce.
Add in some baby Bella mushrooms sauteed with some shallots and garlic to make it even better. It's an easy, comforting dish for pasta night like this creamy sun-dried tomato and spinach pasta, creamy salmon pasta with spinach, or Tuscan chicken pasta. So let's start cooking.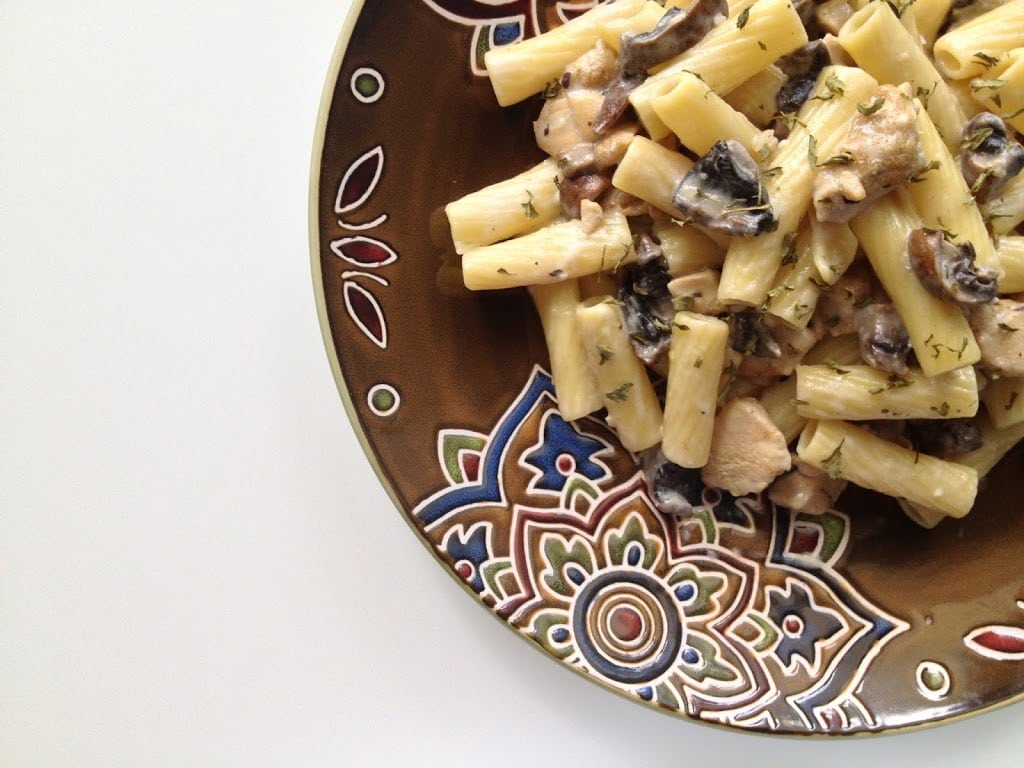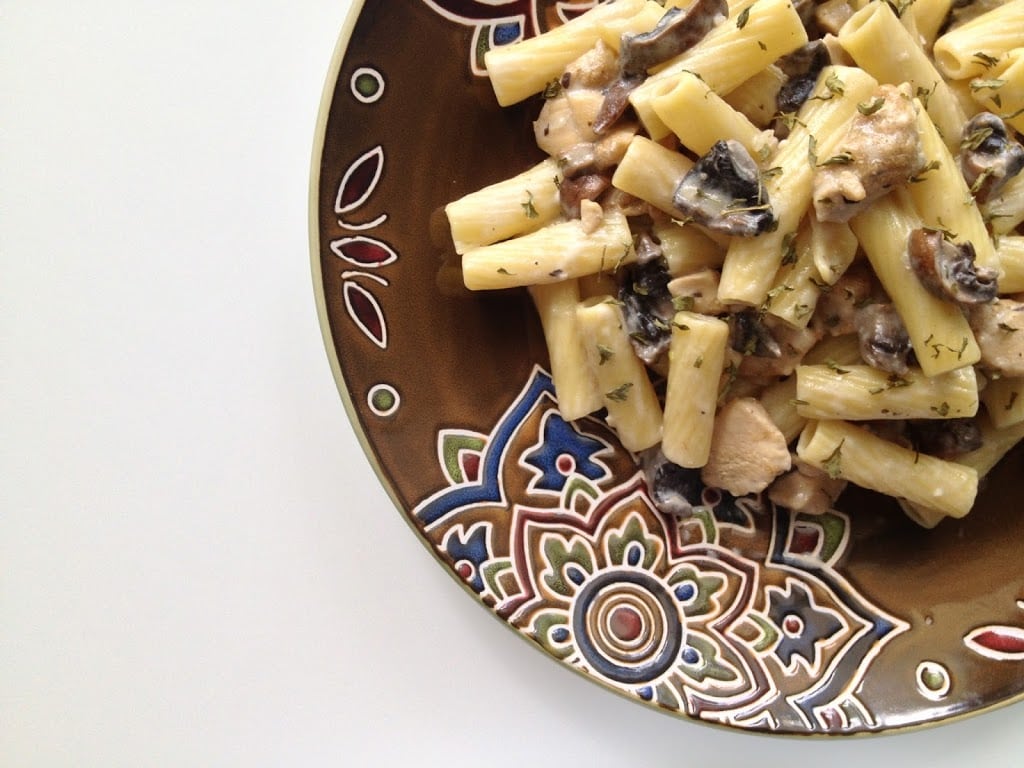 CHICKEN AND MUSHROOM RIGATONI TIPS AND TRICKS
Pasta – I used rigatoni but other tube-type pasta work just as well. Or you can use spaghetti, linguine, fettuccine or angel hair pasta.
Add a drizzle of olive oil and salt to the pot while cooking the pasta. The oil prevents sticking and the salt evenly seasons each noodle from the inside out. It makes a difference!
Chicken – I used boneless, skinless chicken breasts in the recipe but you can also use boneless, skinless chicken thighs.
Mushrooms – You can get baby Bella mushrooms presliced to cut down on prep time or you can slice them up yourself. Feel free to use other kinds of mushrooms as well.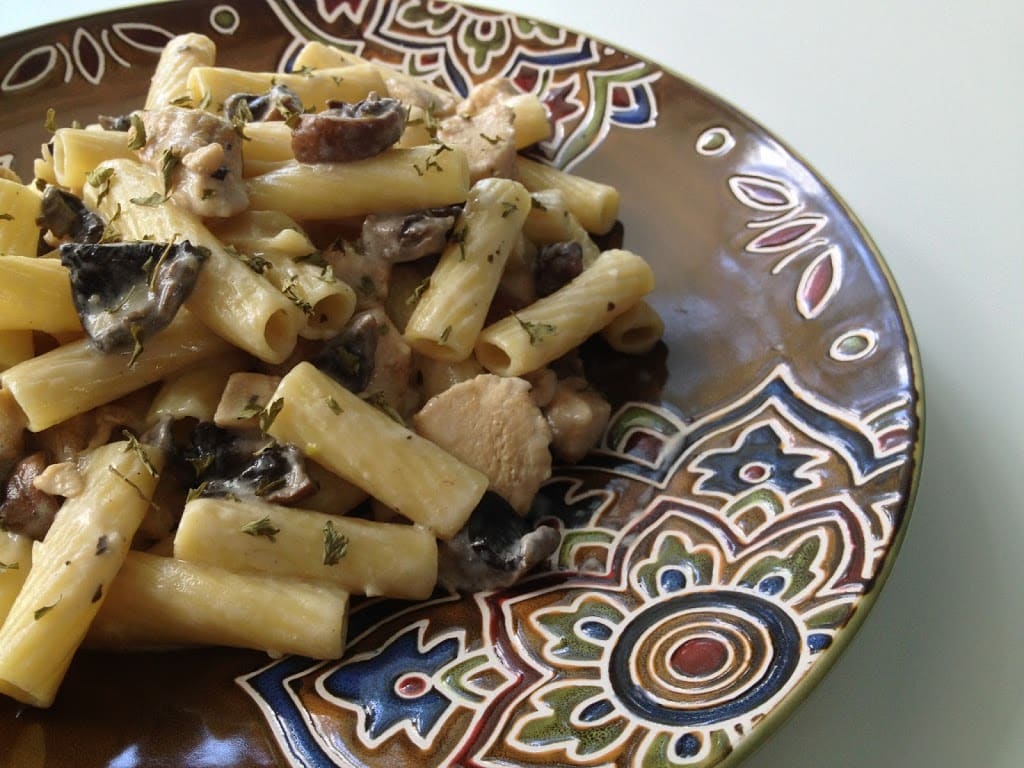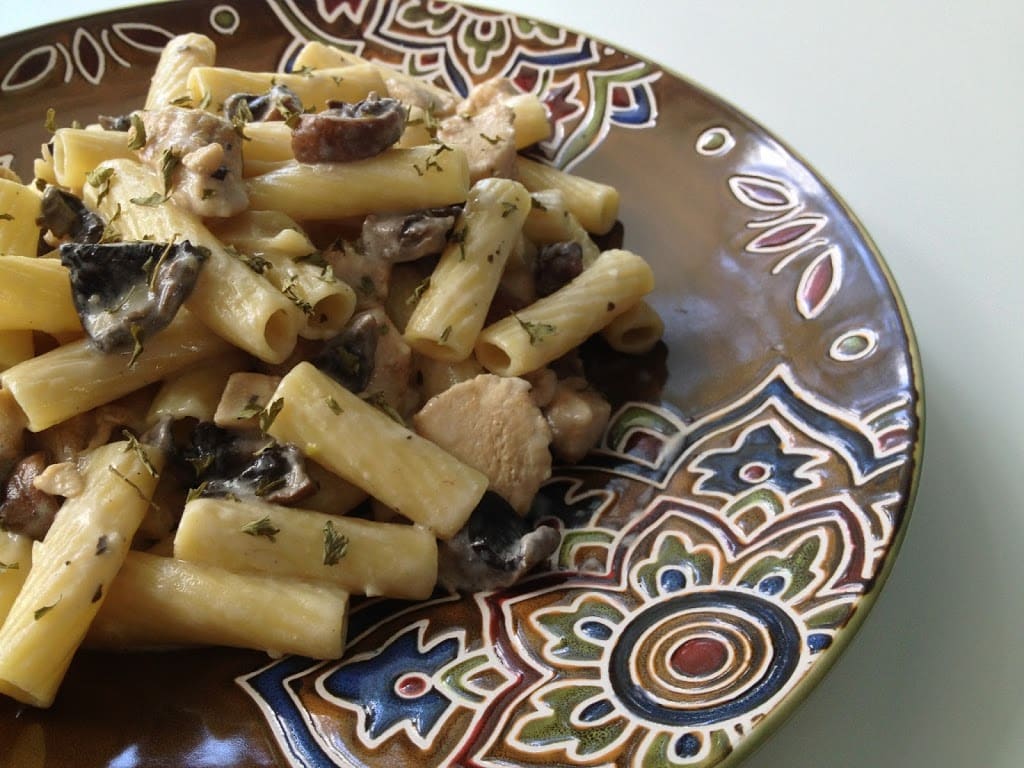 Garlic – Four medium-sized cloves are roughly equal to about 1 tablespoon of minced garlic. I find it easier to use either a garlic press or a mini grater to mince the garlic.
Parmesan cheese – Try to use freshly grated Parmesan cheese to add to the sauce. The pre-packaged shredded stuff usually clumps up when trying to incorporate it into a cream sauce and does not melt well.
And that's about it! Enjoy your pasta night and serve with some garlic bread or garlic knots or a light salad.
MORE CREAMY PASTA RECIPES TO TRY
Did you make this recipe? Rate it!
♡ If you liked this recipe, giving it a star rating ★★★★★ in the comments below really helps! For more recipes, subscribe to my newsletter or follow me on Facebook, Instagram and Pinterest.
Print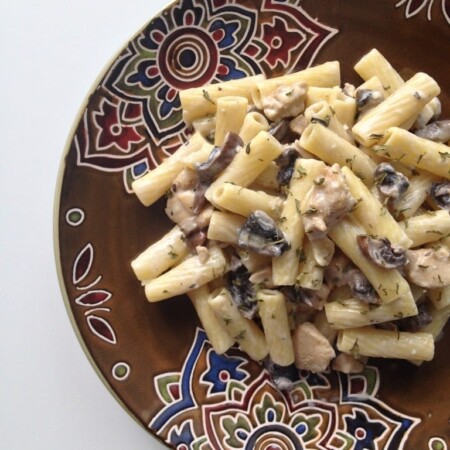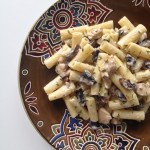 Chicken and Mushroom Rigatoni
---
Author:
Total Time: 30 minutes
Yield: 4 1x
Description
Chicken and mushroom rigatoni with chicken seared in thyme and sage, and Portobello mushrooms in a creamy white sauce with a hint of nutmeg.
---
1 lb. rigatoni pasta
2 boneless, skinless chicken breasts, cut into bite-sized pieces
8 oz. baby Portabella mushrooms, sliced
1 shallot, minced
1 tablespoon garlic, minced
1/4 cup Parmesan cheese, grated
1 cup chicken broth
1 cup heavy cream
1/2 teaspoon dried thyme
1/4 teaspoon sage
1/4 teaspoon nutmeg
Salt and pepper to taste
Fresh parsley to garnish, chopped
---
Instructions
Bring a pot of salted water to boil and cook the rigatoni until al dente. Reserve 1/4 cup of pasta water then drain and set aside.
Meanwhile, in a dutch oven over medium-high heat, sear the chicken with some olive oil, salt, pepper, thyme and some sage until the chicken is browned. Set aside.
In the same pan, saute shallots and garlic until fragrant.
Add the mushrooms and cook until the mushrooms have cooked down, about 2 minutes.
Add in chicken broth and deglaze the pan, scraping up any browned bits.
Reduce heat to medium and pour in heavy cream, 1/4 cup of the reserved pasta water and add in Parmesan cheese. Stir until the cheese has melted into the sauce.
Season with salt, pepper and nutmeg and simmer until the sauce is reduced by half or coats the back of a spoon.
Add in the pasta and toss to combine with the sauce.
Dish and serve hot topped with the chicken and fresh parsley.
Prep Time: 10 mins
Cook Time: 20 mins