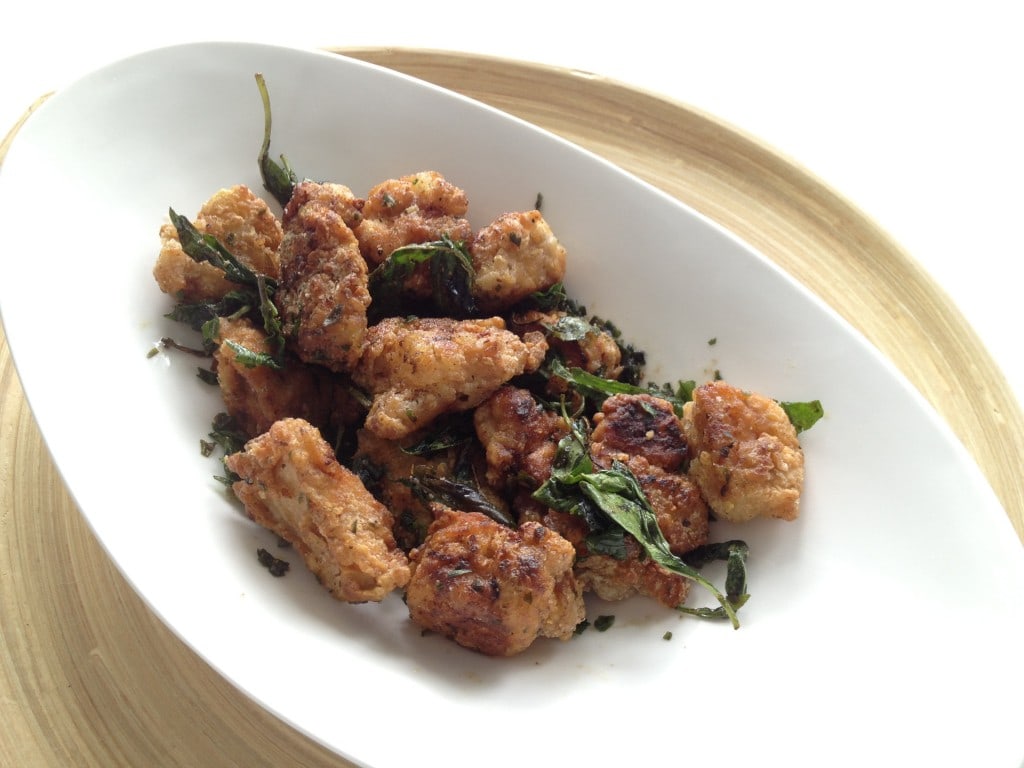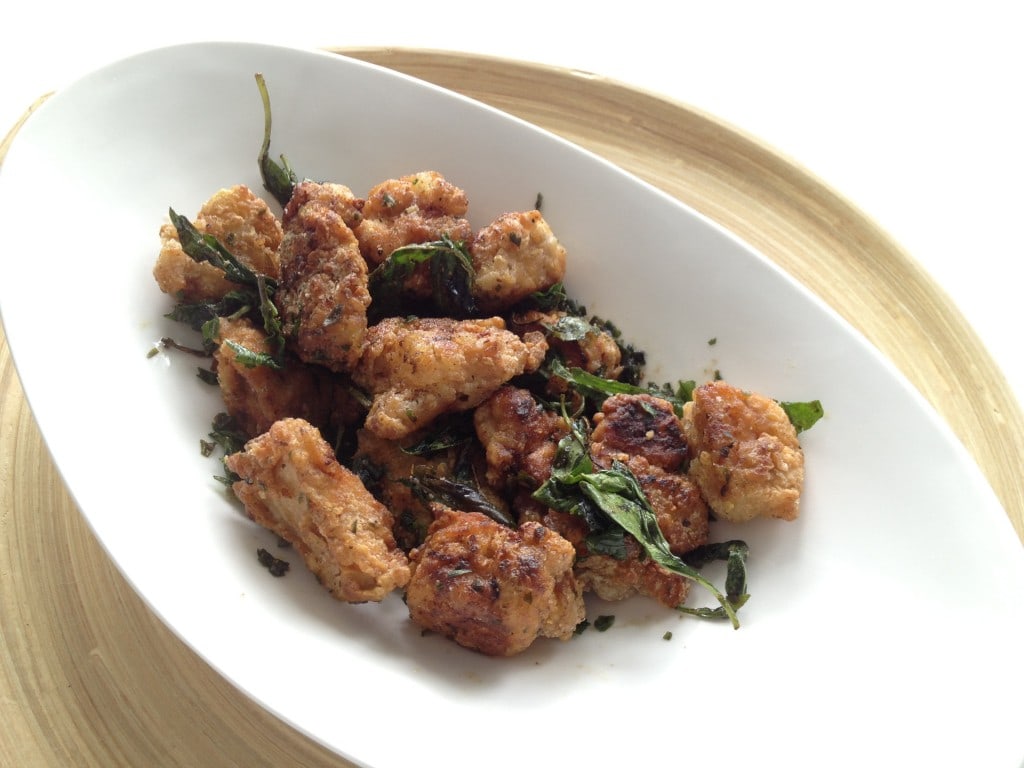 I had to use up my Thai basil leaves before they wilted and cook a chicken breast I had left in the fridge overnight. At the same time, I needed to limit the chicken to snack food as we were heading out to eat and I didn't want to be too full for dinner. Taiwanese Popcorn Chicken seemed the most logical choice.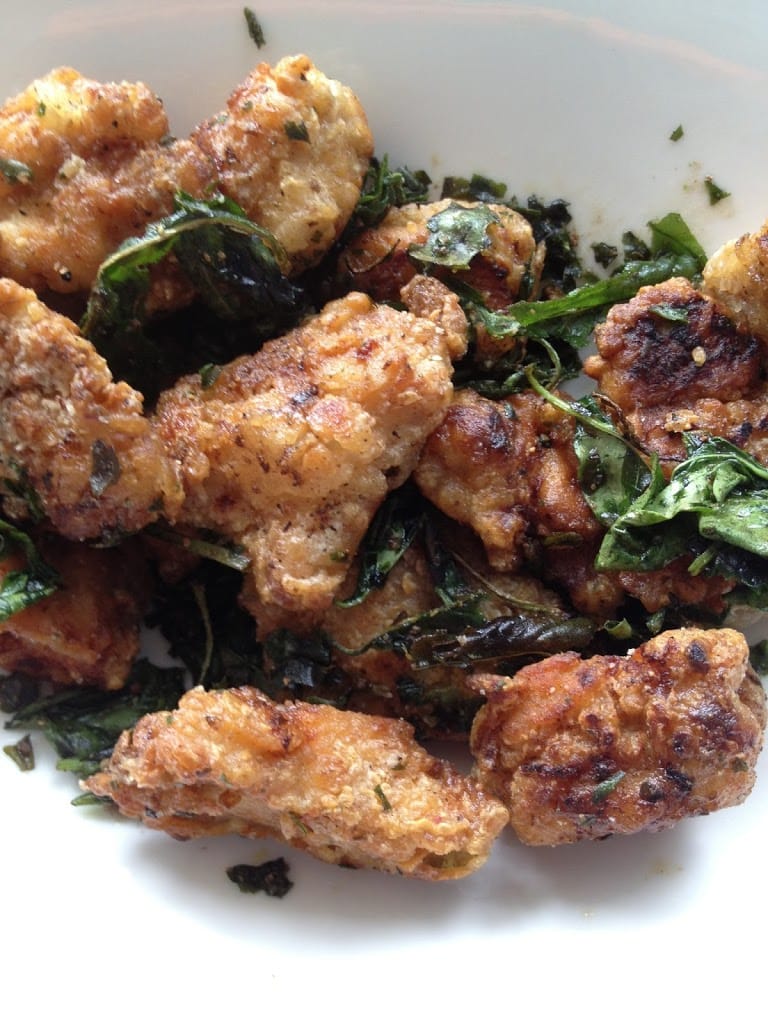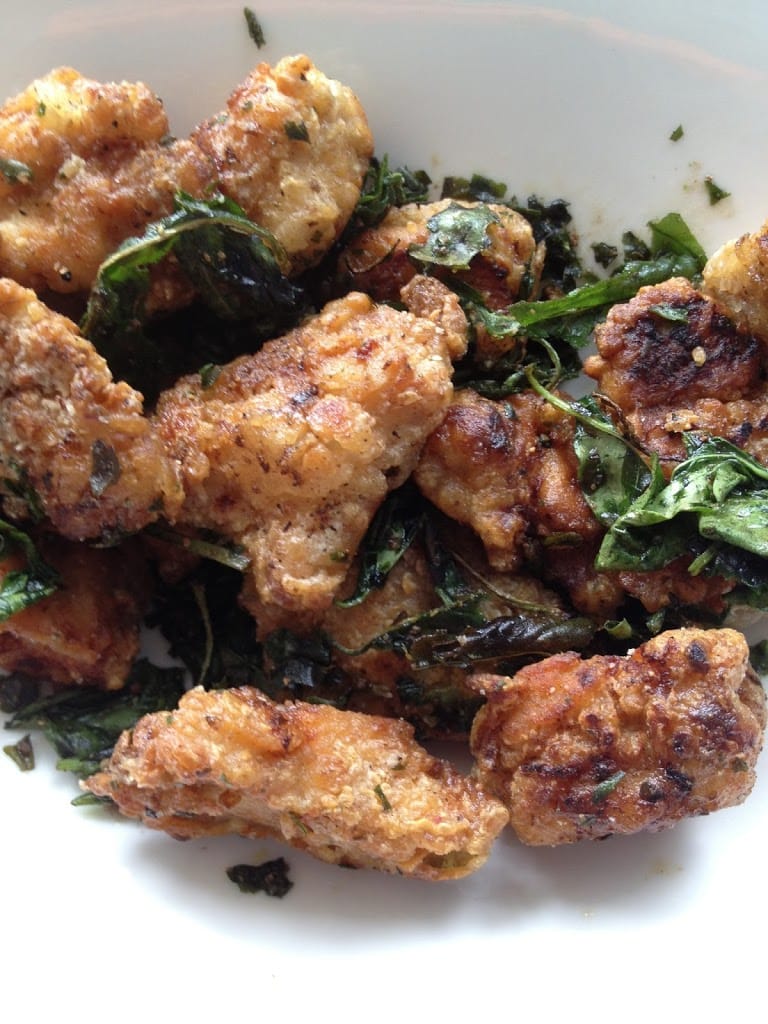 This stuff is really popular in hawker stalls and roadside food as snacks to tourists and locals alike, and is colloquially known as Salt and Pepper Chicken. Five spice assumes a dominant role in the flavor here so if you liked the flavor of my Glazed Carrots with Five Spice, you will love this.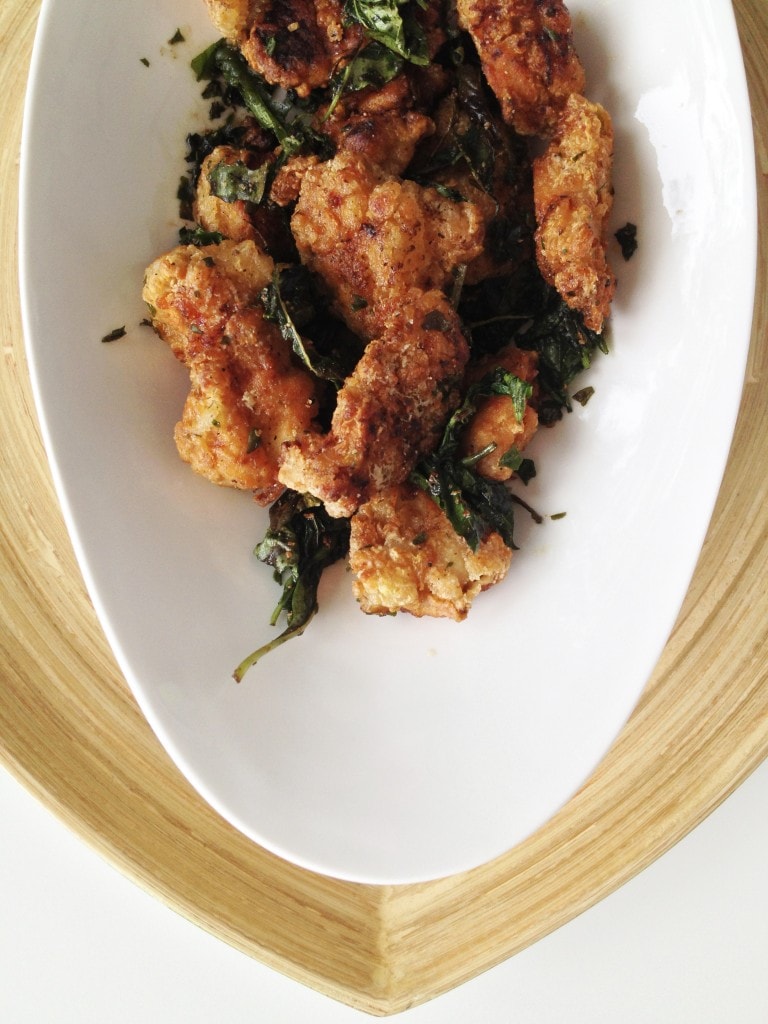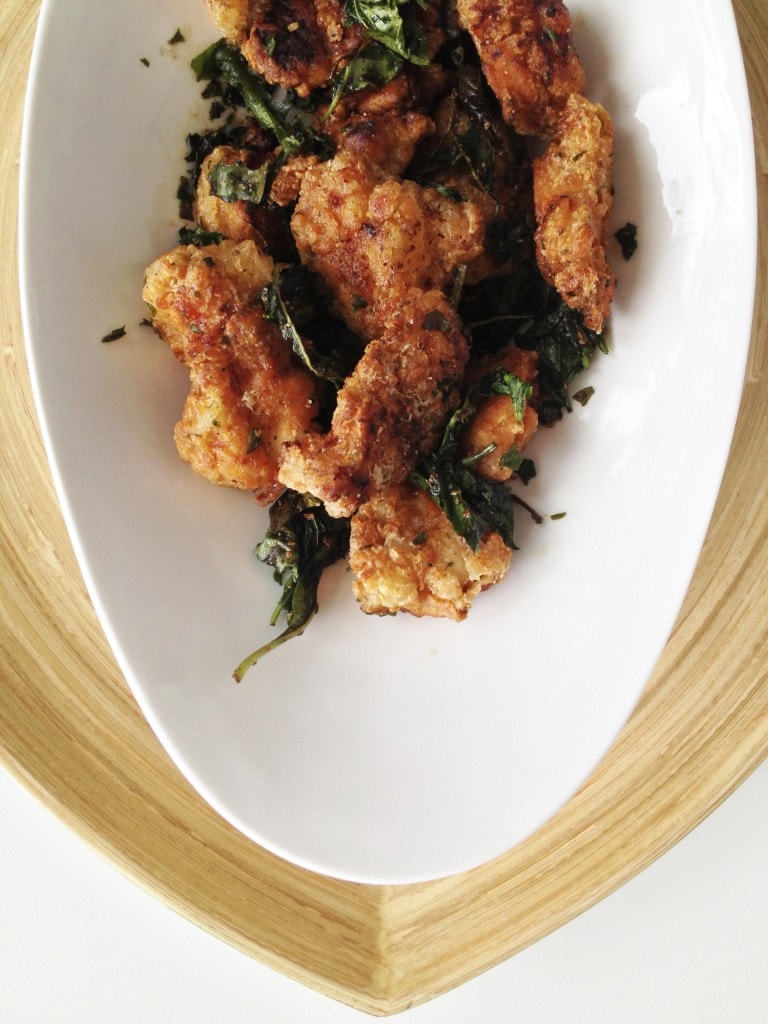 One of my favorite things about this are the deep-fried Thai basil leaves. If you like them in stir-fries, you will absolutely rave over them here. When all the chicken was gone, I found myself shoving down the remaining leaves and doing a thorough job of cleaning up the plate!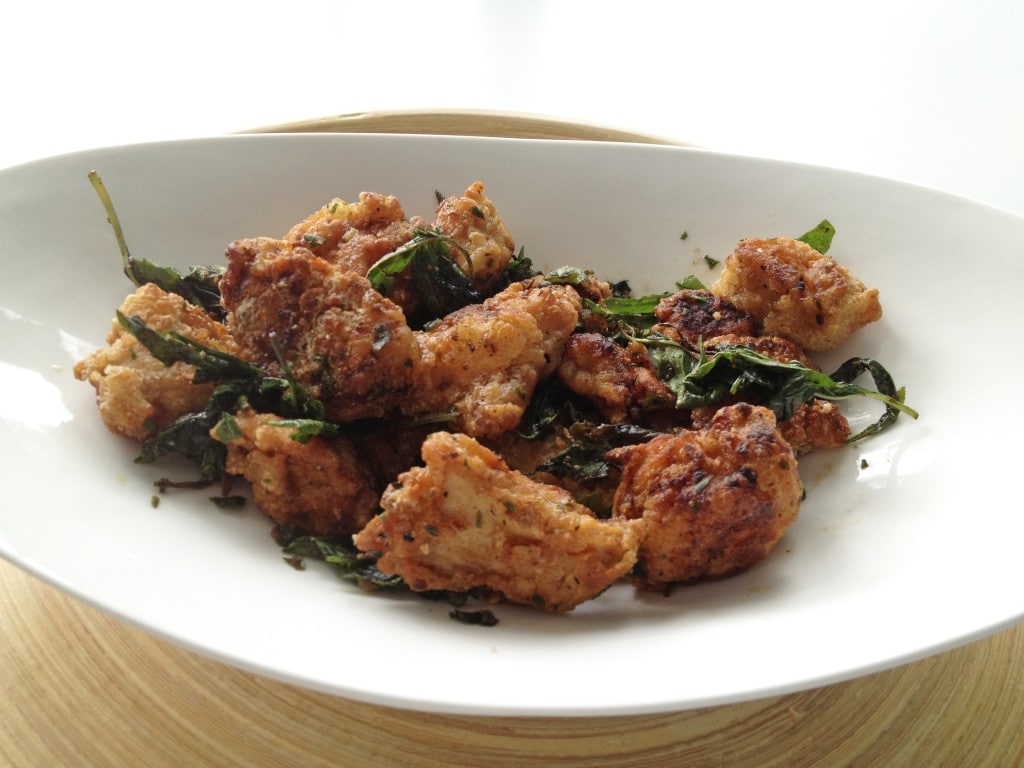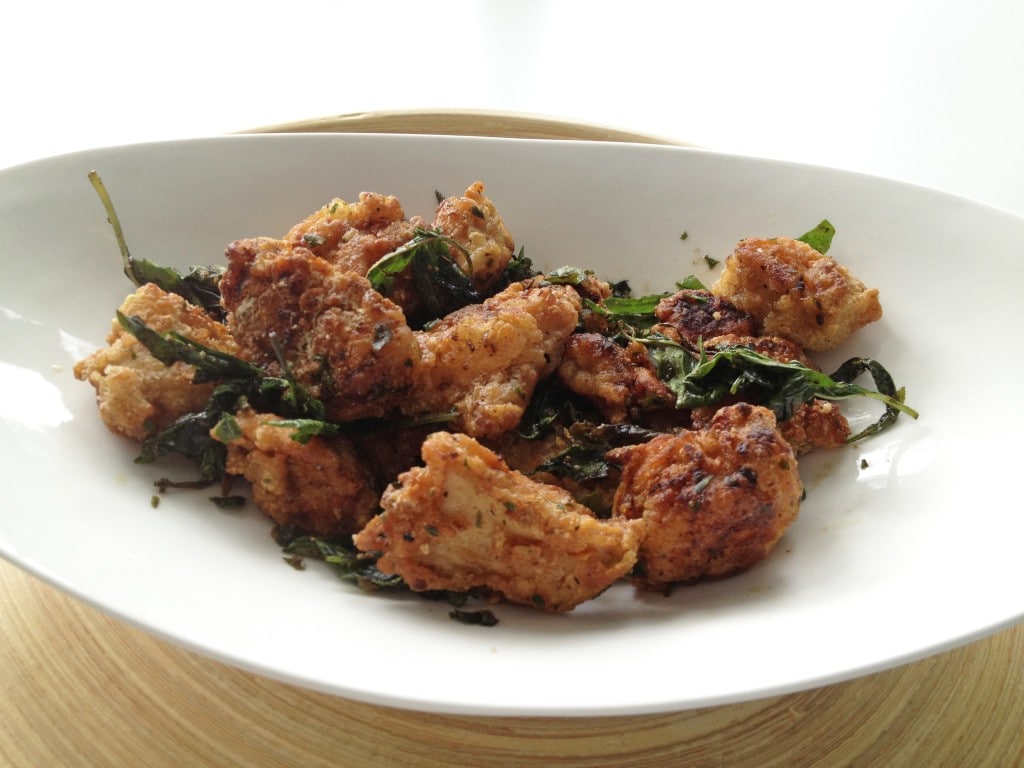 Print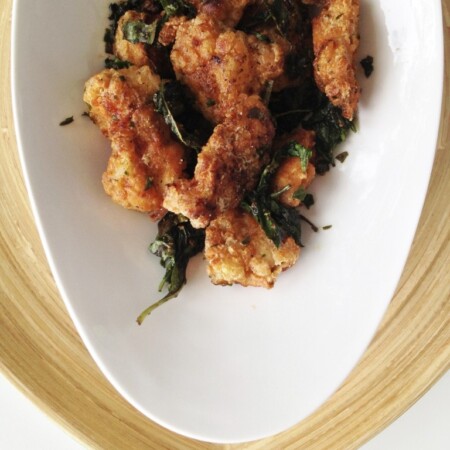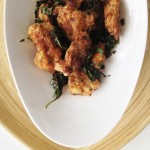 Taiwanese Popcorn Chicken
---
1 boneless skinless chicken breast, cut into bite sized cubes
1 egg yolk
1/2 cup cornstarch
A handful of Thai basil leaves
Salt and pepper to taste
1/4 teaspoon five spice powder (optional)
Marinade:
1/2 teaspoon garlic, minced
1/4 teaspoon ginger, minced
1/2 teaspoon thin soy sauce
1/4 teaspoon sesame oil
1/4 teaspoon sugar
1/4 teaspoon five spice powder
1/4 teaspoon ground pepper
---
Instructions
Mix together the marinade and work it into the chicken
Marinate in the fridge for 30 minutes
Add the egg yolk to the marinated chicken and mix well
Coat the chicken pieces in cornstarch and let it sit for five minutes
Over medium high heat, deep-fry the chicken in batches until golden brown. Drain and set aside
Increase the heat to high and return the chicken to be deep-fried again for about 1 minute or until it is very crispy
Drain on paper towels and sprinkle with salt, pepper and if you like, more five spice powder
Deep-fry the Thai basil leaves until they are crispy, about 10 seconds and add to the chicken, tossing them to mix
Dish and serve hot