These delicious air fryer stuffed peppers are filled with a hearty mix of rice, cheese, taco-seasoned beef and topped with more melted cheese. Take the classic family favorite meal and make it with the convenience of the air fryer in less than 25 minutes.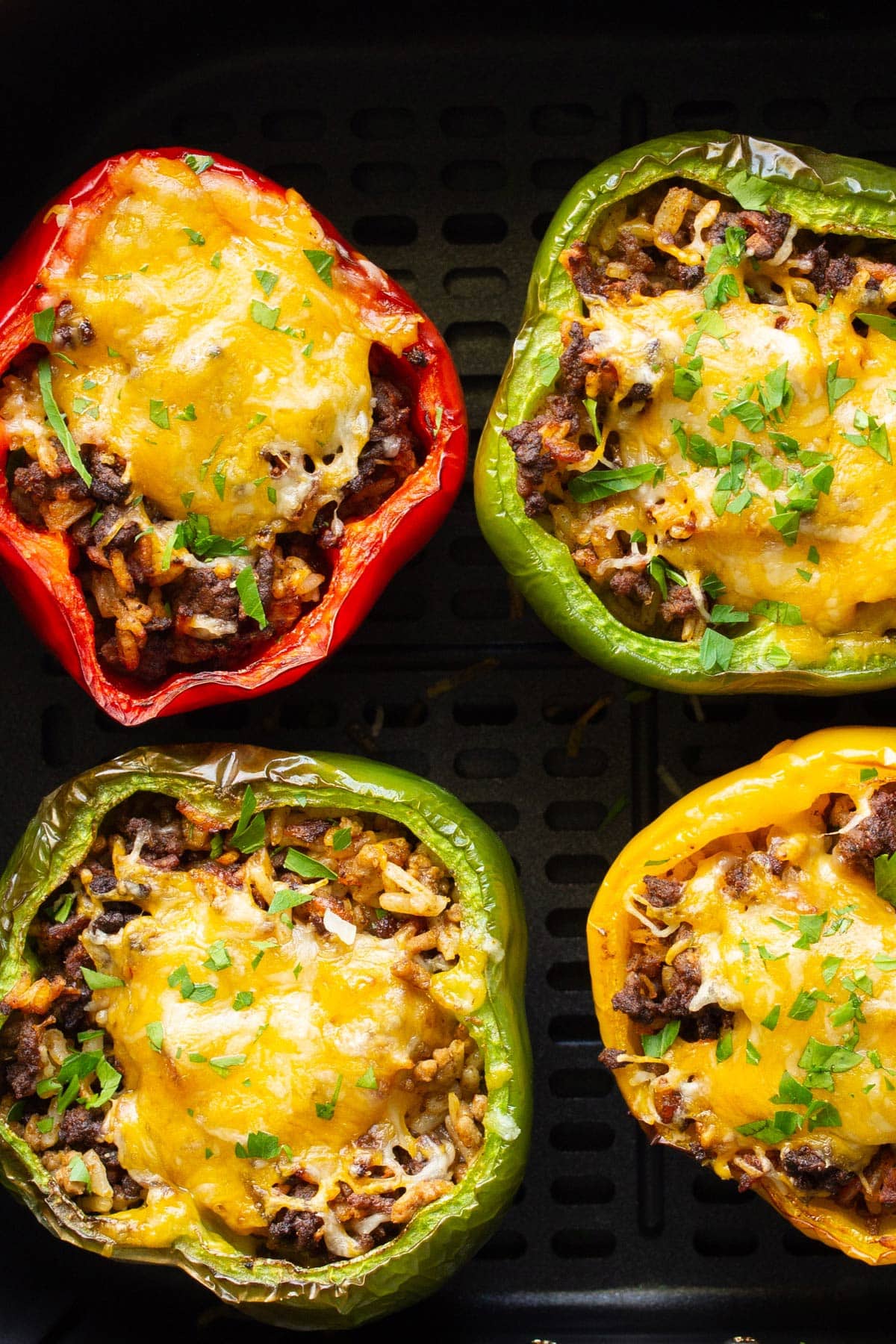 The air fryer takes another win with these air fryer stuffed peppers. With only 13 minutes total of air frying time, this recipe takes the usual time of baking stuffed bell peppers in the oven and cuts it in half for a fun, quick and easy weeknight meal. Stuffed with a delicious, savory combo of onions, garlic, rice, ground beef and Colby Jack cheese then topped with melted cheese and air-fried till crisp-tender, these peppers are a complete meal in themselves.
Customize them by adding in more fillings like corn, black beans, Rotel or diced tomatoes, green chilies, jalapenos and bacon bits or chorizo. You can also change up the cheese too with a Mexican or cheddar blend. Finish it all off with some melted cheese on top and serve as is or with sides like mac and cheese, refried beans, or chips with pico de Gallo.
If you have some leftover bell peppers, try making some sheet pan chicken fajitas or sheet pan sausage and veggies. In the meantime, let's start air frying some peppers.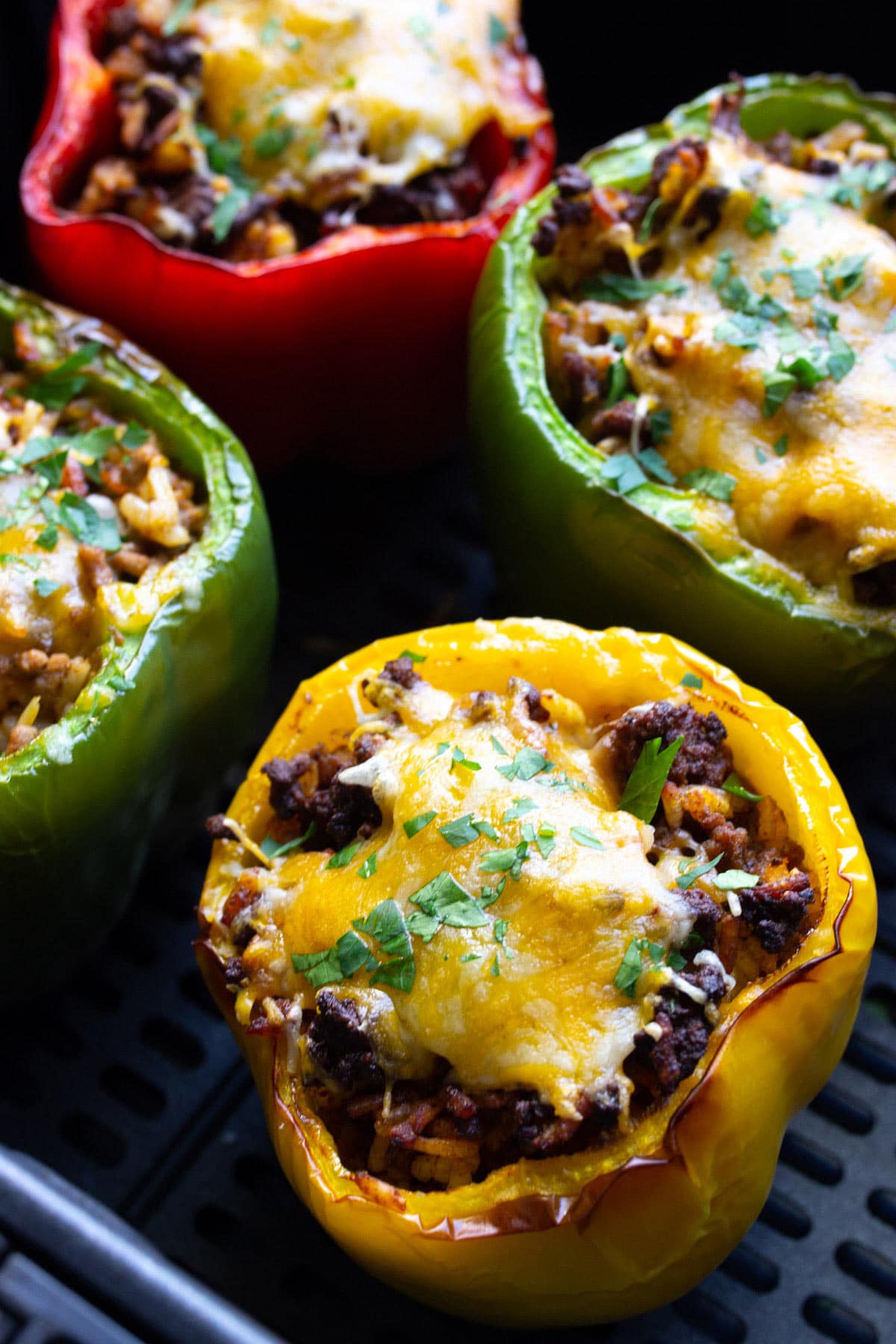 What Kind Of Bell Peppers?
There are subtle differences in taste between the colors of bell peppers. Green peppers, which are considered not yet ripe, are slightly bitter and peppery. Yellow, orange and red bell peppers are fully ripened and taste sweet and fruity with red being the sweetest and juiciest. Pick a color that suits your tastes.
While green bell peppers are the most commonly used ones, I find they taste a little bland compared to the brighter colors. In a dish like this where the pepper is the star of the show, you may prefer the red, orange, or yellow peppers as they're bursting with sweeter flavors than the less ripe green peppers.
AIR FRYER STUFFED PEPPERS RECIPE TIPS
Bell peppers – You can chop off the tops like I did or cut the pepper in half and stuff it that way. Both ways will work and baking times should be the same. Try to find bell peppers that are similar in size so they take the same amount of time to cook. If the peppers don't stand well on their own, slice off the bottom a little to make it level. If you don't mind a pepper overload, you can dice up the tops you cut off and saute them with the onions to combine with the stuffing, or you can use them with some suggested recipes below.
Stuffing – Not all bell peppers are created equal so you may have some leftover stuffing. If you have any extra bell peppers, fill them with the leftover stuffing, or just dig in and enjoy! You could also saute the stuffing with the diced, chopped-off tops of the bell peppers.
When stuffing the cheese into the peppers, I layered it like a lasagna, starting with cheese at the base of the peppers, topping it with the rice and beef mixture, adding more cheese after and finishing with more rice and beef. You could also simplify this by adding the cheese directly to the skillet towards the end of cooking and mixing it all there.
Beef – I used lean ground beef so there was little to no grease to drain off the pan. If you're using ground beef with more fat, make sure to drain the grease. I like using a meat smasher to break up any clumps in the meat.

Rice – You'll need 2 cups of cooked rice which is roughly 1 cup of uncooked rice. You can cook your rice with a rice cooker, over the stovetop, or in the microwave using minute rice. The rice measurements are based on US cups and not standard rice cups.

Tomato paste – Tomato paste in a tube is a handy way of keeping it readily available for recipes. I use the Cento brand for tomato paste in a tube. We'll be sauteing the tomato paste with the onions so that it caramelizes a little to give the ground beef a more robust flavor. You can skip tomato paste if you don't have any on hand or just don't like the taste – it won't break the recipe. It's just there to add a little bit more flavor.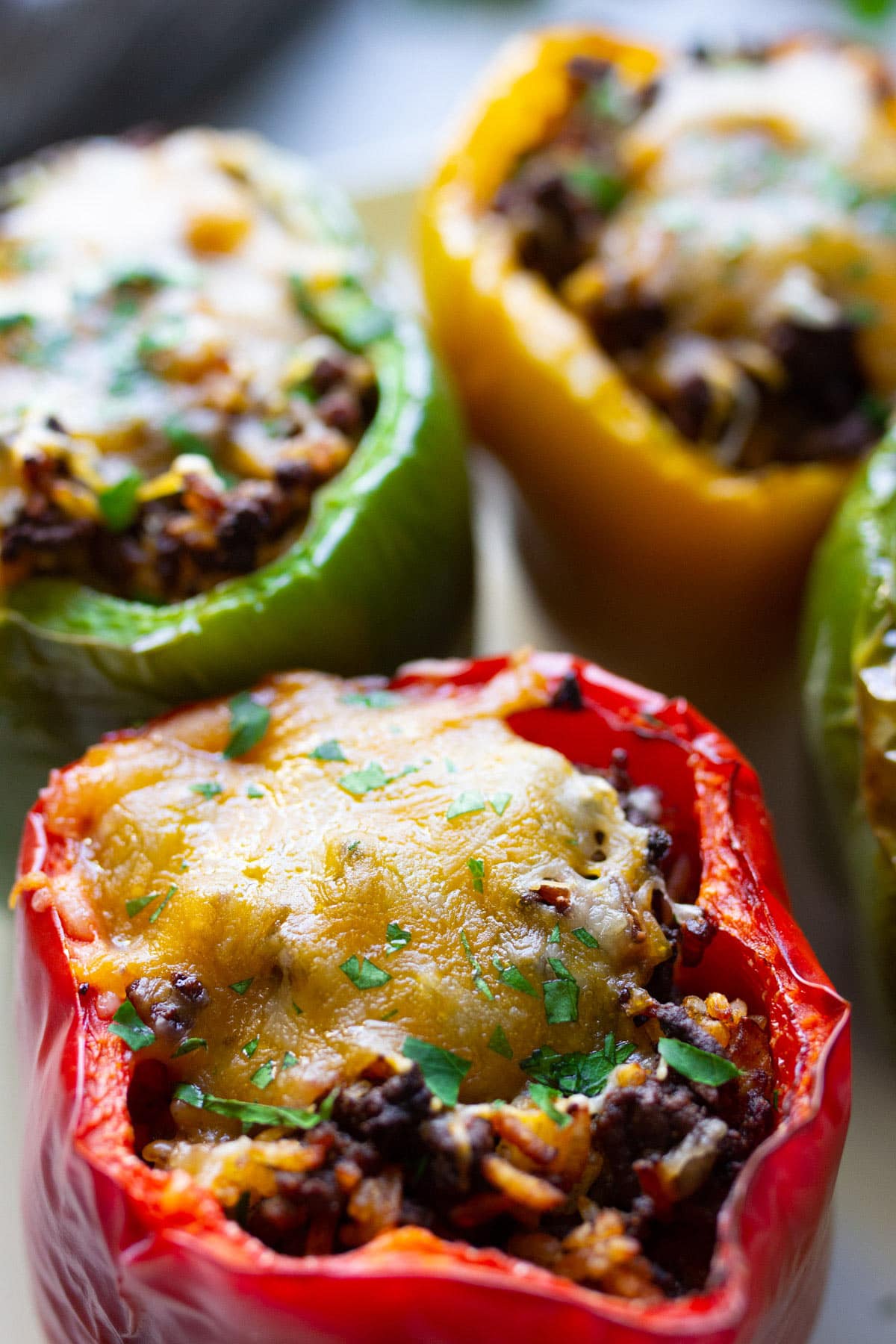 Cheese – I used Colby Jack cheese but feel free to substitute with others like mozzarella for epic cheese strings, a Mexican cheese blend to match the Tex-Mex/Mexican theme, or a cheddar blend. NOTE: You'll notice I didn't completely cover the bell peppers with the cheese for the cheesy top because I wanted to give you a visual idea of what's underneath all that cheese. When making yours, feel free to go nuts with the cheese topping. If you don't fully cover the peppers with cheese, the filling on top will get crunchy.
Variations – Some versions of baked peppers use a stuffing of diced tomatoes or marinara sauce with Italian seasoning and top it with mozzarella. If you prefer an Italian-style stuffed bell pepper go with that, I just decided to go with Tex-Mex or Mexican flavors.

Make it in the oven – Bake in an oven-safe baking dish at 350°F for 30 minutes. If you want your peppers softer, add 1/4 cup of water to the baking dish, cover with foil and bake for 30 minutes. Remove foil and bake an additional 10 minutes until the cheese has melted.

Leftovers – Leftovers can be stored in the fridge for 3-4 days.
Reheating – I reheat these for 2 minutes in the microwave to get a more even heating on the stuffing before finishing it off in the air fryer at 360°F for 2-3 minutes.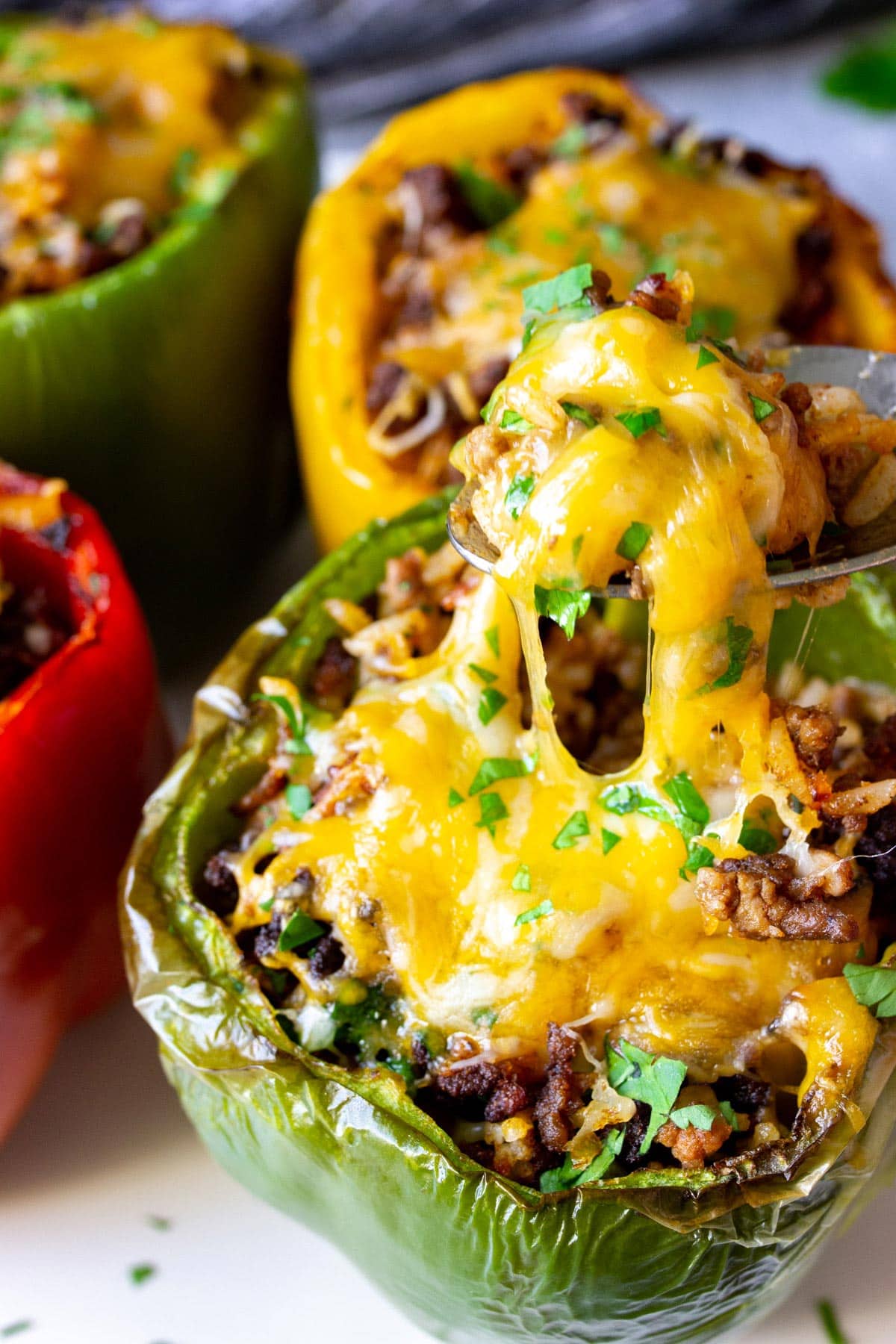 Customize It!
Add more stuffing – Try adding corn, black beans, or Rotel for some variation to the stuffing.
Bacon or chorizo – Add little bursts of flavor with bacon bits or diced chorizo.
Add some spice – Toss in diced green chiles, jalapenos, or a few shakes of red pepper flakes.
NOTE: If you add more stuffing, you may have to use additional bell peppers and air fry them in batches, depending on the capacity of your air fryer. You could also reduce the amount of rice and ground beef used in the original recipe. I used a Cosori 5.8 Qt. air fryer and managed to fit 4 peppers in there comfortably.
And that's about it! Enjoy your stuffed peppers and let me know how you liked them, what substitutions you made and what sides you served them with, in the comments below. Happy eating.
MORE BELL PEPPER RECIPES TO TRY
Did you make this recipe? Rate it!
♡ If you liked this recipe, giving it a star rating ★★★★★ in the comments below really helps! For more recipes, subscribe to my newsletter or follow me on Facebook, Instagram and Pinterest.
Print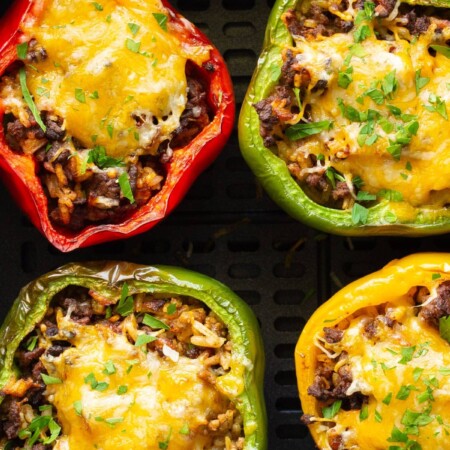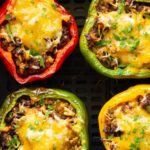 Air Fryer Stuffed Peppers
---
Author:
Total Time: 25 minutes
Yield: 4 1x
Description
These delicious air fryer stuffed peppers are filled with a hearty mix of rice, cheese, taco-seasoned beef and topped with more melted cheese.
---
4 large bell peppers
2 cups cooked white rice
1 lb. ground beef
1/2 medium yellow onion, diced
2 garlic cloves, minced
1 (1 oz.) packet taco seasoning
1 tablespoon tomato paste
1 1/2 cups Colby Jack cheese, shredded and divided
Salt and pepper to taste
---
Instructions
Cut off the tops of the bell peppers, core them then remove any ribs and seeds.
Over medium heat in a skillet, cook the ground beef until browned, breaking up any clumps, about 3-5 minutes. Drain off any fat or grease, remove beef and set aside.
Add in onions and tomato paste and saute until onions are soft, about 1 minute.
Toss in garlic and saute for another 30 seconds.
Return ground beef back to the skillet and season with taco seasoning. Pour in some water according to the taco seasoning package directions (usually about 3/4 cup water) and cook for 2-3 minutes until cooked down and the seasoning has absorbed into the meat.
Add in cooked rice and stir to mix well. Season with salt and pepper to taste.
Stuff the bell peppers with alternating layers of beef and rice mix and 1 cup of cheese
Preheat air fryer to 360°F and air fry peppers for 10 minutes.
Top the bell peppers with the leftover cheese and air fry for another 2-3 minutes, or until cheese has melted.
Dish and serve hot.
Enjoy!
Notes
This recipe assumes you have an air fryer with a preheat option. If you do not, run your air fryer for 4 minutes at 360°F to preheat it evenly before adding in the stuffed peppers and following the recommended recipe time.
Add more stuffing – Try adding corn, black beans, or Rotel for some variation to the stuffing.
Bacon or chorizo – Add little bursts of flavor with bacon bits or diced chorizo.
Add some spice – Toss in diced green chiles, jalapenos, or a few shakes of red pepper flakes.
Scroll up to RECIPE TIPS for more useful tips, suggestions and ingredient substitutions.
Prep Time: 5 mins
Cook Time: 20 mins