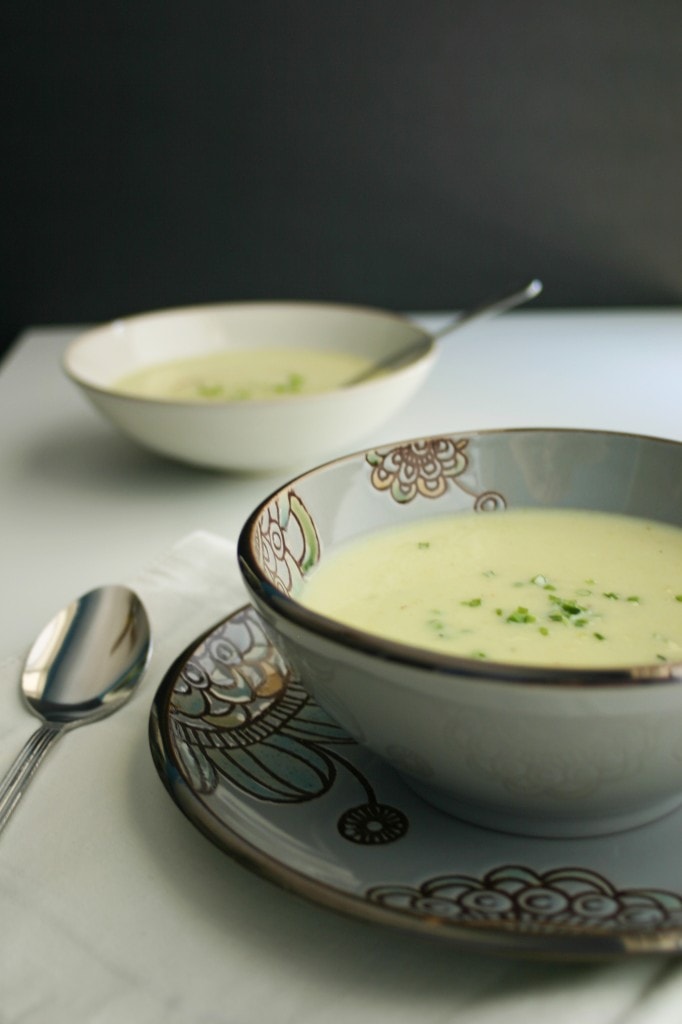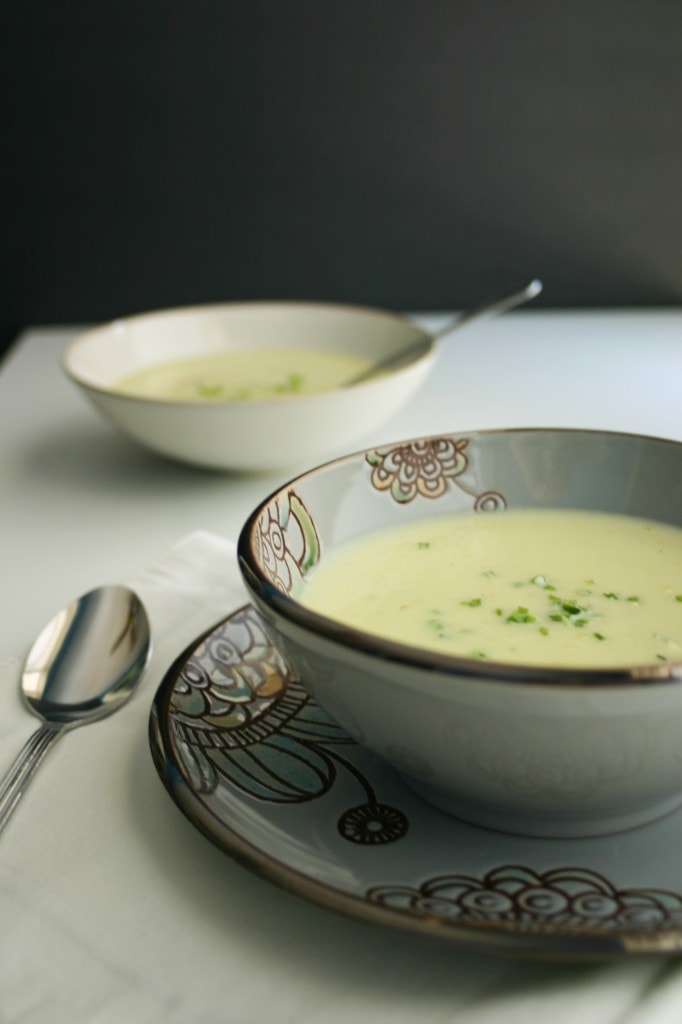 There's very few soups that I really like. I'm not including soupy style noodles, just so you know. That stuff, I could go on forever listing names. But for just plain old soups, there's only a few I will go out of my way for. French onion soup is on the top of my list. Caramelized mushrooms in a rich beefy broth with some toasted bread and melted cheese on top? Yes please. Second would probably be sweet corn soup which is great with other stuff too, like crab. Then there's the list of soups that are kinda nice. Tomato and basil soup is yummy in small quantities. Italian wedding soup was pretty interesting. I was surprised that I liked Borscht! And then there's Vichyssoise, which is basically a chilled, creamy potato and leek soup. It's thickened with puréed potatoes and leeks and cream is added to give it a fine consistency. There's nutmeg and chives too. Pretty good for the summer.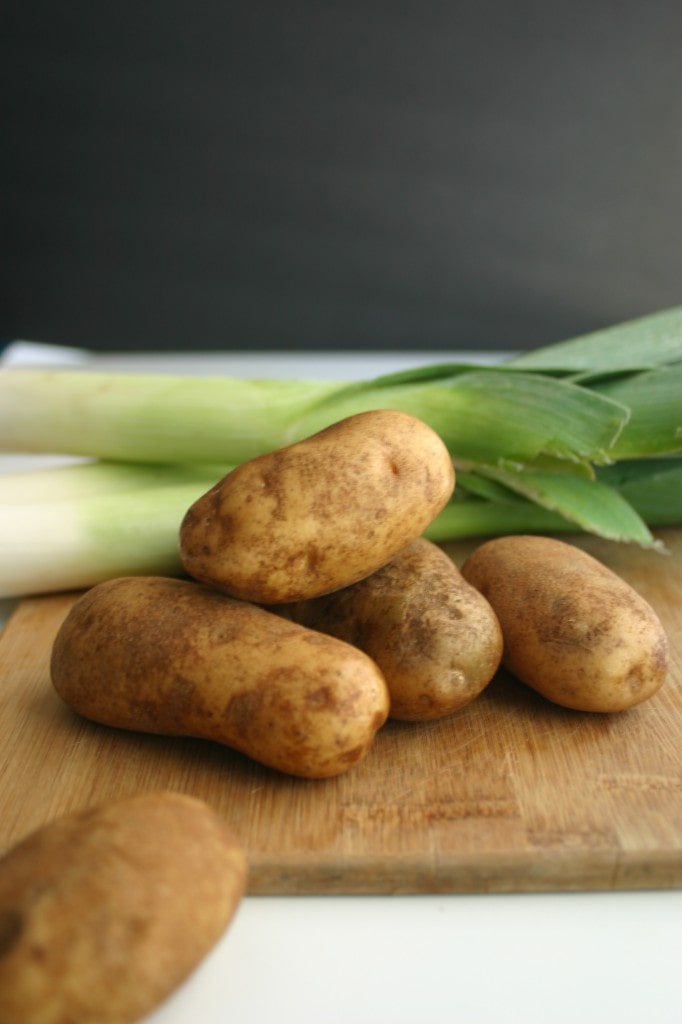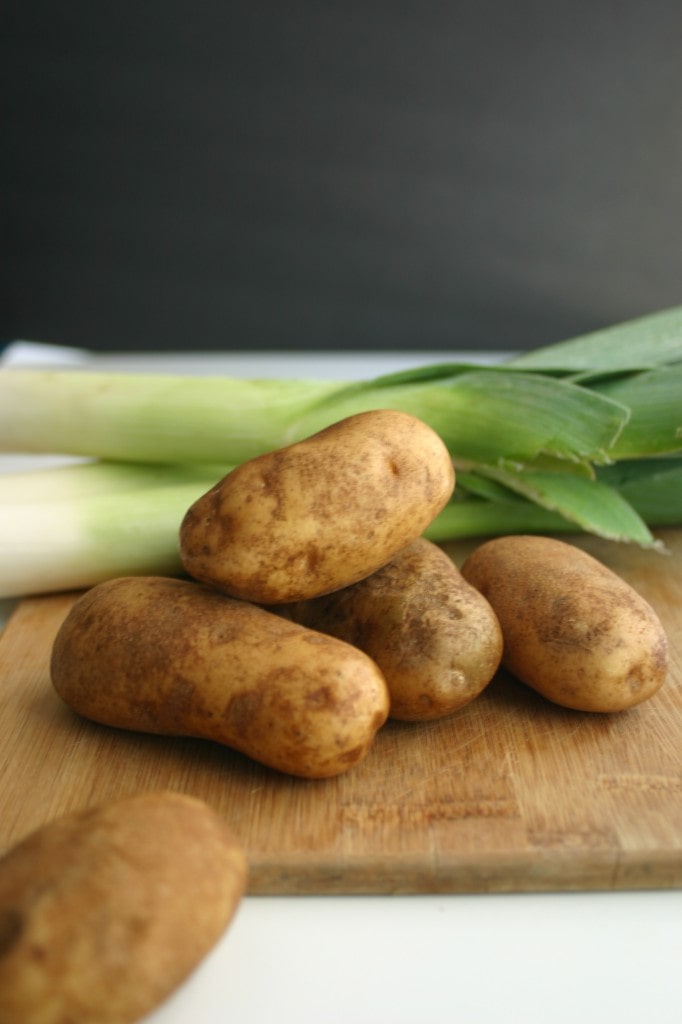 Vichyssoise (pronounced vee-shee-swahzz) is an American creation, despite sounding French and all. According to Julia Child anyway. It's a very simple soup to make if you have a blender handy.  Recipes usually call for heavy cream but I substituted it with half and half. If you're going the milk and heavy cream route, use 1 cup of milk and 1/2 cup of cream instead.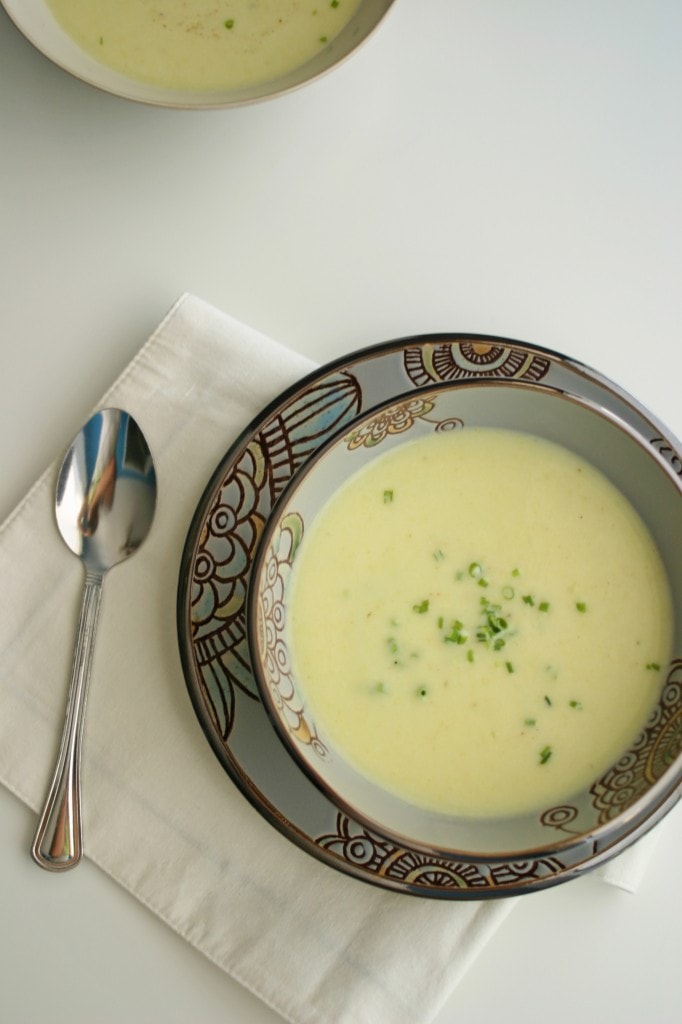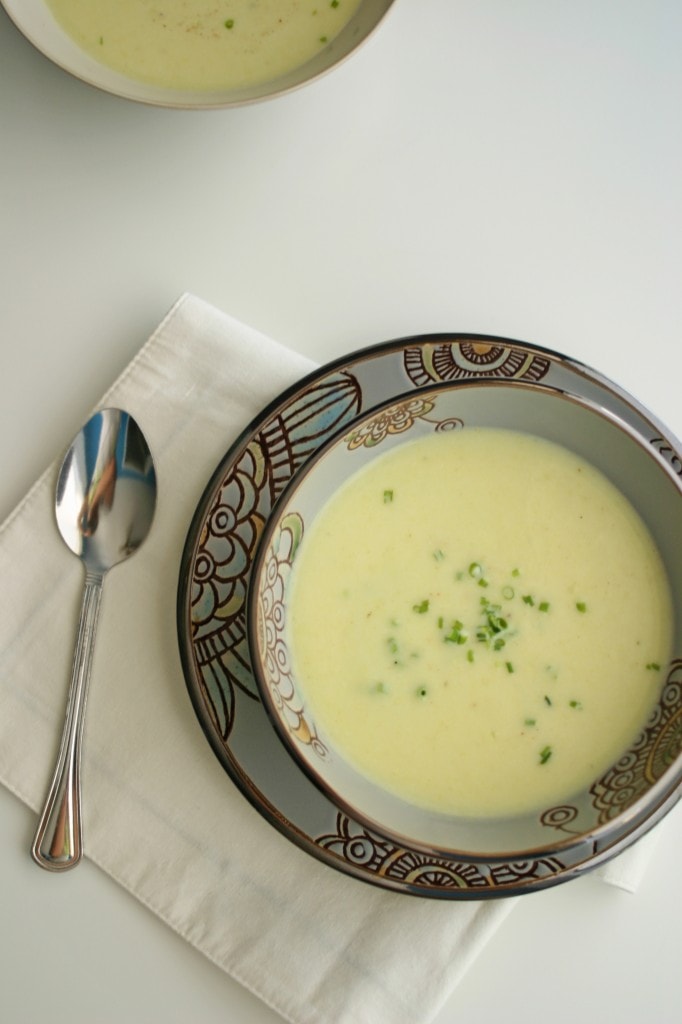 I've made this once before a long time back. I didn't plan to blog about it just yet until I actually looked at everything the produce aisle has to be offer during my last grocery run. Usually I just skim for what I need and move on because for some reason, grocery stores are black holes. You hurry it up as much as you can with a handy list to make it efficient and all, but when you step out those doors into the sunshine, suddenly an hour has passed. How?
Well this time, in the interest of mental inventorying and curiosity, I actually looked at everything and saw two leeks left in the leek section. And boom, Vichyssoise came to mind (when I originally typed up this post on the iPhone it autocorrected Vischyssoise to vicious spies). So if you're in the mood to slurp on some vicious spies, let's get cooking!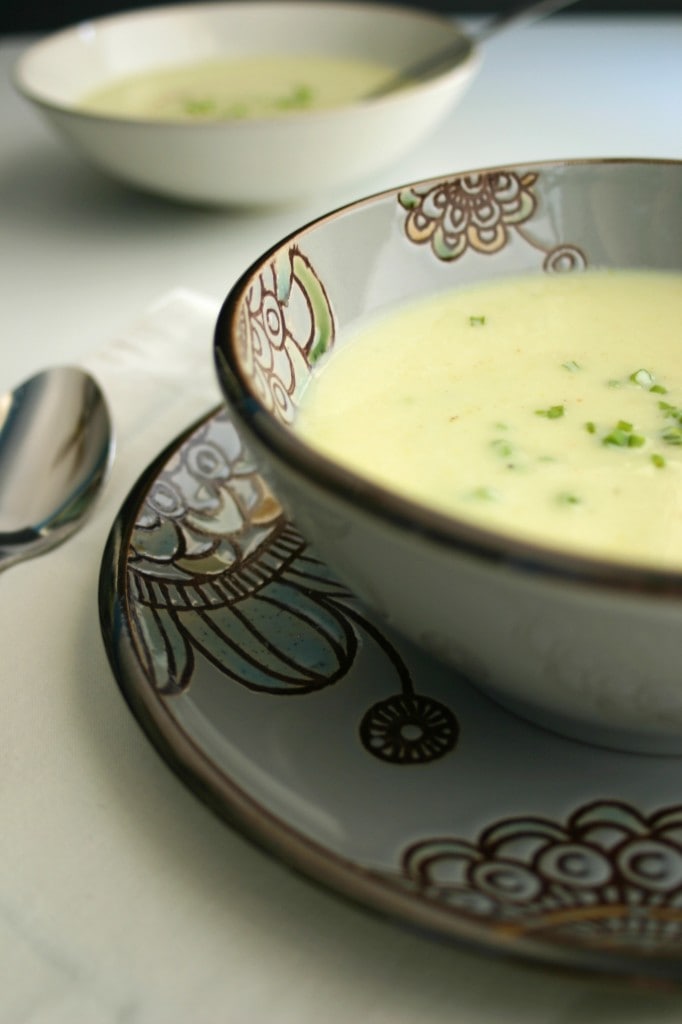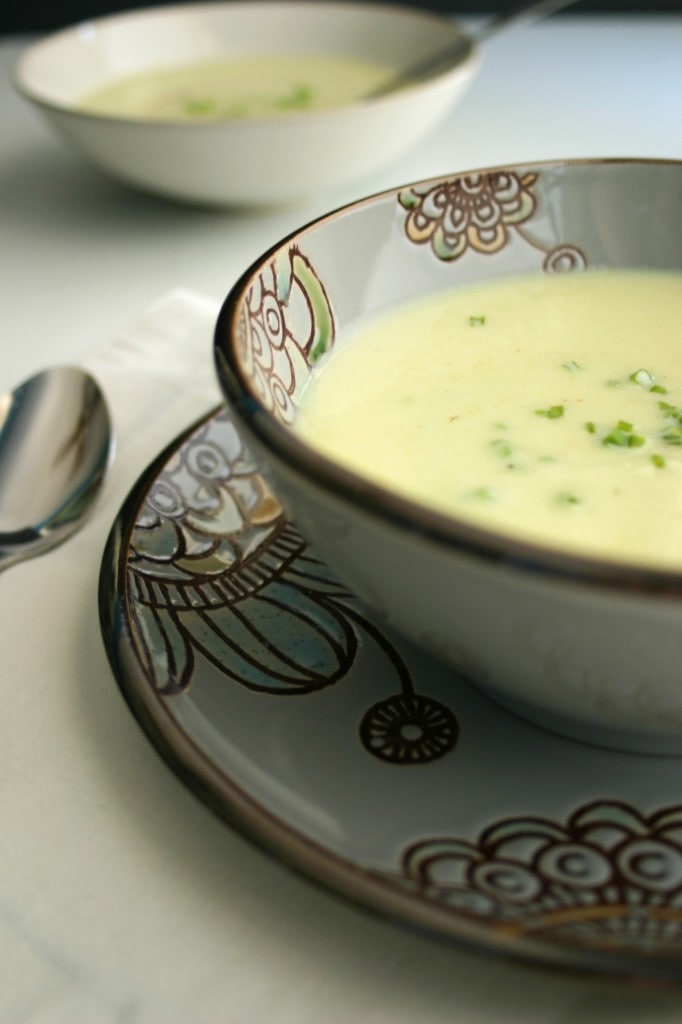 But first, here's a little bit of trivia about leeks. You'll like this one, I promise! According to a legend, a Welsh king instructed his soldiers to affix a leek onto their helmets to distinguish themselves while battling the Saxons. Whether it's true or not, the leek is now one of the national symbols of Wales. I can just imagine it though, soldiers charging along a field bellowing battlecries with green vegetables on their heads. Epic!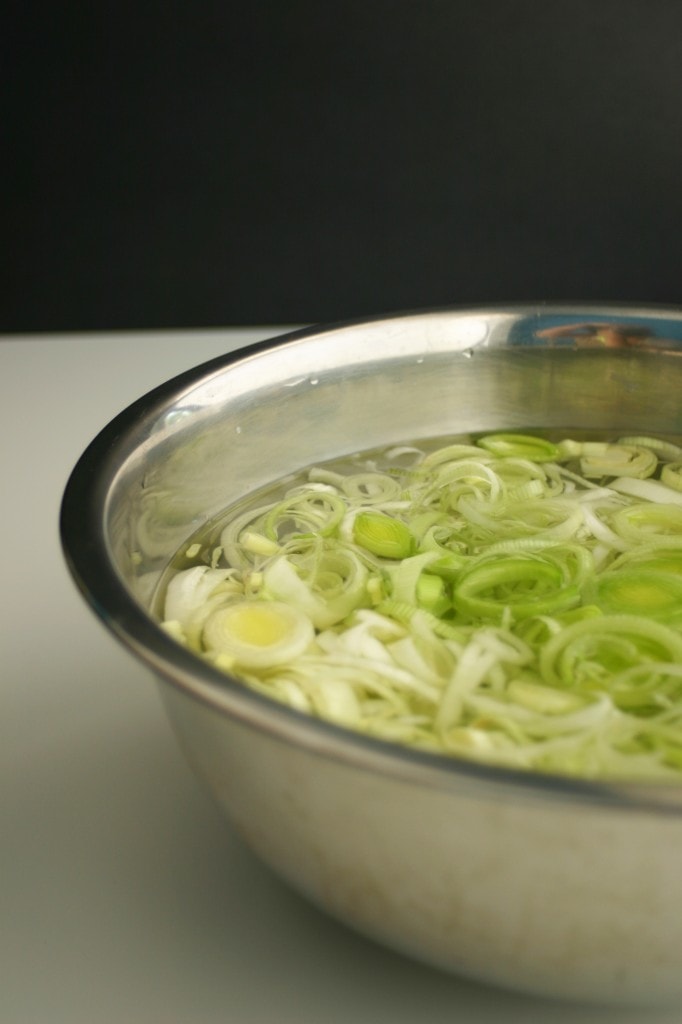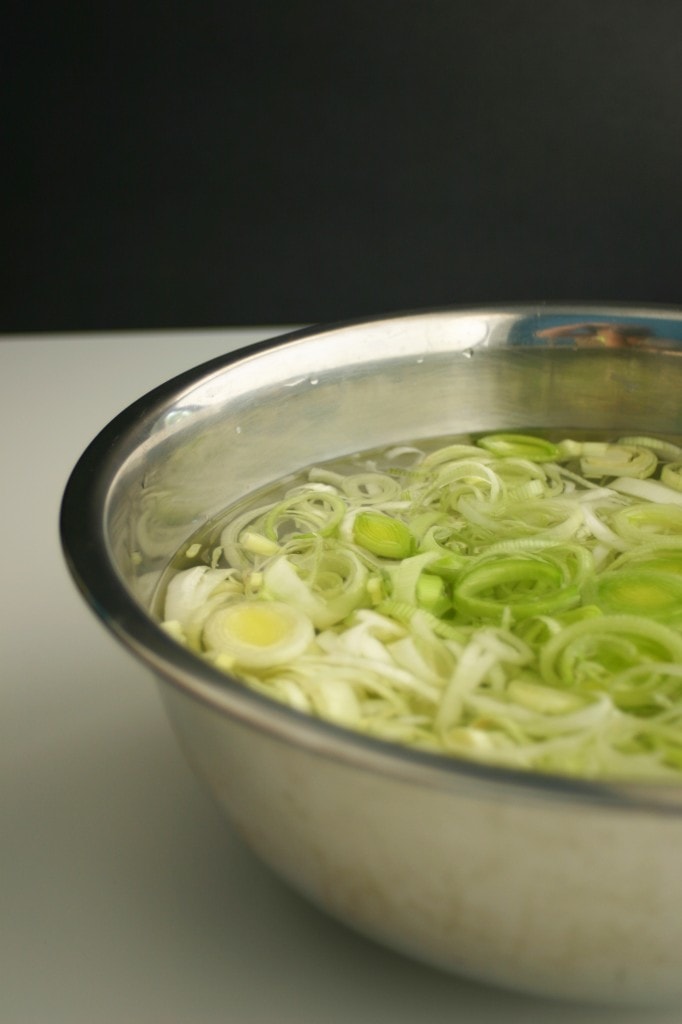 Getting back to the recipe, let's talk technique. When you clean the leeks, immerse them in water after slicing them to get rid of dirt. The dirt is sneaky and sometimes hides several layers deep, close to the root. After dunking them in cold water and shaking them about a bit to loosen the dirt, I used a strainer to fish out the cleaned leeks. As for the potatoes, the smaller you chop them, the easier and faster they cook and the less work your blender has to do. Don't worry if the leeks and potatoes barely seem to be immersed in the chicken stock, the leeks will cook down slightly. This is when your home will start smelling really good. Cover while simmering so your stock doesn't evaporate and boil down. And finally, let it cool down before you blend.
The soup will be thin after it cooks down. Don't worry! You didn't do it wrong. Once you blend it, the potatoes will break down and thicken it up. In fact, it will be too thick and will look like mush or baby food. That's when you thin it down a little and add some creaminess with half and half. Perfect.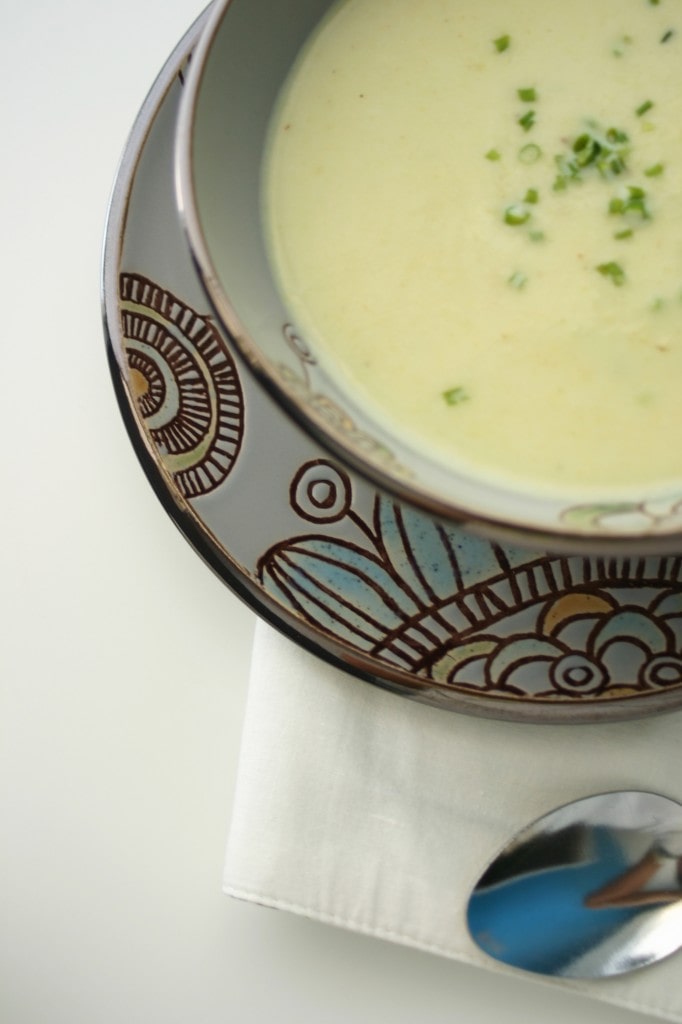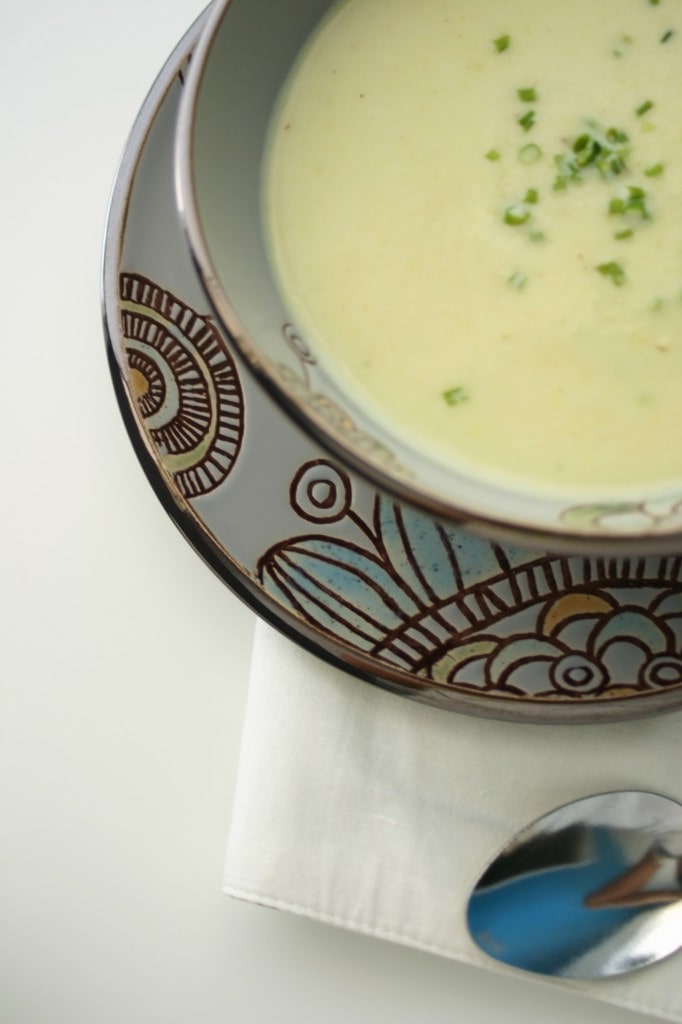 If want to have it hot, then sprinkle some nutmeg and minced chives and chow down. If you want to go the traditional route and have it chilled, put it in the fridge for an hour and wait. Either way you go, it's a nice and simple soup to add to your table.
PS:  If you have leftover leeks and you're wondering what to do with them, there's always creamy leek sauce along with seared salmon.
Print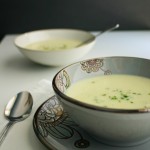 Vichyssoise (Potato and Leek Soup)
---
Author:
Total Time: 55 mins
Yield: 6 1x
2 large leeks, sliced
1 lb. potatoes, peeled and chopped
4 cups chicken stock
1 1/2 cups half and half
A dash of nutmeg
2 tablespoons fresh chives, chopped
---
Instructions
Over medium high heat, bring the chicken stock to a boil
Add leek and potatoes and reduce heat, simmering covered for 30 minutes
Remove from heat to cool
Blend the soup in batches until smooth
Pour in half and half and stir to combine
Refrigerate for 1 hour or overnight
Serve chilled sprinkled with nutmeg and chives
Prep Time: 25 mins
Cook Time: 30 mins