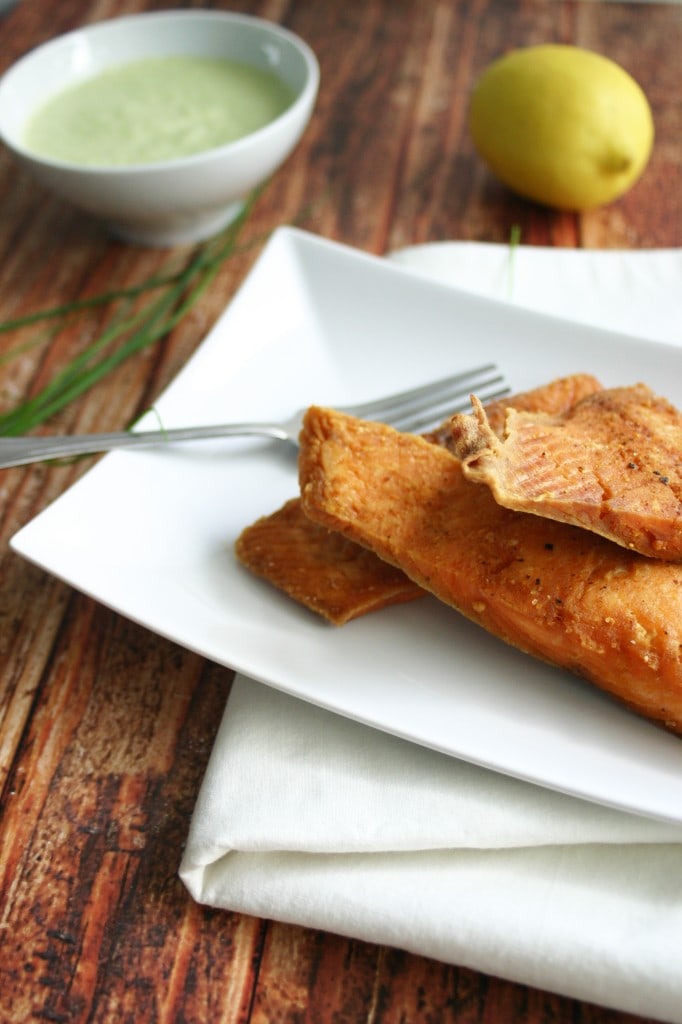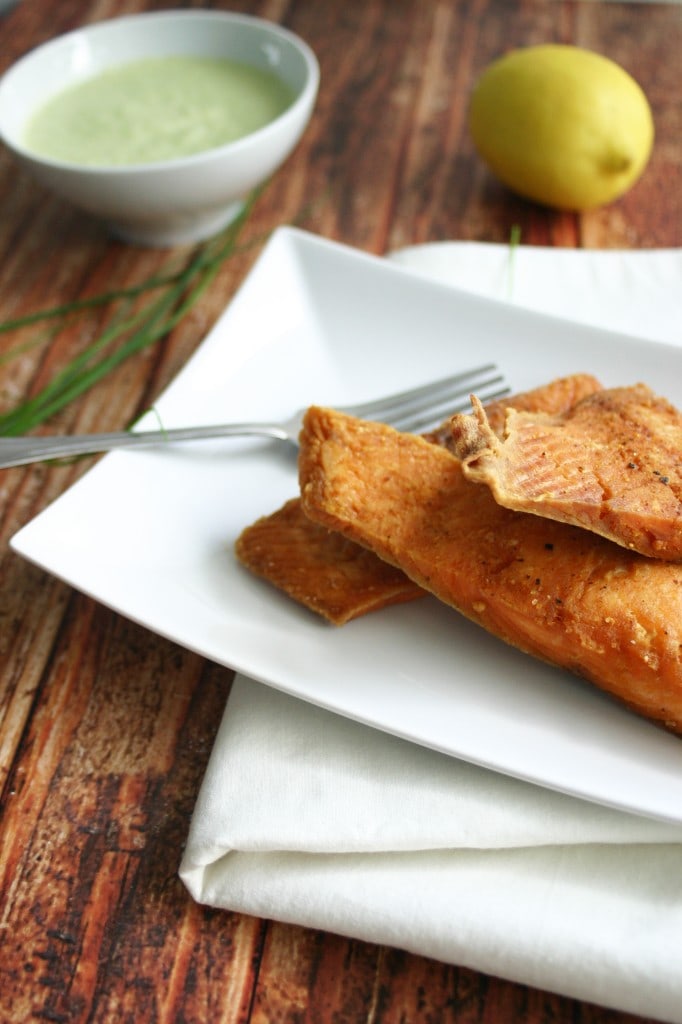 This seared salmon is something you really need to try. For one, it's crispy. And when I say crispy, I mean holy wow is it crispy. I had no idea regular salmon could crisp up and be so good like that. All I did was season it with salt and pepper and the salmon and oil took care of the rest. This is the kind of food that will earn you a cold stare across the dinner table if you ask for some from your companion(s) after gobbling down your own portion. There will be no sympathy for you. There will be no charitable salmon sharing. So make enough for yourself or get used to wishful thinking. And while it's perfectly good on its own, there's also some creamy leek sauce to dip into. Just in case you want to.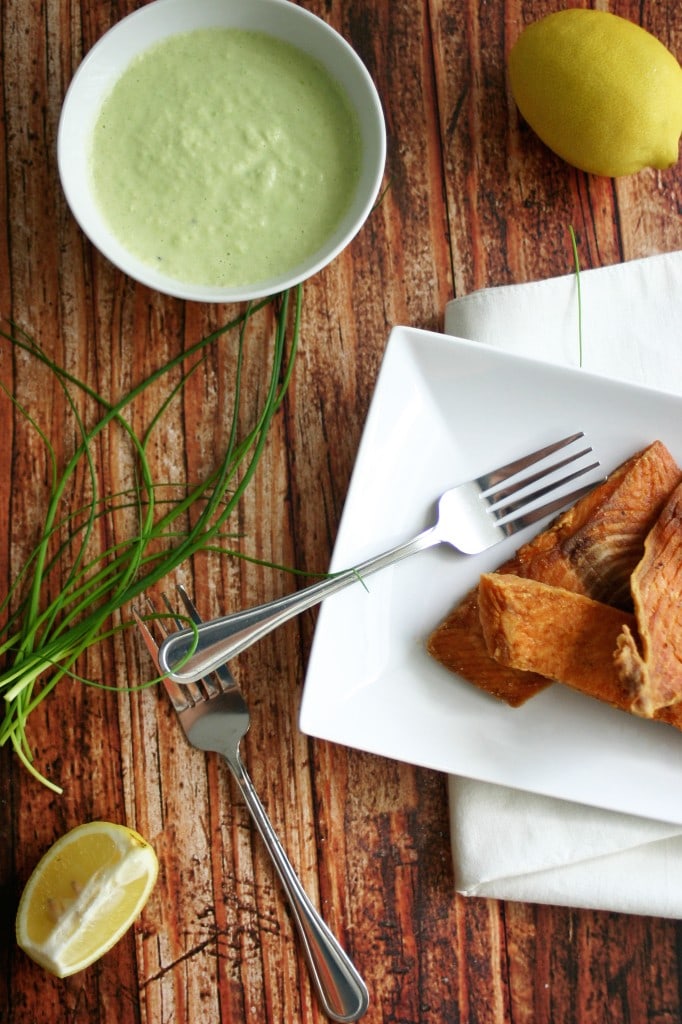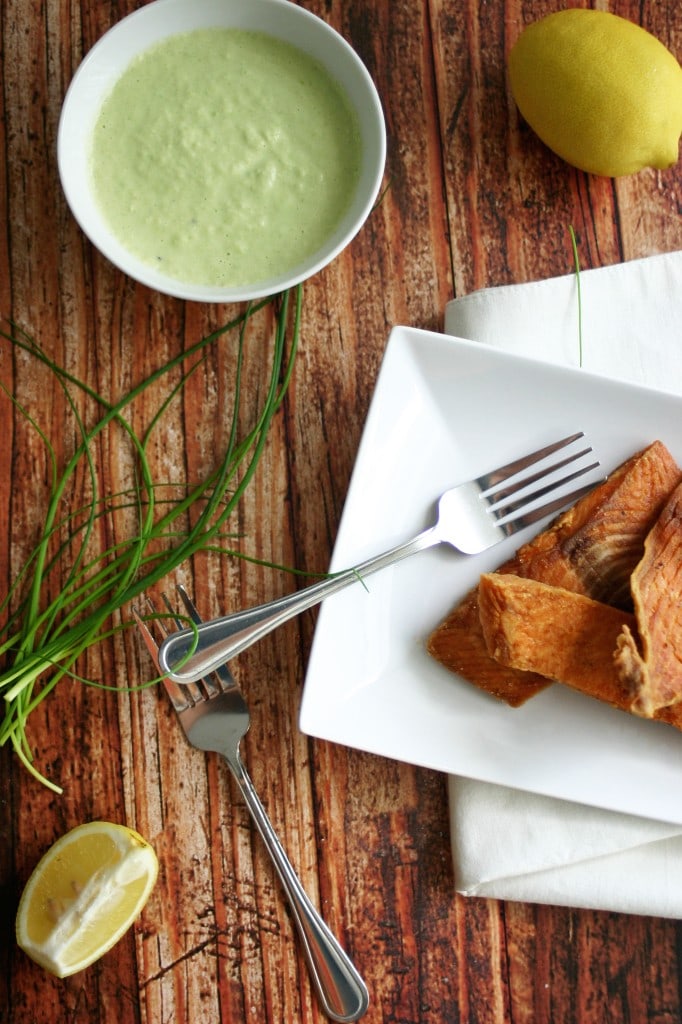 But let's talk about how I came to sear my salmon in the first place. If there's one thing I can't stand, it's wasted food. And yet, unless you're a super organizer planner kinda person, sometimes it can't be helped. There's that little bit of plain yogurt that expired after you're done trying to use it all up making tandoori chicken, kurma chicken, palak paneer or butter chicken. Because they come in big tubs I tend to round all these Indian themed dishes using plain yogurt together to make full use of it. And all because I can't see it go to waste, even if it was just a couple of bucks.
There's also the inevitable store bought green onions wilting and getting all icky after you're done using a few of them for garnishes. I tried the trick where you immerse them in water to grow roots then plant them, but it didn't work for me. After a few weeks in the planter my precious green onions started bending over like old men and becoming limp. So it's back to store bought ones for me till I figure out what I'm doing wrong. And when it comes to gardening and me, there's a whole range of possibilities.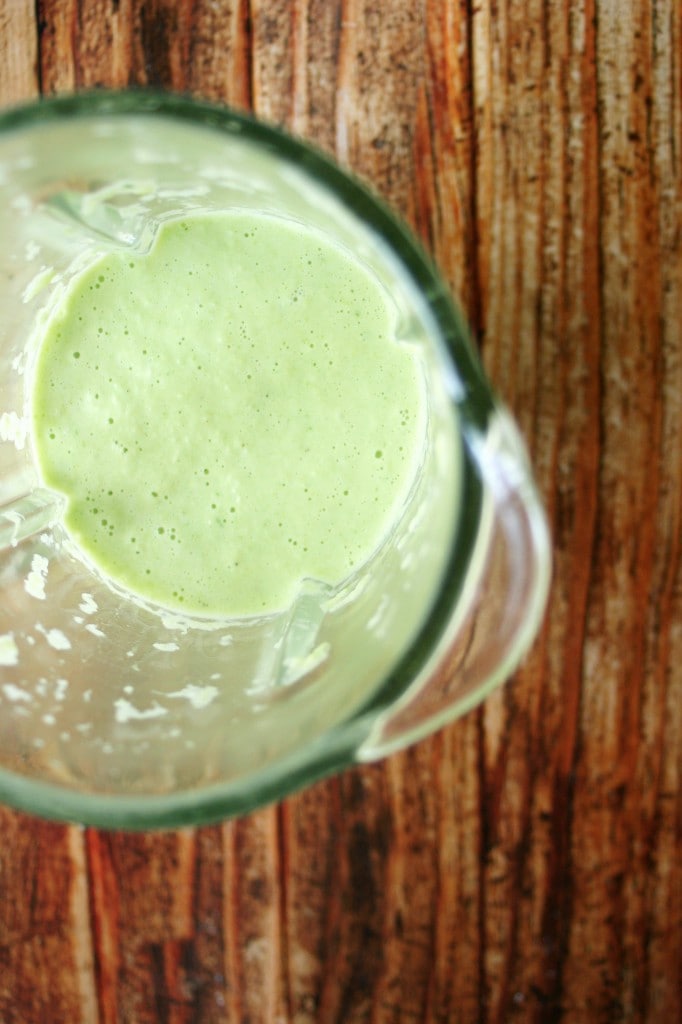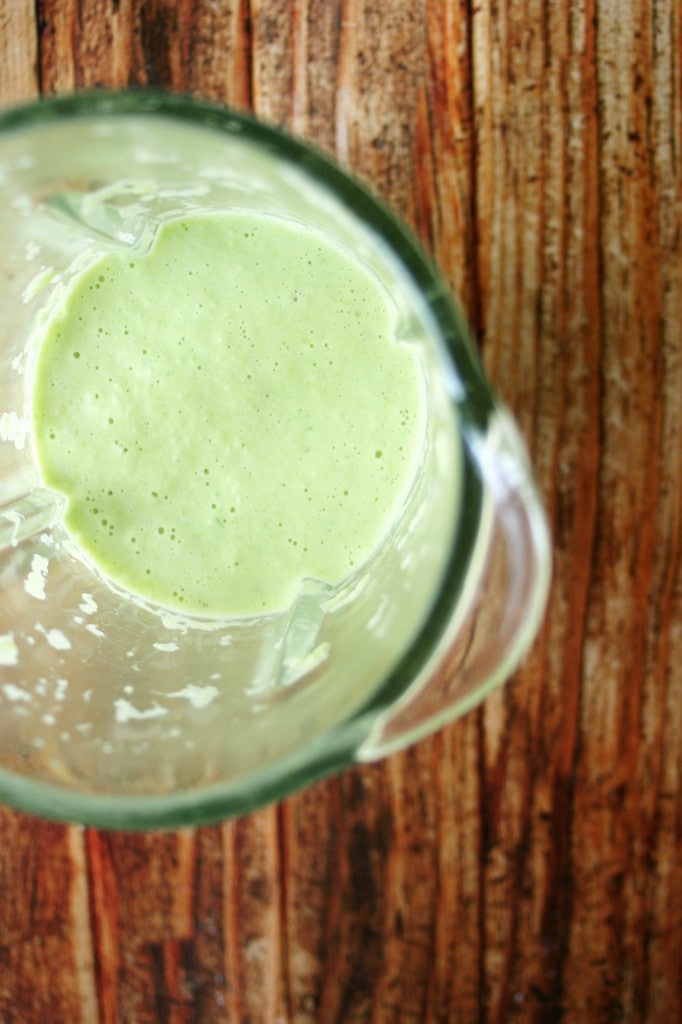 My point is waste. After Vichyssoise, I had some leftover leeks. Two to be exact. Two lonely leeks just sitting in the crisper waiting to be used. And while those only cost a couple of bucks, I couldn't find it in my heart to see them go to waste. Enter Google and a quick search for other leek uses.
So I came about a seared salmon recipe with creamy leek sauce from Martha Stewart and I think the sauce is the perfect amount of volume for those leftover leeks. Not to mention the thought of seared and crispy salmon sounds absolutely delicious. You can sear it with just salt and pepper and be a happy camper but even better with some sauce and lemon! The original recipe calls for heavy cream but I think you can also use yogurt if you want it all healthy-fied. As for the salmon, the trick to searing it well is to get your pan really, really, REALLY hot to the point of it almost smoking before you start cooking. This stops the salmon from sticking to the pan.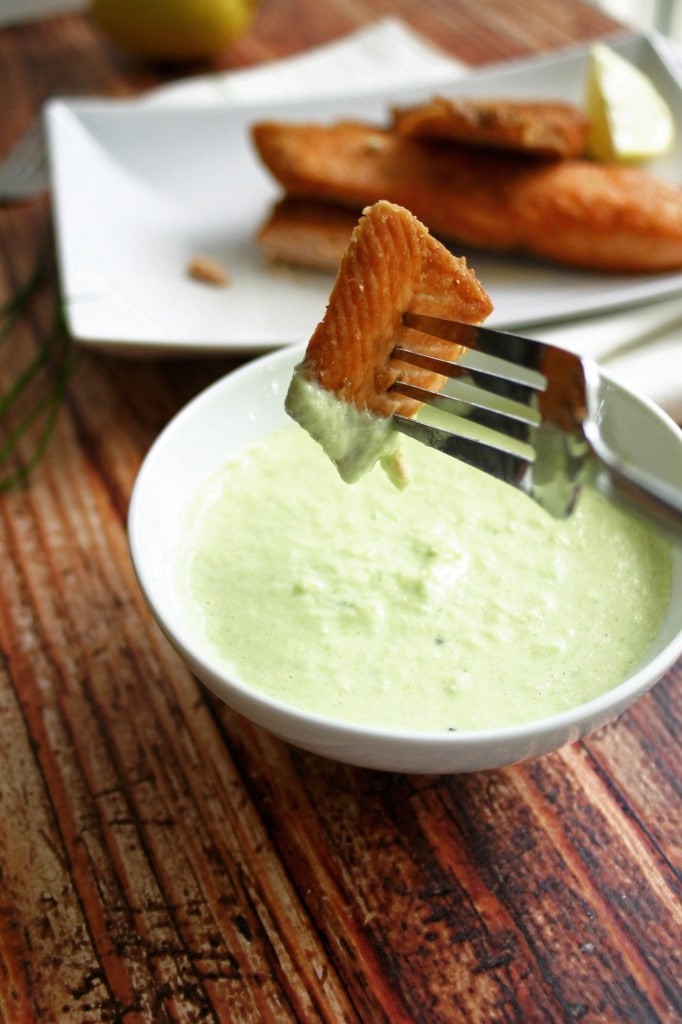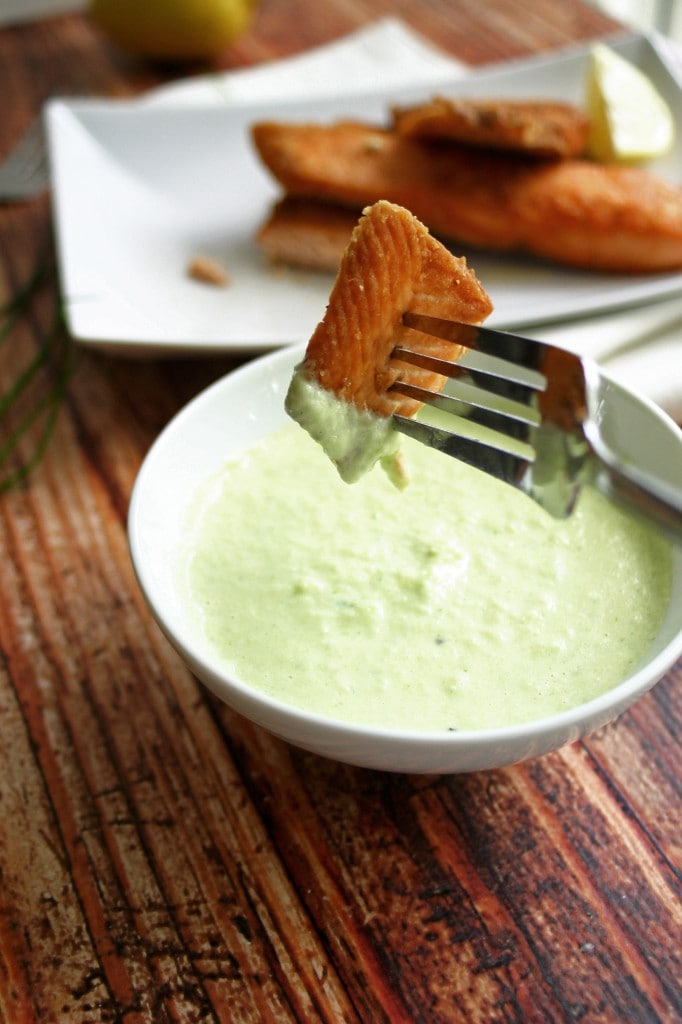 I used to make that mistake back in the days of young adult impatience where the idea of waiting 5 minutes for the pan to get hot was pure torture. So I dumped in my fish and lo behold, it stuck to the pan. All the skin and some of the meat came off when I tried flipping it. Don't be like past me. Wait and sear.  While you're waiting, you can take this time to pat the salmon really dry with paper towels. The drier it is, the crispier it gets. When the pan is ready and hot, gently lay the salmon down away from you so the final letting-go-before-your-fingers-touch-the-hot-oil doesn't result in a splash of pain all over your vulnerables. Let your backsplash take the damage. And use a splatter guard! It saves cleanup time and accidental burning of your toes or fingers from feisty hot oil. I bought this splatter guard from Amazon and never regretted it.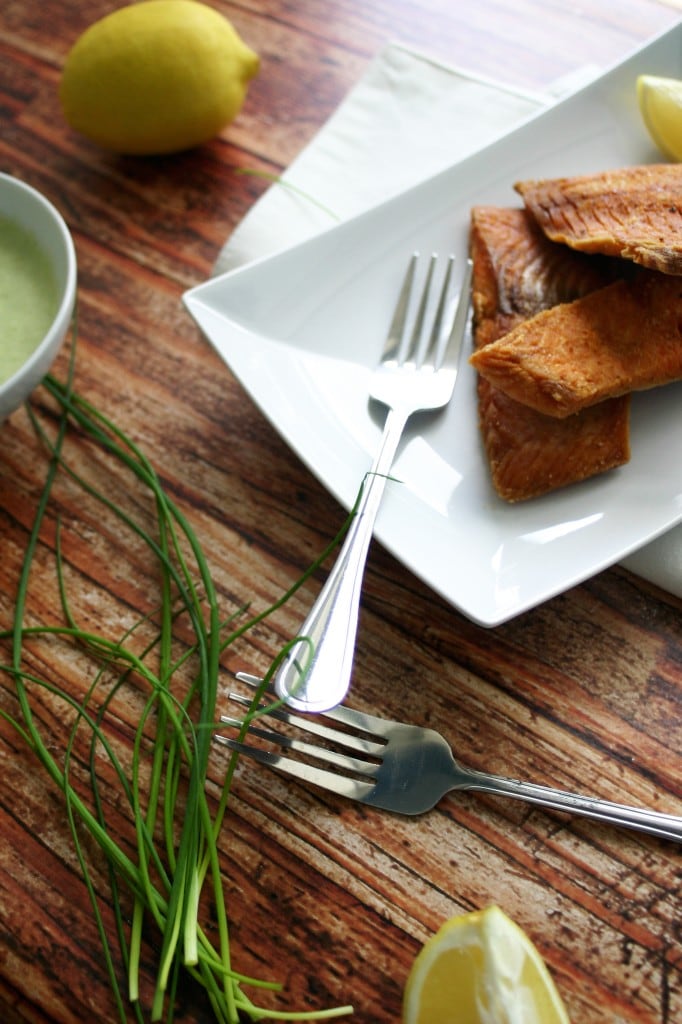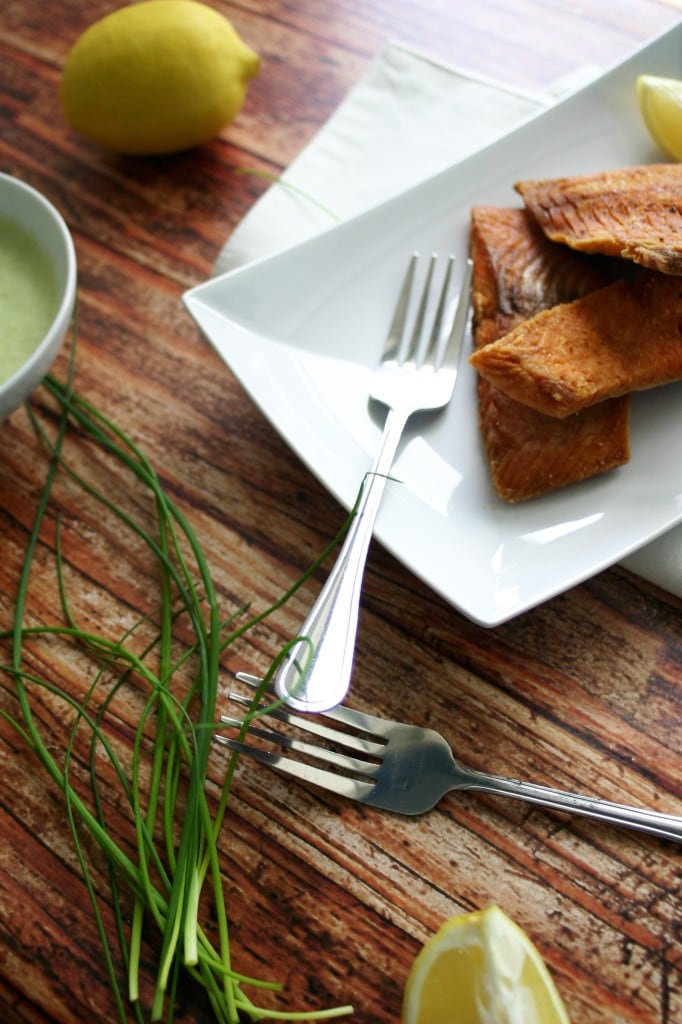 Last trick: it may seem tempting to lift or move the salmon around while it cooks but restrain yourself! Leaving it be is the best thing for getting it nice and crisp without breaking it apart from being fidgety and anxious. It should take 3-5 minutes for the salmon to cook on one side and you'll see a golden brown crust on the bottom. Flip it then and do the other side. For really thick pieces of salmon, you can all stand them up on their the sides to cook those down too. Aaaand you're done!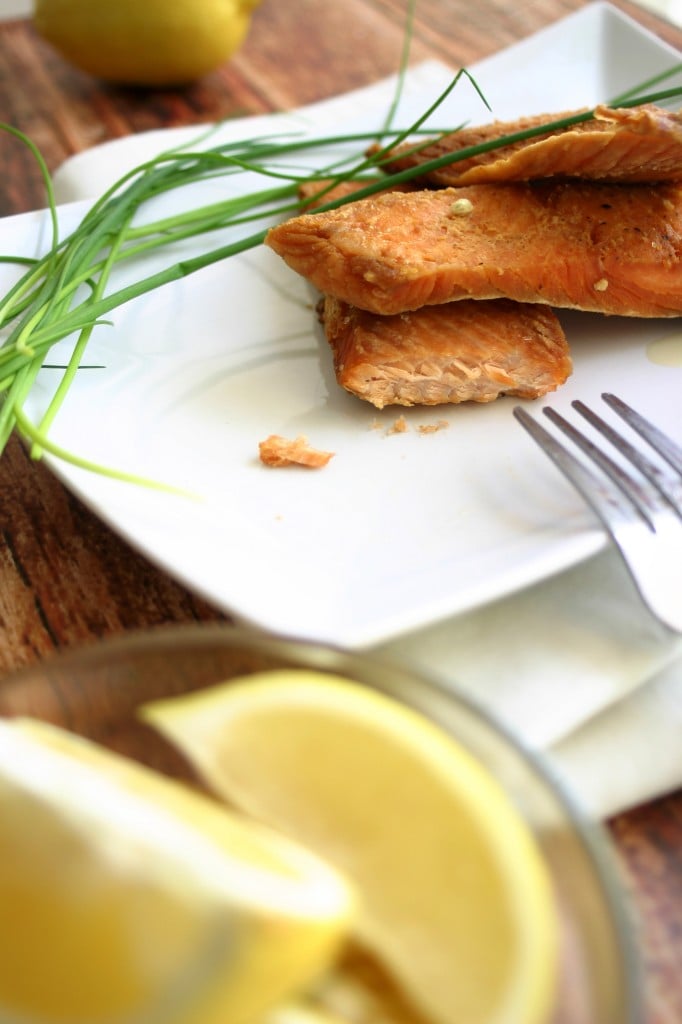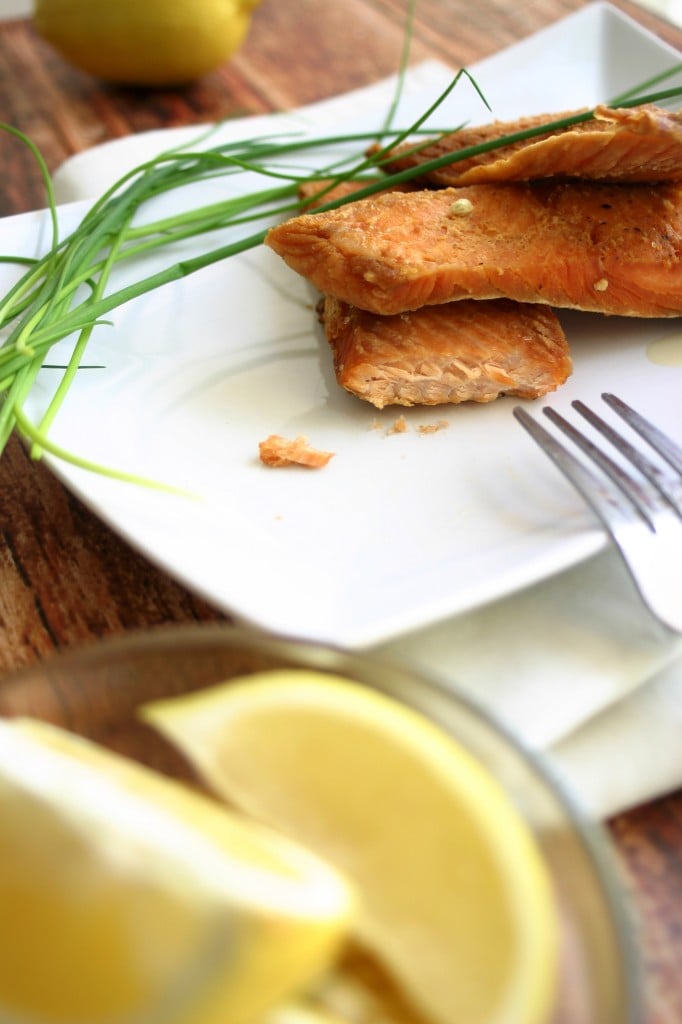 Sometimes I amaze myself with how long winded I can be talking technique. I should start a cooking class. I could go on and on and on. I didn't discover this part of me until I was cooking for my in-laws this year. My mother-in-law was hovering about wanting to learn techniques of Asian cuisine and the different sauces. Somehow I managed to stir-fry 3 five minute dishes while blabbing on and on about the difference between thin and thick soy sauces, sesame oil as a finisher, oyster sauce, fried shallots, how to make good egg strands and cooking vegetables till bright green al dente. I think I cooked black pepper chicken, shrimp in lobster sauce and stir-fried green beans. Anyway, I was surprised when I realized how much I enjoyed it and that I was a pretty decent teacher.
Back to the recipe, I know I'm gonna have this on a bed of rice with some stir-fried veggies. It's a quick and simple dinner to make when you have salmon laying around. And one or two leeks.
Print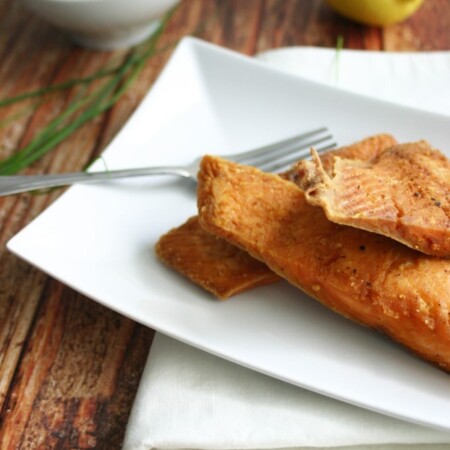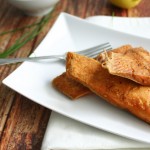 Seared Salmon with Creamy Leek Sauce
---
Author:
Total Time: 25 mins
Yield: 4 1x
2 tablespoons butter
2 small leeks, sliced
1/3 cup heavy cream
2 tablespoons chives, chopped
Salt and pepper to taste
1/4 cup chicken stock
4 (6 oz.) salmon fillets
1 lemon, cut into wedges
---
Instructions
Over medium heat, melt butter and add leeks, simmering for 5 minutes until the leeks cook down
Add cream and 2 tablespoons chives and stir to combine
Season with salt and pepper to taste
Add chicken stock and transfer to a blender. Puree until it is smooth
Put in refrigerator to chill
Pat the salmon dry with paper towels then season with salt and pepper
Heat oil in a pan over medium high heat until hot, about five minutes
Cook the salmon, skin side down until golden brown, about 5 minutes
Turn over and sear the other side about 3-4 minutes until crisp
Remove from heat and drain on paper towels
Dish and serve hot, with chilled leek sauce and lemon wedges
Prep Time: 5 mins
Cook Time: 20 mins