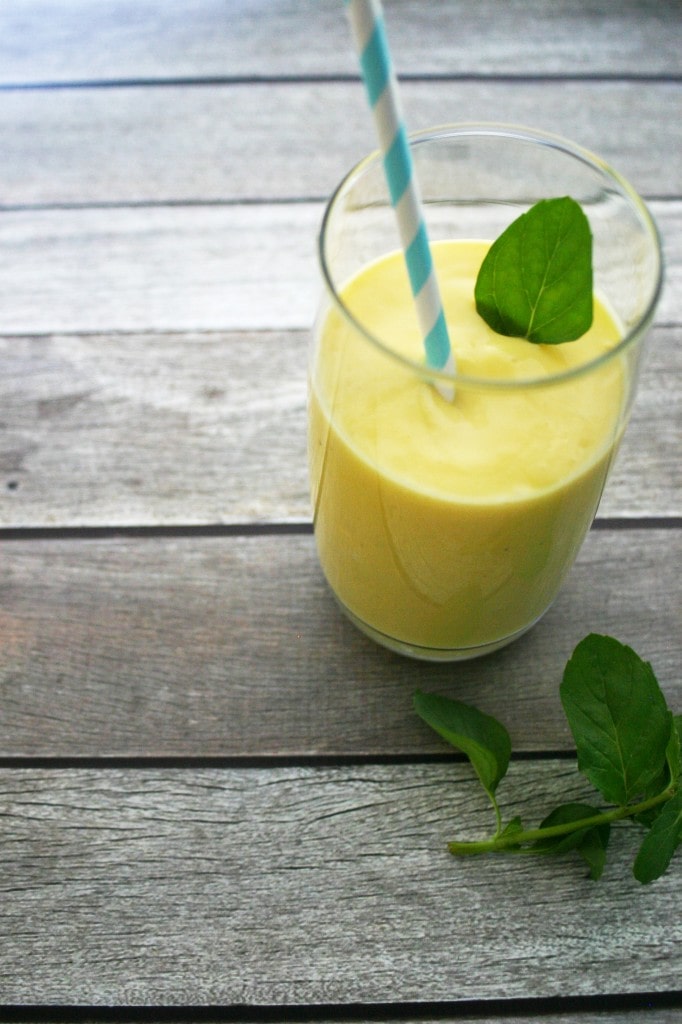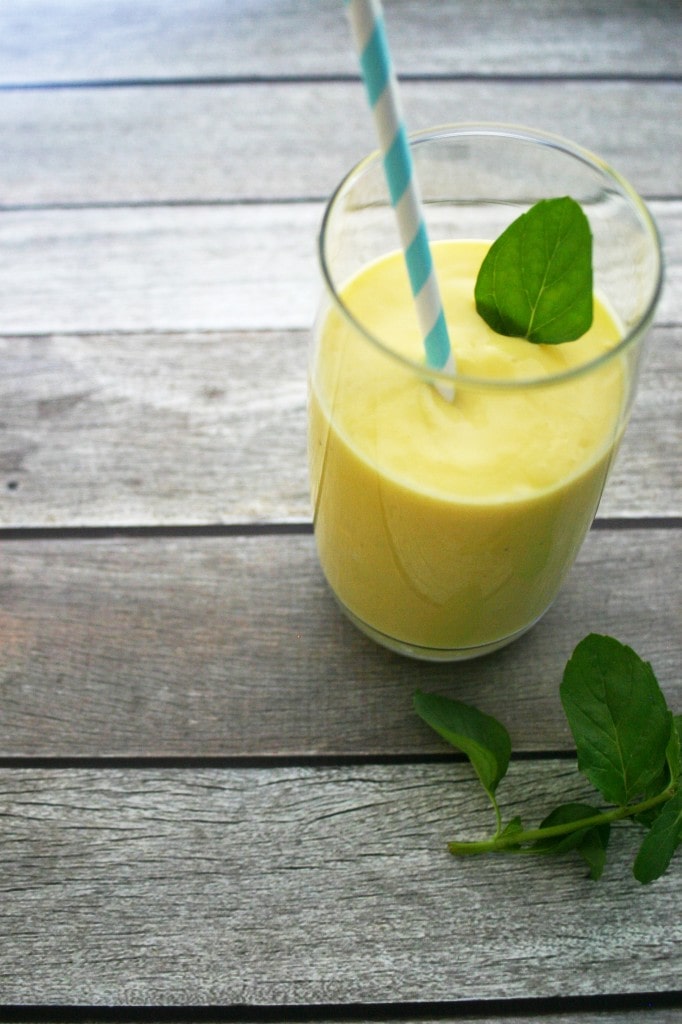 The thing that makes people so interesting are their idiosyncrasies: I recently had a mild epiphany that I like miniature things. Now me liking small stuff isn't the idiotsyncracy, it's the fact that it took me so long to realize it. I was in a shop on a touristy strip of Greek attractions, staring at a miniature wooden house labeled 'The Love Shack' and wondering why I felt the intense need to buy it. The tiny chairs on the sandy porch were adorable, yeah, and the woven bamboo used for the roof was well done. But I didn't need a love shack. I even thought the name was kinda corny. I just liked it because it was tiny.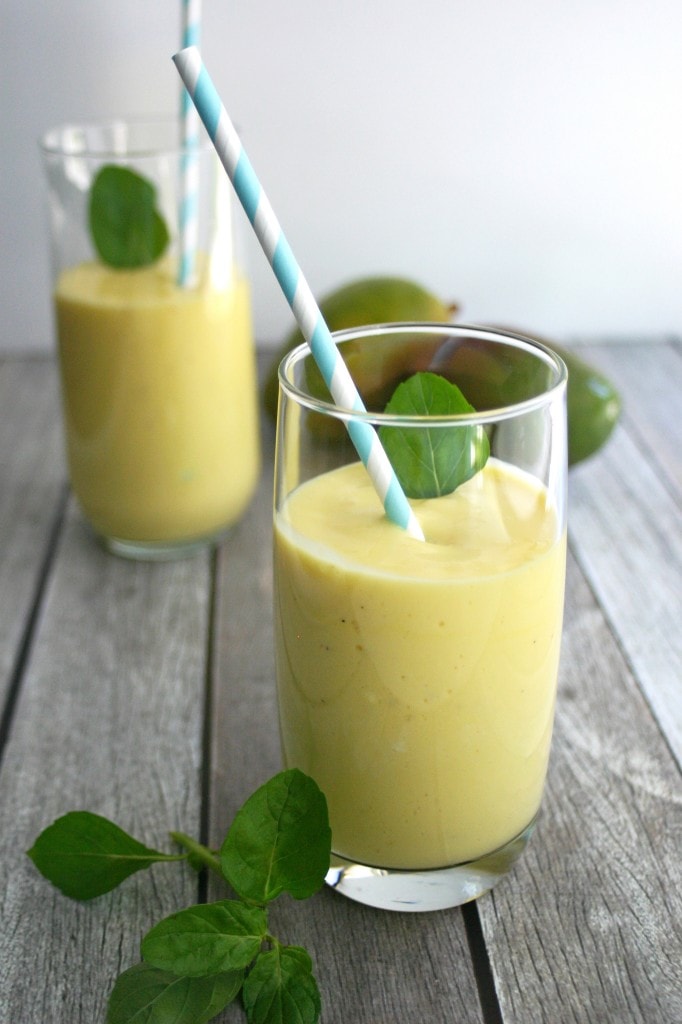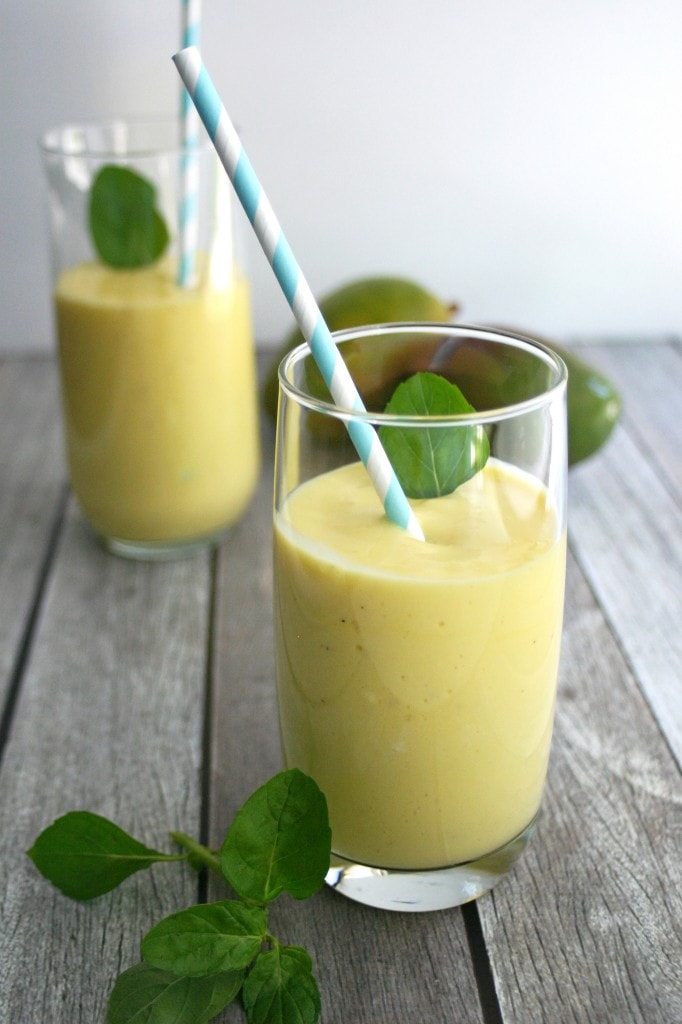 But this realization didn't hit me until a few hours later. And then, like most mild epiphanies, so many things suddenly made sense. So that's why I bought the teeny tiny tub of Vaseline lip rub when I already had a million lip balms, and why this miniature clothespin tickles the crap out of me. Anyway, it's things like these that make people fascinating and unique. And because I need to figure out a way to segue into Mango Lassi, let's just call it unique and leave it at that.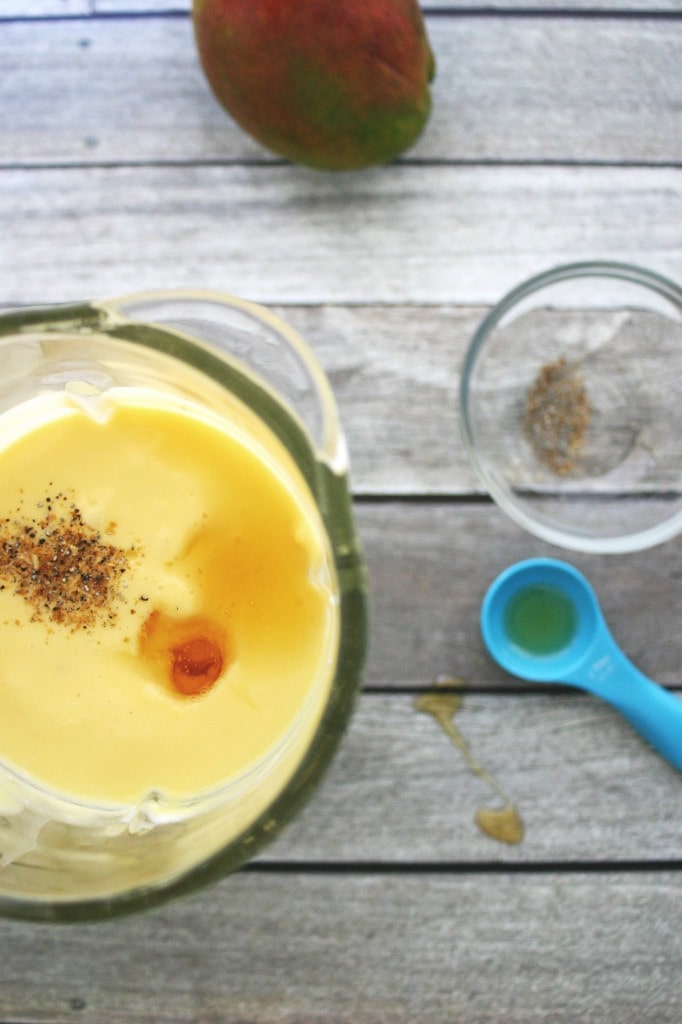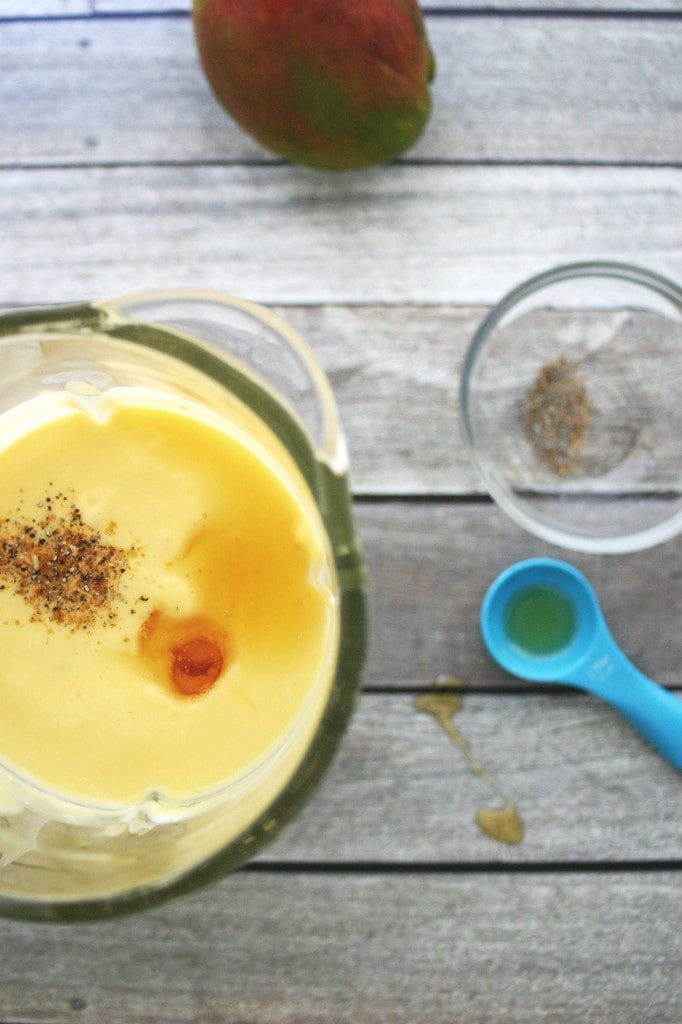 So what makes it unique? Well, there's the juicy, exotic mango that everyone seems to love during summer. I know I loved it with grilled salmon. Then there's yogurt to bind it all together and make it into a smoothie kind of thing. But what makes it different from your regular smoothies are the spices. Namely cardamom.
If you're not familiar with cardamom, it's part of a family of four brother spices that are commonly used in cooking with Asian meats: clove, star anise, cinnamon and cardamom. Put these together and your meats will never be the same. These aromatics are typically sautéed in oil to bring out their fragrance but are not eaten directly. Not unless you're weird. If you've ever accidentally bitten into a cardamom while eating Indian briyani rice or any other food with cardamom in it, you'll know what I mean. It's sneaky and often results in random expletives at the dinner table before it's fished out of someone's mouth and banished to the side of the plate. So beware that ninja cardamom! I'm not joking. Bite into one and tell me how you feel.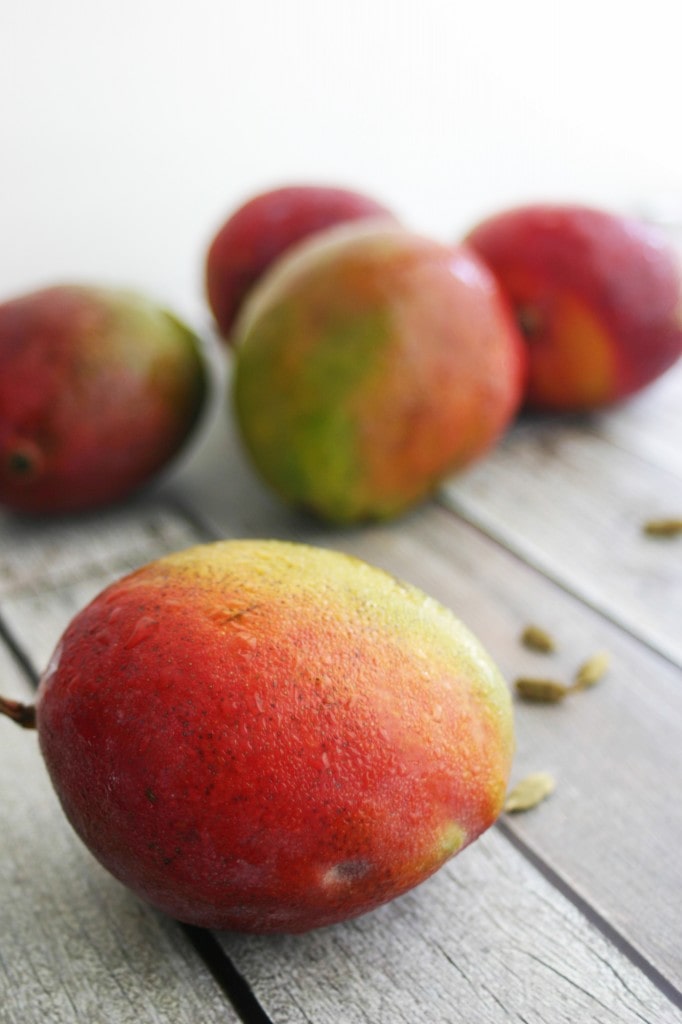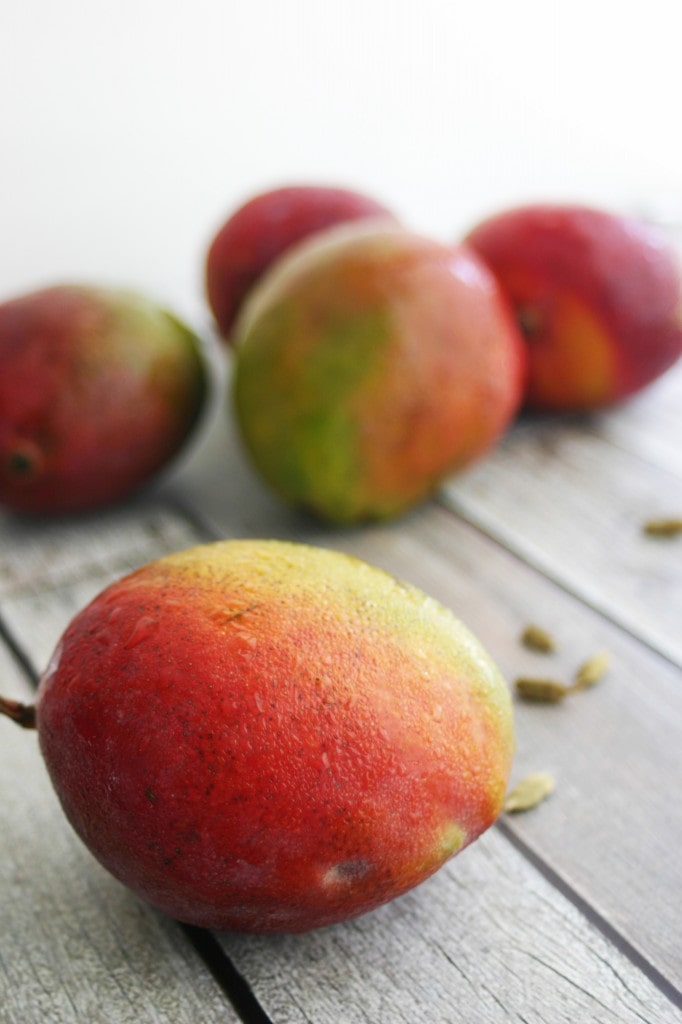 So you might be wondering why the heck I'm telling you now to put it in your smoothie. We'll be using cardamom powder here which is not as potent and it blends in smoothly, so not a biggie. So you'll get the benefit of having a spiced drink without the agony of biting into raw cardamom. You might already know the flavor if you've ever had chai tea. There's a blend of other spices in there but there's definitely the taste of cardamom. If you have trouble finding ground cardamom, you can buy the pods and break them down yourself with a mortar and pestle or a coffee grinder. I have a coffee grinder exclusively for that. If you're going that route, be sure to throw away the husks after the insides are all ground up.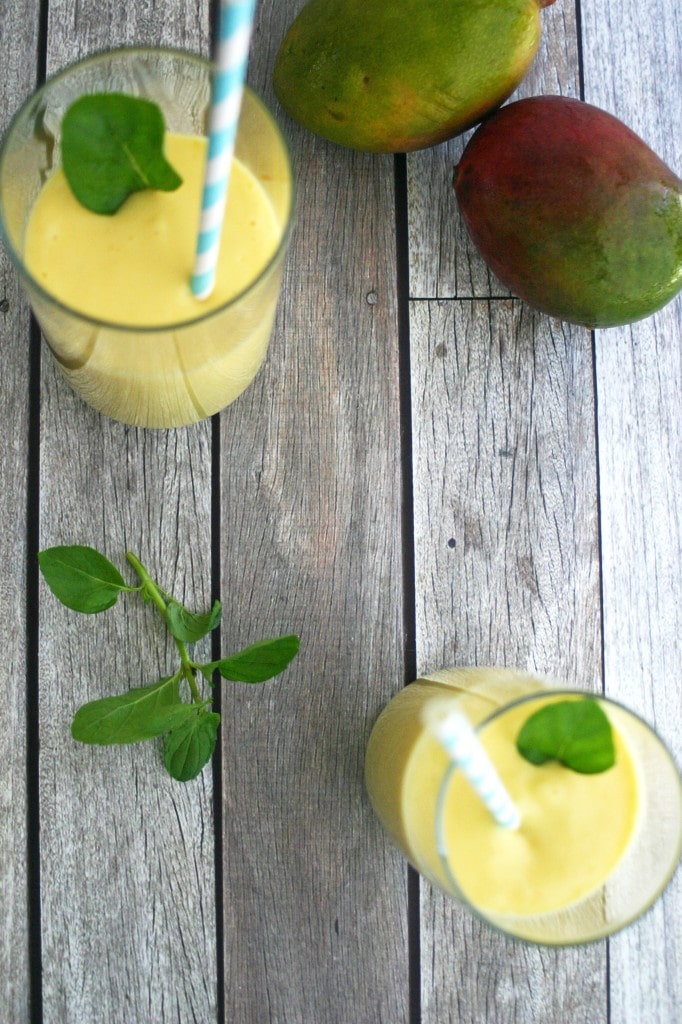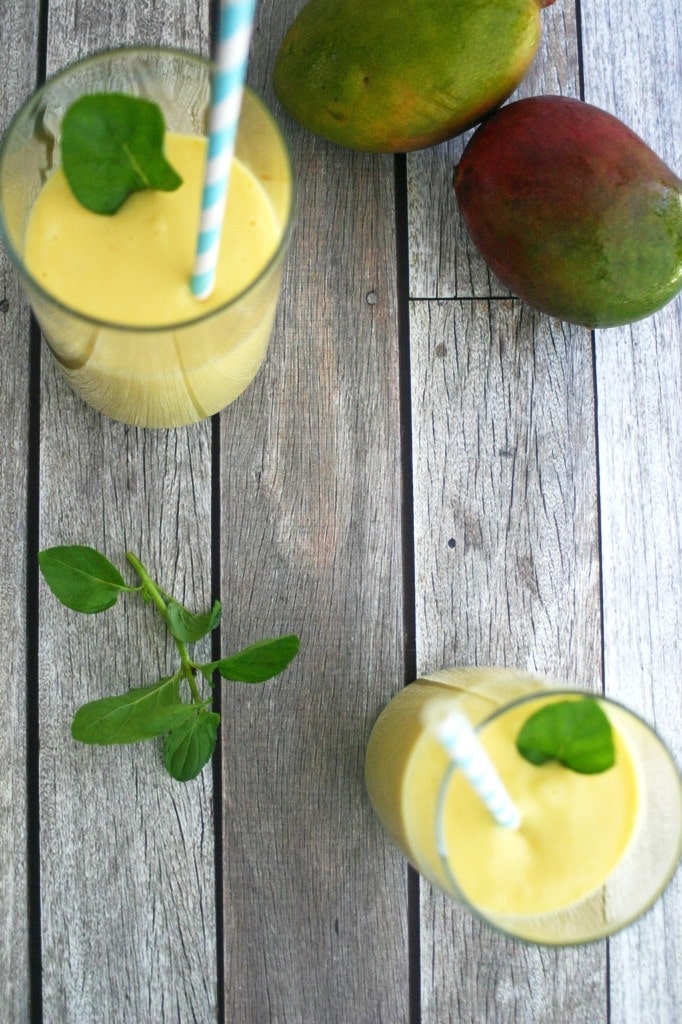 Now I'm really not good at cutting fruit, so this recipe was a labor of love, or hate, depending on how you look at it. After I was done cutting up the mangoes, my kitchen counter looked like a fruit crime scene. It looked like I had murdered the mangoes. There was pulp everywhere, on the counters, drawers and floor. The flesh was hacked to pieces. I had mango juice dripping from my elbows. My mouth was smeared with mango juice and used skins were stacked in a mango graveyard. Maybe I'll go frozen next time.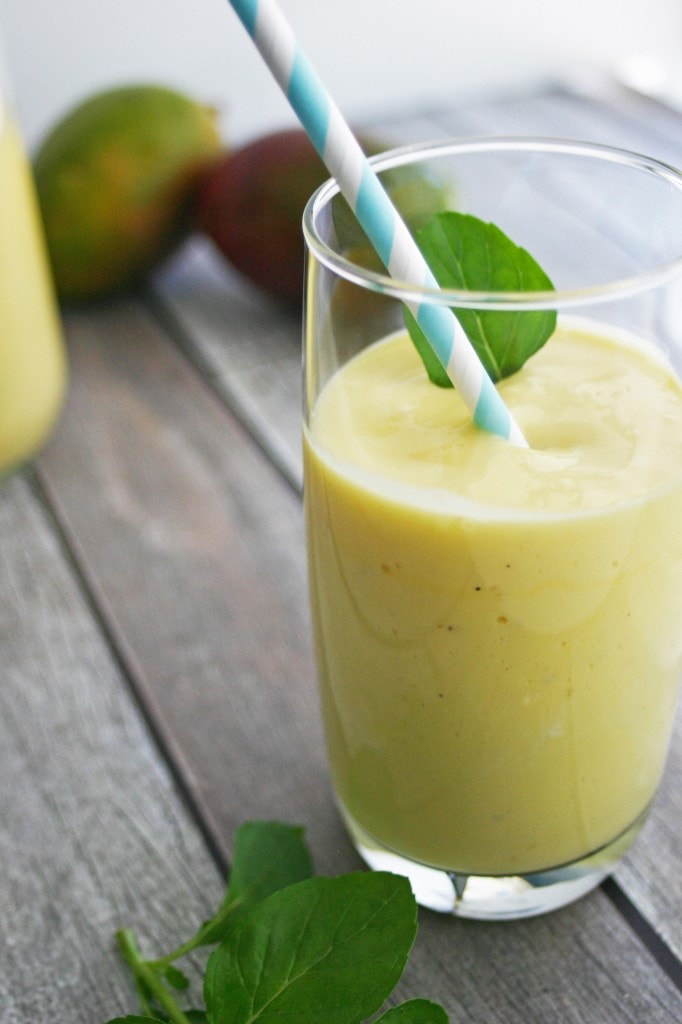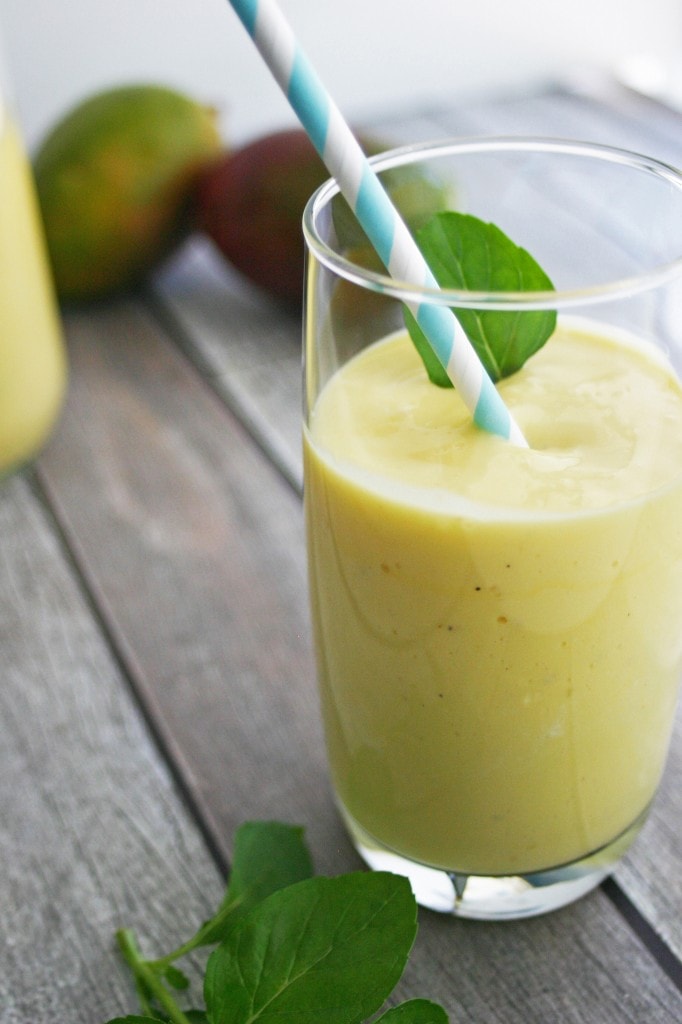 Mango lassi is an Indian drink and you'll find it on the menu at most restaurants. So if you've ever wondered how they're made and what makes them different, wonder no more! It's deceptively easy to make and really yummy. I used just enough honey in this recipe to flavor it slightly while not making it overtly sweet in case anyone prefers it that way. So if you want it sweeter, just add more honey. Also, if you want it thinner, add a little bit of water or milk and stir.
Print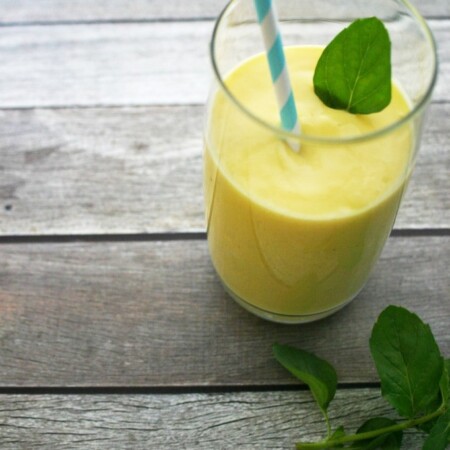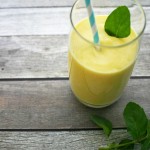 Mango Lassi
---
Author:
Total Time: 15 mins
Yield: 2 1x
2 cups mangoes, chopped (about 2 big mangoes)
2 cups plain/Greek yogurt
1/2 teaspoon ground cardamom
4 tablespoons honey
Mint leaves for garnish
---
Instructions
Blend the mangoes with yogurt, honey and ground cardamom until smooth
Serve chilled, garnished with mint leaves
 Nutrition based on low fat Greek yogurt: