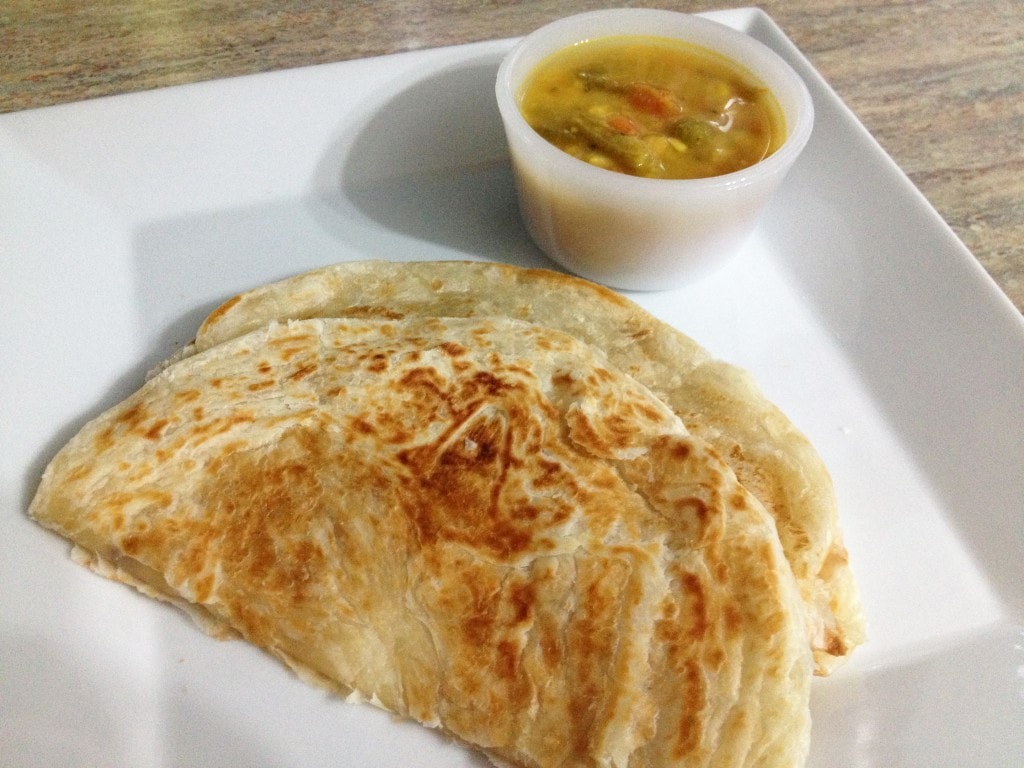 Dal was always around where I grew up. Just walk into the nearest restaurant selling Indian flatbread (roti canai) and you'll get dal along with fish or meat curry and sometimes a nice chili based condiment (sambal), depending on the region you're in. To understand dal, you have to understand roti canai. Roti translated is 'bread'. Roti canai is a sort of Indian flatbread which is cooked over a hot skillet by being twirled around repeatedly in the air throughout the cooking process to make a crispy, fluffy, flaky, buttery bread that serves as a canvas for the various sauces that accompany it.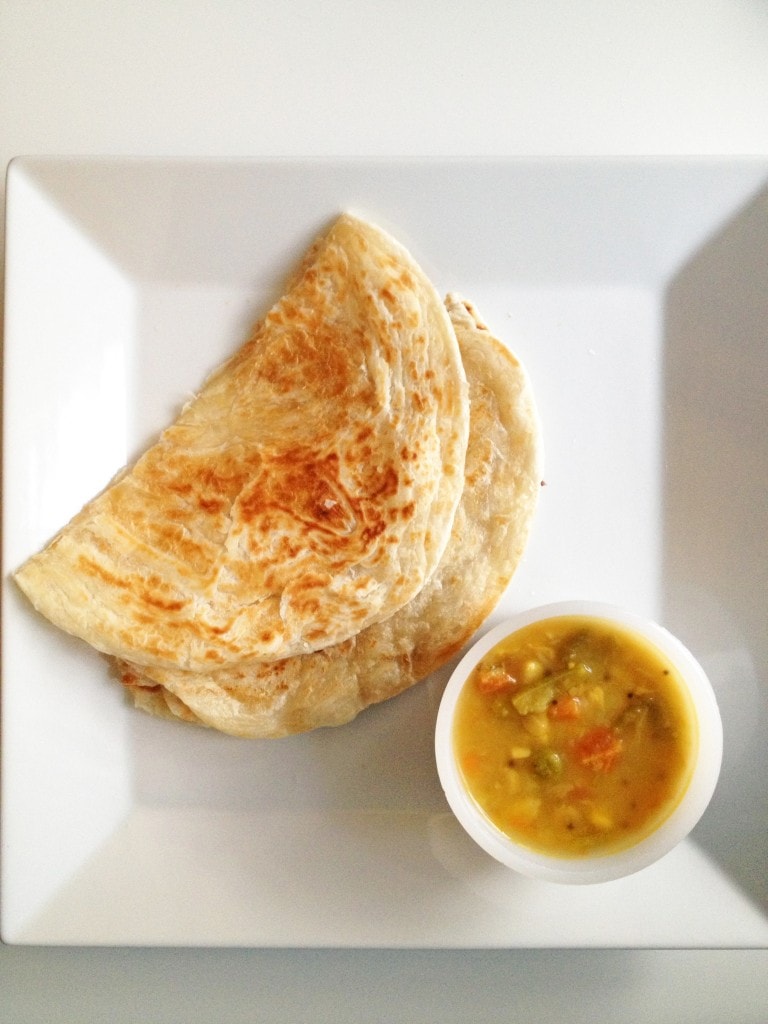 Roti canai is eaten morning, noon and night. Want to start the day on a good note? There's nothing like having a warm meal first thing in the morning. Want a cheap meal for lunch? Costing about a dollar per flatbread with complimentary sauces, you can't beat the price. Want an easy meal for dinner? A hassle free yet filling meal to end the day. Out partying till the wee hours of the morning? Head to a hawker stall at 3 am and have some for a midnight snack before passing out at home.
There are even several variations of roti canai to fit every taste bud. There's roti telur (egg), roti pisang (banana), roti tissue or roti helikopter (helicopter bread), roti sardine (sardines), roti bawang (onions)… the list goes on. People have taken extreme creative license and gone to town with it, coming up with all kinds of crazy stuff.
I personally don't cook it from scratch, it would be way too messy and I'd probably end up hurling it into the ceiling. Leave that to the pros. Instead I get the Kawan brand roti prata (don't worry, it's almost the same thing) and make my own curries and dals to go along with it. This stuff normally comes frozen and keeps a long time.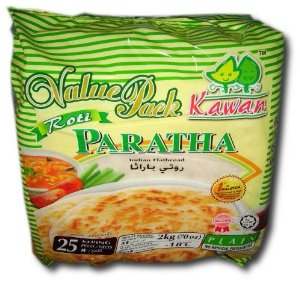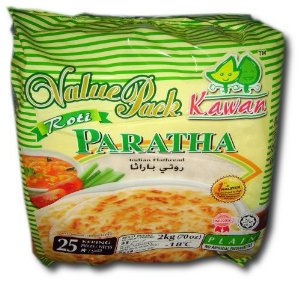 Just whip out your non-stick saucepan, heat it up over medium high heat and cook each one of these on both sides, pressing down firmly with a spatula to get an even browning. The bread will inflate slightly and then settle as it crisps. No oil is needed. Don't be surprised by how frozen and hard each one is, you don't have to thaw it prior to cooking. Just toss it onto the saucepan and it will work its magic. You can buy these at a local Indian store or even on Amazon. 1 to 3 of these should be enough per person.
Anyway, today I'll be showing you how to make vegetable dal to go with your roti. Dal is a lentil that's often soaked almost overnight before you can even think about cooking it. Indian cuisine is still relatively new to me so imagine my distress when I walked in the store and discovered a bajillion types of lentils. Fortunately I managed to get some advice from the shop keeper and went home with a packet of split chickpeas (chana dal). I don't have a brand preference. I'm lucky I went home with the right kind.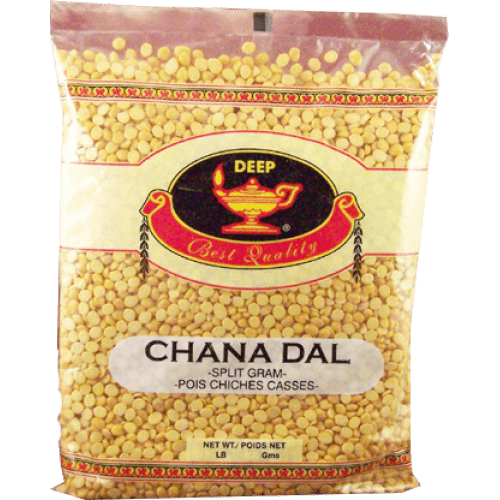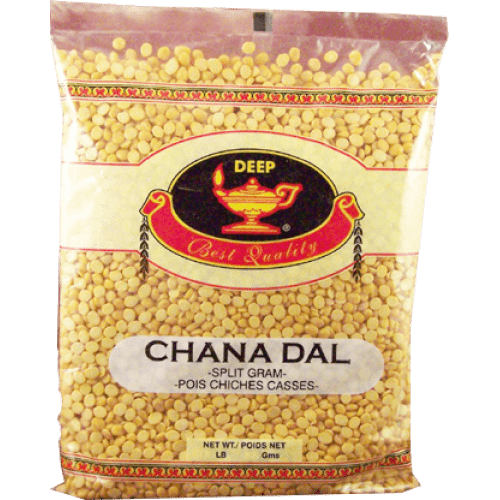 My first attempt to recreate it at home resulted in 4 long hours simmering it on the stove and constant babysitting to avoid the bottom from burning. After that, I sort of alienated it for awhile and stuck to making simple fish curries for my roti until the arrival and discovery of The Pressure Cooker.
What took 4 hours of blood, sweat and tears took only 15 minutes or so in the pressure cooker. It was a gift from heaven! After researching extensively on how to use it, what not to do, reading about unfortunate accidents with it and procrastinating using it for the first time out of sheer terror for two months before I finally found the guts to use it. I also found out a pressure cooker is a common gadget in Indian kitchens. And here I was doing it the hard way. Cooking Indian lamb dishes like Rogan Josh and Lamb Vindaloo also became a breeze and soon I was parading about the kitchen like a pressure cooker know-it-all.
If you have a pressure cooker at home, use it! If you don't, buy one or try this the hard way with a dutch oven over the stove. I promise you, the pressure cooker will pay for itself.
This recipe calls for mustard seeds, turmeric powder and asafoetida powder. In a nuthshell, mustard seeds are roasted in the beginning of the saute process until they crackle and pop.  Make sure you watch them carefully or they will jump all over the place at this crackling stage. Turmeric powder is bright yellow and can be used as a rub for fish and chicken before pan frying and in soups to add color. Beware the stains left behind on anything non-metal, even your fingers! I love eating turmeric crab but after the euphoria wears away, you're left with 10 minutes of washing off the stains on your fingers. But darn is it good.
Asafoetida is something new I discovered last year. It works as a flavor enhancer and is usually used with turmeric. It has a strong onion-garlic flavor and a little goes a long way. You can do this with or without asafoetida. So don't worry too much about finding this. If you have it, great! If not, c'est la vie.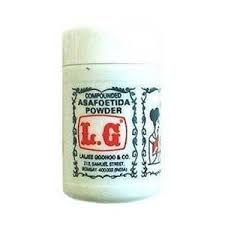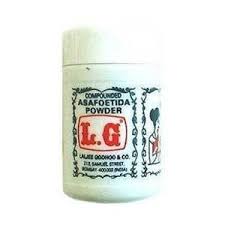 Print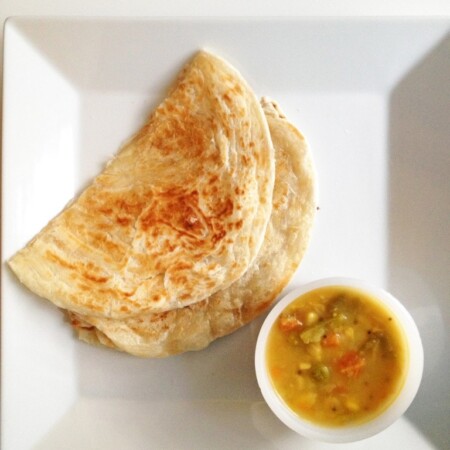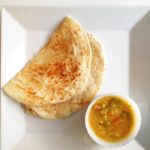 Vegetable Lentil Curry (Vegetable Dal)
---
3 cups frozen mixed vegetables
1 potato, peeled and chopped into 1" cubes
1 cup split chickpeas (chana dal)
1/2 yellow onion, chopped
1 tomato, chopped
4 1/2 cups water
1 teaspoon brown mustard seeds
1/2 teaspoon turmeric powder
1/2 teaspoon asafoetida powder
Salt to taste
---
Instructions
In a saucepan over medium high heat, saute mustard seeds and asafetida until the seeds crackle
Add onions and saute until translucent
Add tomato, potato, mixed vegetables, turmeric powder and salt and mix well
Add dal and water to a pressure cooker. Bring to full pressure on high heat until steam is released
Reduce to medium heat and cook for 15 minutes
Remove from heat and allow cooker to cool naturally
Add in vegetables and mix thoroughly, seasoning with more salt if necessary
Serve hot
Notes
If there are leftovers, pack them and store them in the freezer. They can last for a few months and are easy to heat up again. I usually make a big batch and freeze the rest.
If simmering over the stove top, simmer on medium low heat for 4 hours.