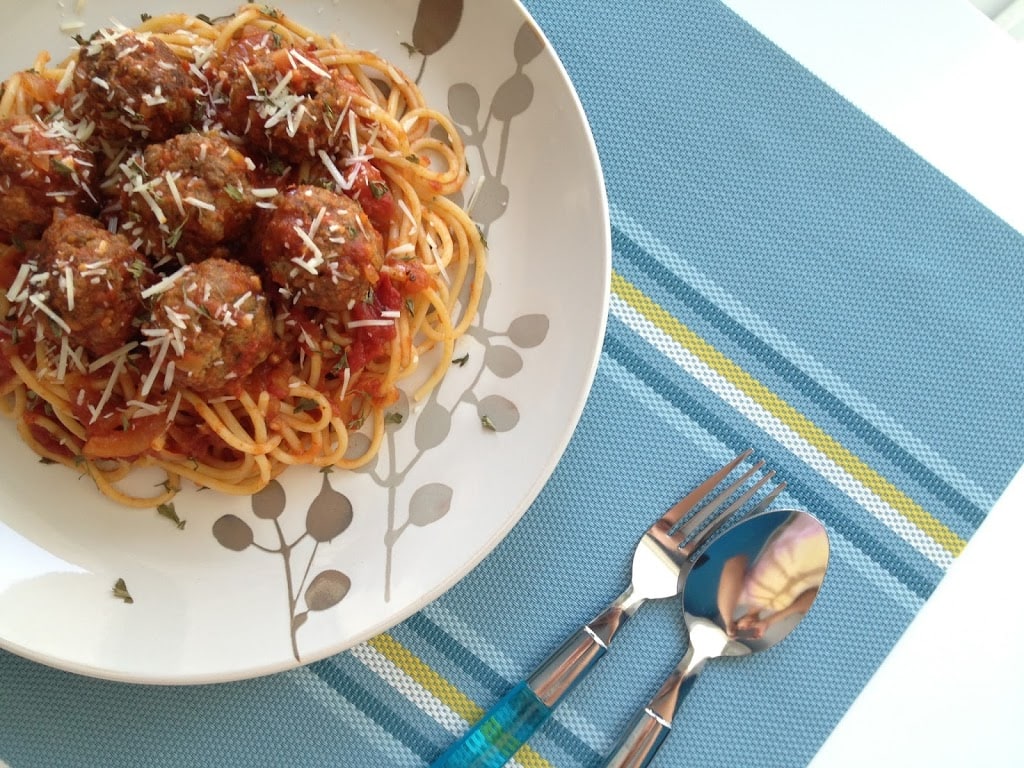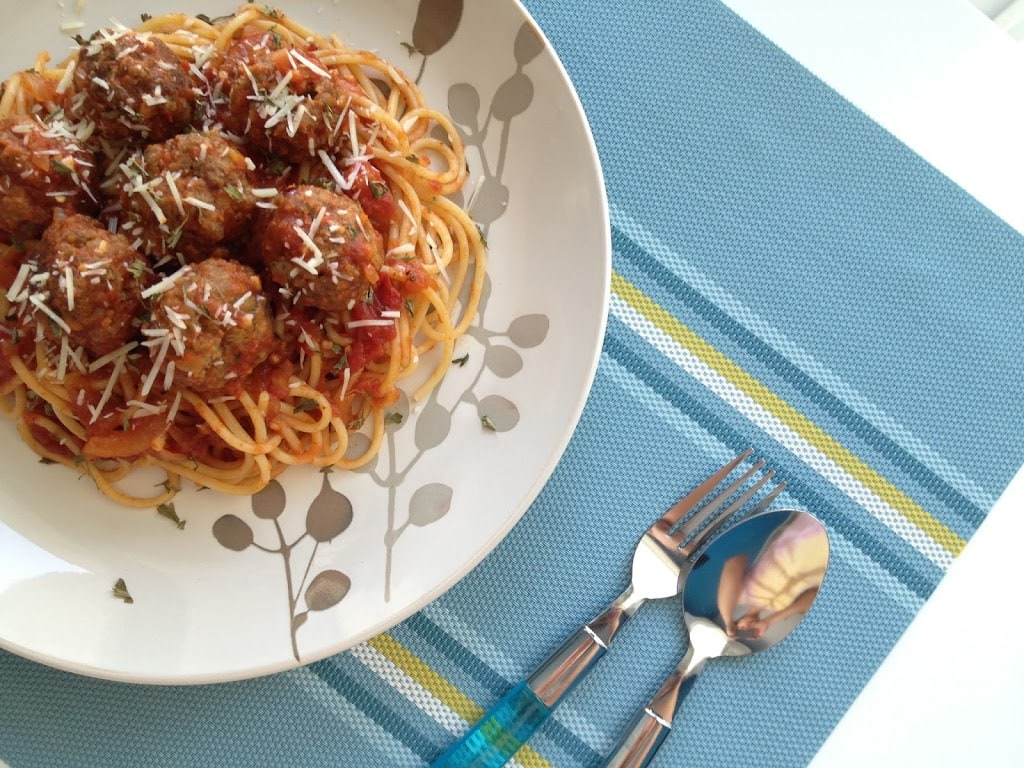 I remember the first time I had spaghetti and meatballs. A group of friends I used to hang out with were on their way to one of those shops where you pick out a pottery design and a couple of paints and go nuts painting. I had a ton of fun there. It was a good way to unwind and bond with the rest of the womenfolk, while getting those creative juices flowing. And they made great gifts!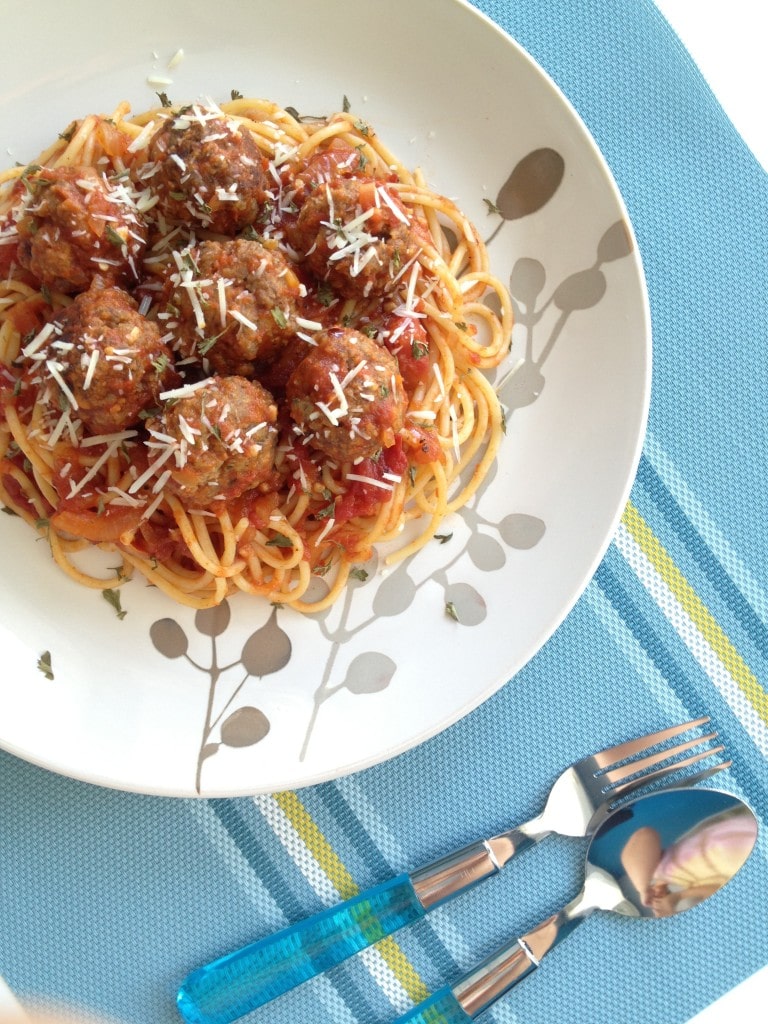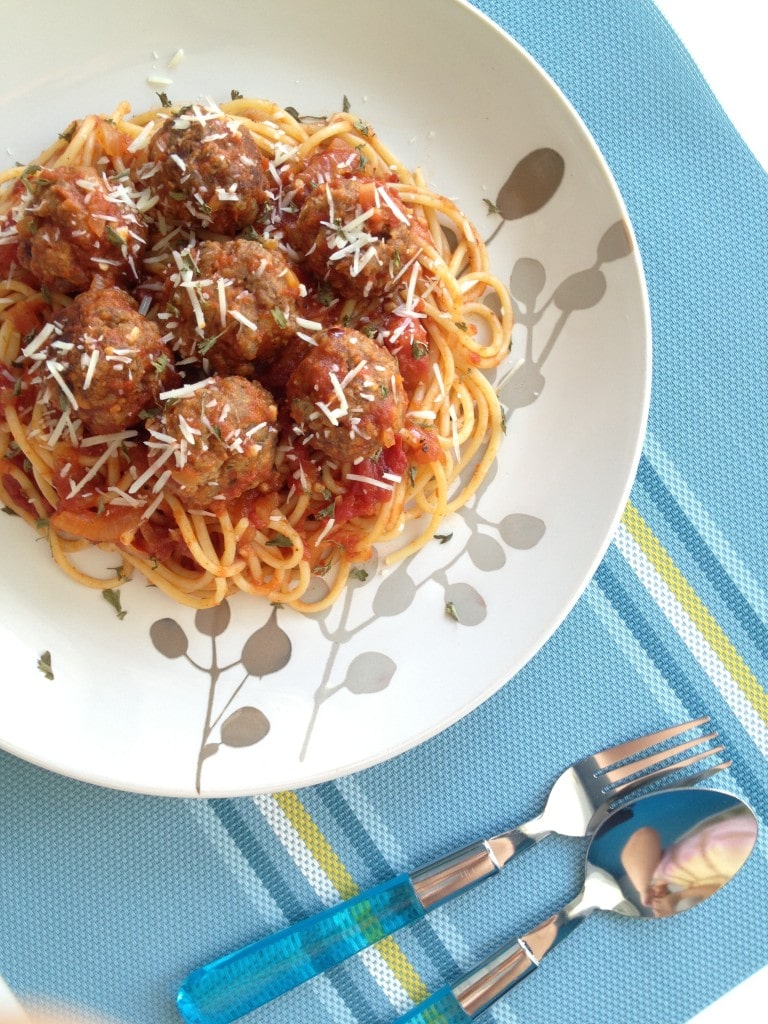 We met back up somewhere on the way home at some tiny restaurant tucked away on a one way street and got some eats.This is where I met spaghetti and meatballs. While it probably wasn't the best spaghetti and meatballs the world had to offer, to my ignorant and uninitiated taste buds, it was the best thing I had ever eaten. Okay, maybe that's taking it a little too far, but it was freaking delicious.
Come to think of it, that was the ONLY time I have had spaghetti and meatballs dining out. Somewhere over the years, I came up with a recipe of my own for it and have never needed to find it elsewhere. So here it is.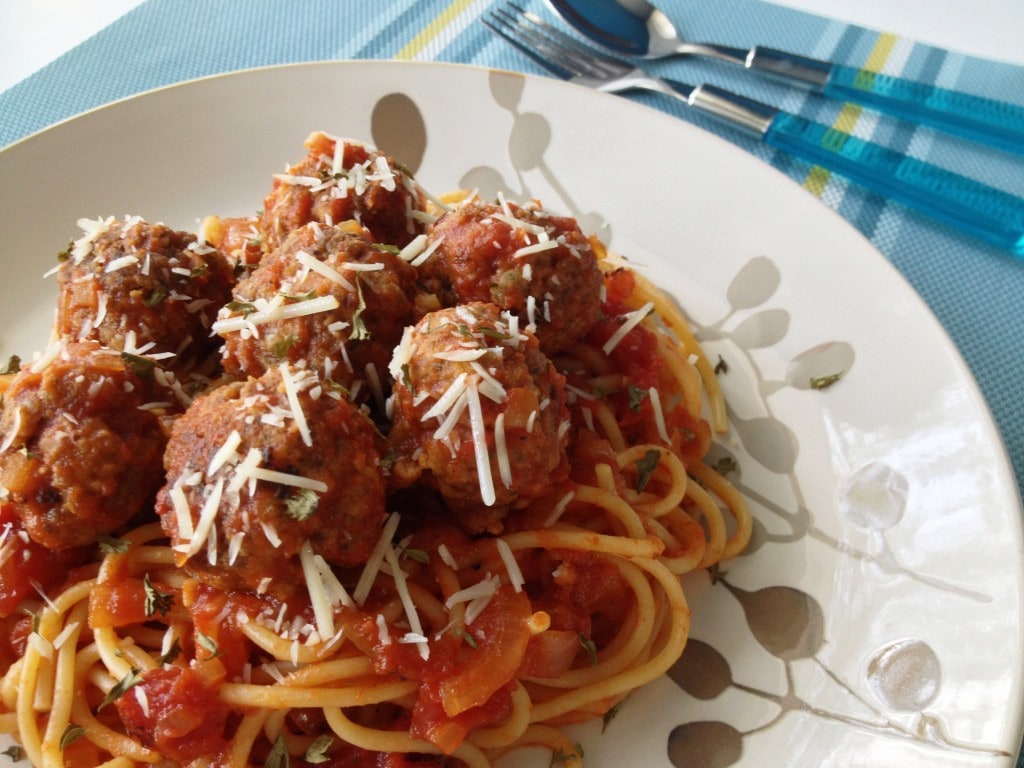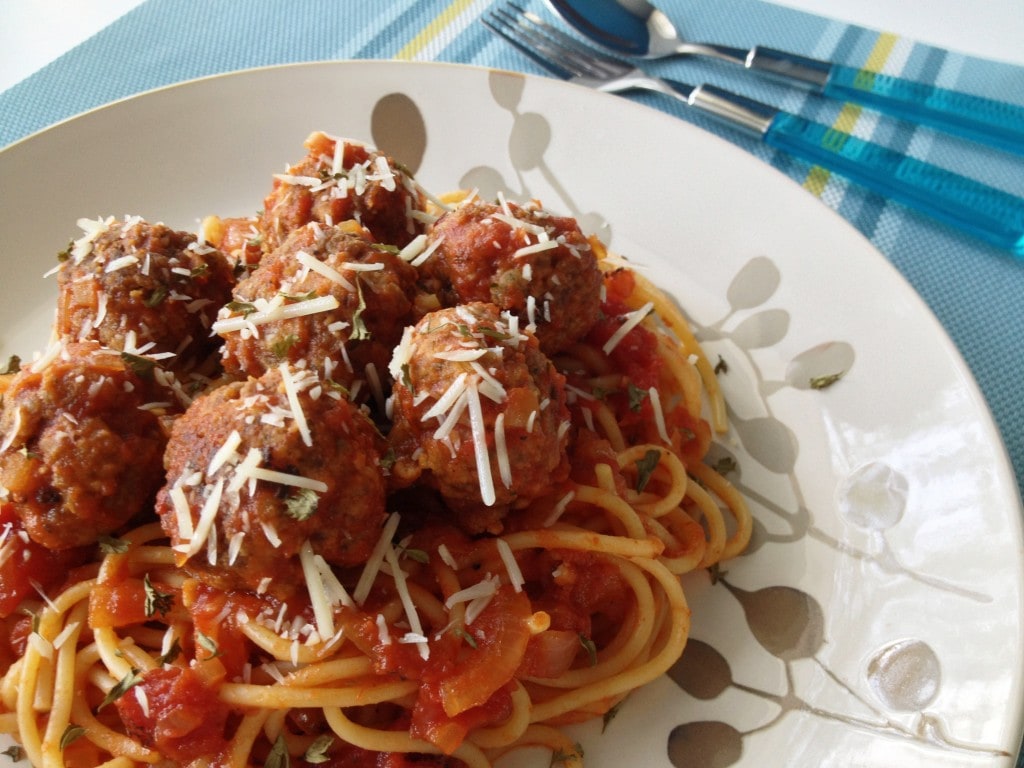 It's relatively easy to make and I combined my recipes for Parmesan Meatballs and Sweet Roasted Red Pepper Marinara Sauce together to create the meaty finale. I also altered the portions and measurements in this recipe to make just enough for two, for those that prefer not to cook in bulk and just need a simple dinner. If you're wondering why I'm even mentioned bulk, go and check out the Parmesan Meatball recipe and you'll understand why.
My mentality with regards to meatballs is, if you're going to be elbow deep in ground meat, you may as well make enough to make it worth the while. So I typically churn out anywhere between 50 to 70 meatballs when I get down to it.
But worry not! I won't make you slave away at the kitchen for this one, we only need 14 or so meatballs, 7 per person. That should be enough, shouldn't it? If you're like me though, and want to make it worth the while, pull up your sleeves and go do my one million meatball recipe, set aside 14 for this recipe and freeze the rest!
Print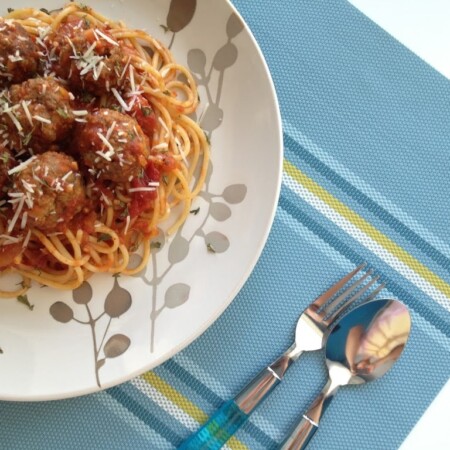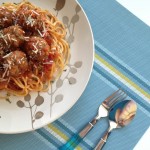 Spaghetti and Meatballs
---
Author:
Total Time: 30 mins
Yield: 2 1x
1/4 lb. spaghetti, cooked al dente
Parmesan cheese
Meatballs (Makes 14 meatballs)
1/2 lb. ground beef
1 teaspoon garlic, minced
1 egg, beaten
1 teaspoon Worcestershire sauce
1/4 cup Italian breadcrumbs
1/4 cup dry Parmesan
Salt and pepper to taste
Marinara Sauce (Makes 2 cups)
1 cup tomato sauce
1 cup fire roasted chopped tomatoes
1 teaspoon garlic, minced
1 small onion, finely chopped
1 teaspoon Italian seasoning
1/3 teaspoon red pepper flakes
1 beef bouillon cube
1/2 teaspoon Worcestershire sauce
1 tablespoon sugar
Salt and pepper to taste
---
Instructions
Meatballs
Combine all the ingredients in a mixing bowl and mix them together thoroughly with your hands
Scoop out about 1 tablespoon worth of meatball mixture and squeeze it several times to pack it tightly
Roll the mixture between the palms of your hands to form a 1 1/2″ meaball
Arrange each meatball on a baking sheet
Bake meatballs at 425 degrees F for 10-12 minutes
Once cooked remove from oven and place on a cooling rack
Allow meatballs to cool before moving them
Marinara Sauce
Over medium high heat, saute onions in 1 tablespoon olive oil until translucent
Add garlic and saute until aromatic
Season with pepper and stir to combine
Crumble beef bouillon cube and stir to mix
Toss in fire roasted chopped tomatoes and simmer for a minute
Reduce heat to medium and pour in tomato puree/sauce
Season with Italian seasoning, red pepper flakes, Worcestershire sauce, salt and sugar
Simmer for 5 minutes
Spaghetti and Meatballs
Toss spaghetti in the marinara sauce and dish
Coat the meatballs in the remaining sauce and arrange seven meatballs and sauce over each bed of spaghetti
Top with sprinkled Parmesan cheese and serve hot
Prep Time: 10 mins
Cook Time: 20 mins