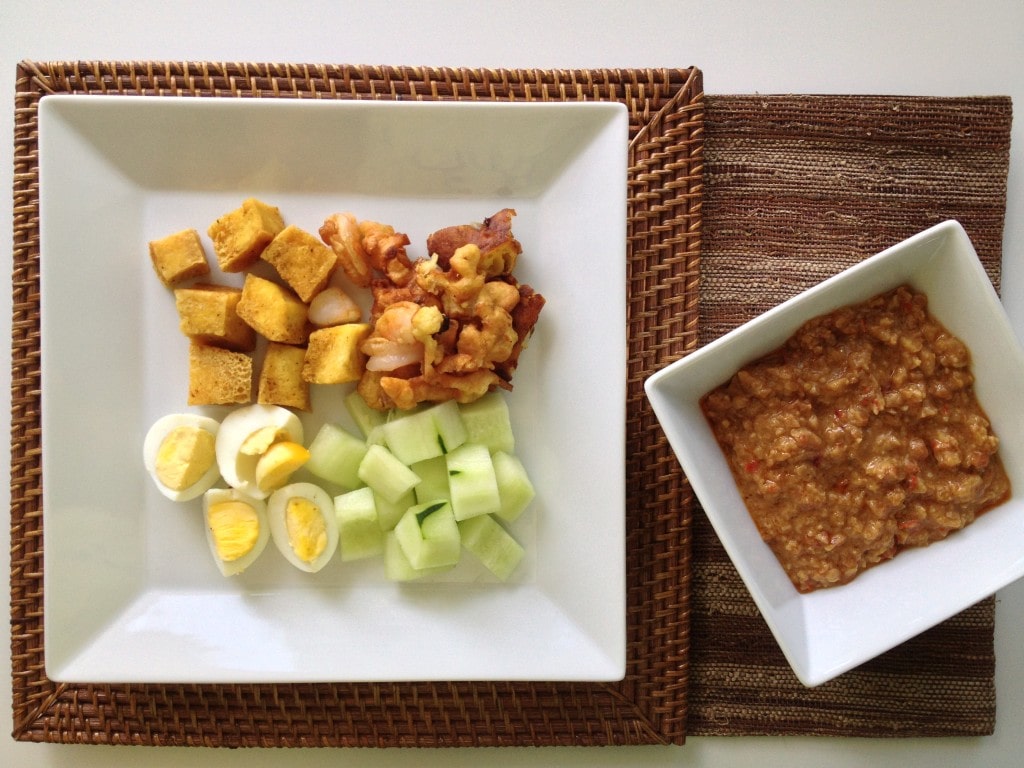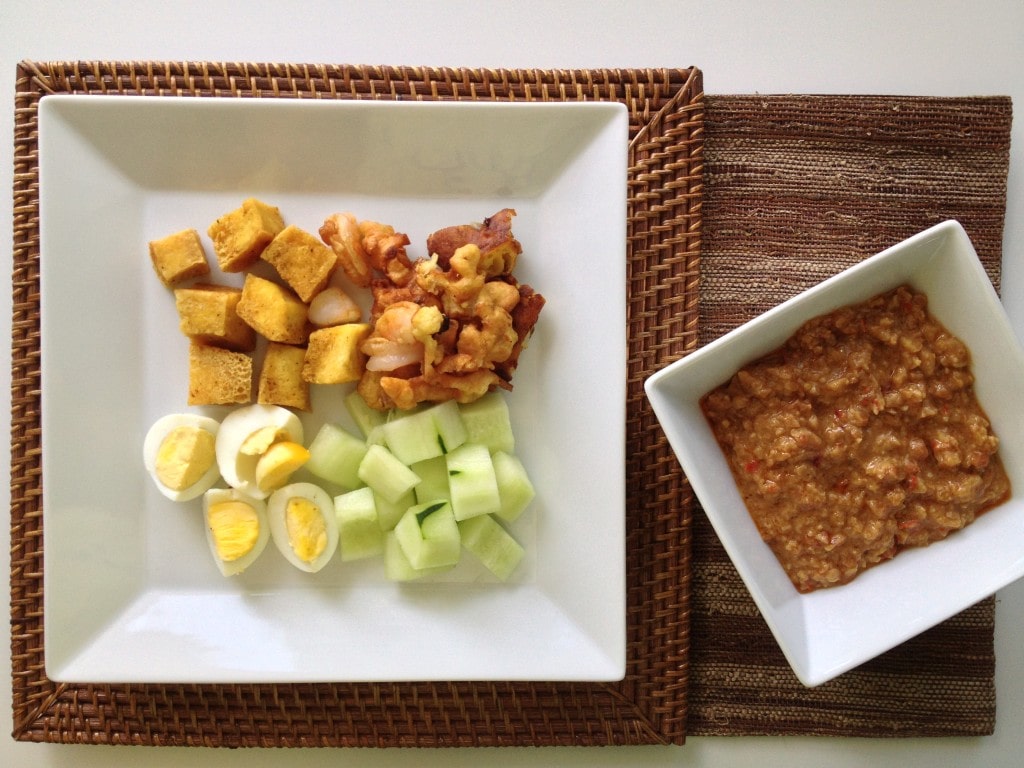 This dish colloquially goes by the name Rojak Mamak where rojak is an expression synonymous to an "eclectic mix" of sorts, a perfect way to describe this mishmash of ingredients that make up the salad. The word mamak is from the Tamil language for a maternal uncle and ties in with the culture in Malaysia and Singapore where children of all ethnic groups are taught to refer to adults neighbors, shopkeepers and even strangers as uncle and auntie as a form of respect and deference towards elders, even though the adult may not be a member of the persons family or even ethnic group or race.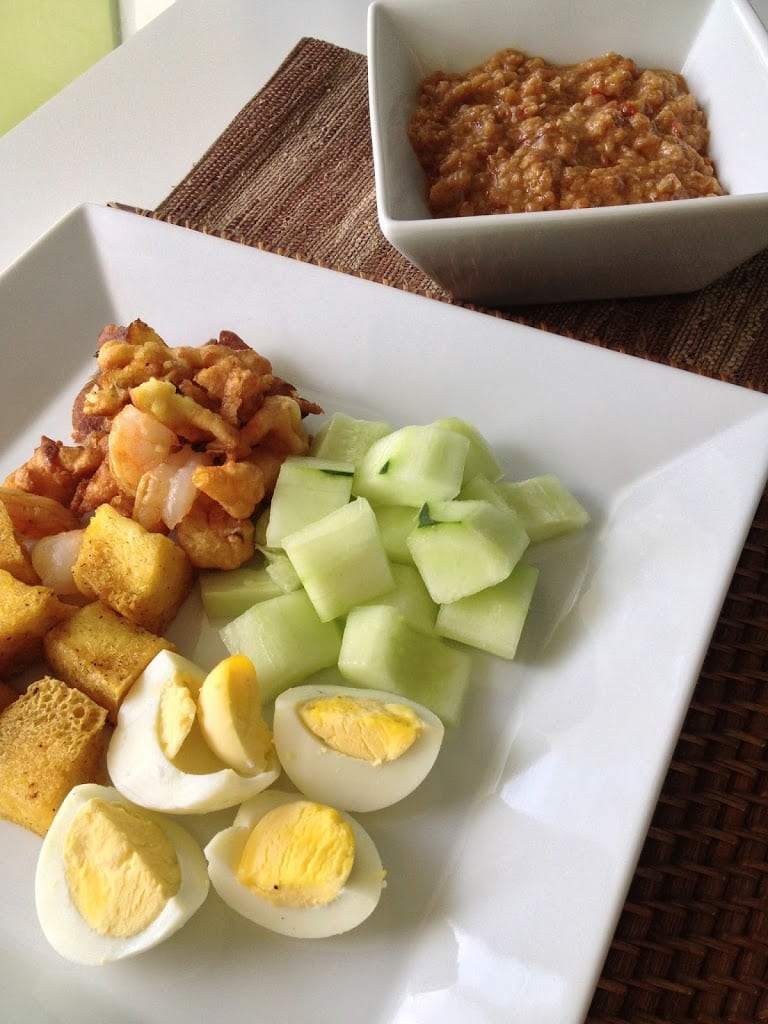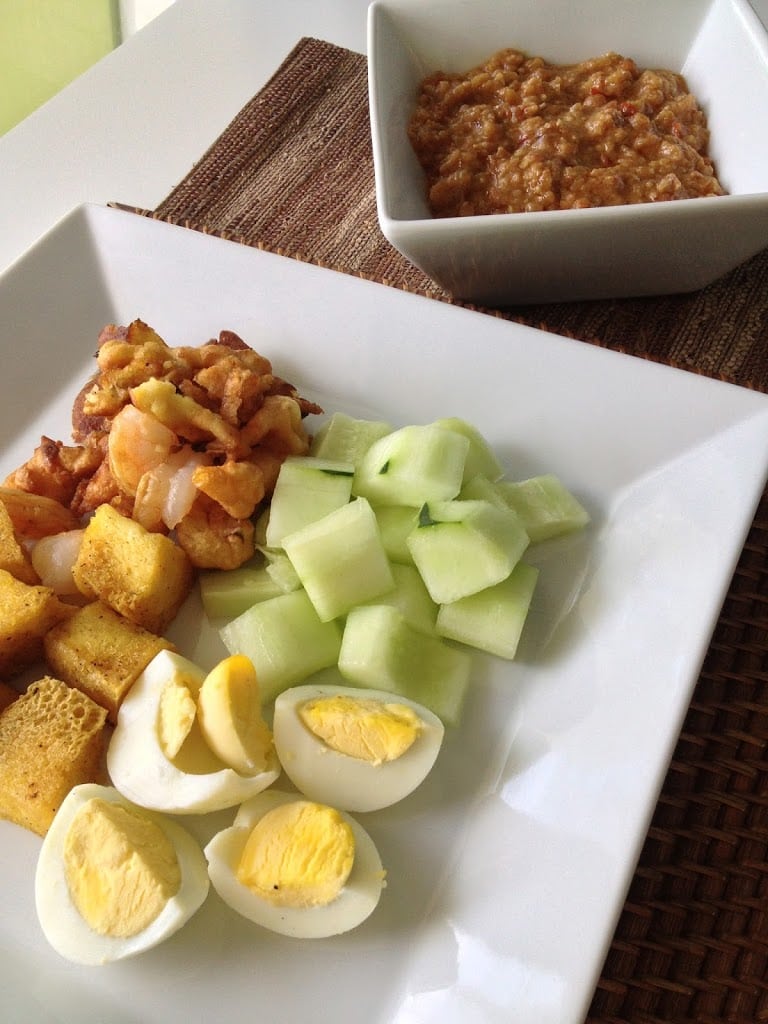 The mamak culture and cuisine is very authentically Malaysian and comprises of food establishments in restaurants, roadside vendors and stalls which are sometimes tucked in the most outrageous places yet still manage to gain a following of loyal patrons. If there's one thing you can count on in a mamak stall is it being open for late night or early morning supper at 3 or 4 in the morning.
What I love about this salad aside from the authentic peanut sauce is the combination of juicy cool cucumbers, crisp tofu and prawn fritters and spongy hard boiled eggs. There are so many textures in this salad, the term rojak is not limited merely to its list of ingredients.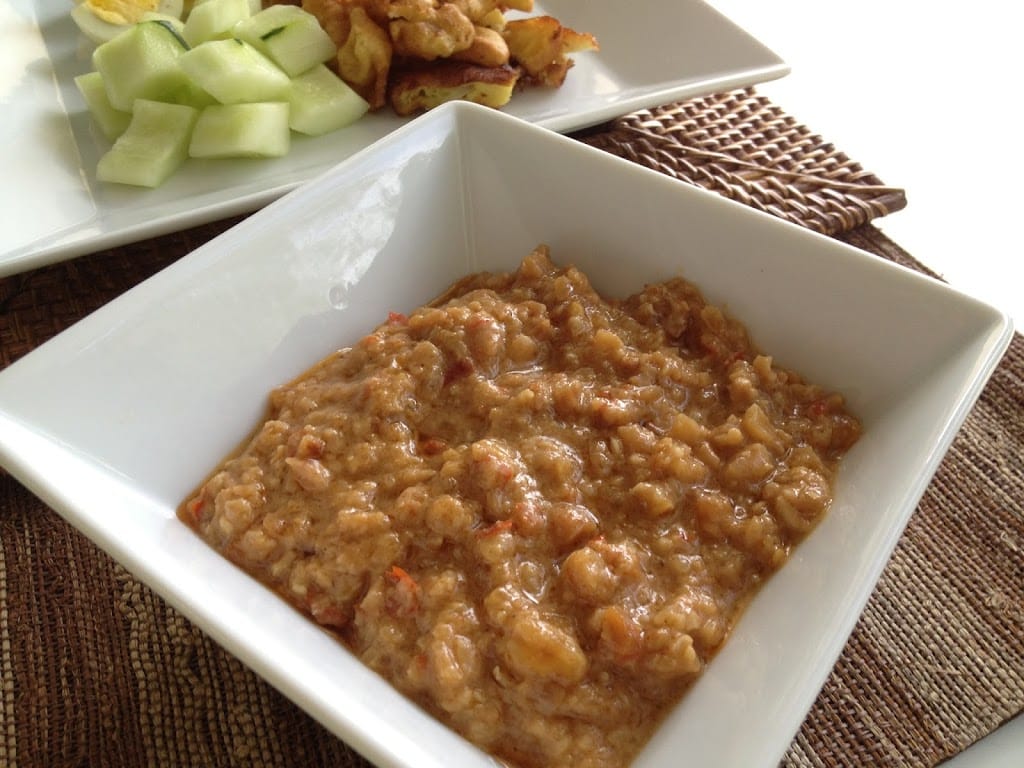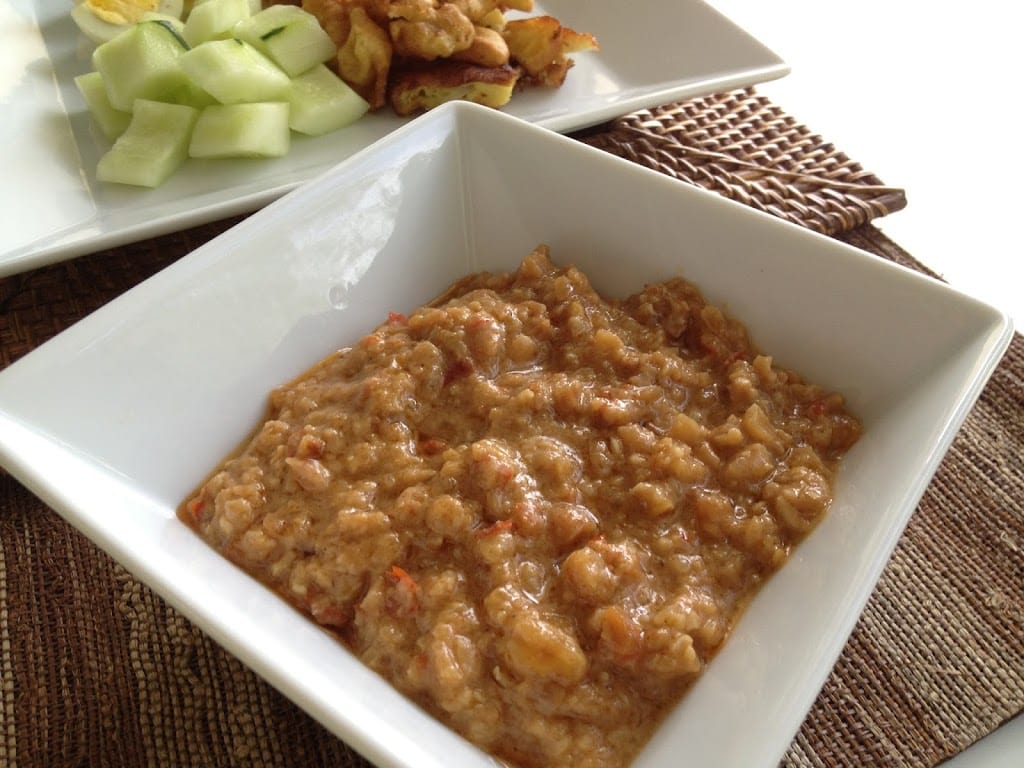 The prawn fritters are traditionally made with whole shrimp to emphasize the crispiness of the shell, tail and head once it is deep-fried but I have chosen to do it shelled, with tail and head off to westernize it a little. I also made a change to the cucumber style as well; where it is usually julienned, I chopped them up into cubes instead to use up the cucumber I had left in the fridge. You can opt to stick with the julienne method if you prefer, I just don't like wasting food.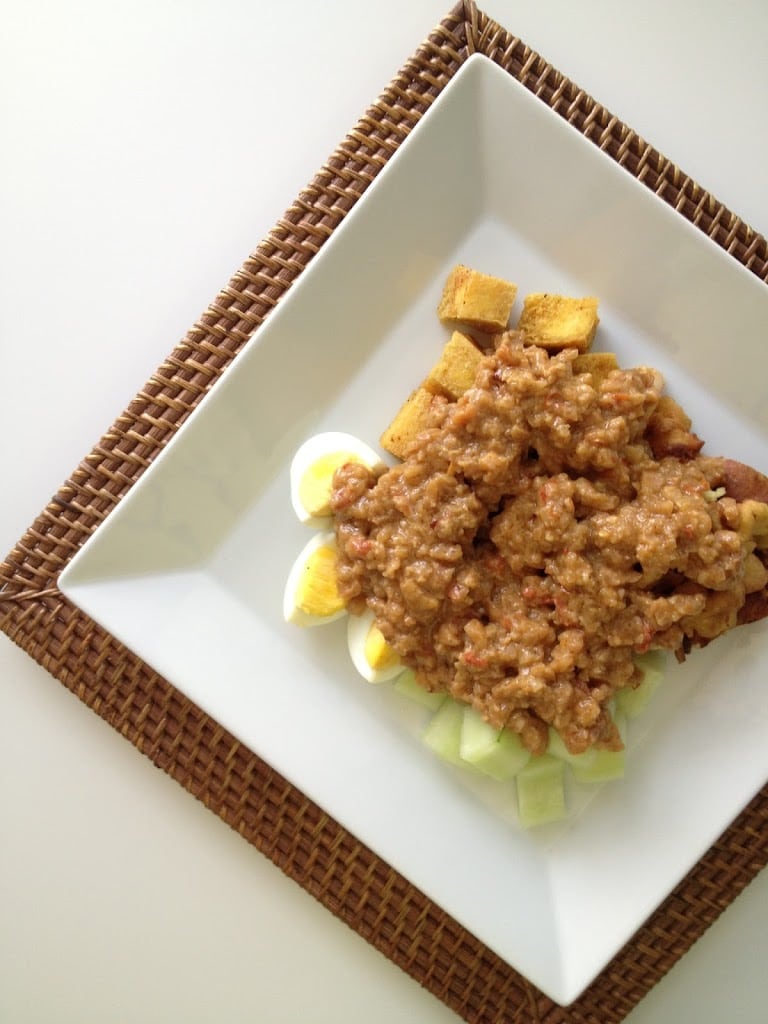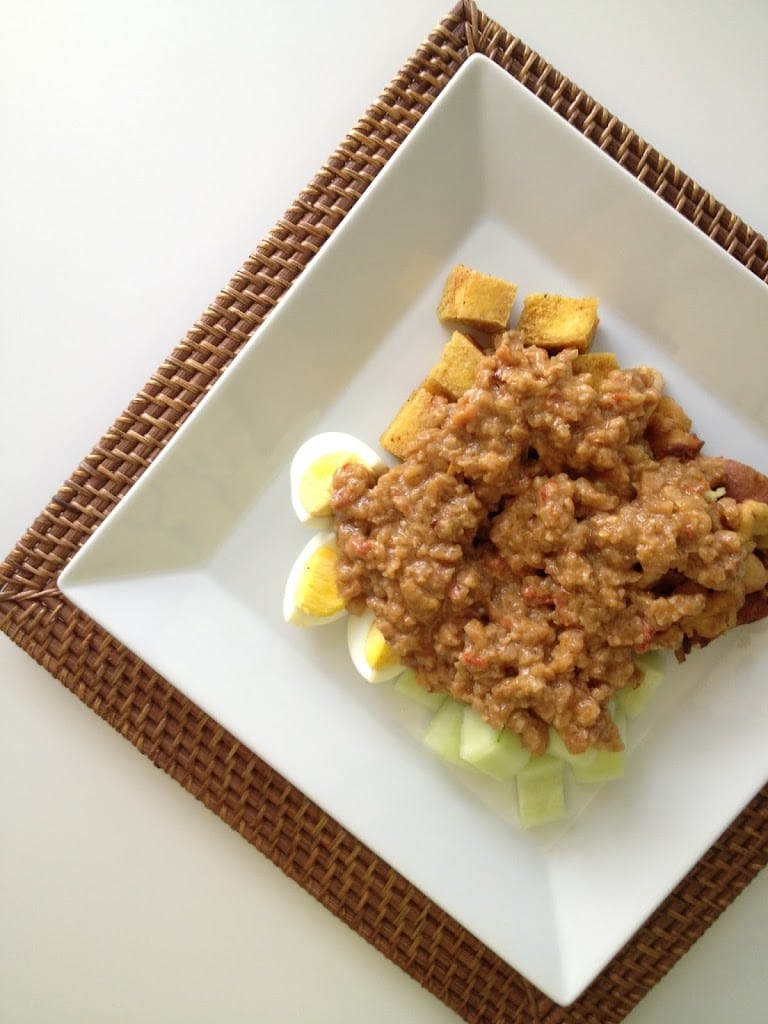 This dish is a lot of work and preparation but for the industrious and adventurous cook, you will be well rewarded. Making this dish was an achievement for me and I'm sure those familiar with it who are up to the task will feel the same, while those experimenting for the first time will be pleasantly surprised.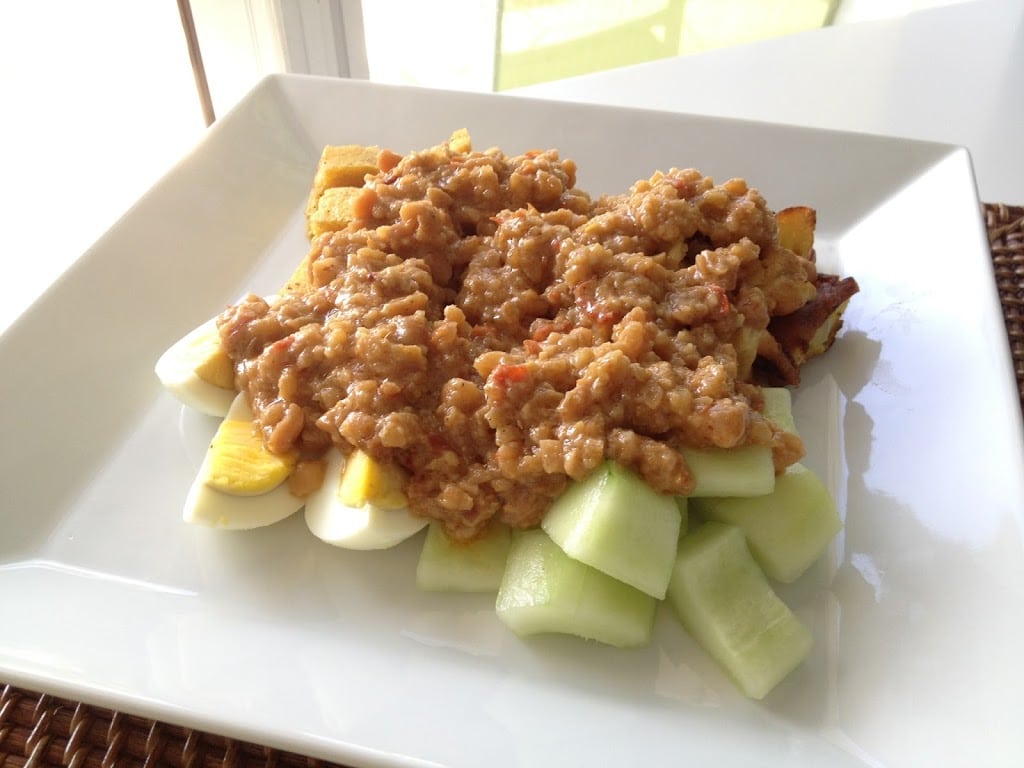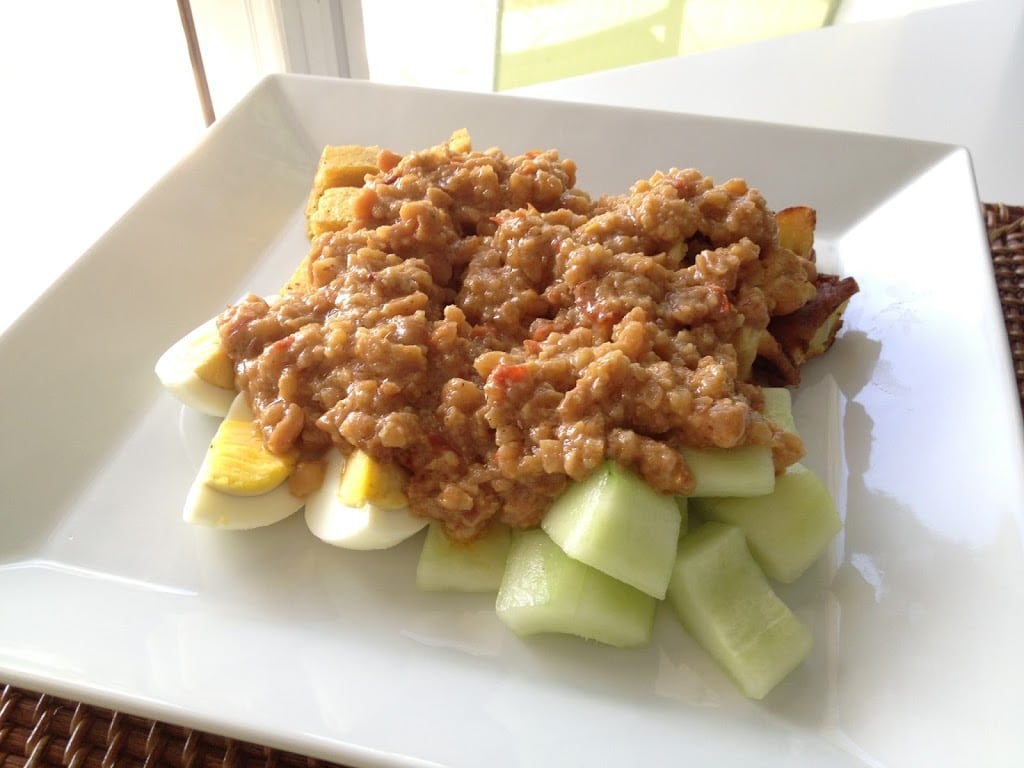 Print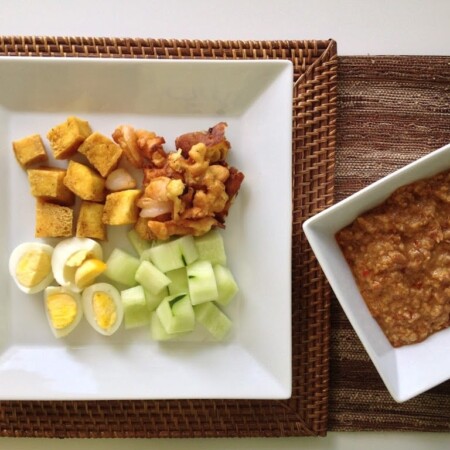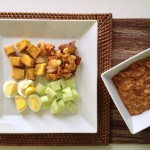 Mixed Salad in Peanut Sauce (Rojak Mamak)
---
1 large garden cucumber, peeled
2 blocks of firm tofu, cubed
2 hard boiled eggs, shelled and quartered
Prawn Fritters
1 cup medium sized shrimp, peeled and deveined with head and tail off
2 eggs, beaten
1 shallot, sliced
3 green chilies, deseeded and chopped
1 1/2 cup all purpose flour
1 teaspoon baking powder
1/8 teaspoon turmeric powder
1 cup water
1 tablespoon sugar
1 teaspoon salt
Peanut Sauce (makes 3 cups)
5 shallots, sliced
1 teaspoon garlic, minced
1/2 teaspoon ginger, minced
5 dried chilies, deseeded and soaked in warm water
1 tablespoon lemongrass, minced
2 tablespoons brown sugar
3 cloves
1 cinnamon stick
1/4 star anise
1 green cardamom
1/2 teaspoon coriander powder
1/4 teaspoon fennel powder
1/4 teaspoon nutmeg powder
5 kaffir lime leaves
2 tablespoons tamarind juice
1 cup coconut milk
1 cup roasted peanuts, coarsely ground
Salt to taste
---
Instructions
Cut the cucumber in half lengthwise and use a spoon to scoop out the seeds and pulp. Chop the cucumber into 1″ cubes and refrigerate until ready to serve
Flash fry the tofu in batches until golden brown. Drain on paper towels and set aside
To make the prawn fritters, combine flour, baking powder, turmeric powder, sugar and salt
Beat the eggs with the shallots, green chilies and water and combine with the flour mixture, mixing into a thick batter
In the same oil used for the tofu, ladle in one serving spoon of batter with a shrimp placed on top of it
Deep-fry until golden brown and turn over to cook the the shrimp facing side. Repeat with the rest and drain on paper towels, allowing them to cool down
Cut the shrimp fritters into quarters and set aside
To make the peanut sauce, blend the shallots, garlic, ginger, chilies, lemongrass, coriander and fennel into a spice paste
Over medium high heat in a nonstick pan, saute the spice paste until fragrant, about 3 minutes
Add sugar, kaffir lime leaves and tamarind juice, stirring to mix
Pour in coconut milk and simmer for 5 minutes, stirring continuously
Toss in cloves, cinnamon stick, cardamom, star anise and nutmeg and stir to combine
Add in the ground peanuts, season with salt and mix well. Simmer until the sauce thickens to the desired consistency
Remove from heat and set aside. Once cool, fish out the aromatics and discard
Arrange the cucumber, eggs, fried tofu and prawn fritters on a plate
Pour the peanut sauce over it and serve hot.
Notes
Choose a healthier salad by omitting the prawn fritters and eating the tofu fresh or 'raw' .
You can add fresh bean sprouts to the salad for more crunch
The peanut sauce will thicken upon standing once it is removed from the heat