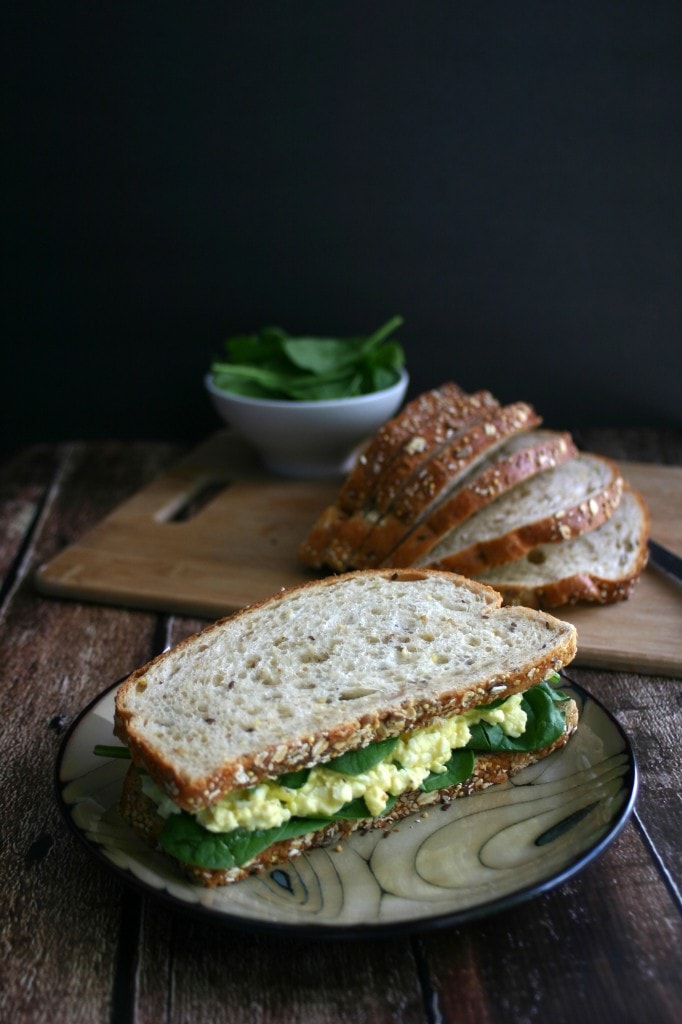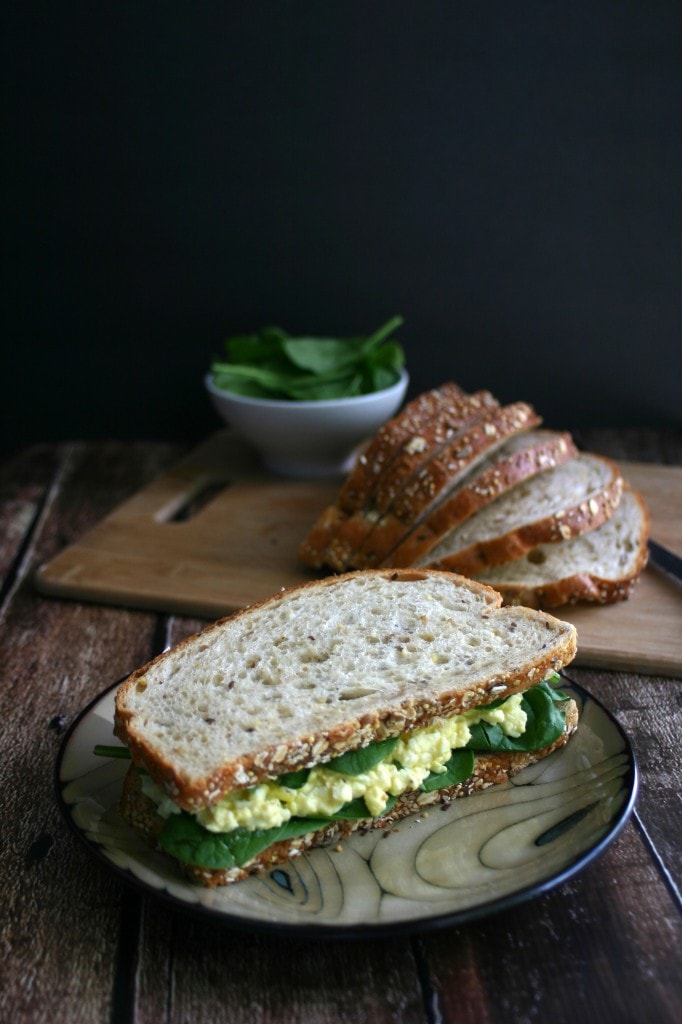 At first I was going to name this 'simple egg salad sandwich'. Then I did the cooking, the plating, the picture taking and finally the eating. And then I thought of renaming it to 'oversized' because seriously, it's tough to hold it altogether. When egg salad started falling off the ends of the sandwich no matter how hard I gripped and how neatly I tried to eat, I shifted to 'sloppy'. Because these sandwiches are so sloppy, you will be picking up pieces of the egg salad and patting them back on. There will be a lot of peeling back the top bread slice to rebuild your sandwich while you're attempting to eat it. This sandwich will make you lick your fingers. And because I made the mistake of eating straight from picture taking on that small plate you see there, I ended up cleaning up egg salad from my clothes and the floor. Use a dinner plate for this one and you will have an eggcellent time! (sorry, I had to).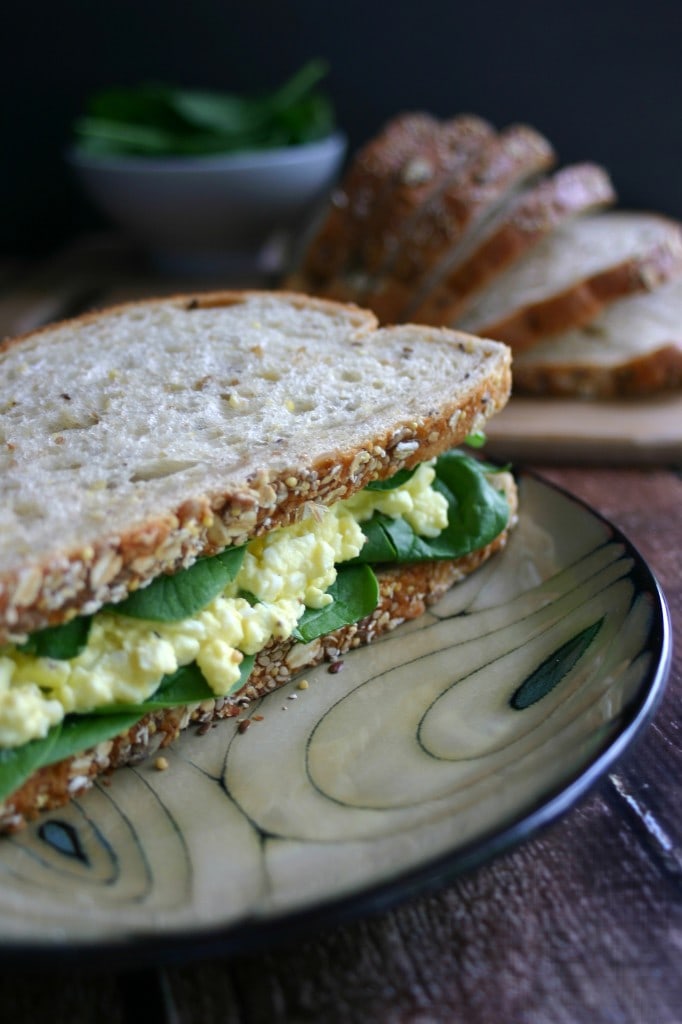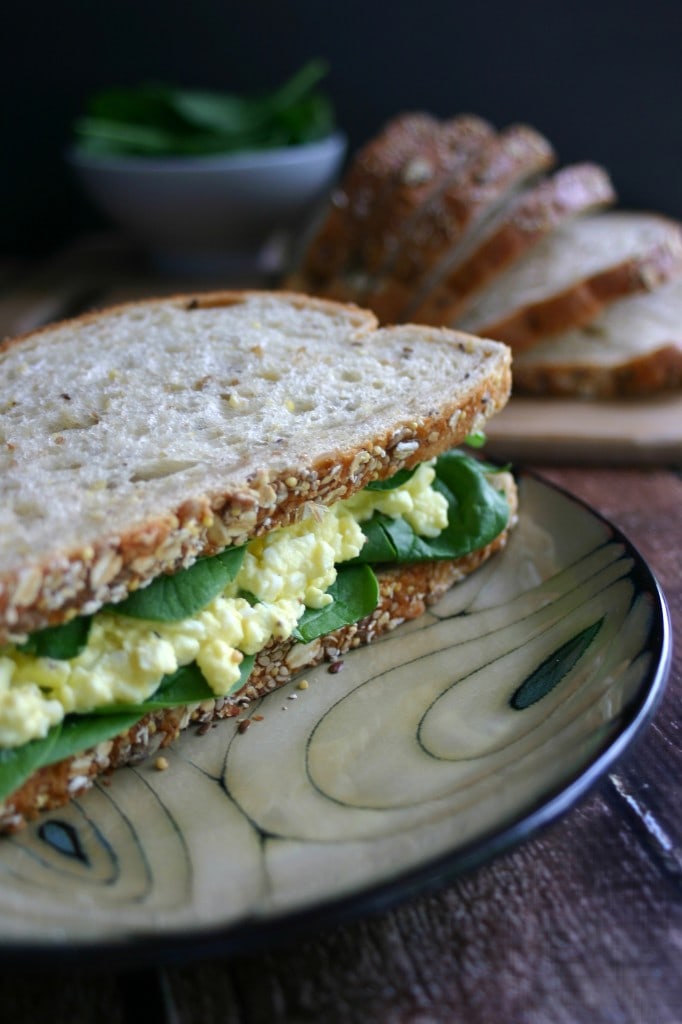 But let me first tell you the story of how this sandwich came to be. It wasn't planned or anything. It was fate. You know those tasting booths they have at grocery stores? We had this teeny tiny slice of some insignificant sandwich meat on the most fantastic bread that ever lived. I mean, I'm not usually the kind of person that tastes and makes purchase decisions on the spot. But that bread was so good, I plucked it right from the tasting table. She said it was the last one. I believed her. Because this multigrain bread rocked my world.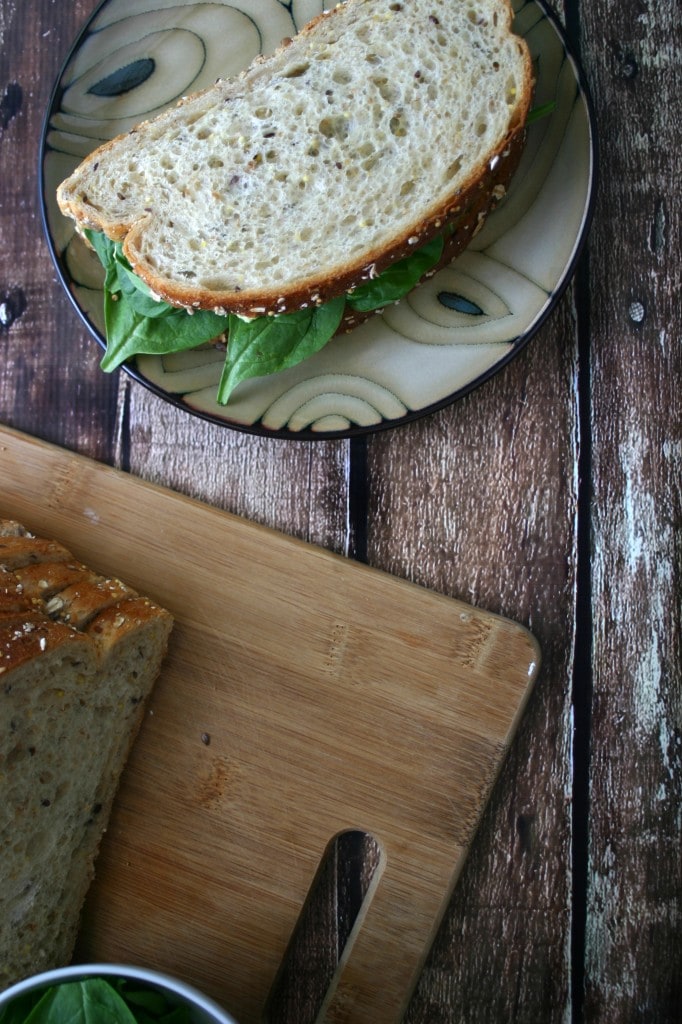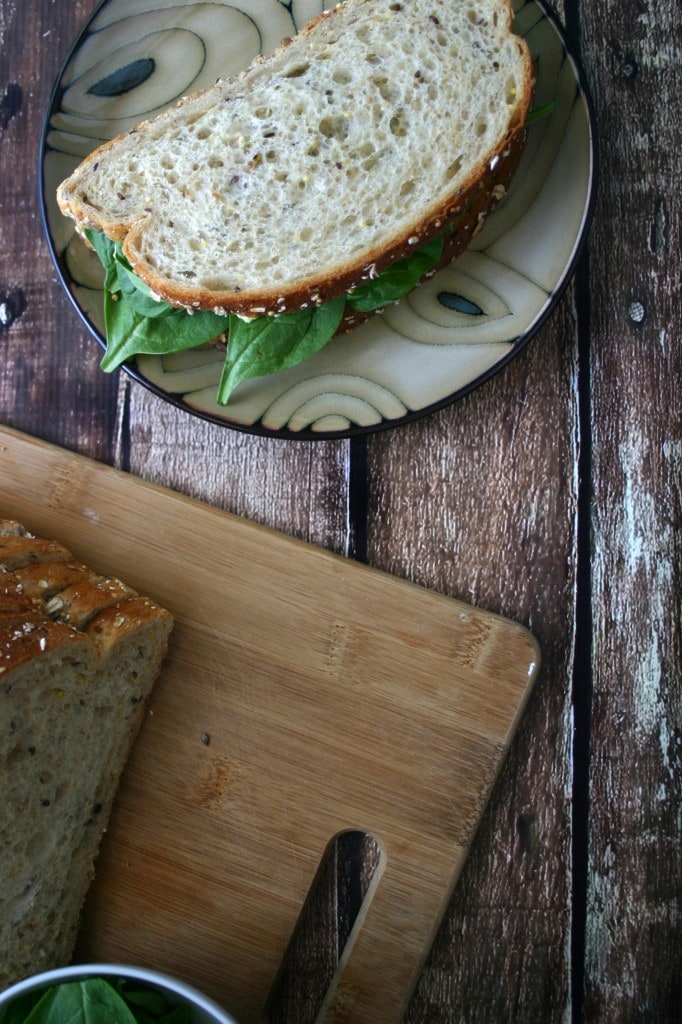 There was a moment of pause after I had claimed it for my own. What would I put on it? What sort of filling deserved to touch this bread? Mr. Cooking Jar and the tasting lady both looked at me expectantly since I had apparently thought this out loud. And since I'm the forgetful space cadet that I am and I was under pressure, I forgot every great creation that goes well with bread. So my panicked answer while they waited was "cream cheese?", I said hopefully, which was a fail based on the disappointed looks on their faces. So they gave some helpful suggestions but none of them sounded all that great.
So I brought it home and tucked it away. I'd solve this problem later. Later came when I suddenly craved an egg salad sandwich that night. Thunderbolt from the sky. EUREKA! And while egg salad sandwich is so not a big deal and so not new, it was the filling.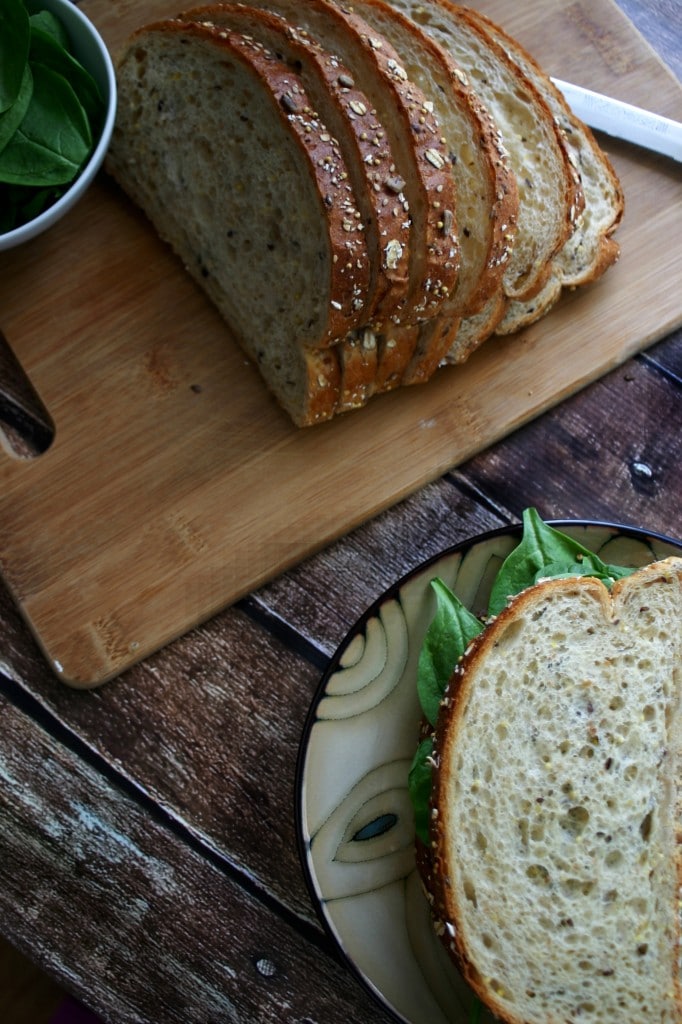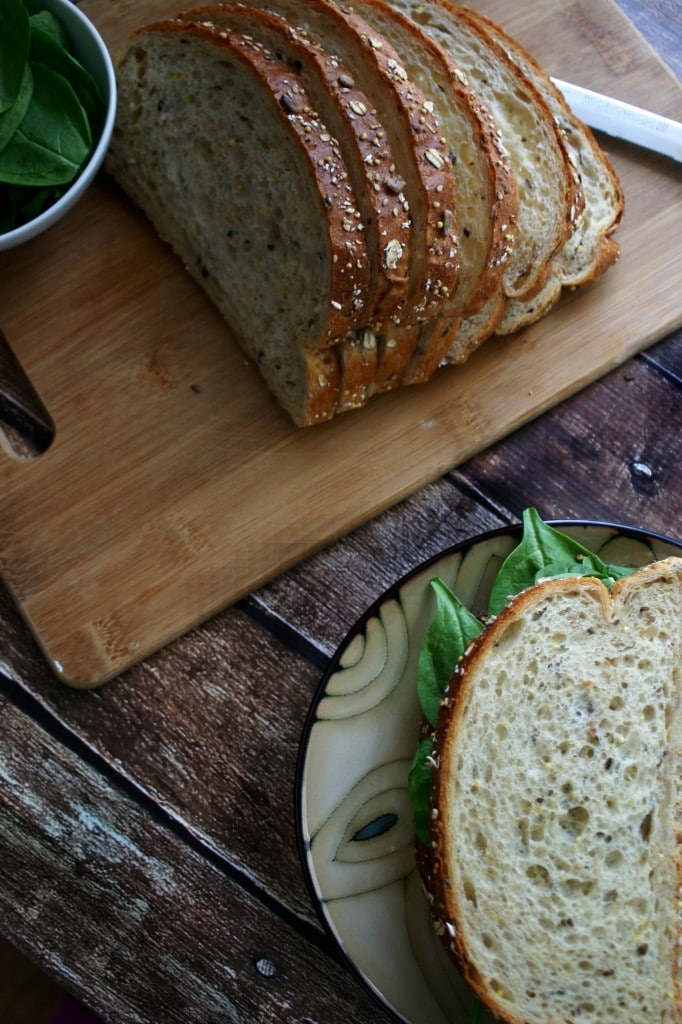 My kitchen was busy for the next 20 minutes while the eggs boiled. Waiting is always hard. Especially when you have a craving. But I waited, then I peeled and then I mashed. Another pause. What do I put in it? I could taste what I wanted in my head, now I just had to figure out what made it that way. A little bit of mayo because I wanted it a little creamy (you can sub yogurt if you want to lighten it up a little). A little bit of sugar, because I wanted a hint of creamy sweetness. Not too overpowering but just there. Just a little tease of it. Salt and pepper was a given but it was missing a herb. Parsley was the natural go-to but I wanted something a little different. It was at that point that I remembered the celery seed I had in my spice cabinet and how unique it tasted in a chicken pot pie I had made three years ago. EUREKA v2.0! Now I have no idea if this is something that always goes in a egg salad sandwich. I haven't Googled it. So I'll just cherish this little win of mine for a little longer.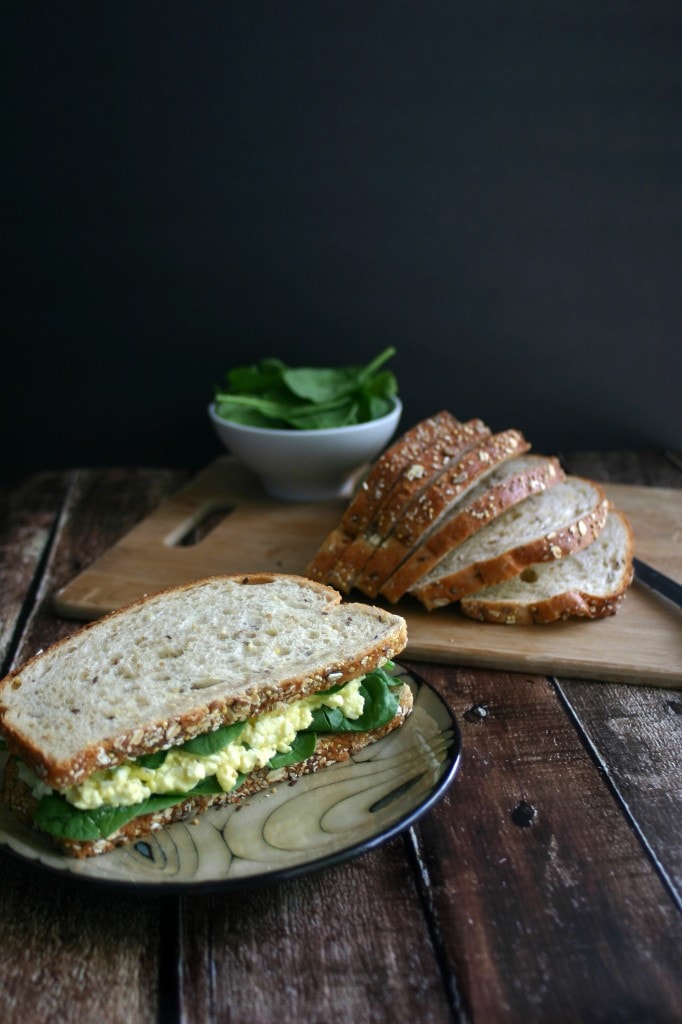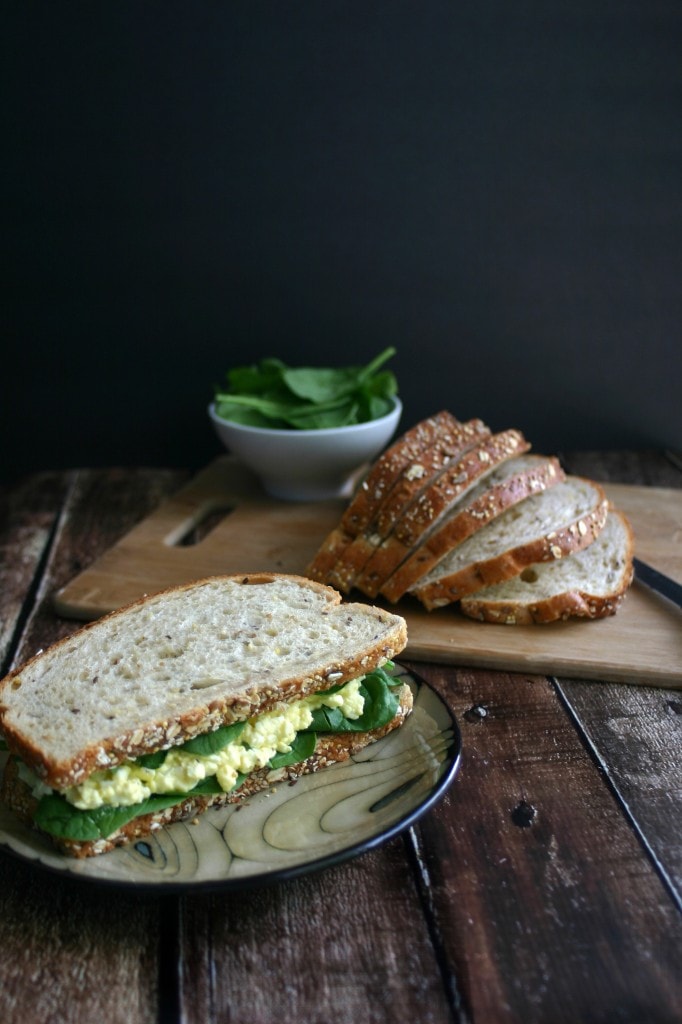 Third win was the baby spinach. Usually I make sandwich lunches for Mr. Cooking Jar to take to work. And it always drives me nuts that the lettuce goes bad. Because there's only so much you can put on a sandwich and I don't feel like eating a salad every week. So we decided on baby spinach as a good compromise. The bag was small and I like baby spinach. Especially with strawberries, feta and pecans.
The baby spinach was another happy accident. How many does that make now? This sloppy egg salad sandwich was carefully manipulated by the universe to be born in my kitchen! I've had it three days in a row now, today being the second batch of egg salad I've cooked up. So let's dig in.
PS: I had more fun with egg puns than I should have.
Print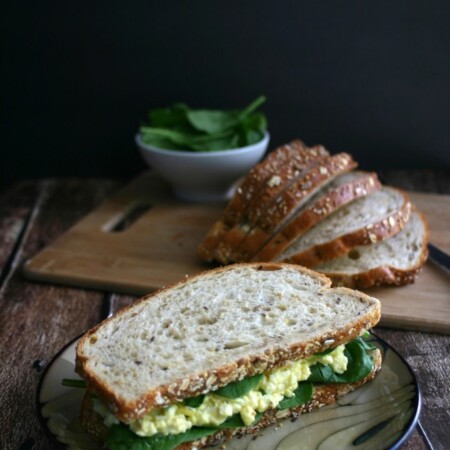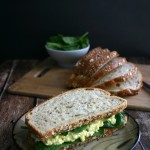 Sloppy Egg Salad Sandwich
---
Author:
Total Time: 25 mins
Yield: 2 1x
4 hard-boiled eggs
4 slices multigrain bread
2 cups baby spinach
2 tablespoons mayonnaise
1 teaspoon sugar
1/8 teaspoon celery seed
Salt and pepper to taste
---
Instructions
Mash the eggs with a fork
Add mayonnaise, sugar, celery seed and salt and pepper to taste, mixing to combine
Chill for 30 minutes
Arrange a layer of baby spinach on a slice of bread
Top with half the egg mixture
Top the egg mixture with another layer of baby spinach and finish off with the second slice
Repeat for second sandwich
Dish and serve chilled
Notes
30 minutes chilling time.
Prep Time: 5 mins
Cook Time: 20 mins