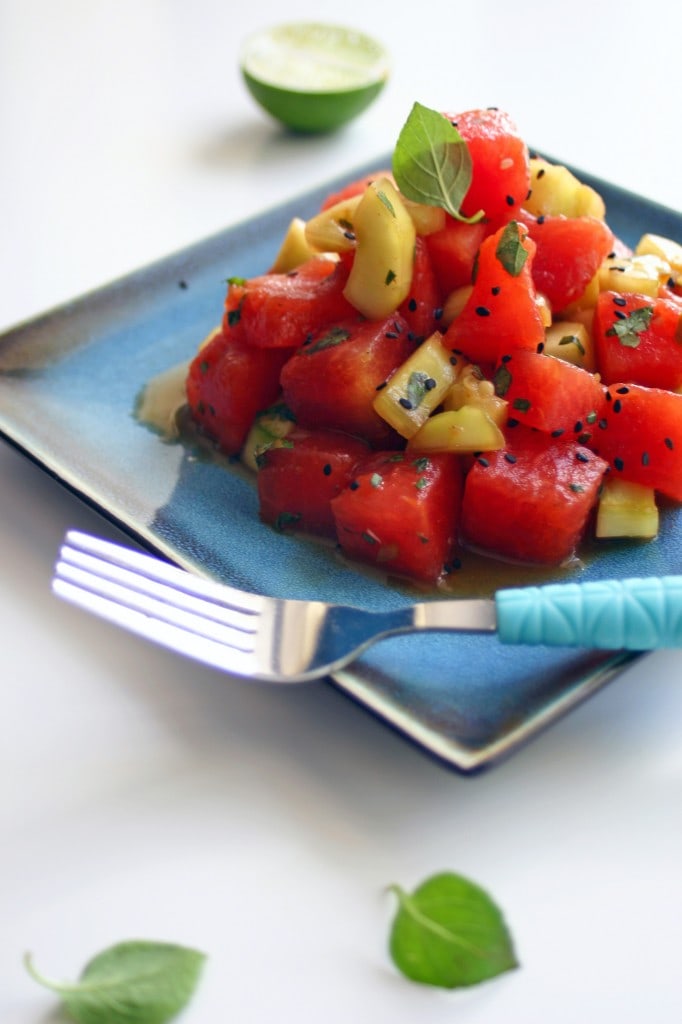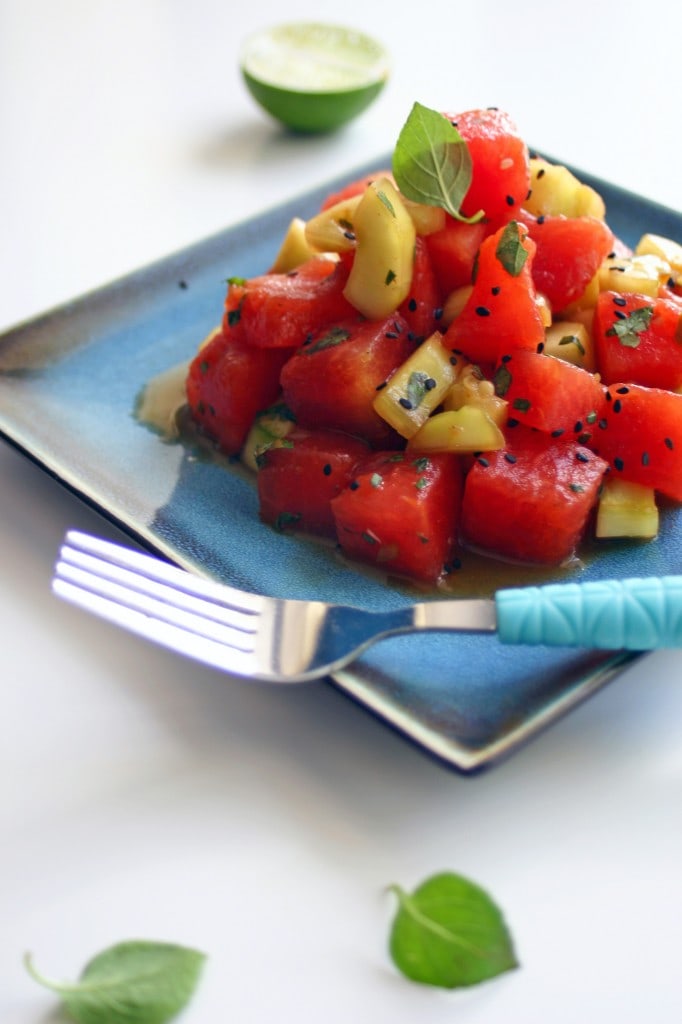 I can't believe it's summer already. It seems like just yesterday I was miserable and cold and wishing for the blistering hot sun. It feels like I just put my space heater away a few weeks ago, not several months ago. I'm a little worried how time is flying by because I'm not ready to be cold again. Not that I'm ever ready to be cold, but still. I'd rather be hot and humid than cold, although sometimes relative body temperature can be a fickle thing. So I've been making the most of these sunny days with stuff that brings out the best in it: grilled stuff, chilled stuff, coconuty stuff. And this cucumber and watermelon salad is yet another chilled stuff to add to the yay-it's-warm-again menu. Just look at it. Doesn't it remind of you of that sweet moment when your overheated body hits the swimming pool?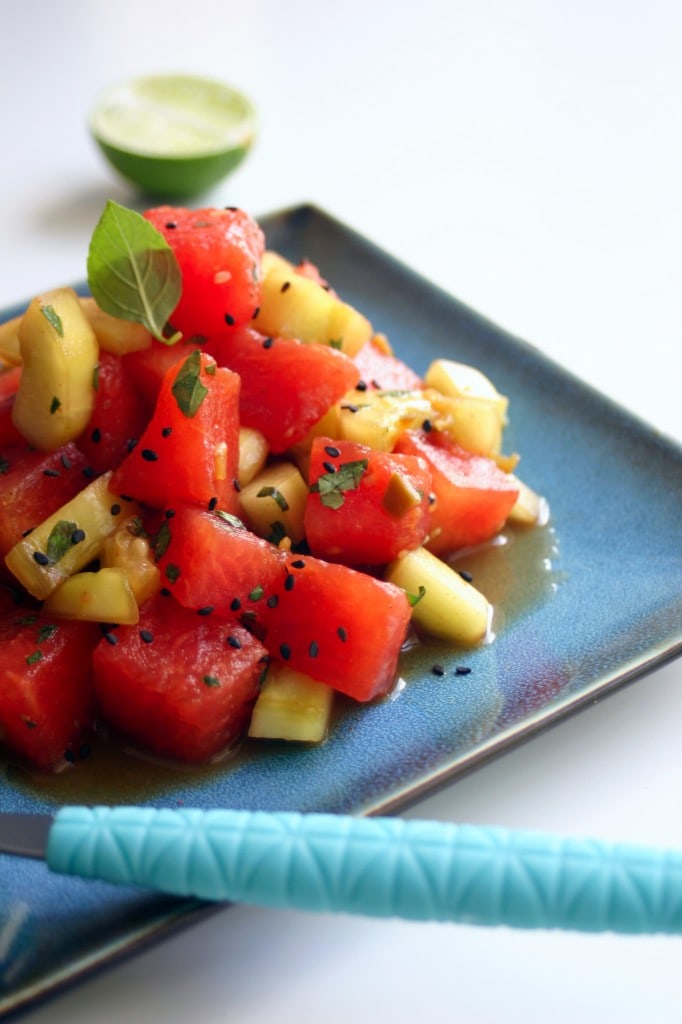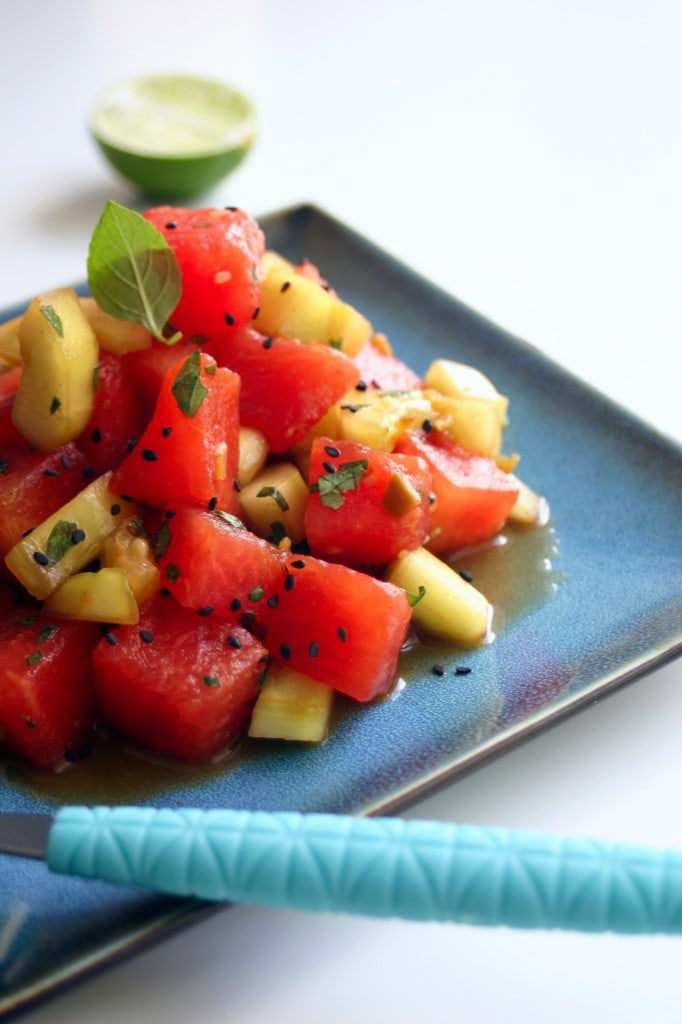 Cucumber has always been a semi-staple in my household. I grew up with cucumber and pineapple salad, and cucumber raita has always had a place at my table. Watermelon not so much. I've always loved a good watermelon juice when we went out for family dinners though. That and honeydew juice. Yum.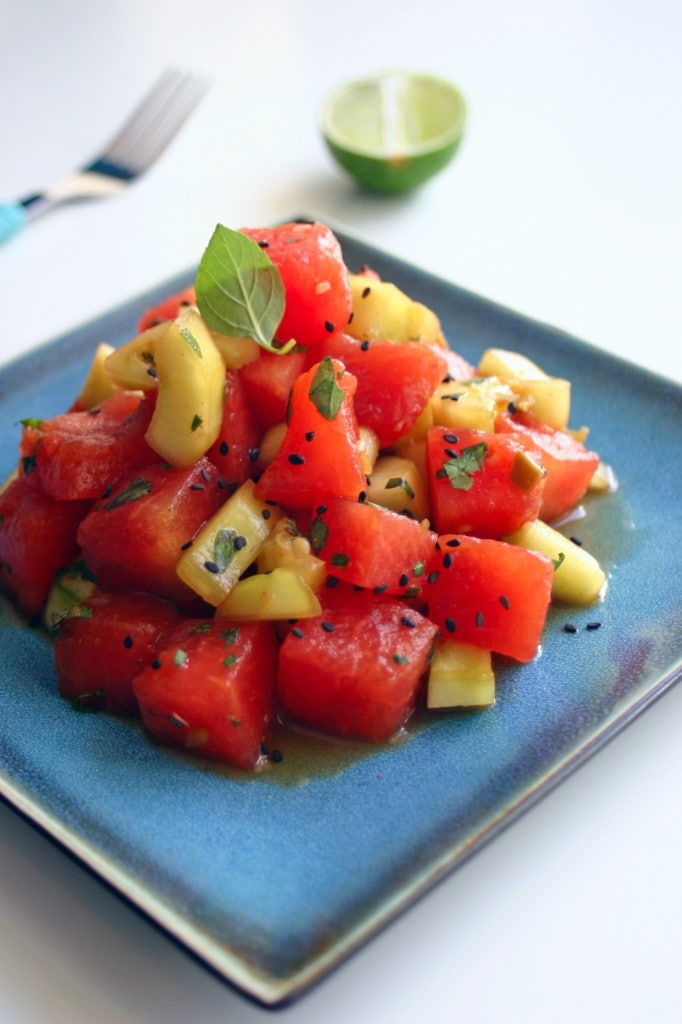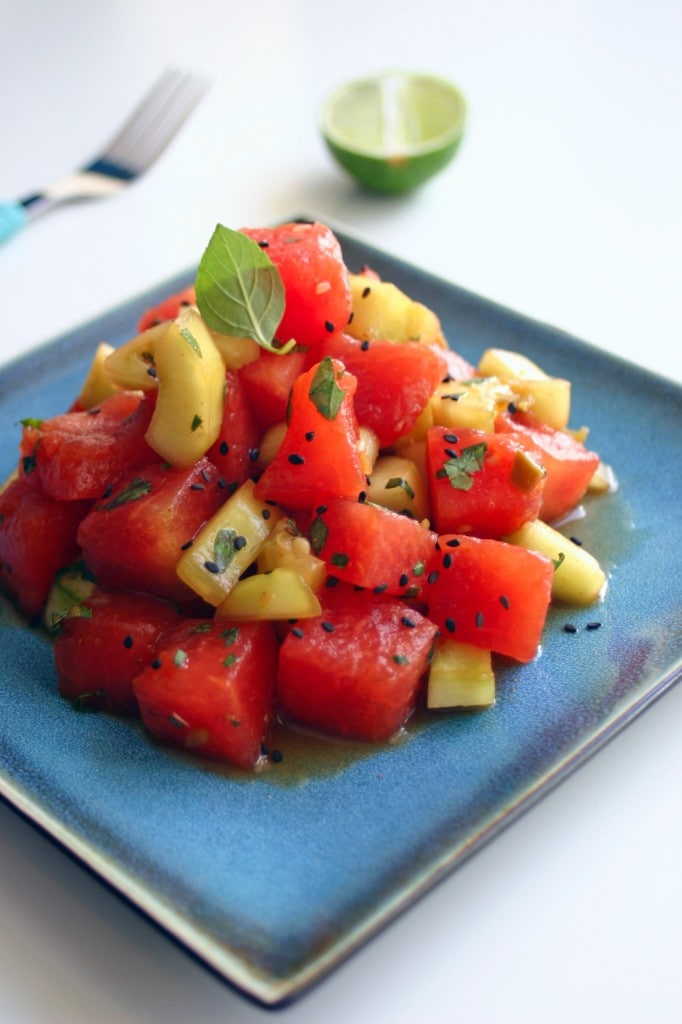 But it wasn't the watermelon and cucumber combo that made me go 'Oooh' when I saw this recipe on Dining & Wine. It was the addition of hoisin sauce. And though it sounds a little weird, I knew it would work. Because it instantly brought back memories of a similar sauce served over a water spinach and cuttlefish salad. This sauce was thick, black and savory, sweetened with molasses and topped with white sesame seeds and crushed peanuts. I could literally taste the memory of it while I went through this recipe. So making this was a no brainer.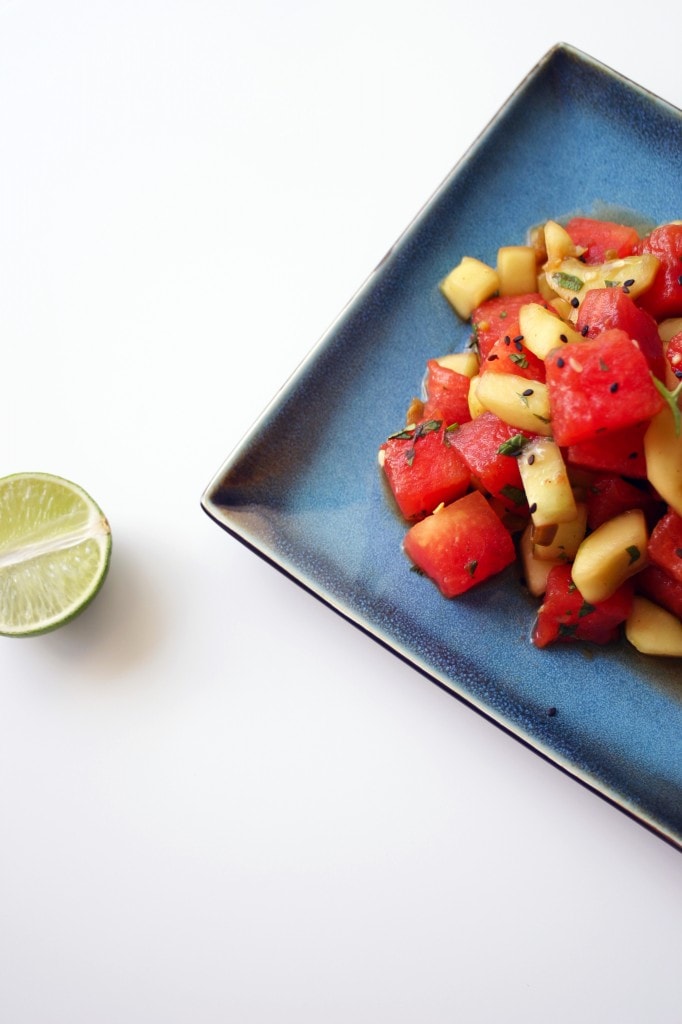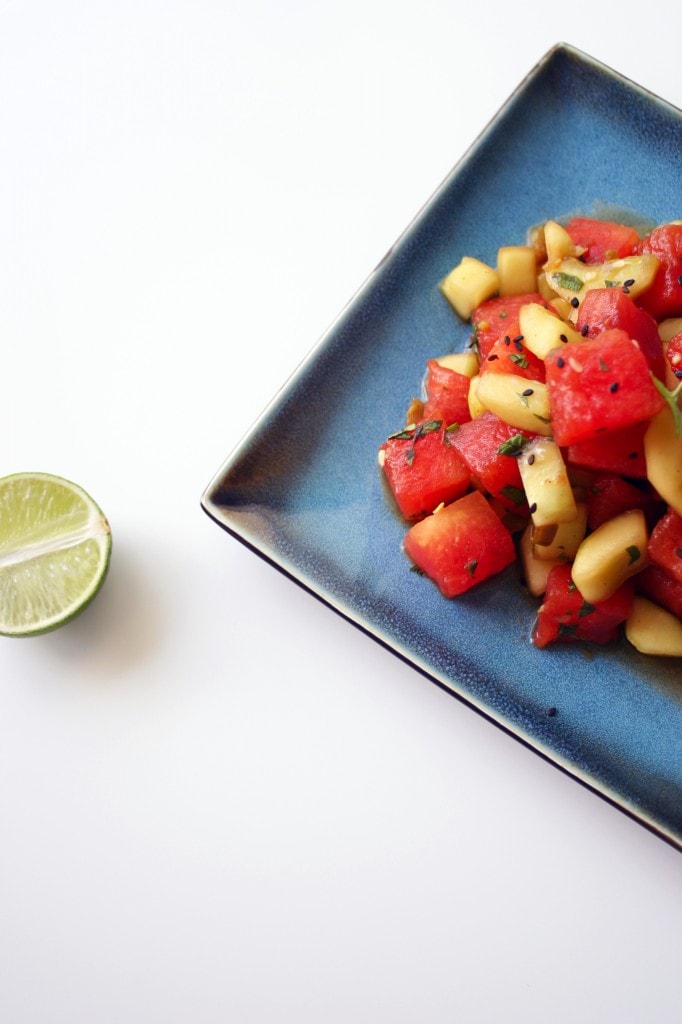 I also love the addition of salt and lime juice to counterbalance the sweetness of watermelon and sauce. I made a tiny change and switched out the parsley with mint because it felt like mint deserved to be there more than parsley. And I got rid of the pistachios because it felt weird them being there. If anything, there should be peanuts, crushed to the point that they're almost a fine powder. There was one thing I knew that was missing though:  black sesame seeds. Because the splash of black would make it look that much more delicious.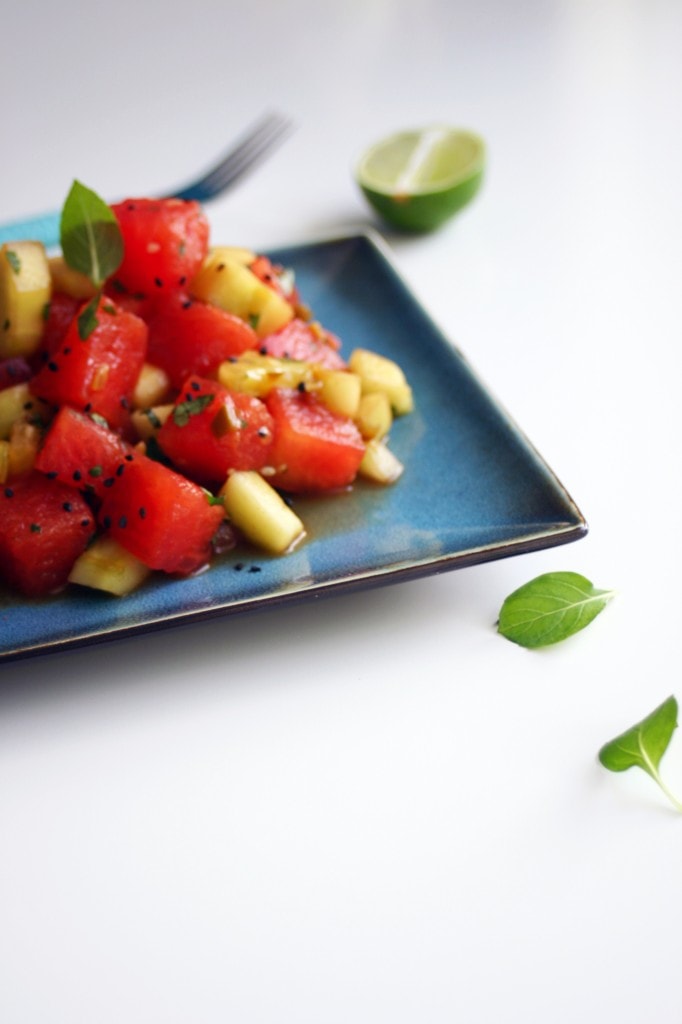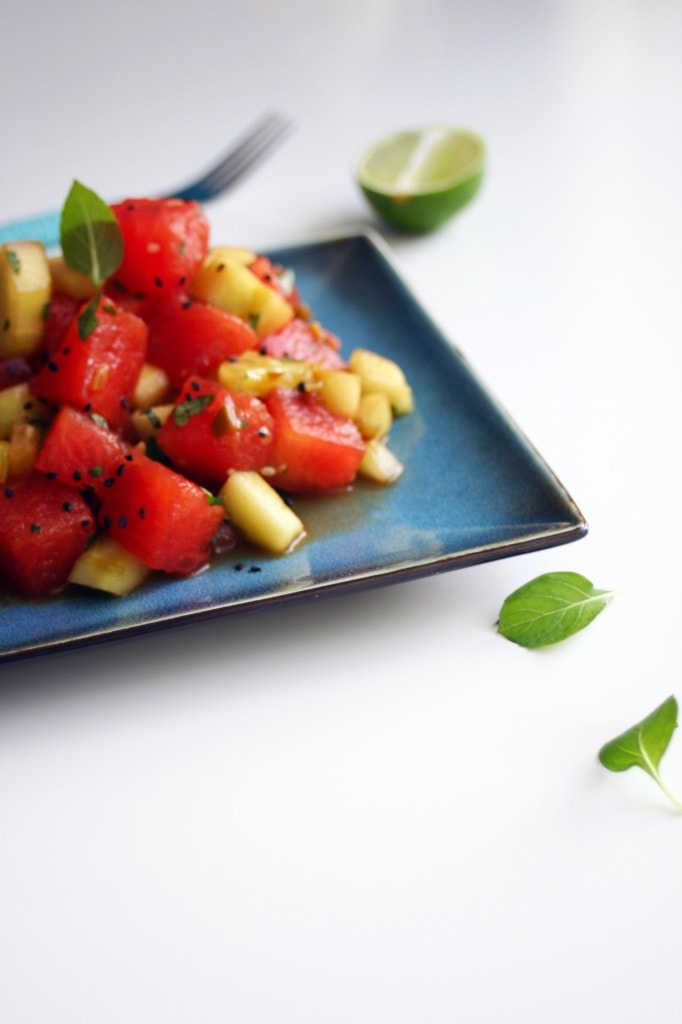 For all my enthusiasm on the salad, I've been dreading this post for over a week. Because one word: watermelon. I've never cut one before. Anyway, it seems I'm on a fruit posting roll. After murdering a mango this week with my mango lassi, I'm a little nervous approaching a watermelon. I think I'll cheat and ask Mr. Cooking Jar to cut it up for me. It's in everyone's best interests. The floors will love me for it. My knives will love me for it. My cats will love me for it. And because I think you'd rather see nice, juicy cubes than hacked up watermelon pieces, you will love me for it.
But seriously. When I look at this salad I think refreshing. I think of sitting by the poolside with a gigantic, floppy hat and eating this with not a care in the world. And then asking for seconds.
Print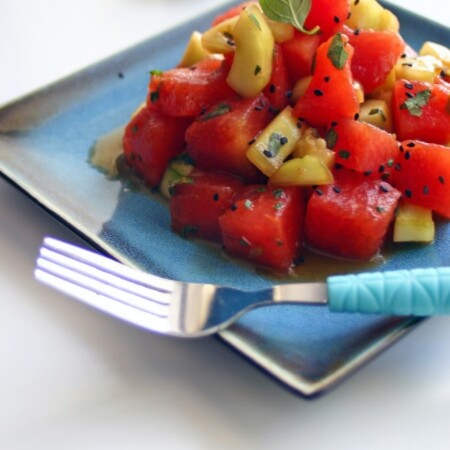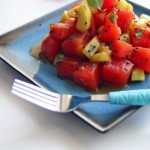 Hoisin Cucumber and Watermelon Salad
---
Author:
Total Time: 20 mins
Yield: 6 1x
4 cups watermelon, cubed
3 cups English cucumbers, peeled and cubed (about 2 large cucumbers)
2 tablespoons lime juice
2 tablespoons hoisin sauce
2 teaspoons pickled jalapeno, diced
2 tablespoons mint/parsley/cilantro, chopped
1/2 teaspoon salt
1/4 teaspoon black sesame seeds
---
Instructions
In a large mixing bowl, combine the watermelon, cucumbers, lime juice, hoisin sauce, jalapenos, mint and salt, tossing to combine
Chill for 30 minutes
Dish and serve chilled, sprinkled with black sesame seeds