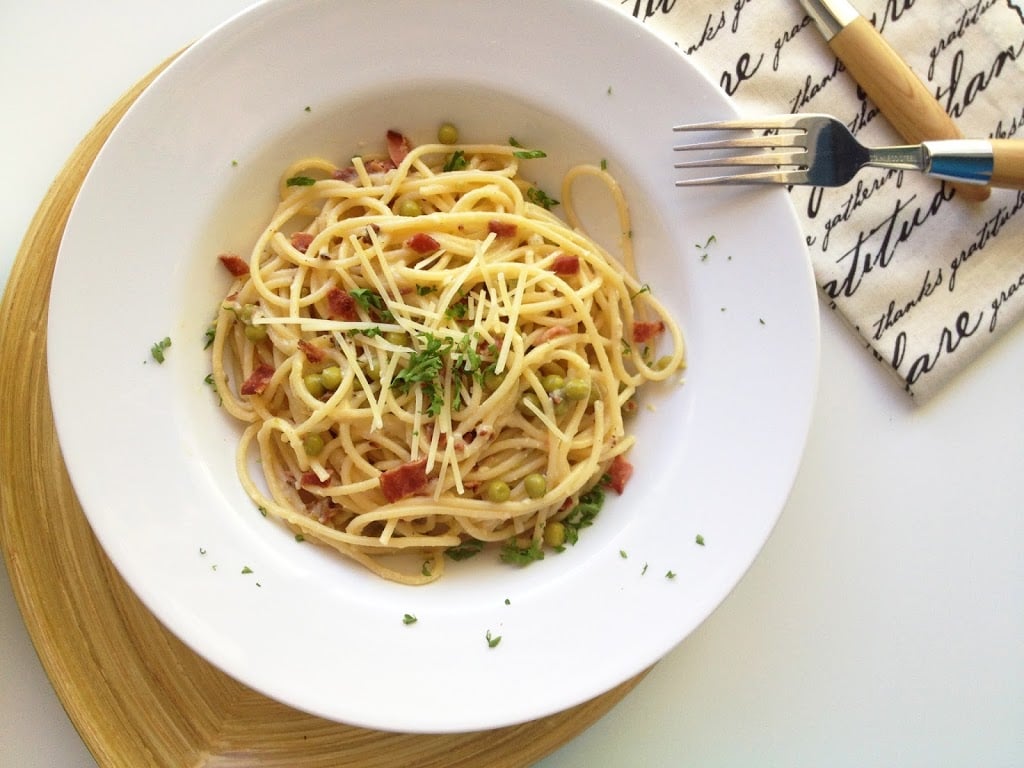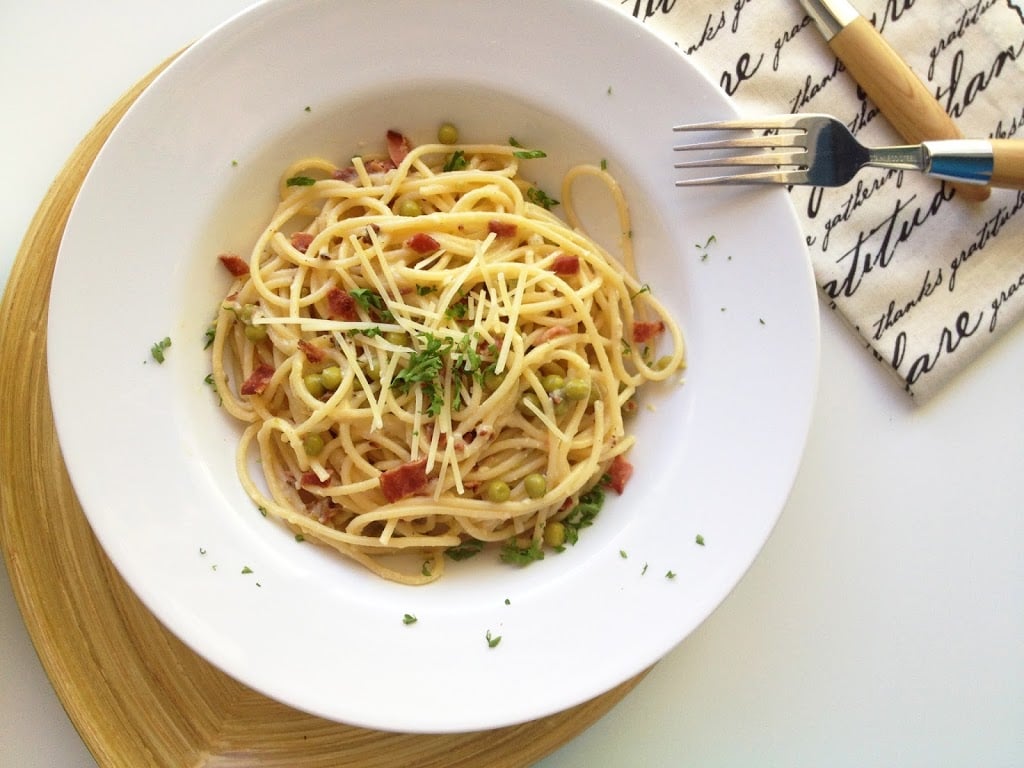 I've been having quite a craving for pasta recently. This weekend we dined out and I had me some
Seafood Rasta Pasta
which was fettuccine in a super, super rich alfredo-like sauce with clams and shrimp. It was freaking delicious but undoubtedly not very good for me. Even my body knew this, as I could only stomach a small serving of it at a time and started getting queasy halfway into it. But! It was delicious.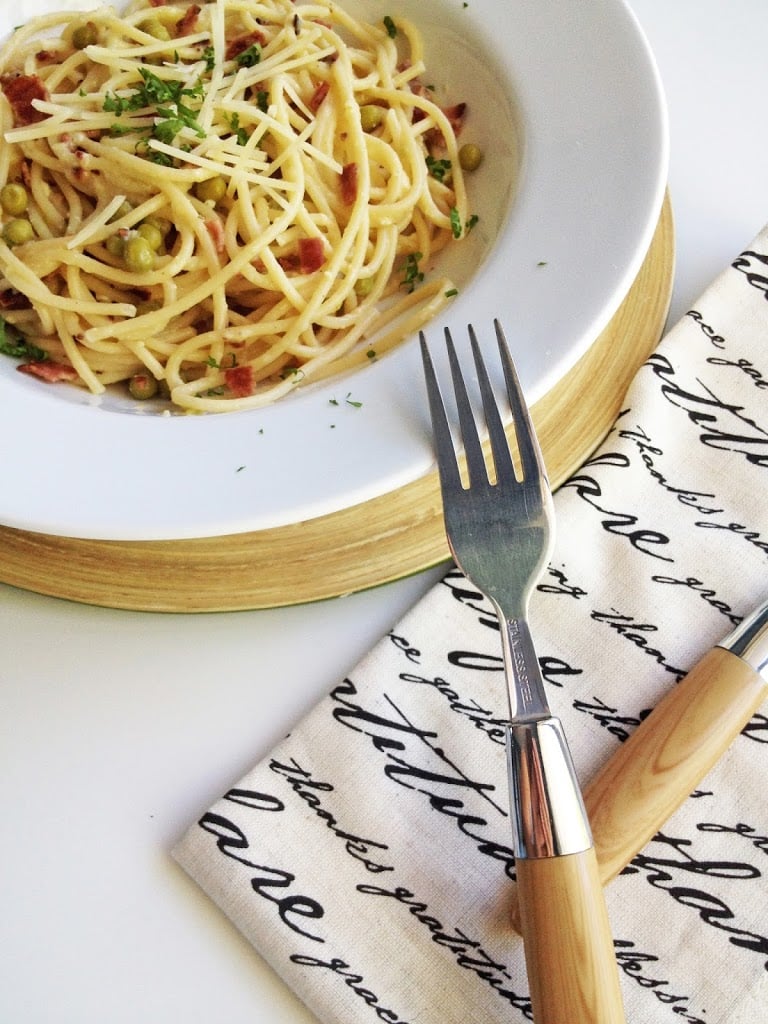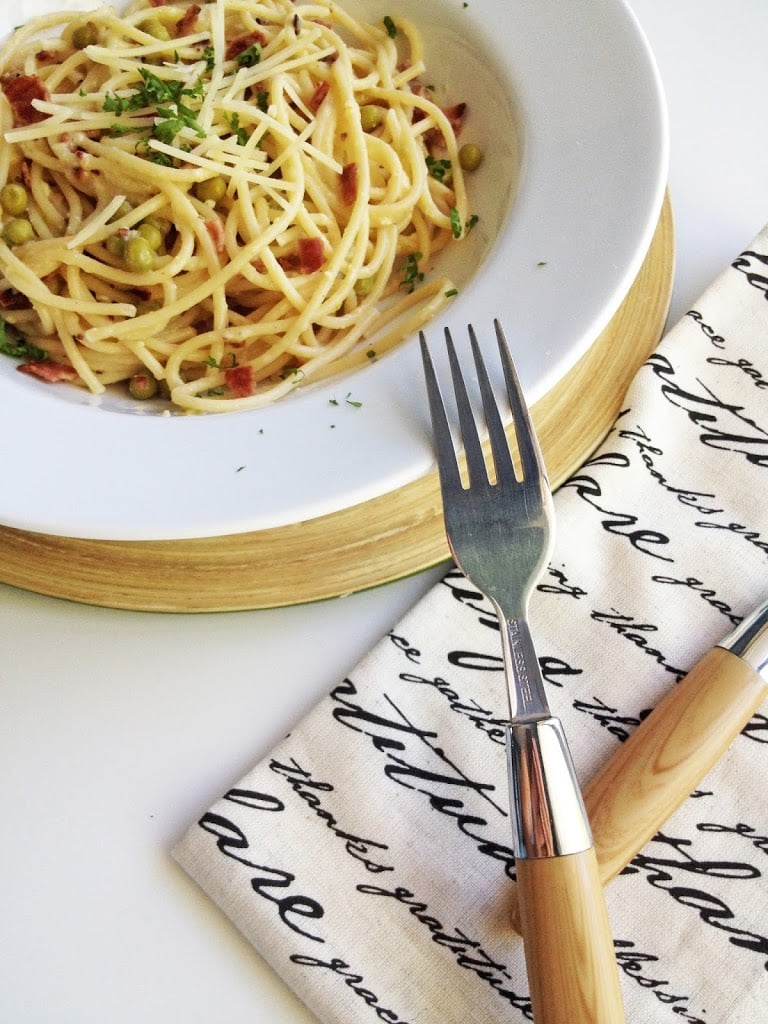 Not to be deterred, I still wanted more pasta, but, I wanted it sans queasiness. So over the weekend I made some Skinny Spaghetti Carbonara which still has a little creaminess to it, but just enough to be manageable.
While not oh-so-good but oh-so-bad-for-your-heart kind of creamy, like the kind you see in Italian restaurants that score in the high 1000 caloric scale, it still tastes good. At least to me and Mr. Cooking Jar. After feeling guilty for indulging in the decadence that was the Rasta Pasta, I was willing to sacrifice some creaminess to keep it under 500 calories. The good part though: the smoky, addictive bacon flavor more than made up for it. And those peas! Those roly poly peas! Besides adding a splash of vibrant color to everything, if you cook it right and don't use frozen peas, those peas will be nice and plump for the picking.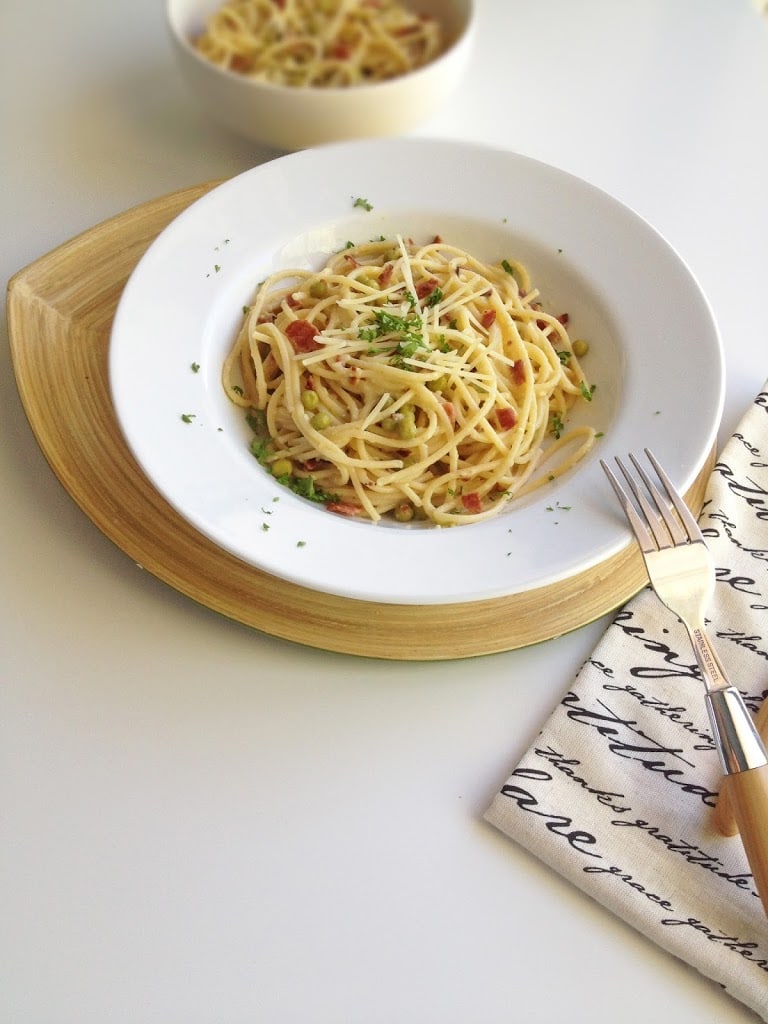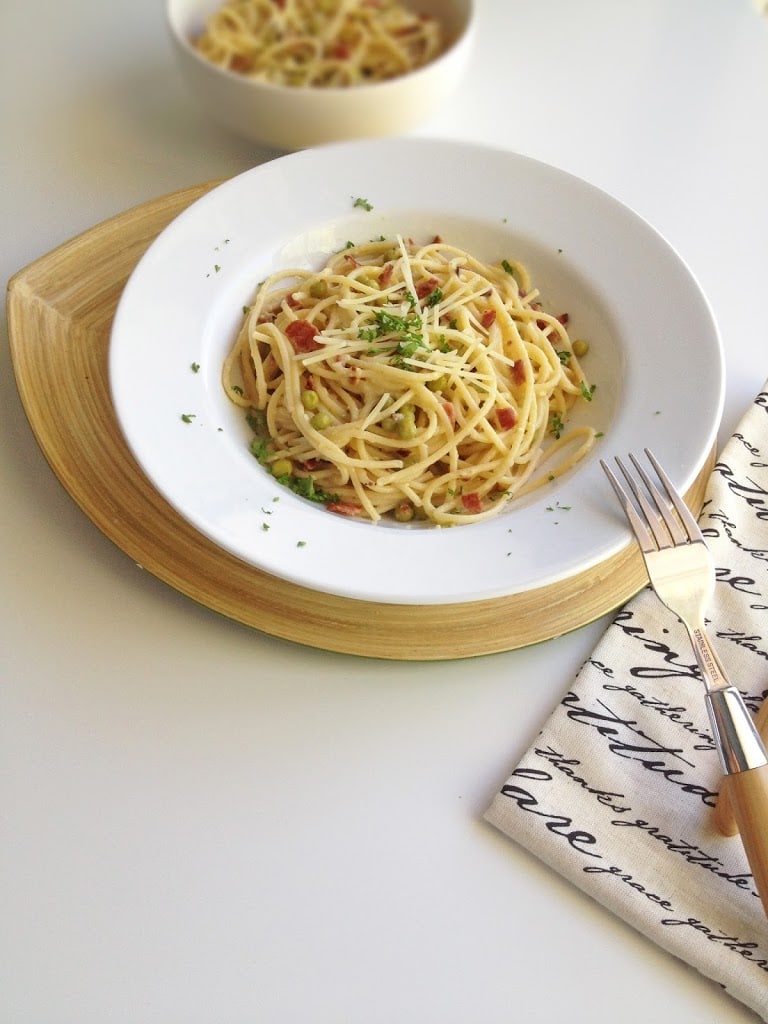 Now, onto some history! Carbonara is Italian of course and comes from Latium, Rome. Based on a sauce made from eggs, cheese and bacon, this hearty pasta was believed to be made for Italian charcoal workers since the name stems from the Italian word carbonaro which means 'charcoal burner'. It's even been called Coal Miner's Spaghetti!
You can use Parmesan also called Parmigiano-Reggiano (now you know how to say it in Italian) or Pecorino Romano which is cheese from sheep milk. The tricky thing about Carbonara is making sure the eggs don't coagulate or scramble. I made this mistake 15 years or so back when I first tried my hand at it; due to impatience,  I thought I could cheat and did it over high heat. Bad mistake! Came out with this scrambled mess of goop that I didn't really want to eat. So don't cheat. You can't get away with it. The Carbonara will know.

The common technique is to cook the pasta first and reserving some pasta water, dumping the hot pasta and some pasta water directly onto a mix of beaten eggs, cheese and pepper. The whole thing is stirred until the eggs cook slightly from the residual pasta heat then left to sit while it thickens. The marriage of the pasta and eggs is all done away from direct heat.
Tips and Tricks:
Keep the eggs at room temperature to help them cook faster
Add the peas and bacon last to keep their color vibrant and prevent the peas from splitting from too much stirring
Lastly, if you really want to get into the whole healthy shebang, you can choose whole wheat spaghetti over regular. Now onto the recipe!
Print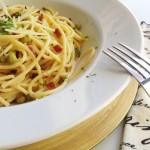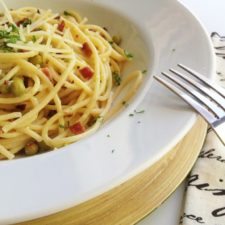 Skinny Spaghetti Carbonara
---
Scale
Ingredients
1/2

lb. spaghetti

4

strips turkey bacon

2 cups

canned peas

2

large eggs, beaten

1 cup

Parmesan cheese, shredded

1/4 cup

pasta water

1 teaspoon

olive oil (optional)

1 tablespoon

fresh parsley, chopped (optional)
Salt and pepper to taste
---
Instructions
Cook the spaghetti until al dente, reserving 1/4 cup of pasta water
Meanwhile, cook the turkey bacon with olive oil in a skillet over medium high heat until crisp on both sides. Drain on paper towels and set aside to cool, then roughly chop
Mix the eggs with cheese, salt and pepper to taste then whisk
Once the pasta is cooked, add the pasta and water immediately to the egg mixture. stirring constantly
Let it stand 5 minutes to thicken, stirring occasionally
Add the bacon and peas and stir to combine
Sprinkle with parsley, dish and serve hot