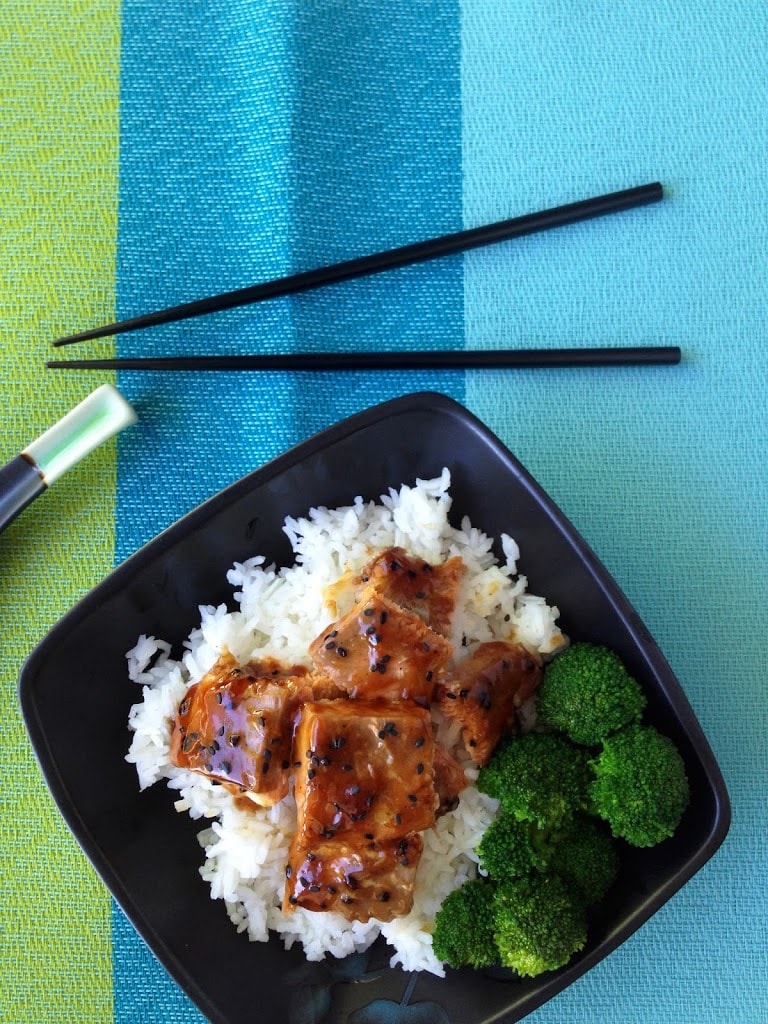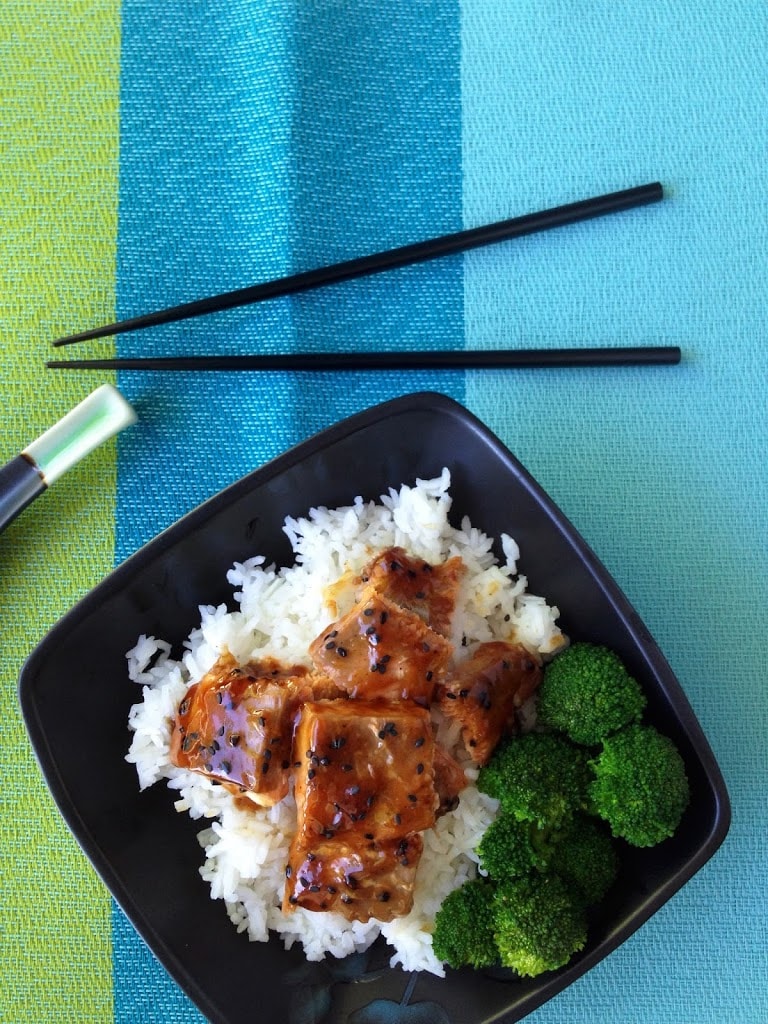 Lately I've been a little obsessed thinking about introducing healthy recipes onto the blog, though some part of me feels most of the recipes, with the exception of the fried and creamy stuff, are rather healthy to begin with. I had some grandiose dreams of having a red rubber stamp with 'healthy' near the title image and nutritional labels, but I've had some trouble finding both. In anycase, it could just be a phase I'm going through or something that might actually stick around so I'll see where this takes me. The recipe today is one of those 'healthified' dishes I had in mind; with protein-rich salmon and broccoli in a rice bowl.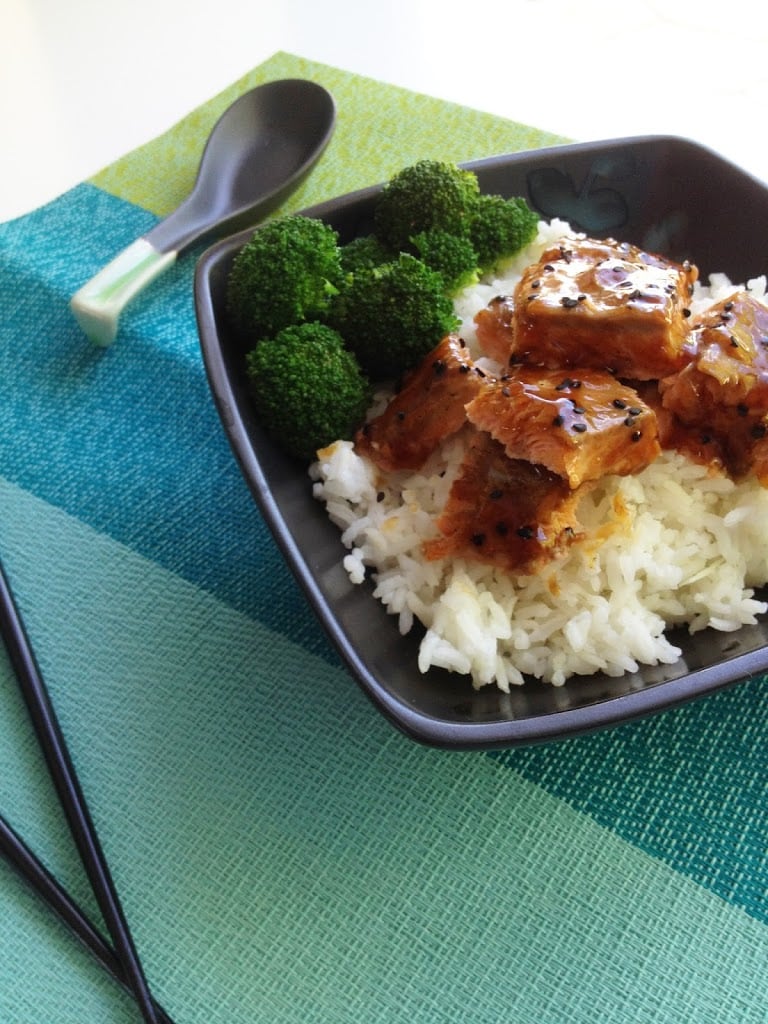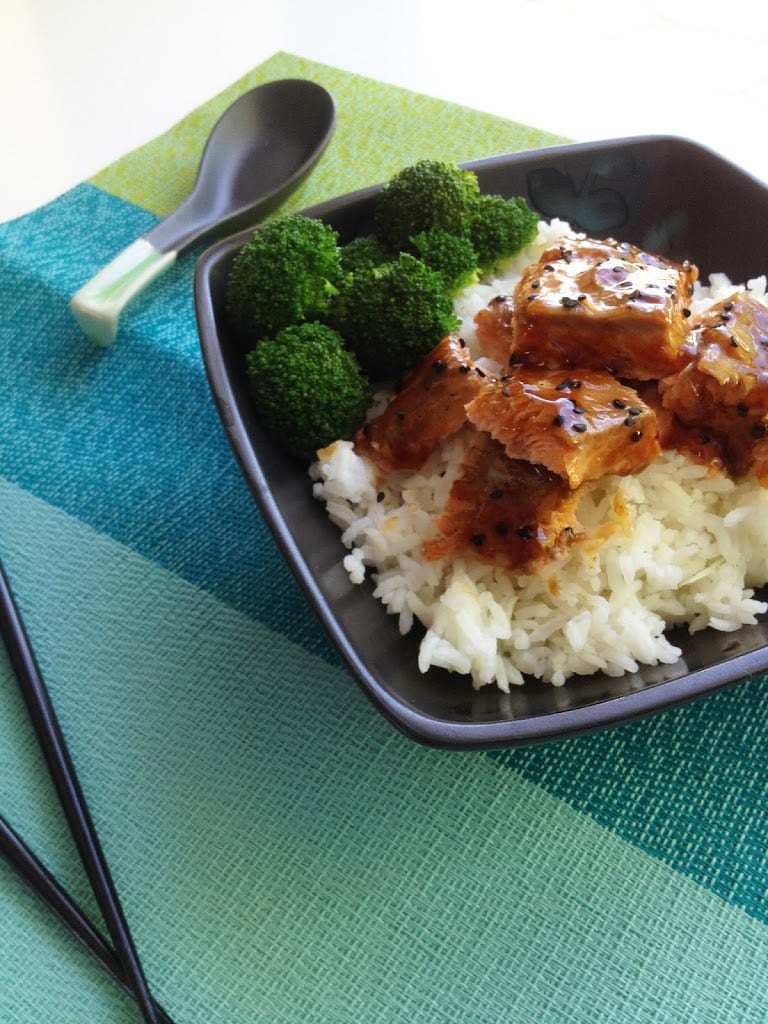 Salmon can be a little hard to get used to for those that don't incorporate it much in their diet. It's strong smelling and has a REALLY strong taste, but it's been glorified as a great way to give you omega-3 fatty acids and all its benefits.
Some people embrace it naturally, enjoying it as close to its natural state as possible, by either grilling or baking it in a simple rub of salt and pepper. That was how I was first introduced to salmon from my mother. Boy…was it strong! I remained somewhat ambivalent about it during my early adult years and only recently started experimenting with recipes that tended to disguise its taste somewhat. It wasn't so bad then.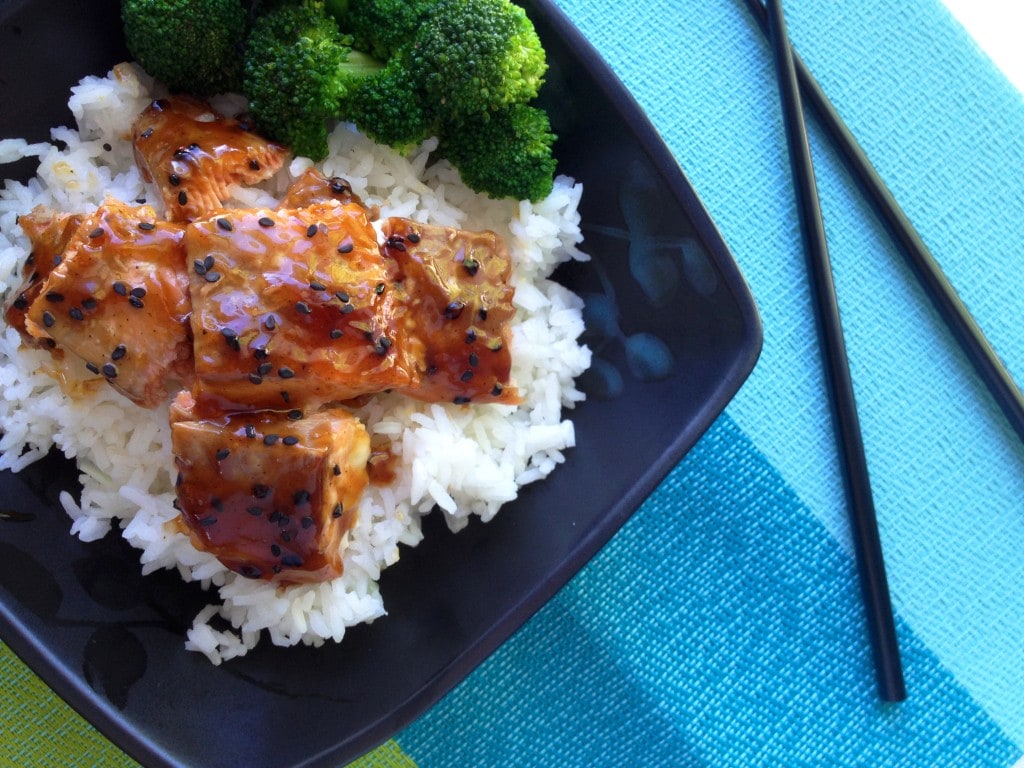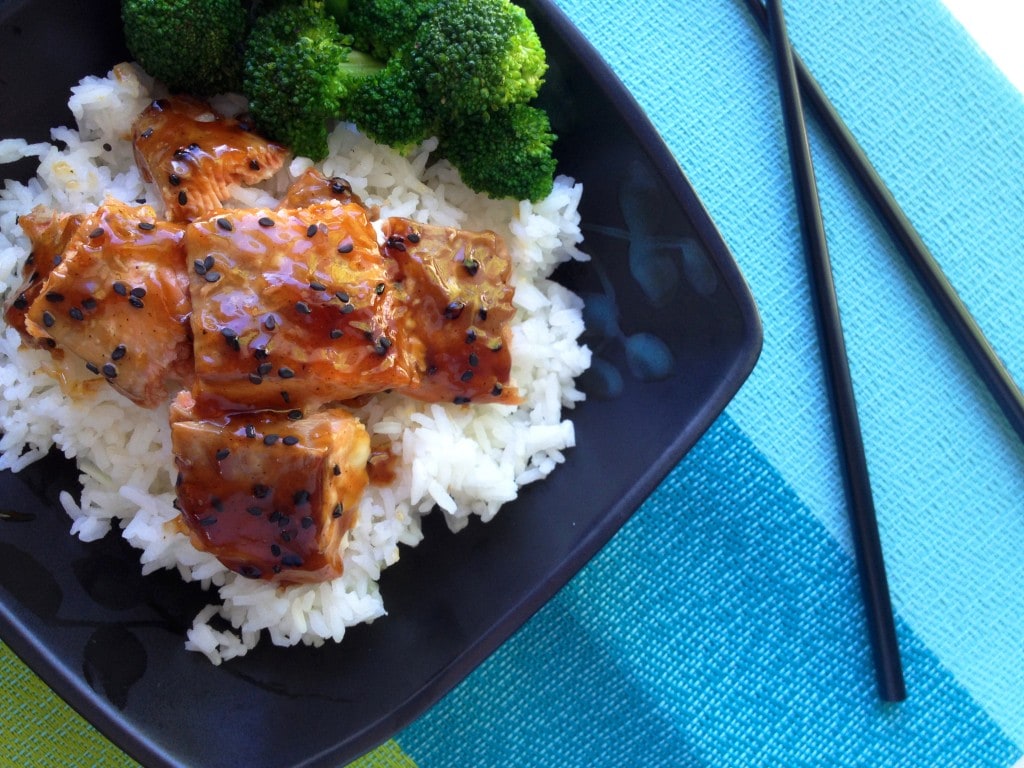 I've had pretty good success with it too! If you like salmon or are looking to try it, but prefer it slightly less salmon-y, there's a few of my other salmon recipes with my favorite being grilled salmon with mango salsa; that stuff was like a tropical vacation in my mouth! Perfect for spring! Or summer. Or fall.
Salmon, salmon, salmon. Lot's of salmon! What makes this different from the others is the Asian-inspired maple syrup glaze, which basically means some maple glaze with a little thin soy sauce and a dash of zesty lime. The first time I looked at the recipe, I did a double take because…maple syrup. Never had that on fish, or anything non-breakfast related. Will it work? Let's see!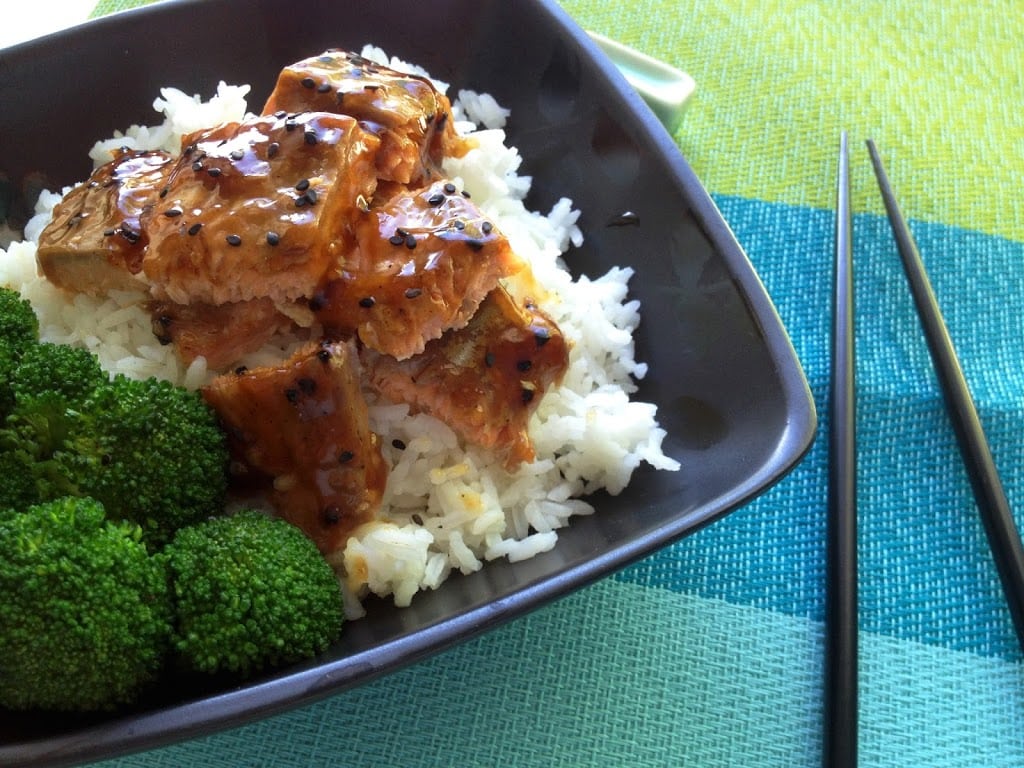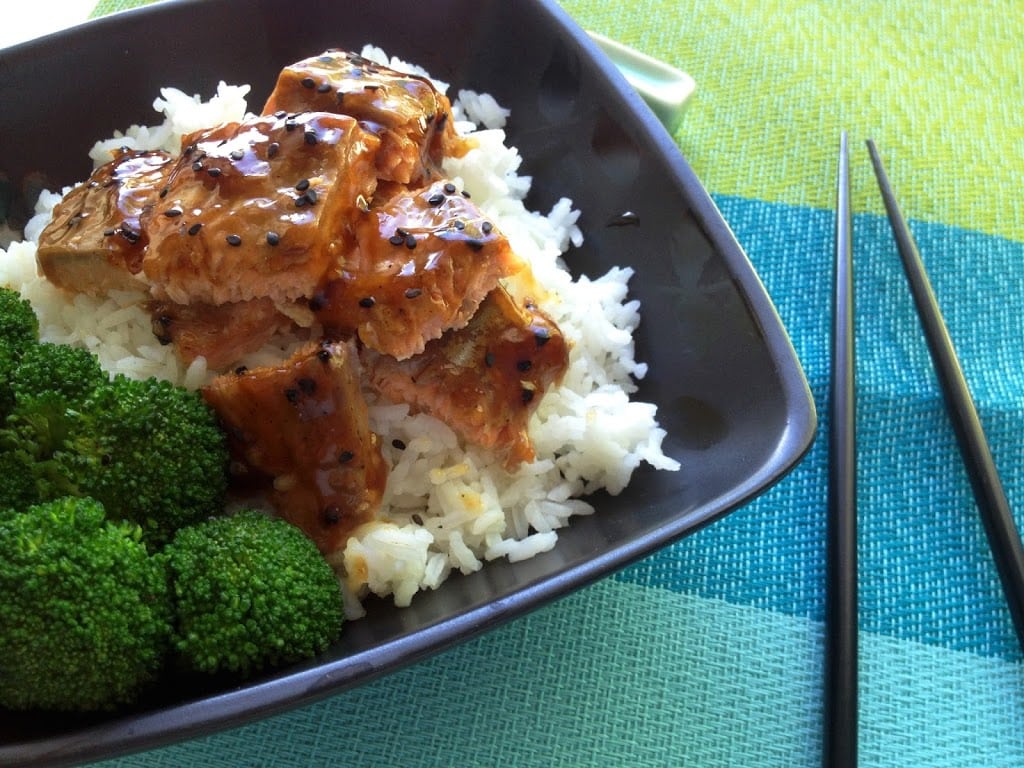 Tips and Tricks:
Try getting salmon fillets without skin, removing them yourself can be tricky
You can adjust the levels of sweetness, tartness or saltiness by adding more of either maple syrup for sweetness, lime juice for tartness or thin soy sauce for saltiness
If the glaze is too thick to pour over the cooked fillets before serving, just add a little water and combine
Make it gluten free by subbing thin soy sauce with tamari.
Print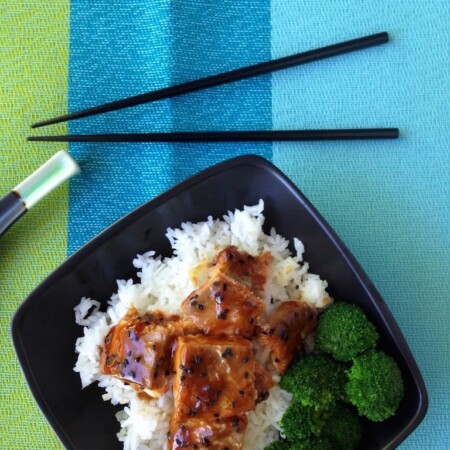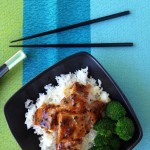 Salmon Bowl with Broccoli
---
1 lb. salmon fillet
1 teaspoon butter
1/4 teaspoon garlic, minced
2 tablespoons maple syrup
1 tablespoon lime juice
1 tablespoon thin soy sauce
Black sesame seeds
1/2 teaspoon cornstarch mixed with 1 tablespoon cold water
2 cups broccoli florets
4 cups cooked brown or white rice
---
Instructions
Over medium high heat, melt butter and saute garlic until golden
Pour in maple syrup, lime juice and soy sauce, and stir to combine
Add the cornstarch slurry and simmer until the glaze has thickened slightly
Arrange salmon fillets on a foil-lined baking sheet and coat about 1 teaspoon of the glaze over each fillet
Bake at 400 degrees F until cooked, about 12 minutes
Saute or blanch the broccoli florets until cooked through
Remove the salmon fillets and cut into large pieces
Divide rice into 2 bowls, top with broccoli and salmon fillet pieces
Drizzle with leftover sauce and sprinkle each bowl with black sesame seeds
Serve hot
 Nutrition based on brown rice: