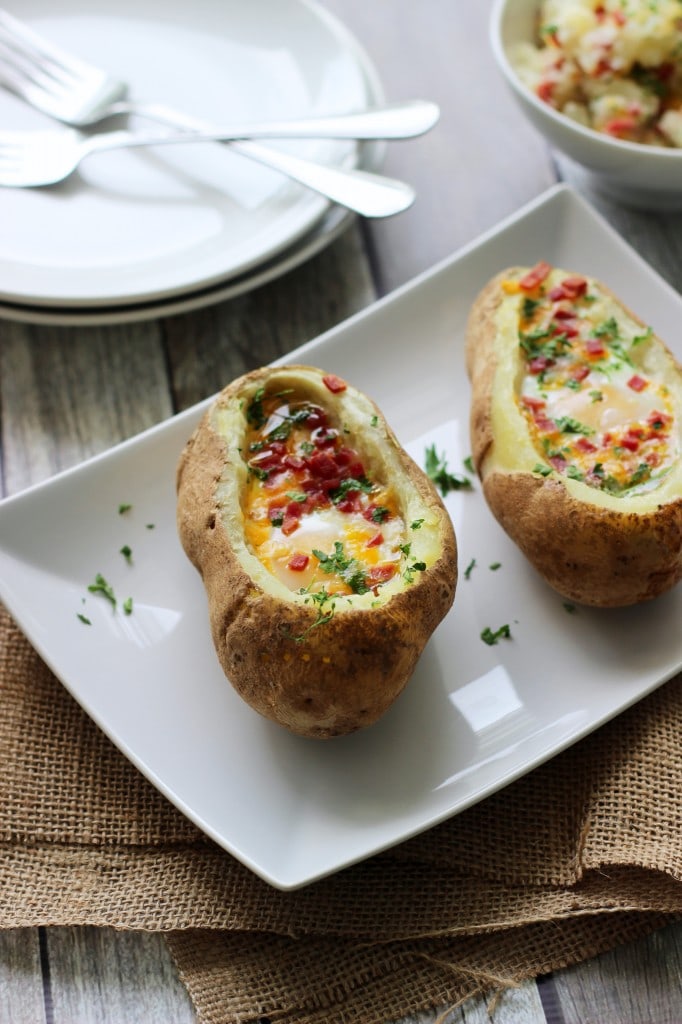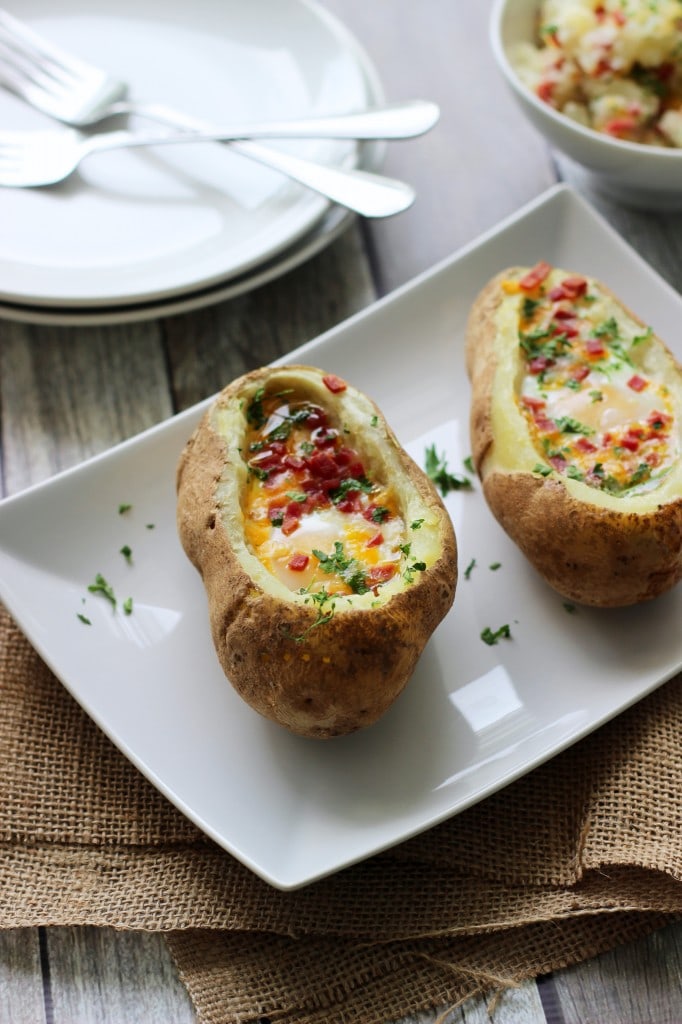 So Idaho Sunrise. Don't even ask me why it's called that. All I know is I was won over when I saw baked potato bowls filled with eggs, bacon and cheese. I mean, come on. Eggs, bacon, cheese. Potato bowl.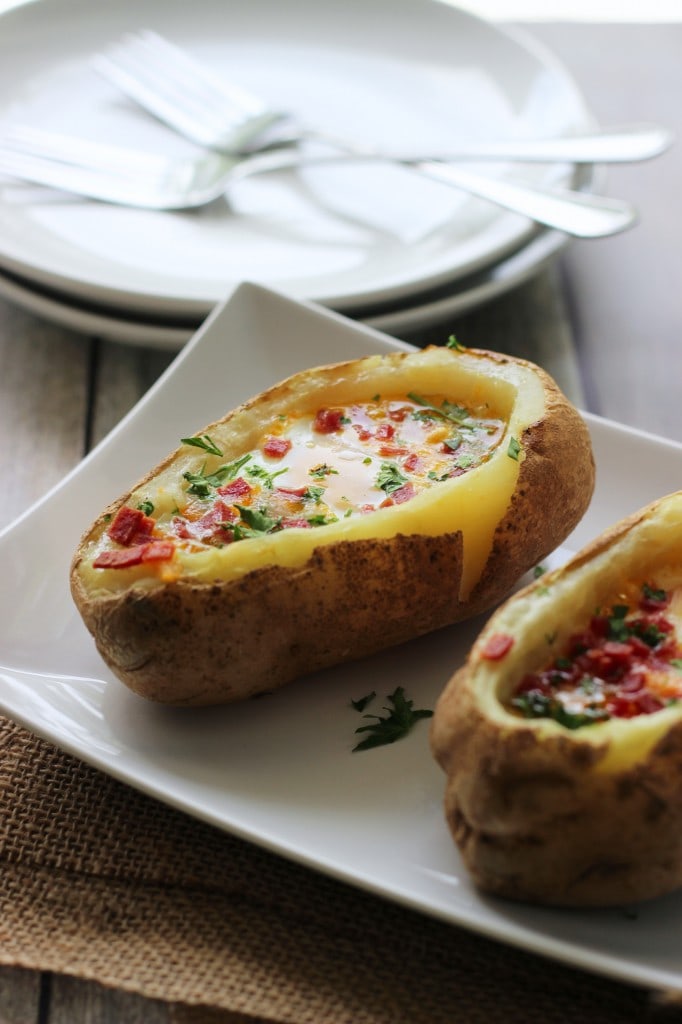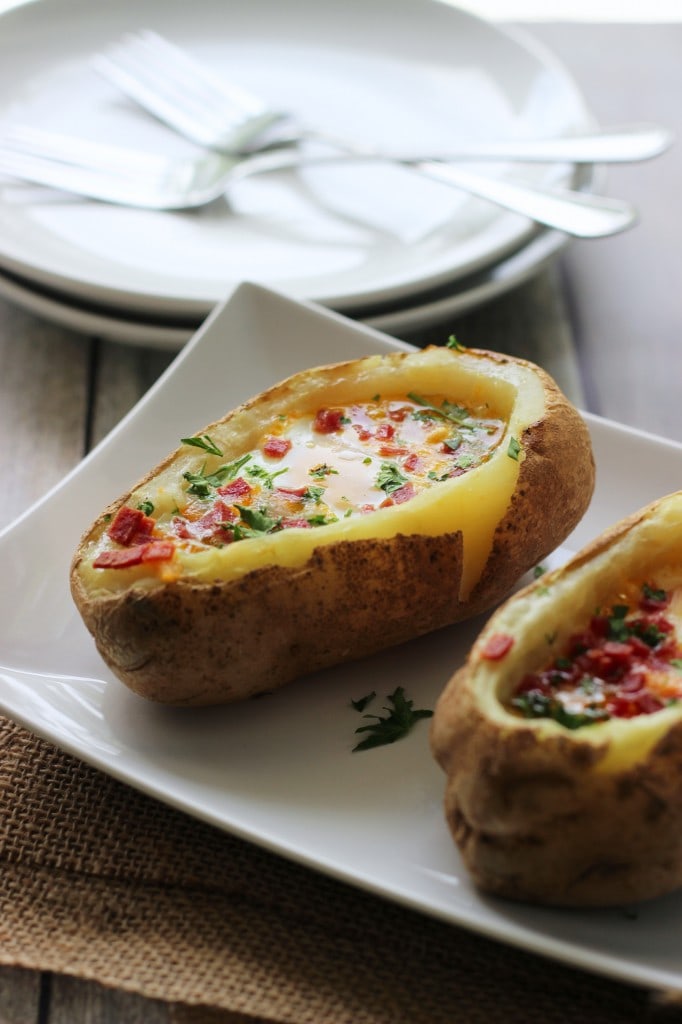 If you're wondering why I haven't had any breakfast stuff up on the blog till now, it's because I don't usually eat breakfast. Call me weird. I'm one of those people whose stomach takes awhile to wake up. Try and stuff it with food and it's not going to be happy. So all my breakfasty stuff from here on out will be brunch for me. Or linner. Or brinner. If we're being perfectly honest, I'm more of the brunch, linner and dupper kind of person. But don't let my weird eating habits stop you. Pop this one in the oven in the morn and you'll be eating breakfast like a champ.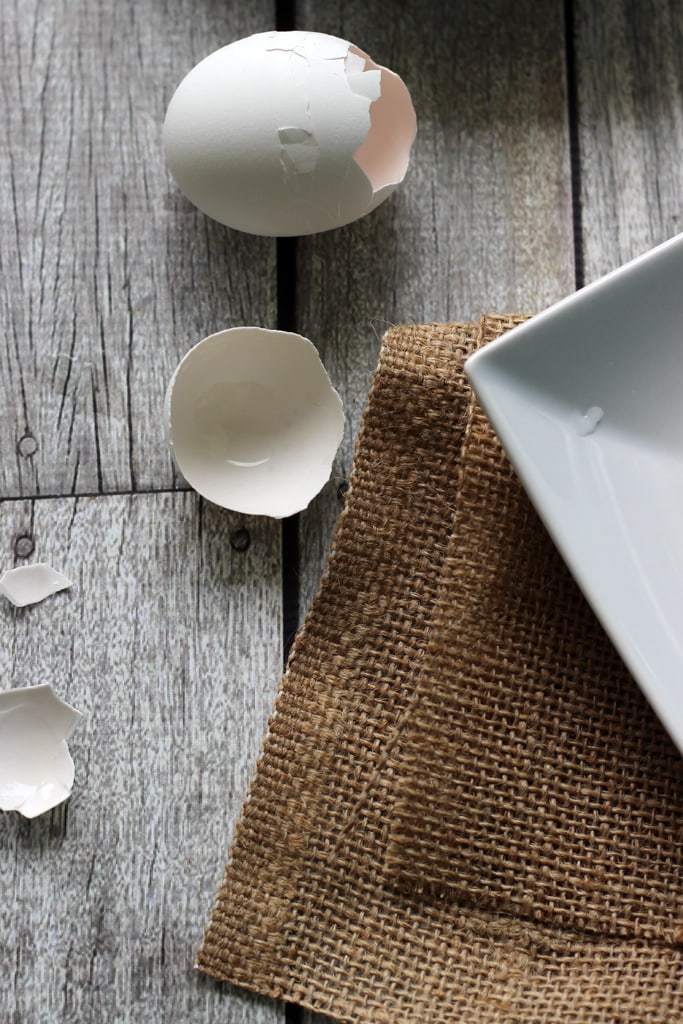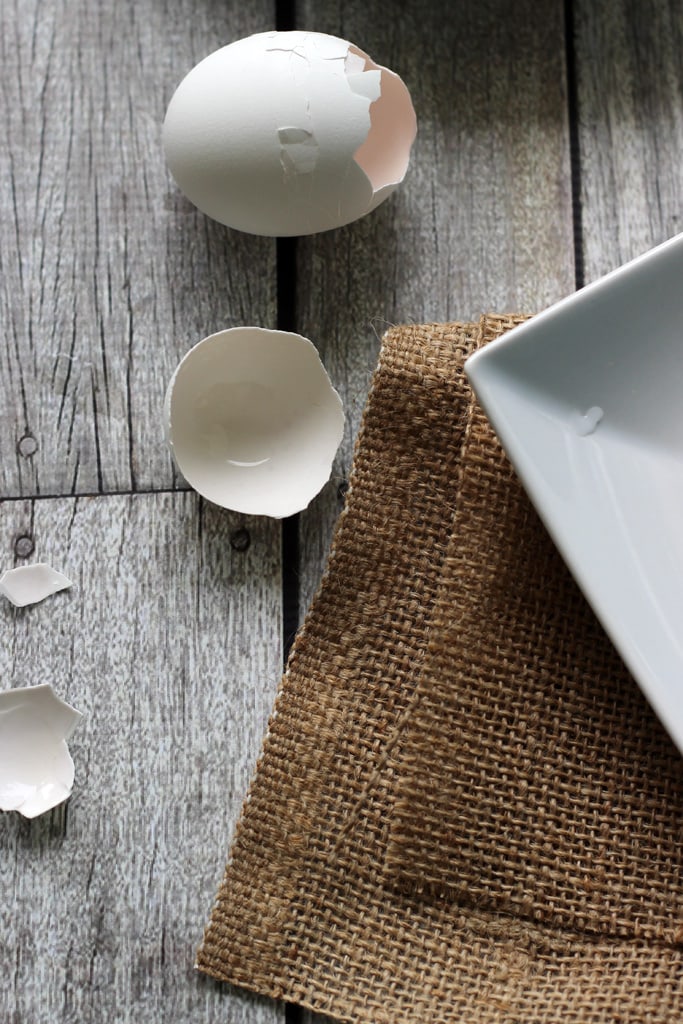 All you need to do is bake some potatoes  (lazy me did it in the microwave) and chop off the top. Imagine the potato divided into thirds lengthwise. Chop off that top third of the potato. Then you hollow it all out by scooping out that mashed potato goodness with a spoon. Save it for later! We don't waste in my household. Then you dump in some butter, cheese, an egg and top it with bacon bits, more cheese and some parsley. All done! Well, not really. You still need to bake it first.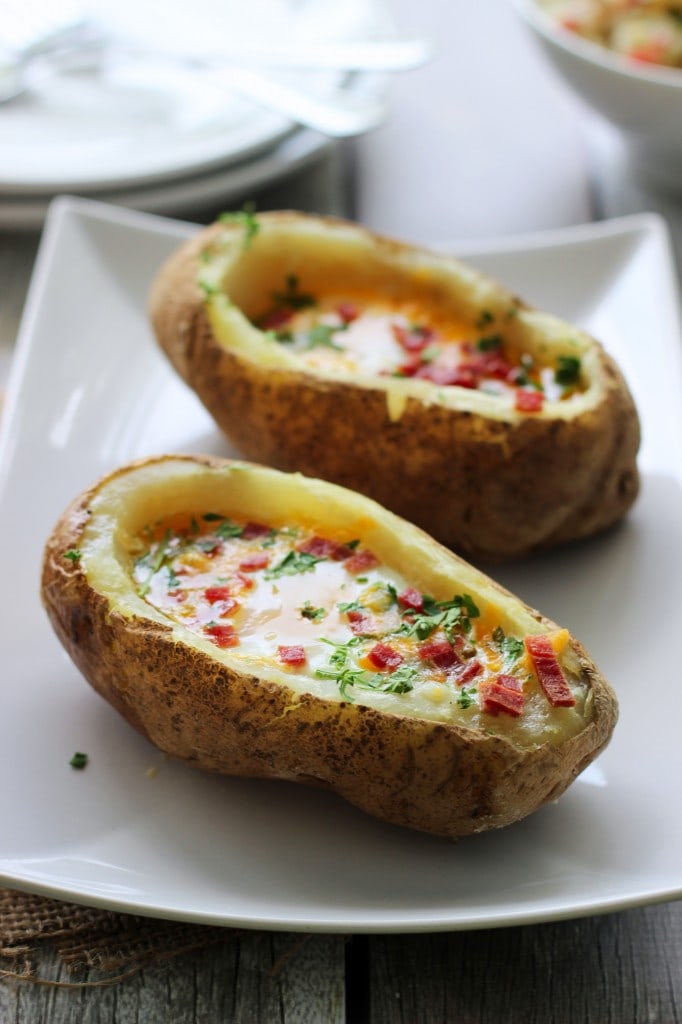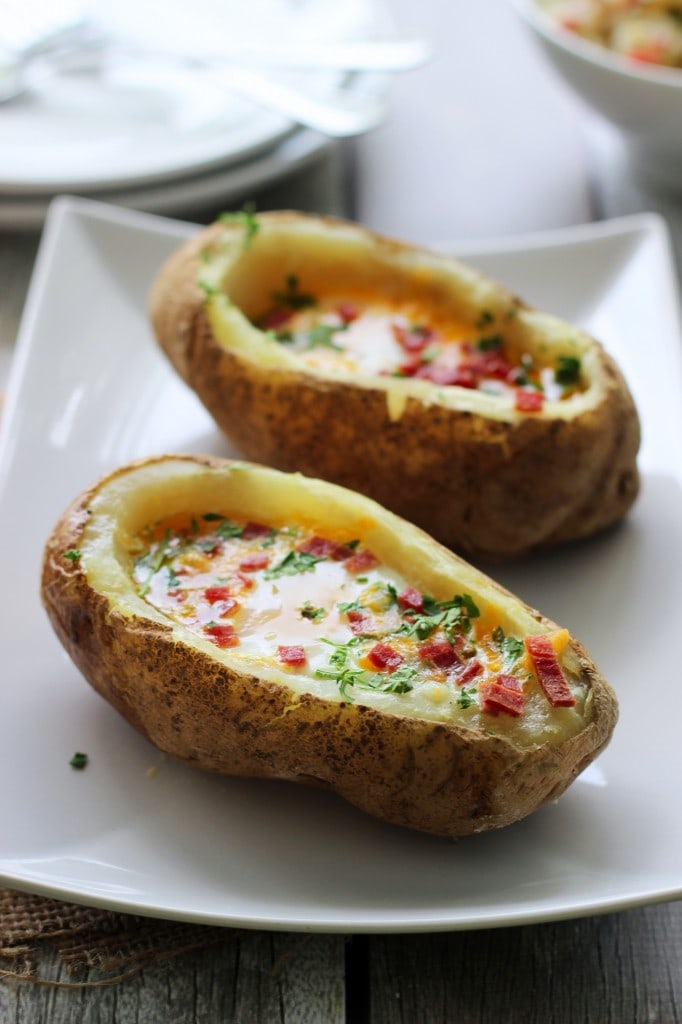 I don't know about you but I LOVE my eggs runny. So I baked it in the oven for 20 minutes to get that runniness. If runny yolks scare you, add on another 5 minutes or so for it to be nice and solid. A good way to tell if it's done overall is when the egg whites set.
So what do we do with the leftover mash? I used whatever leftover bacon bits, parsley and cheese I had and mixed it all together as a side of mashed potatoes. YUM.
Waste not.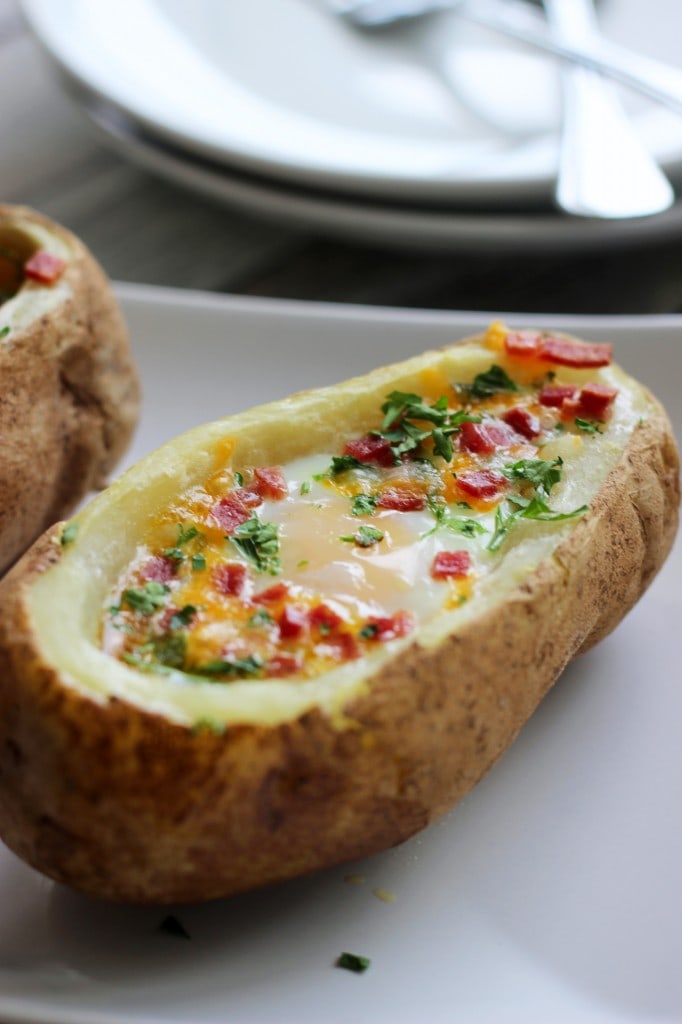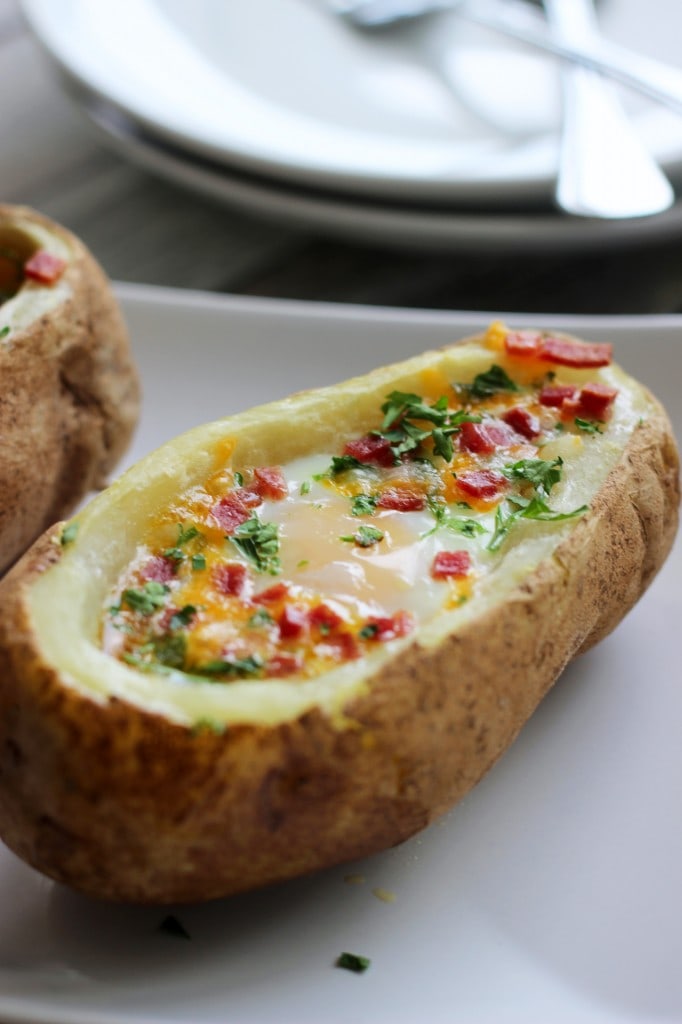 And what did I do with the tops? After toying around with the idea of making cute little lids with them, I decided to eat them instead. I spread a mixture of cucumber dill sour cream on it. Reaaaally good. If you don't have any of that, you can go with cream cheese. Point is, we are using every single part of these potatoes and getting a pretty hefty breakfast. Win win.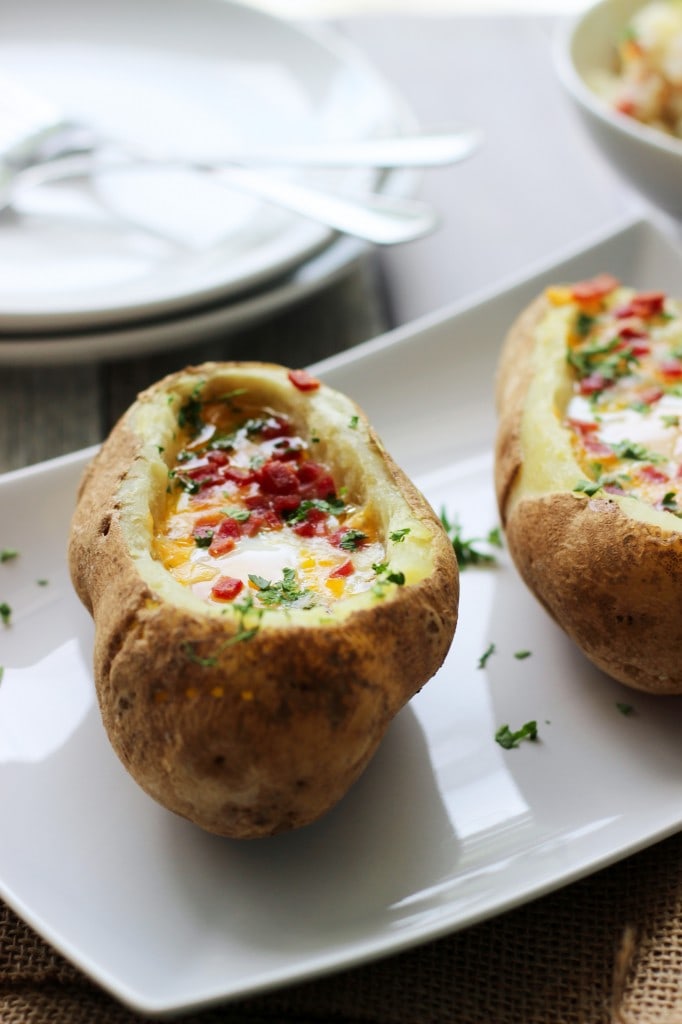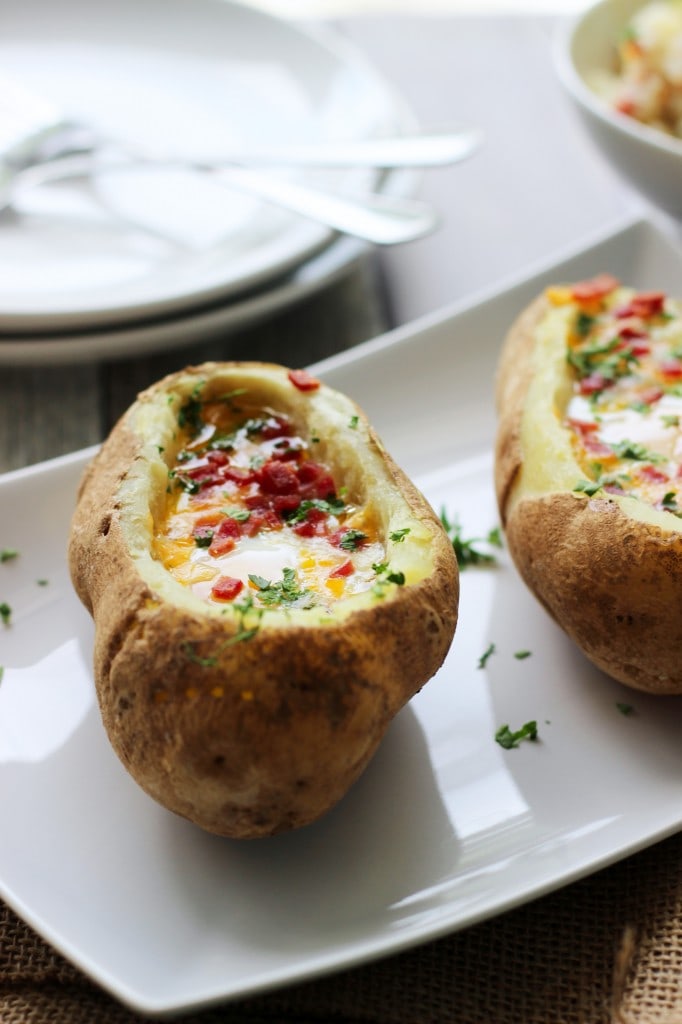 Now these potato bowls could have been prettier but I may have understuffed them a little. And since we're on the topic of stuffing, these potato bowls are really filling. I didn't even manage to finish one but in hindsight I did get a bag of jumbo russet potatoes.  Anyway, don't underestimate a single potato per person, it's really really filling. And there's the mashed potatoes as well. And a slice of toast if you want to throw that in too.
Print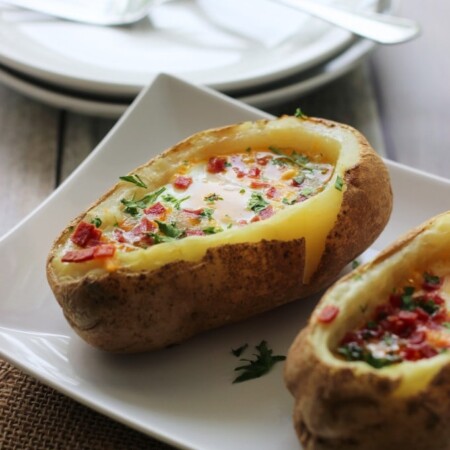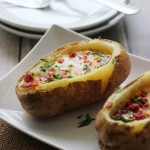 Idaho Sunrise
---
Author:
Total Time: 25 mins
Yield: 2 1x
2 large russet potatoes, baked
1 tablespoon butter, divided
2 eggs
Salt and pepper to taste
3 bacon strips, chopped
4 tablespoons cheddar cheese, shredded
2 tablespoons fresh parsley, chopped
---
Instructions
Lay the baked potato on its side and slice off the top third of the potato
Hollow out the potato with a spoon to make a bowl
Add 1/2 tablespoon of butter to each potato bowl and follow with some shredded cheese
Gently break an egg into each bowl
Season with salt and pepper to taste
Top with bacon bits, cheese and parsley. Save some cheese, bacon and parsley for the potato filling
Bake at 350 degrees F for 20-25 minutes or until the egg whites are set
Use the leftover bacon bits, parsley and cheese and mix with potato filing, mashing with a fork. Heat briefly in the microwave to melt the cheese
Dish and serve hot
Prep Time: 5 mins
Cook Time: 20 mins