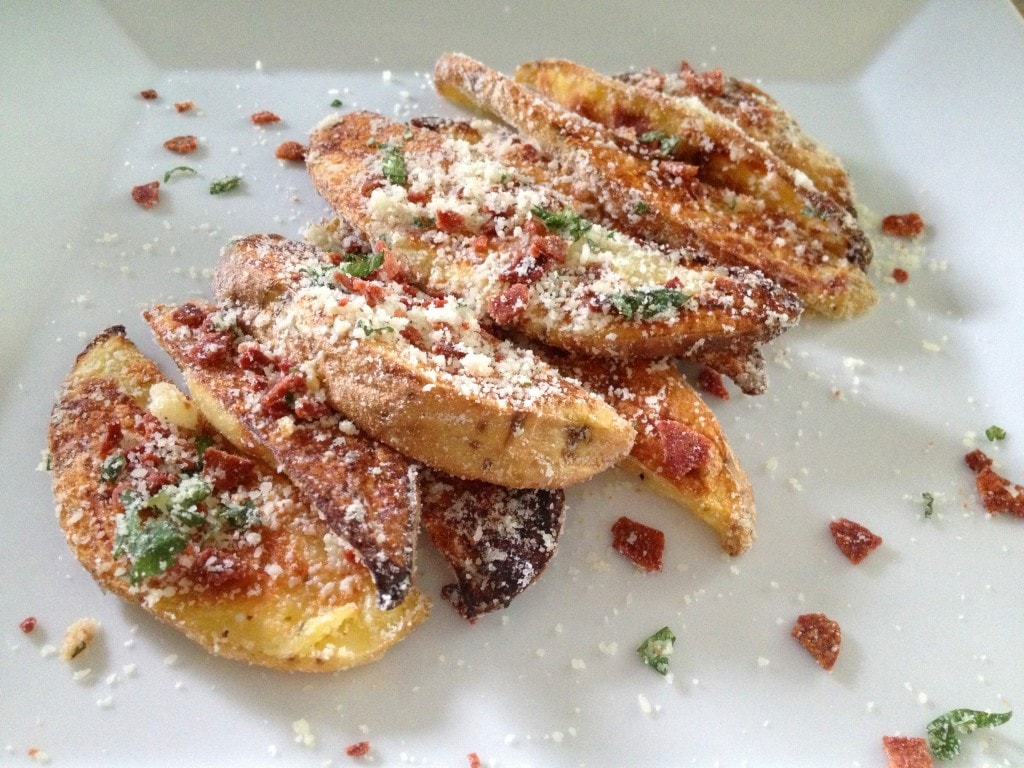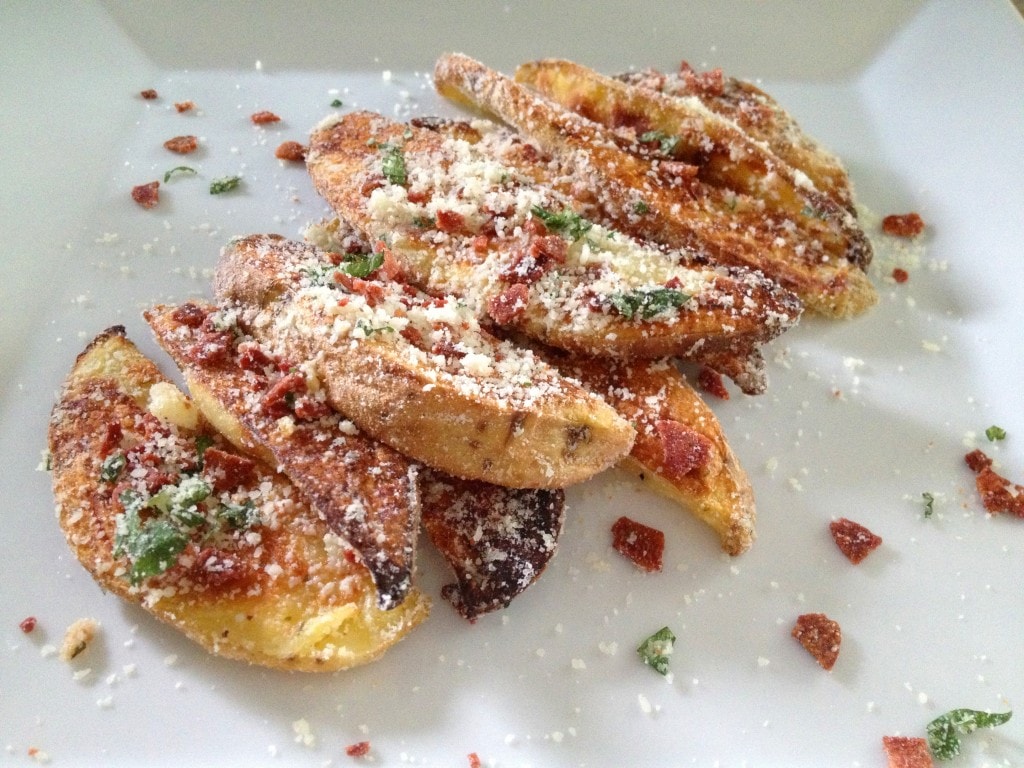 Today I started my own personal Chopped Challenge. I didn't have an audience, unless you count my cats…and I was my own judge. I think I made it to the next round! Anyway, I needed a snack and had to start clearing out the fridge. A quick inventory yielded potatoes, turkey bacon, cilantro and dried Parmesan cheese so today we will have Garlic Parmesan Wedges with Cilantro, Bacon and a splash of lemon juice. Phew! That was a mouthful.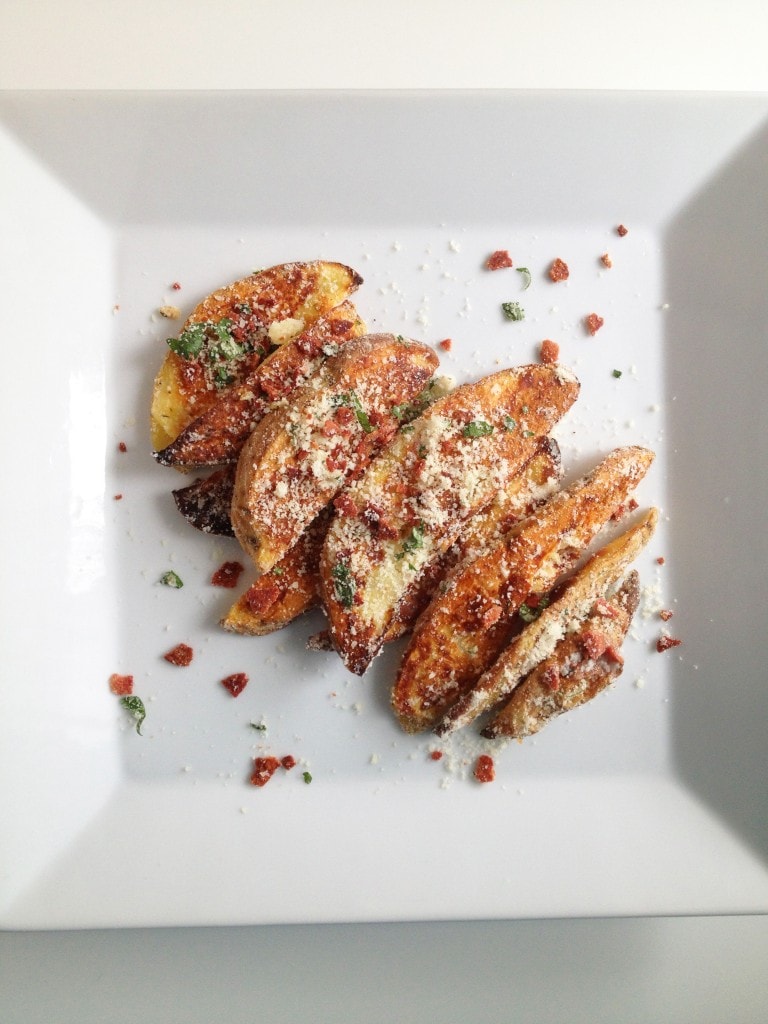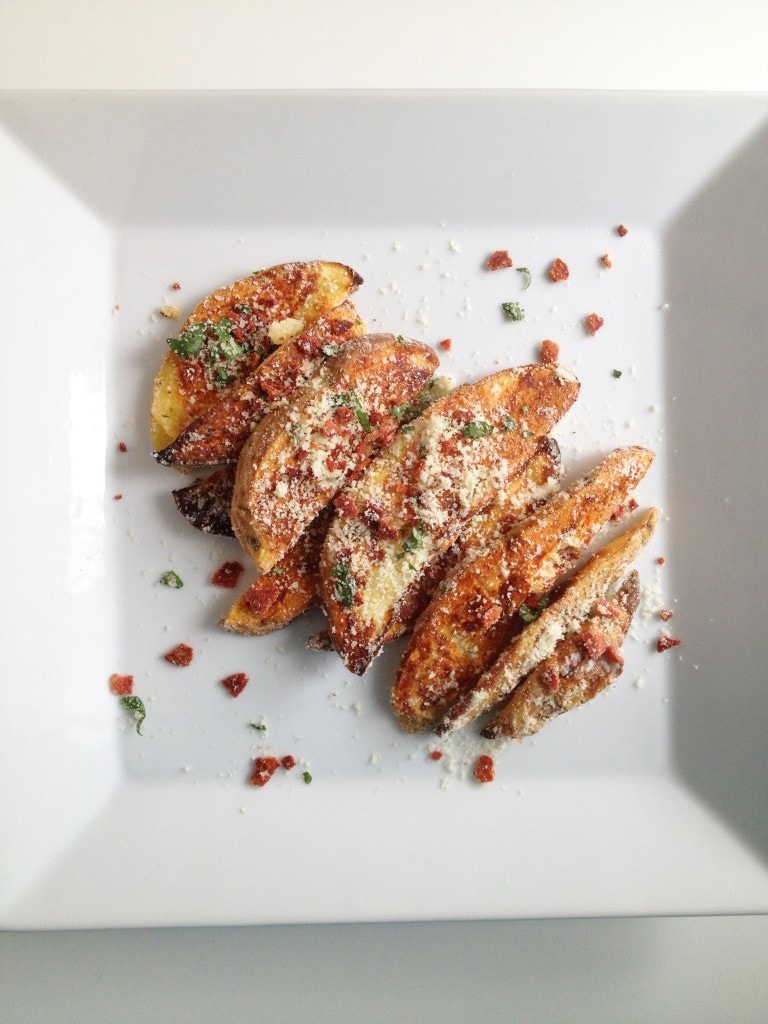 Making perfectly baked wedges takes some getting used to, so it'll take time and practice to see how long you need it in the oven for, depending on your oven. Or you may just be a whizz at it. My timing here is based on my oven so use some judgement with yours. I may also have misjudged the amount of Parmesan needed but who doesn't like cheese? In any case, this little invention is perfect for an afternoon snack or a side dish.
Print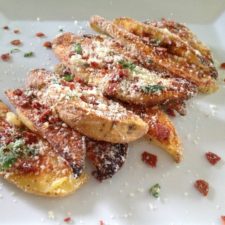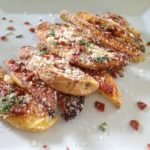 Garlic Parmesan Wedges with Cilantro, Bacon and Lemon
---
2

russet potatoes, scrubbed and dried

2 tablespoons

olive oil

1 tablespoon

garlic salt

4

slices turkey bacon

1 1/2 tablespoons

cilantro, chopped

2 tablespoons

dried Parmesan cheese
A splash of lemon juice
---
Instructions
Preheat oven to 425 degrees
Place a paper towel on a microwavable dish and arrange turkey bacon slices on it. Cover with another paper towel and microwave for 3 minutes
Remove turkey bacon and set aside, allowing it to cool. Once cool, crumble with your hands; it should be crispy enough to crumble easily
Cut the russet potatoes in half, then slice each half into 5-6 wedges
Toss the wedges in olive oil and garlic salt
Spray a baking sheet with cooking spray and arrange the wedges in a single layer
Bake for 40 minutes until the potatoes have cooked through
Broil for another 10 minutes if the exposed sides still have not browned
Toss the wedges in with bacon bits, chopped cilantro and dried Parmesan
Splash some lemon juice over the wedges
Dish and serve hot
♡ Affiliate disclosure: As an Amazon Associate, I earn commissions from qualifying purchases from Amazon.com. You can learn more about it here.