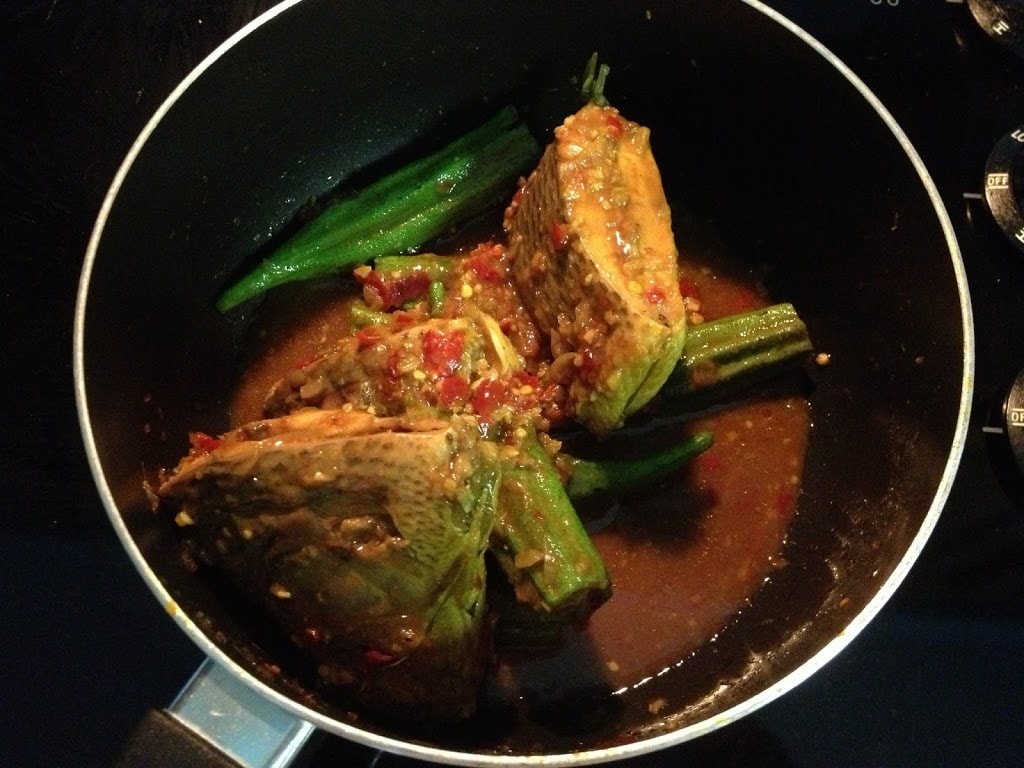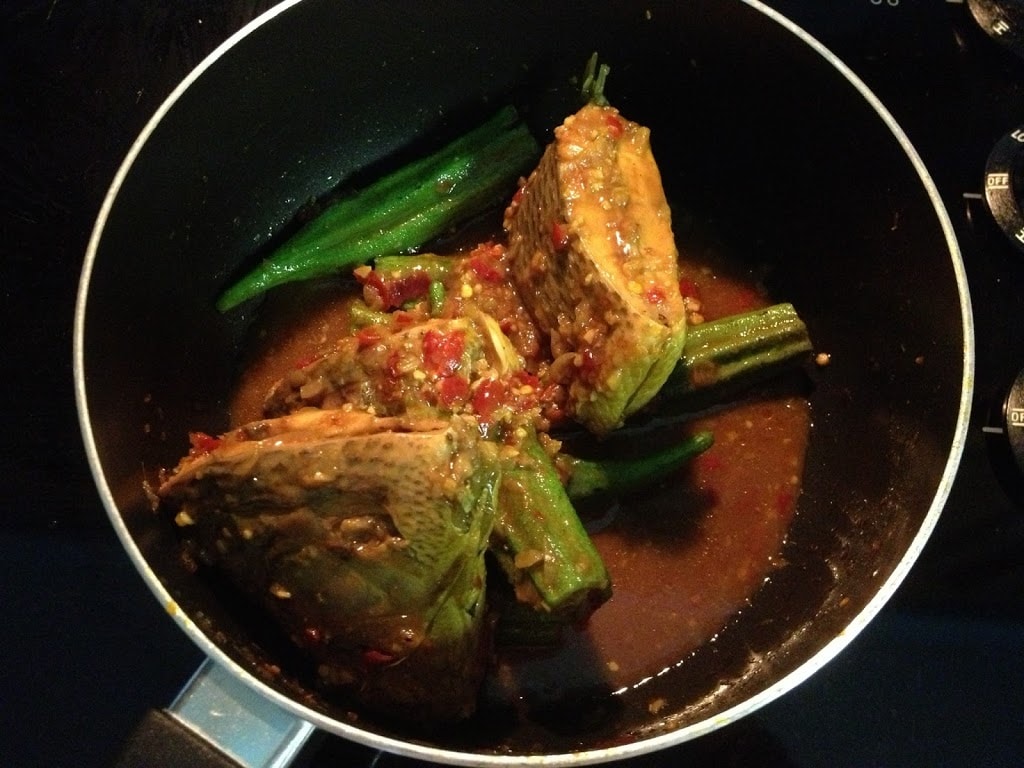 This spicy dish is highly addictive for people that love all things spicy and sour. The sourness comes from  tamarind juice which is mixed with blended chilies to make it fiery hot. Freshwater fish is usually used and okra is added to include a splash of color in a sea of red. One word of warning though: it's very pungent. If you have a violent aversion towards the smell of cooked shrimp paste, you will need a strong stomach to handle this. I personally love it, but I grew up around this kind of stuff.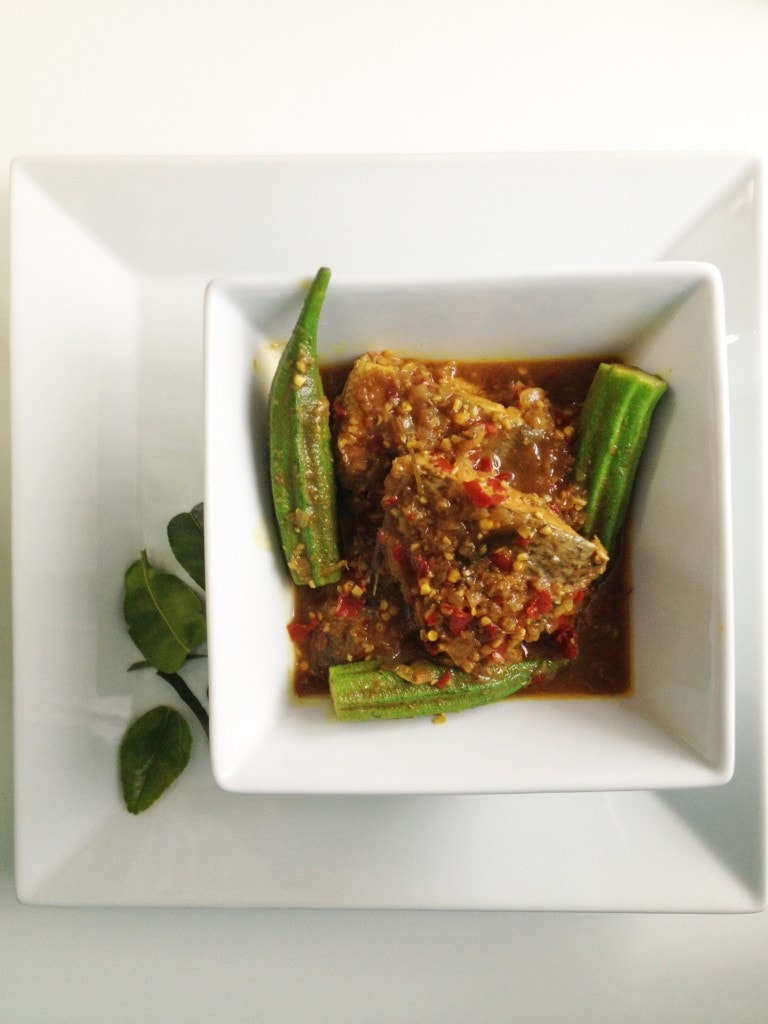 As for the name, it's pretty easy to translate. Assam = sour. Pedas = spicy.  Ikan = fish. Sour and spicy fish, or spicy and sour fish, however you like it. Point is, it's spicy and sour. And it's fish.
Anyway, Assam Pedas Fish uses other things I couldn't get my hands on like Vietnamese mint and Ginger flower. I personally have not used this before but my mom insisted it was mandatory to enhance the stew. So if you can find it, use it and have a better fish stew.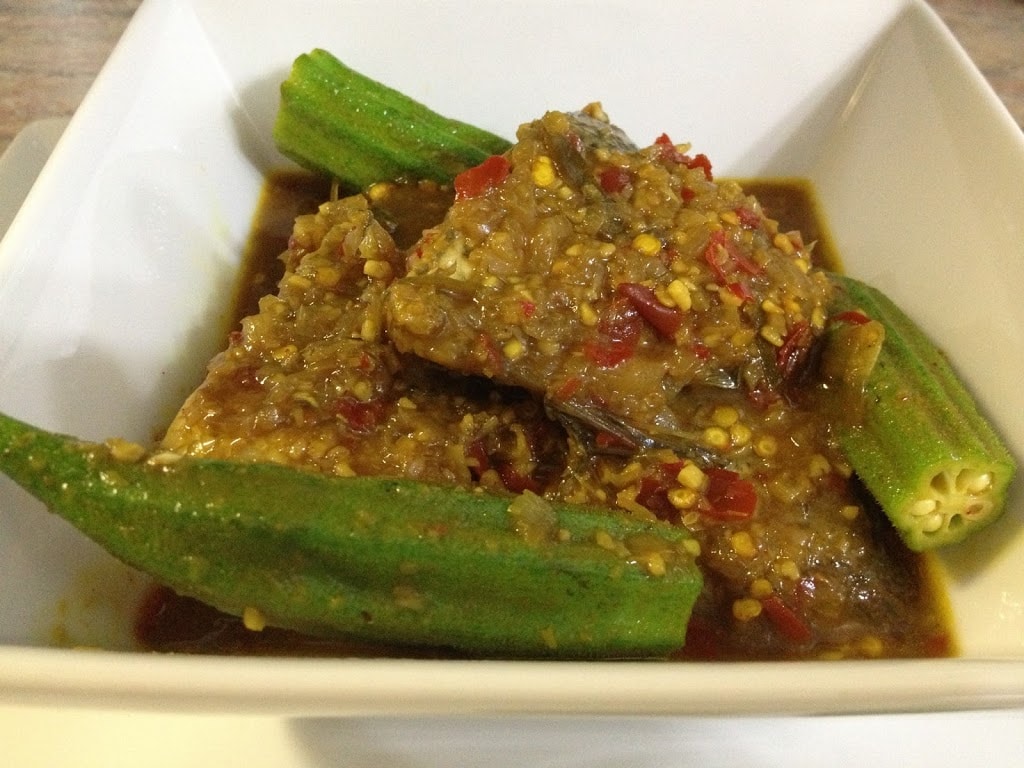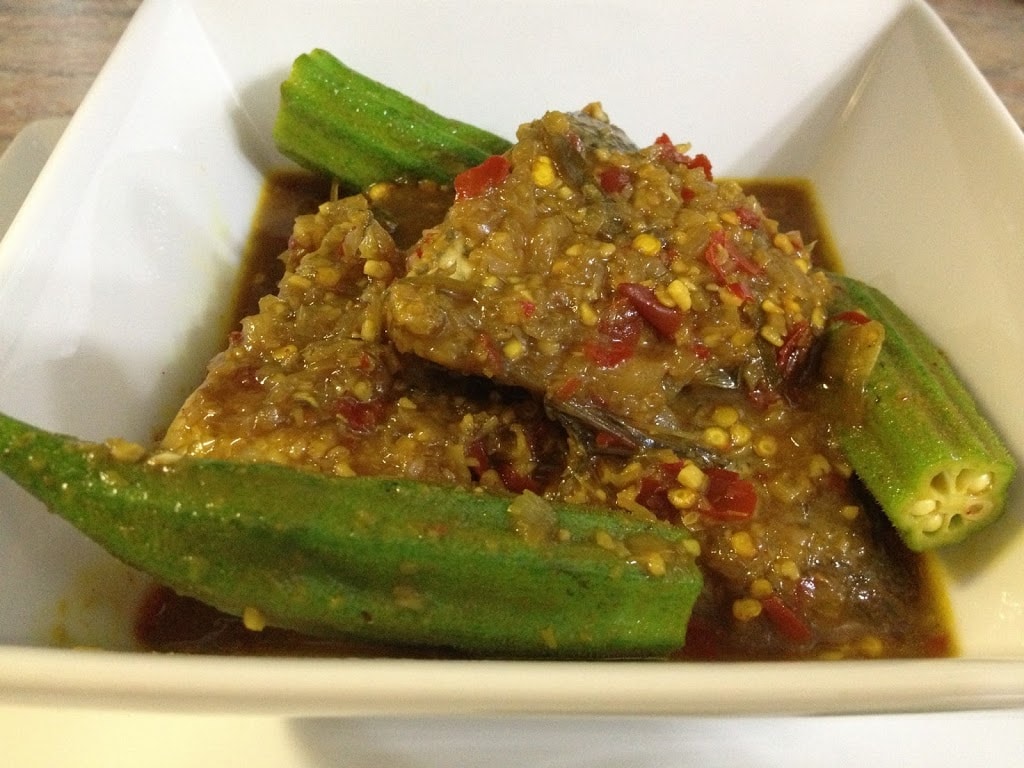 Now for a confession. I don't know much about fish. Fish names, fish types, how they taste. Heck, I never used to bother remembering their names aside from the unique ones like stingray. Nowadays I usually just buy frozen fillets and call it day. But I wanted to cook this the way it was meant to be cooked, with a full fish, head and all. The easiest one to find was tilapia so tilapia it is!
So here's what I found out about tilapia. It's a mild, sweet tasting, lean-meated fish with a firm flaky texture which can be compared to catfish. Apparently the water quality and feed matters as tilapia absorbs flavor from the water it is raised in. So quality matters.
Though I never knew much about fish, I did learn how to clean it, scale it, gut it and all things needed to make it safe and edible. My family were never bothered by bones but if you prefer, you can use fillets. I know some people can't handle seeing a fish head staring back at them. But fish heads are so cute! And they have a song! It's pretty addictive too. When I want to annoy Mr. Cooking Jar, I just pull this up from YouTube and play it. Loudly. It gets stuck in his head for a pretty long time. Bahahahaha.
Back to the recipe, if you're wondering what to serve this with, I just usually cook some rice and throw in some
Cucumber Raita
to combat the heat.
Print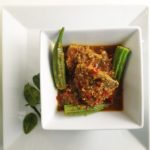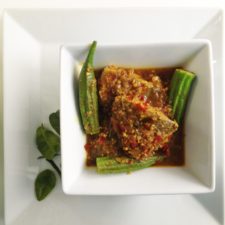 Sour and Spicy Fish Stew (Ikan Assam Pedas)
---
Scale
Ingredients
1

whole white meat fish or

2

fillets

5

small okras, stems trimmed

1 tablespoon

brown sugar

1

asam keping/ 1 tablespoon lime juice

2

kaffir lime leaves, sliced thinly

1 1/4 cup

tamarind juice
Salt to taste
Spice paste:
2

shallots, sliced

1 teaspoon

garlic, minced

1/2 teaspoon

ginger, minced

1 tablespoon

lemongrass, minced

4

dried chilies

1 teaspoon

shrimp paste

1/4 teaspoon

turmeric powder
---
Instructions
Clean and prepare the fish; remove scales, fins and chop into several pieces
Blend the spice paste ingredients
Over medium high heat, saute spice paste until aromatic
Add the tamarind juice, asam keping or lime juice, kaffir lime leaves and fish and bring to a boil
Add brown sugar and salt
Simmer on medium heat for 15 minutes or until the fish is fully cooked and the sauce has boiled down a little
Add okras and cook for another 5 minutes or until it turns bright green
Dish and serve hot