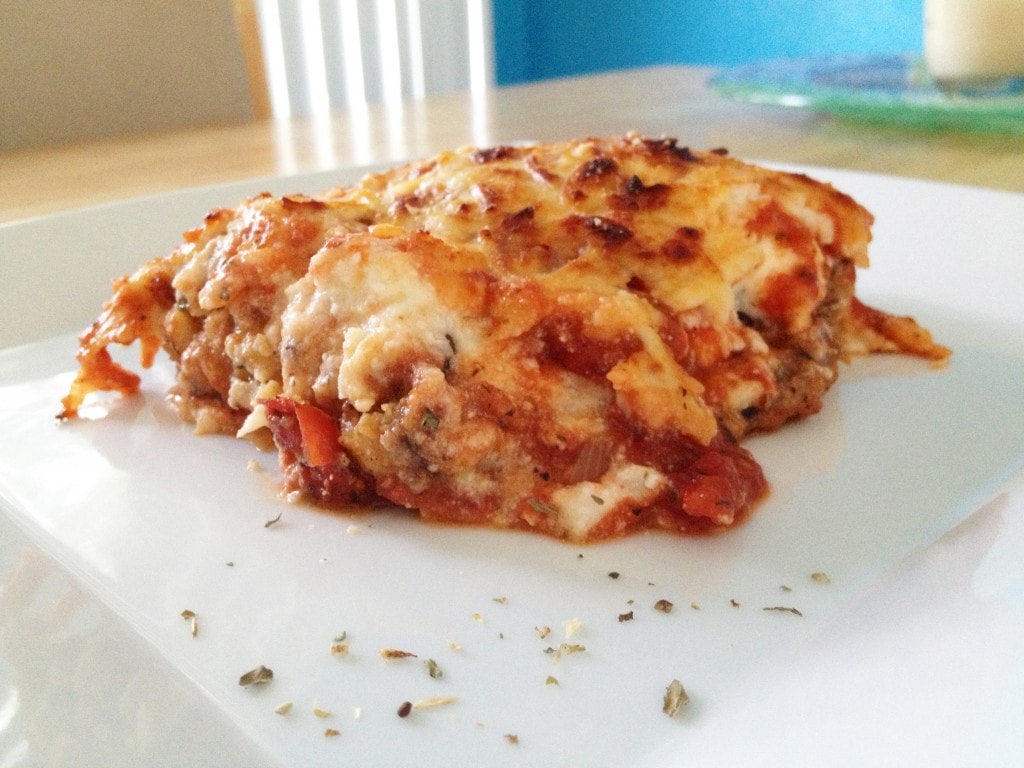 Today was one of those long, busy and hot days. I had to turn on the fan in the kitchen during the weeks I spent breading this eggplant. Okay, maybe weeks is taking it a little bit too far, but man if it didn't feel like it. I had a mild epiphany of not a big fan of breading and was mentally cursing myself for buying a particularly fat eggplant. The only consolation during the slave labor was treating my nose to the amazing smell of Italian breadcrumbs. I'm not a big fan of eggplant either but it tastes pretty darn good in this form. I did find myself sneaking bites after the pan-frying stage. It was too crispy to resist, and anything crispy is good.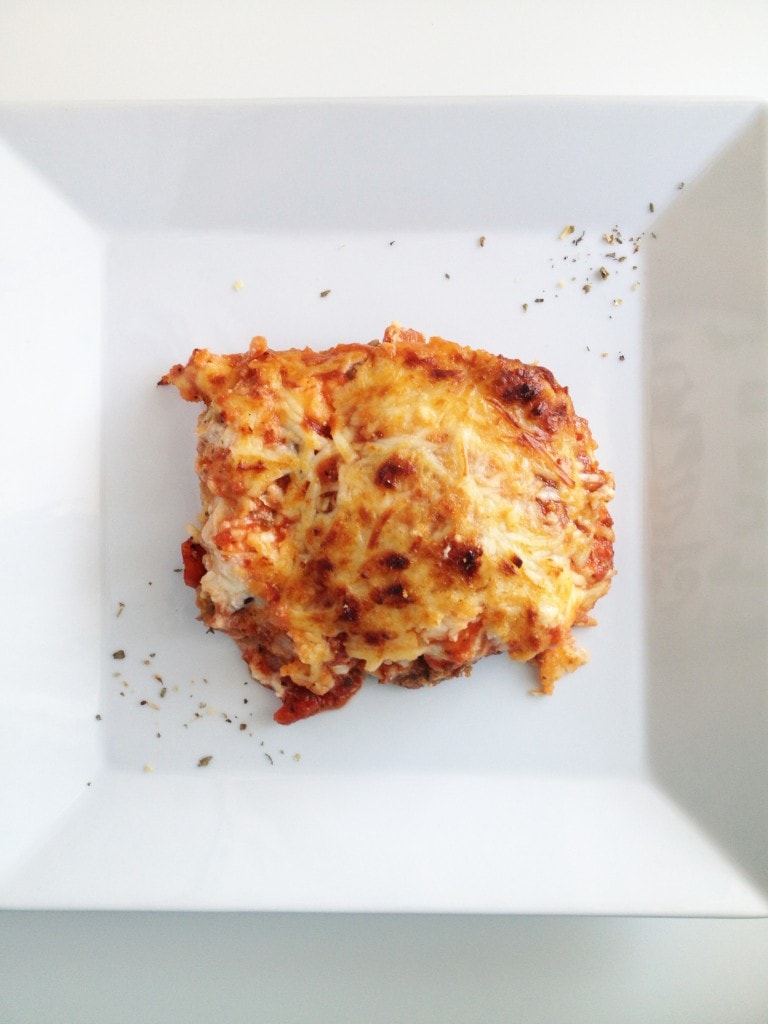 Ignore the unappetizing looking blob. Underneath the crappy pictures there's a lot of cheesy goodness for cheese lovers. Three cheeses; ricotta, Parmesan and mozzarella. The best part about this dish for me is after the broiling stage when the cheese is slightly browned and bubbly. Yum. One side turned out a little browner than the other but it worked out well, I like mine particularly brown and Mr. Cooking Jar likes his mildly touched. So half for him and half for me. It's a happy accident I like to pretend was intentional.
I used my own Marinara Sauce as usual but you can substitute it with your own favorite marinara if you like. Depending on the size of the eggplant (don't get the mother of all eggplants like I did), you will need to add more egg and breadcrumbs to complete the breading stage.
Print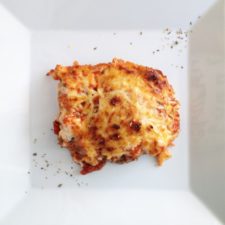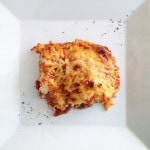 Eggplant Parmesan
---
1

medium eggplant, sliced

1 cup

Italian breadcrumbs

2 cups

ricotta cheese

4 cups

shredded mozzarella, divided

2 cups

Parmesan cheese, divided

1

egg, beaten for cheese mixture

1

egg beaten, for breading

1/2 cup

fresh basil, chopped / 2 tablespoons dried basil

4 cups

marinara sauce
---
Instructions
Bread the eggplant slices by first dipping into egg and then coating on both sides with Italian breadcrumbs. Shake off any excess
Over medium high heat, pan-fry breaded eggplant slices until golden brown on each side. Use two pans if you have a large quantity
Drain on paper towels and set aside
Mix ricotta, 2 cups of mozzarella and 1 cup of Parmesan cheese
Add in egg and basil to the cheese mixture and mix thoroughly
Preheat the oven to 350 degrees F
In a 9×13″ casserole dish, spread a thin layer of 1 1/2 cups marinara sauce
Arrange a single layer of eggplant slices on sauce layer
Top the layers with half the cheese mixture, spreading the cheese layer evenly
Repeat layering process until all eggplant and cheese mixture is used
Pour remaining sauce over all layers and top with remaining mozzarella and Parmesan cheese
Bake for 30 minutes until the sauce is bubbly
Broil at 450 degrees F for 3 minutes or until cheese has browned
Transfer to cooling rack and allow to set for 10 minutes before serving
♡ Affiliate disclosure: As an Amazon Associate, I earn commissions from qualifying purchases from Amazon.com. You can learn more about it here.