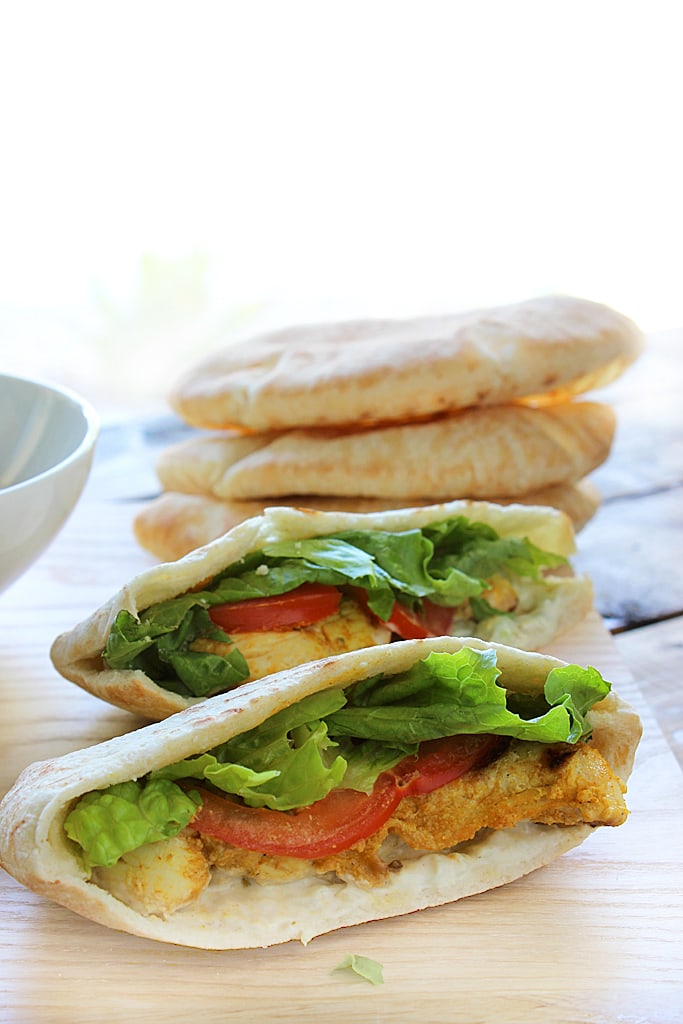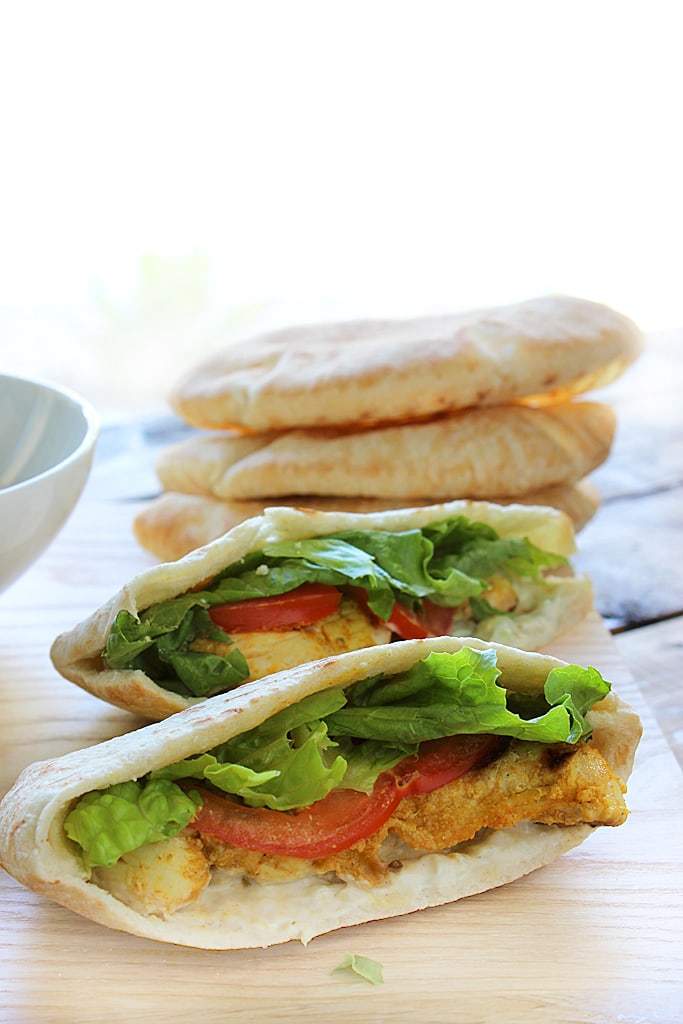 Here's a quick and easy recipe that will really surprise you. It all starts with the chicken. Chicken Shawarma is sorta like a vertical version of rotisserie chicken where it spins round and round until the meat is juicy and tender. Usually they carve off a bit of meat and stuff it into pita bread with fresh veggies. Pretty good lunch if you ask me.
But since we don't have one of those expensive spits lying around at home, we grill it. I like grilling it for the pretty charred marks and the crispness that comes with it. And for so little ingredients that go into the flavoring of the chicken, I was honestly surprised how tasty it was. So that takes care of the chicken.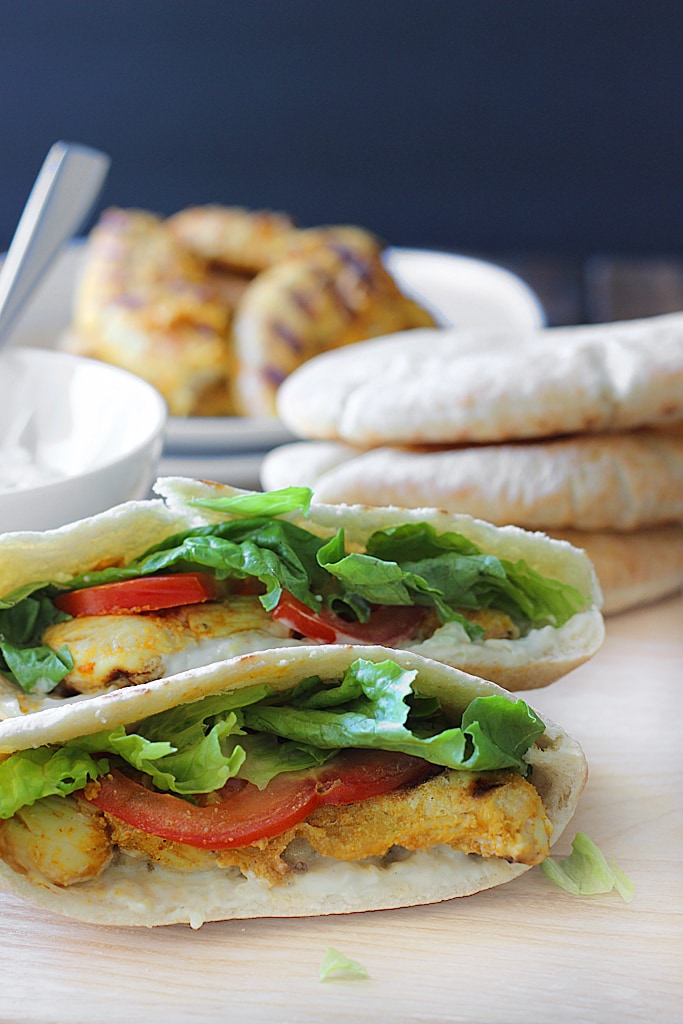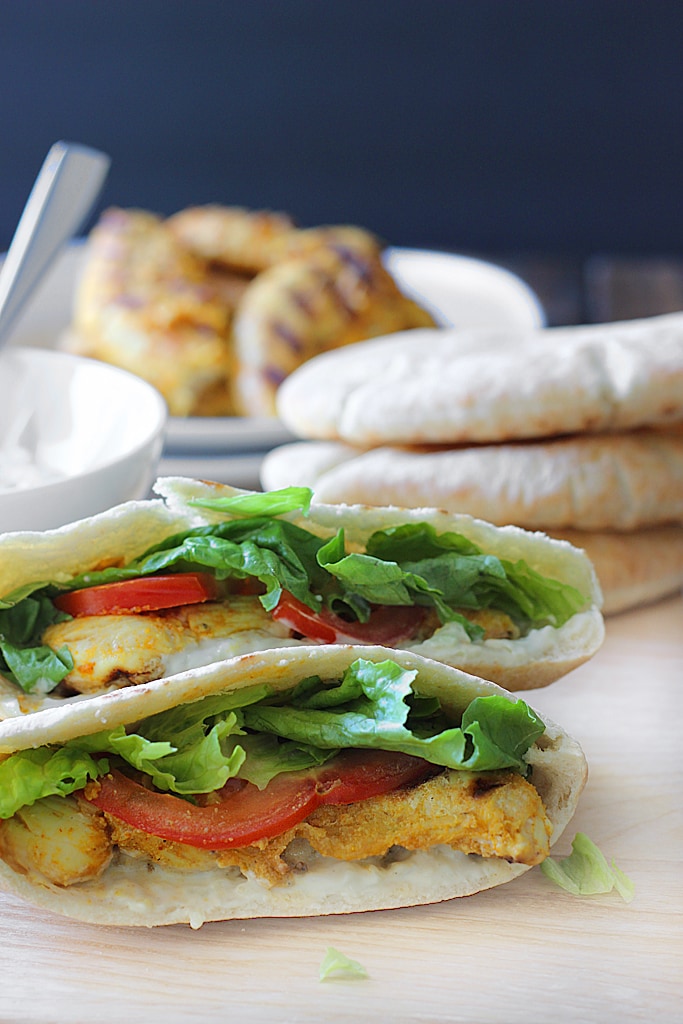 Another thing that makes chicken Shawarma good is the sauce. It's healthy, refreshing and really yummy because it has tahini. For those of you that don't know, tahini is basically made from ground sesame seeds. It has the consistency almost like peanut butter and a slight nutty taste. I actually really like it. Every time I do a taste test, distant memories of some nutty cookie I must have eaten in the past comes to surface.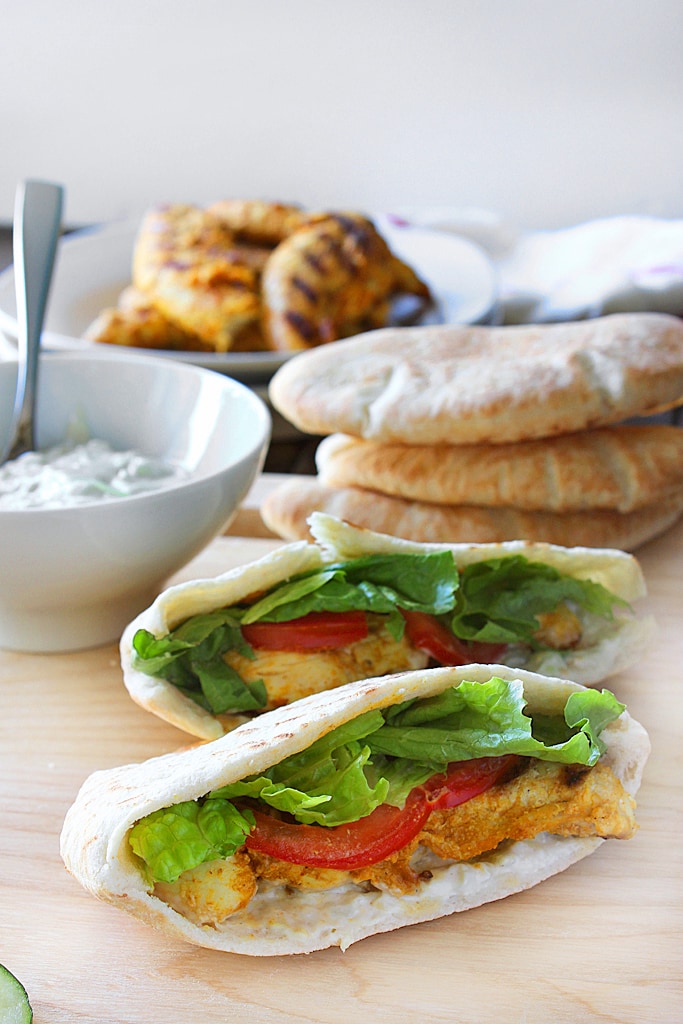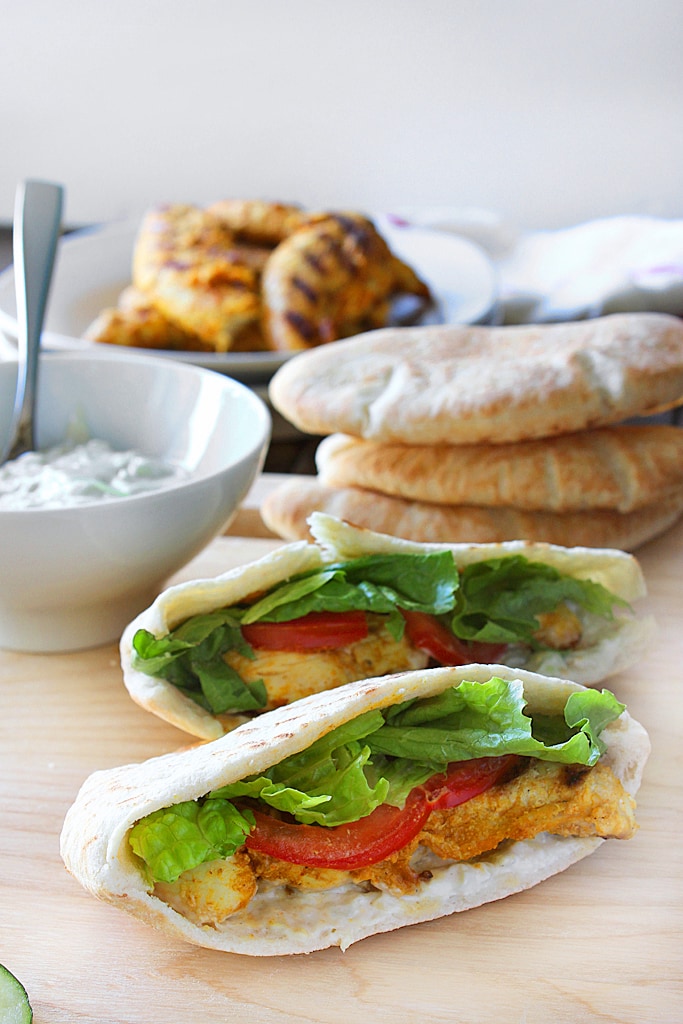 The sauce has yogurt, cucumbers and the bitter taste of tahini is offset with lemon juice. It's not the kind of sauce you would eat by the spoonful but it does a good job of bringing out the taste of the chicken.
The other great thing about chicken Shawarma are the veggies. Besides being fresh, they really add crunch and texture to the whole thing. So you have the moist, tender chicken, the zesty sauce, the crunch from romaine lettuce and the tartness of sliced tomatoes.
Yummy!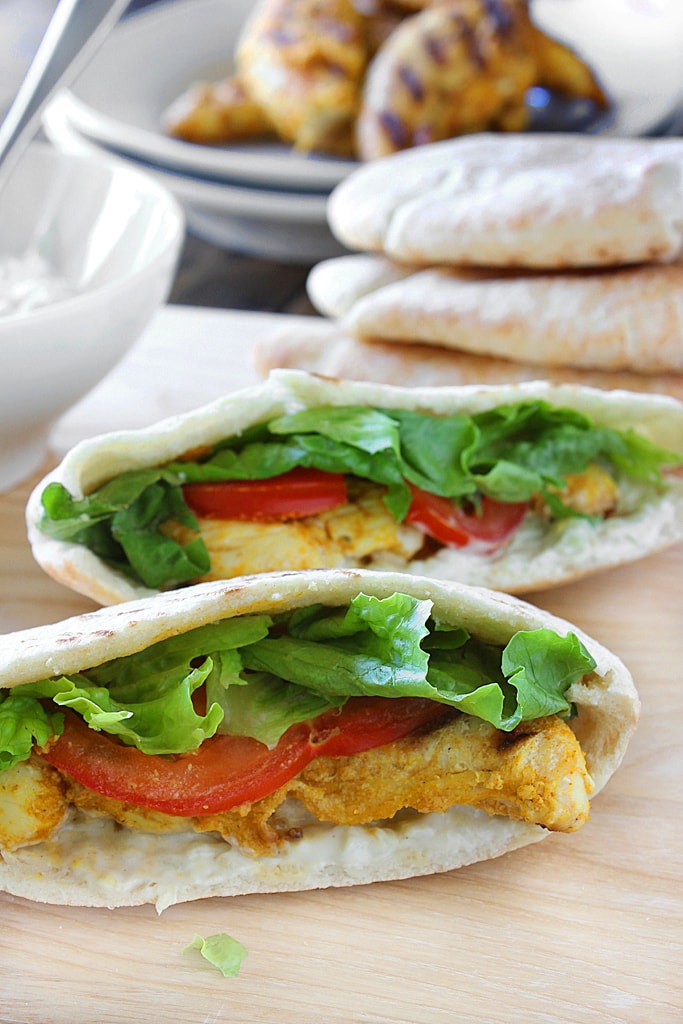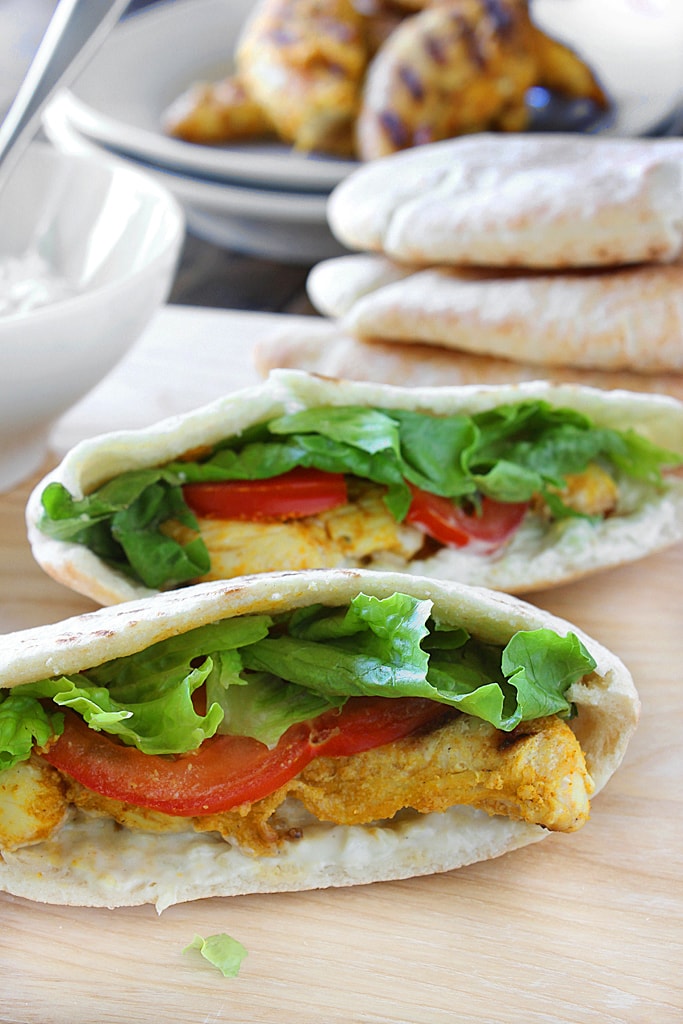 This recipe gives you four servings with four pitas. I couldn't find any pita bread though so I used salad pockets. Since those are half the size of a pita bread, you'll need eight of them. I've also portioned about two chicken tenders per pita bread or one per pocket. More than enough!
Happy cooking!
Print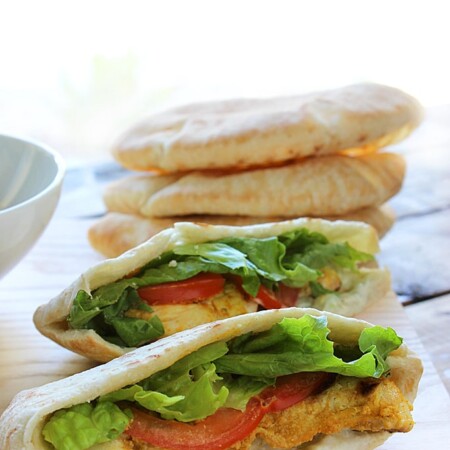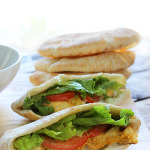 Easy Chicken Shawarma
---
Author:
Total Time: 25 mins
Yield: 4 1x
Sauce:
1 cup cucumber, shredded
1/4 cup plain/Greek yogurt
3 tablespoons tahini
2 tablespoons lemon juice
Salt to taste
Chicken:
1 1/2 lb. chicken tenders
1 tablespoon garlic powder
1 teaspoon curry powder
Salt and pepper to taste
1 tablespoon oil
Assembly:
4 pita bread
1 tomato, sliced
Romaine lettuce
---
Instructions
To make the sauce, combine cucumber, yogurt, tahini, lemon juice and salt
Combine garlic powder, curry powder, salt and pepper and oil and toss chicken tenders in the spice mixture to coat fully
Grill chicken under cooked, about 3-4 minutes per side
To assemble spread 1/4 of the sauce mixture on a pita and top with 1/4 of the chicken, tomato and lettuce
Repeat for remaining pita slices
Dish and serve hot
Prep Time: 15 mins
Cook Time: 10 mins