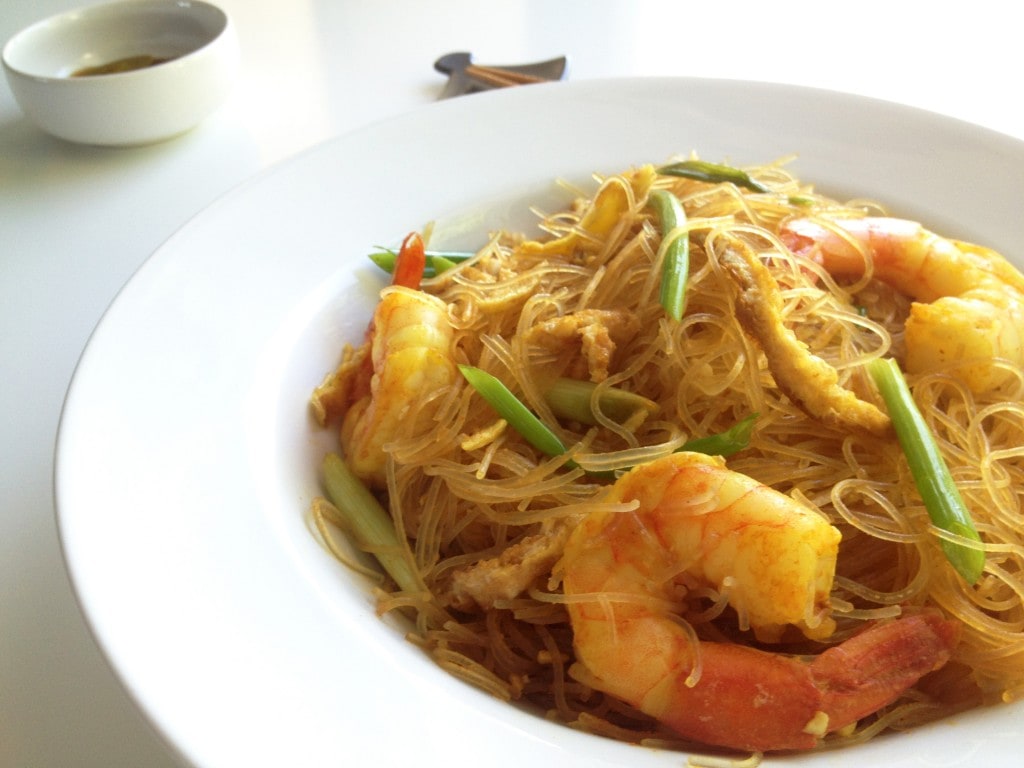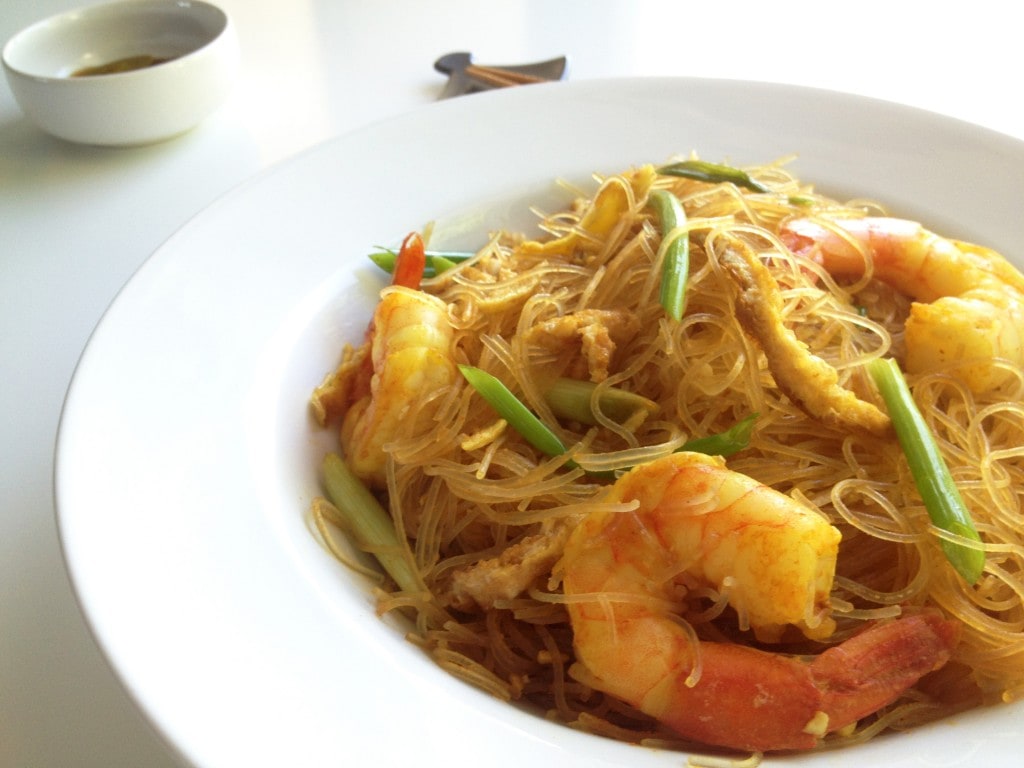 I used to hate rice vermicelli growing up. It would stick in my throat and slide down in a slow, painful lump. In slow motion. Slow slow motion. Maybe I ate it wrong, or too fast, or something. So I avoided it for a long time  and gradually forgot about them. Nowadays though, after trying it again, it's not so bad and the choking memories seemed so far away. These kind of noodles are very dry, so you need to pace yourself while eating. Even if they're delicious! Nice and easy.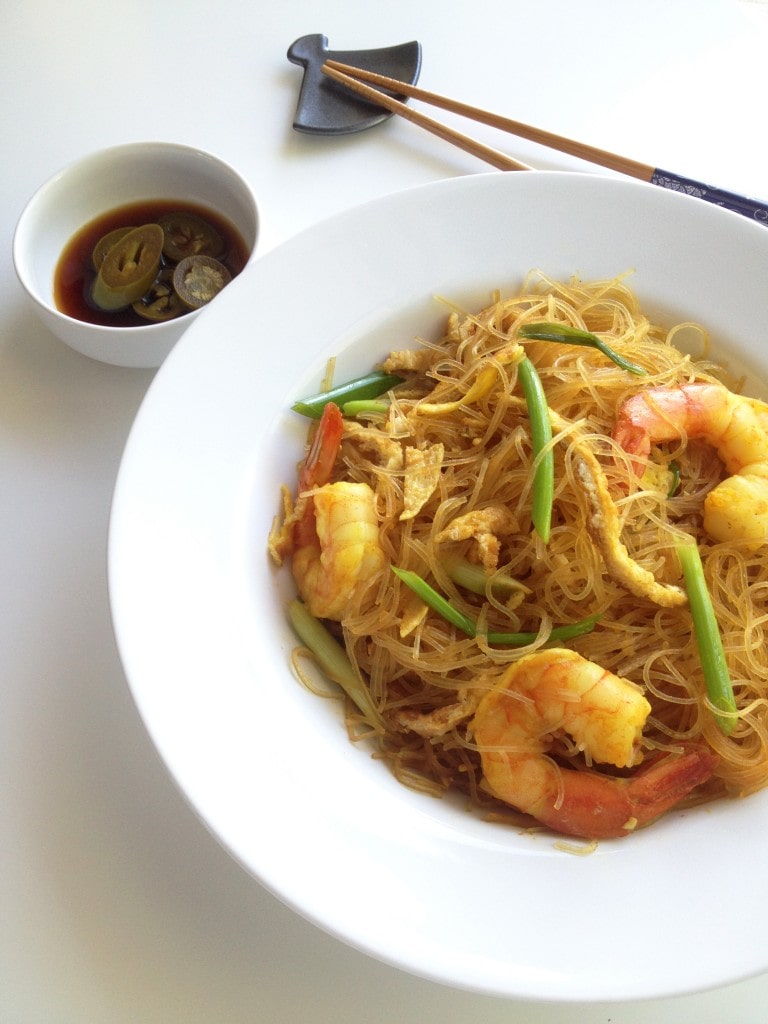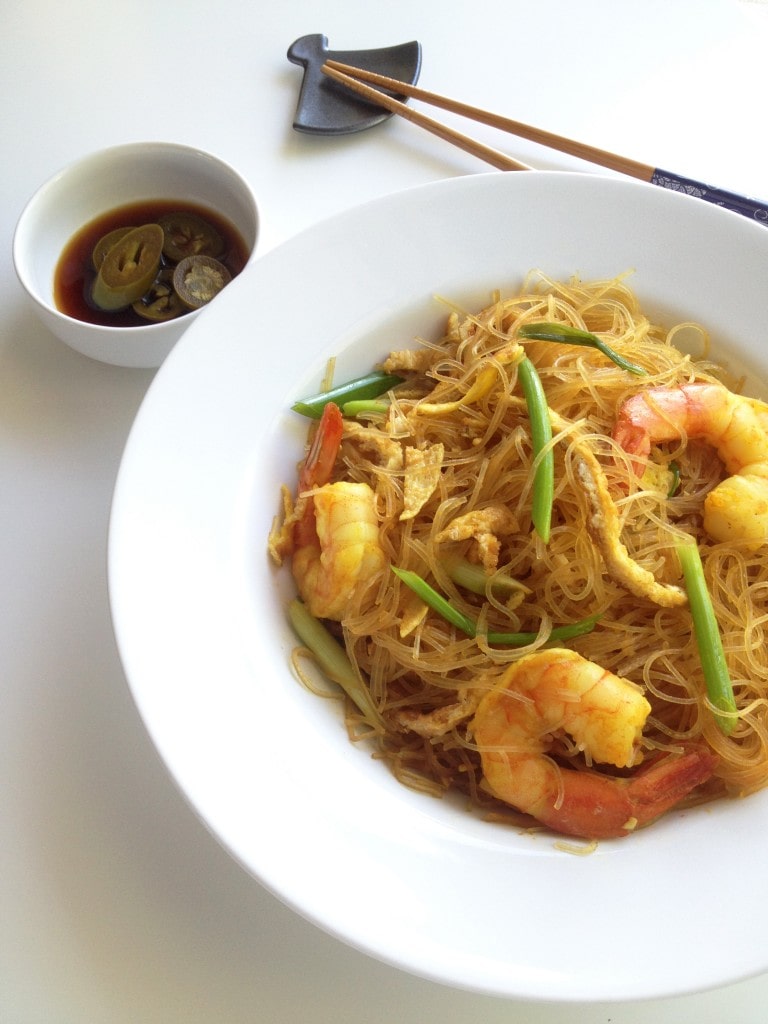 Rice vermicelli are thin sticks of dried rice noodles which generally require no cooking. All you need to do is soak them in warm water for awhile to soften them up and prep them for stir-frying. They store well, last a long time and can be used to whip up a quick meal. These kind of noodles will have to be found at an Asian grocery store and look like this. They come in gigantic bricks and you need to portion them accordingly by breaking them off. Use brute force. I tell you, I had such a hard time breaking mine off today I ended up dumping the whole thing to soak and doubling the portions. So if you ever find yourself struggling with a brick of rice noodles, that's an option. Let them win and call it a day.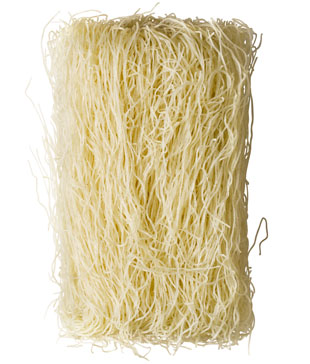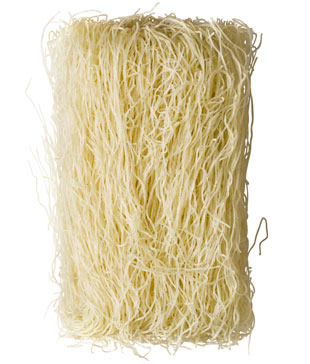 The main flavor here is from meat curry powder. The way I grew up, we made a distinction between meat and fish curry powder. I haven't really bothered breaking down the spices that define them both yet make them different, but there is a difference. We usually got them in pre-packaged packets and never really had to worry about it. The stuff you'll find at grocery stores though seem to be generic curry, and I'm not even sure if they lean more towards fish curry or meat curry in terms of flavor. If you really want to try this my way, you can find different types of curry powders at Indian grocery stores or online. My favorite brand is Babas, there's just something magical about their mix.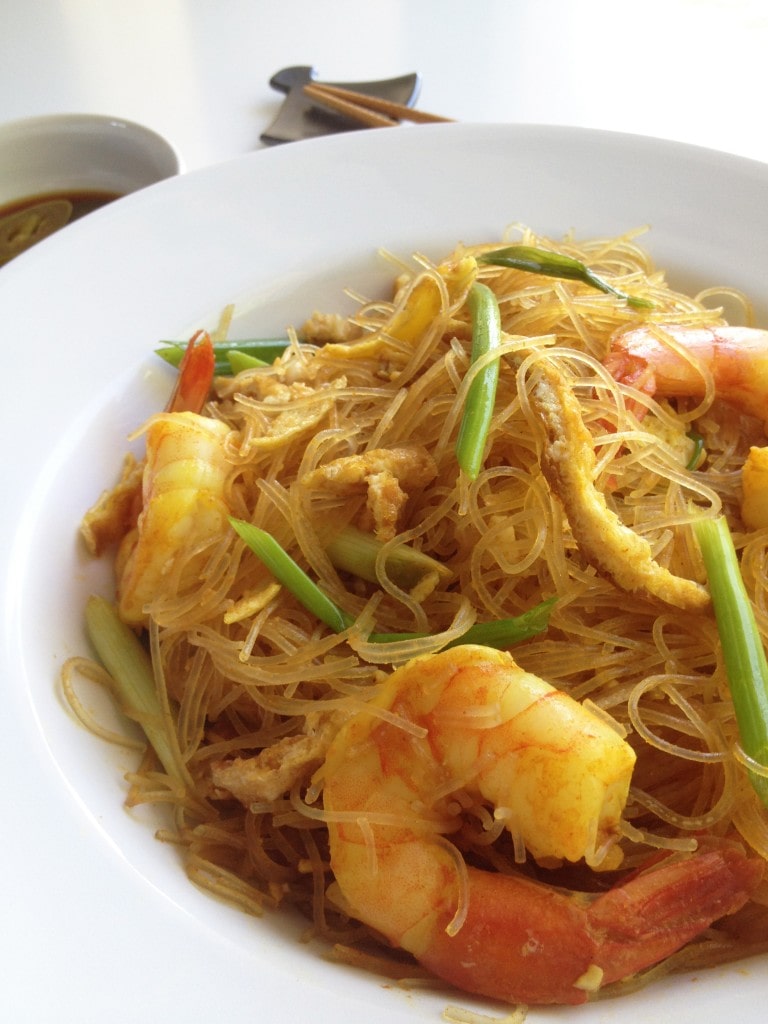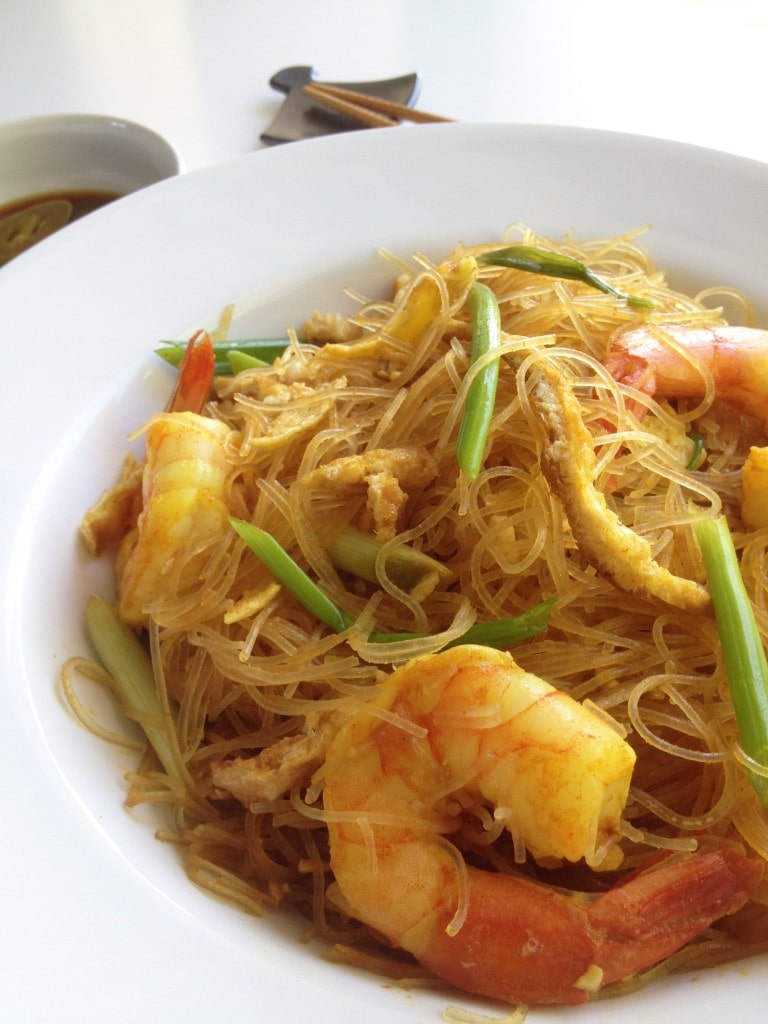 As for bean sprouts, they are the fresh ingredient that gives it a crisp, crunchy texture. Buy them as close to the day you cook as possible, they really don't last long. One, two days at most. Once they're yellow and shriveled, they're no good.  Asian grocery stores generally sell a huge bag of them for close to a buck.  A good trick my mom taught me was to store them immersed in water in the fridge. Please please please don't use canned bean sprouts, they are horrible! They're soggy and aren't crisp anymore, which is the entire point of having bean sprouts in the first place! I'd rather go without them then use the soggy ones. They are evil. Evil!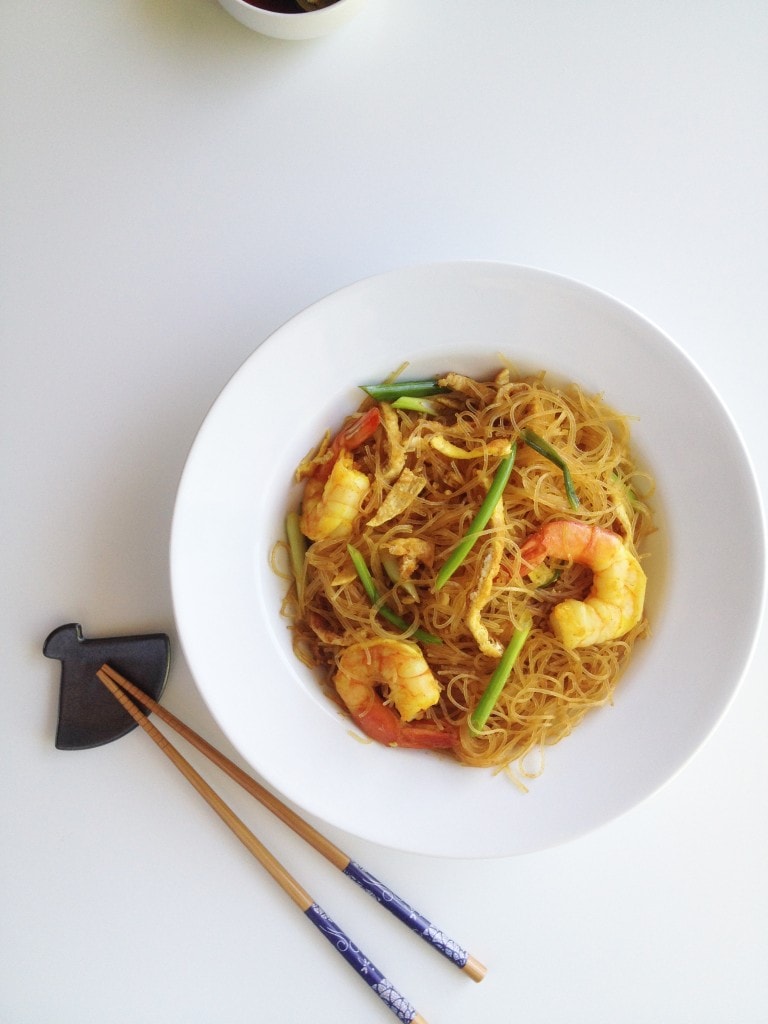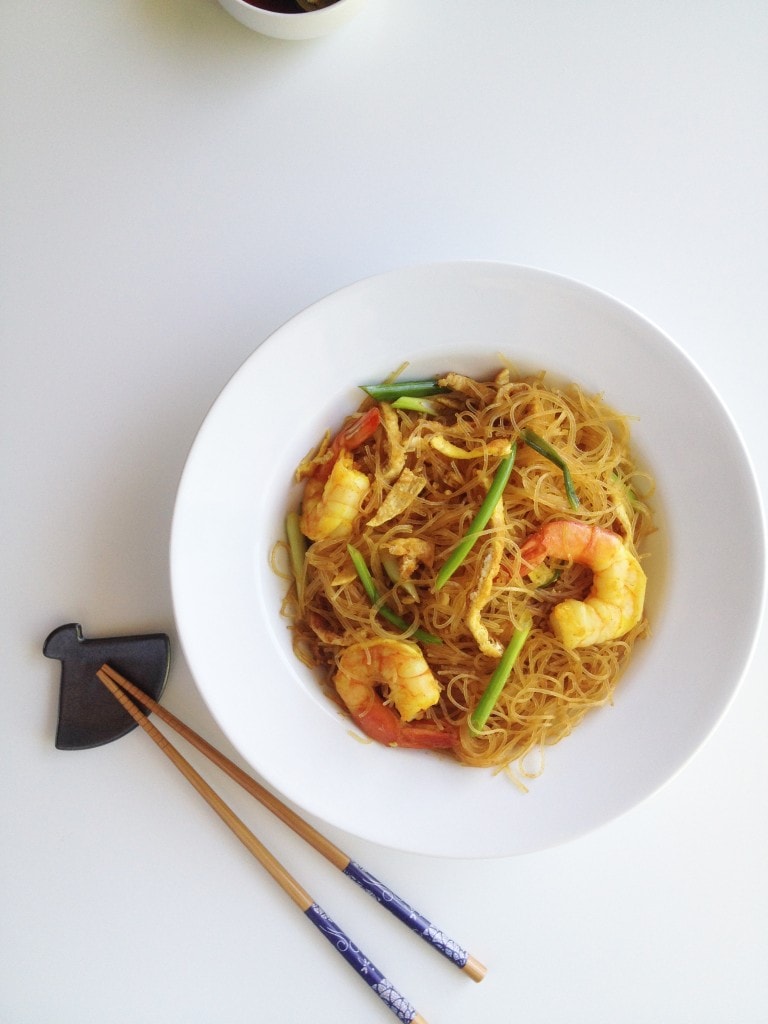 Anyway, don't be turned off about my rant on choking. I'm just weird that way. I've fed Mr. Cooking Jar this stuff several times and he's still alive and kicking. He liked it too. You will like it too! It's a lot of prep work and may seem like too much hassle but at the end of the day, they're great noodles.
Print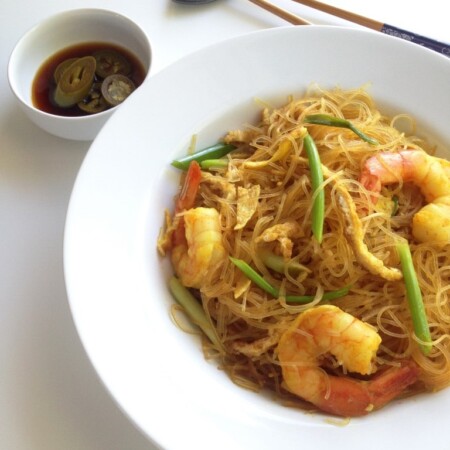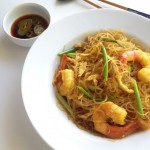 Singapore-Style Noodles
---
8 oz. rice vermicelli
1 cup shrimp, peeled and deveined
1/2 cup dried, sliced shiitake mushrooms
1/4 yellow onion, sliced thinly
1 cup bean sprouts (optional)
2 eggs, beaten
2 green onions, sliced diagonally into 2" pieces
1 teaspoon garlic, minced
1/2 teaspoon ginger, minced
1/4 teaspoon turmeric powder
Sauce:
2 tablespoons meat curry powder
1/4 cup chicken broth/1/4 chicken bouillon cube
2 tablespoons oyster sauce
1 tablespoon thin soy sauce
1 tablespoon sugar
1 teaspoon chili paste/sriracha sauce
2 teaspoons sesame oil
---
Instructions
Marinate shrimp in turmeric powder for 10 minutes
Soak rice vermicelli in warm water for 10 minutes
Soak dried shiitake mushrooms in warm water for 10 minutes
Over medium high heat, pour the eggs into a non-stick pan to make an omelette. Cook until the bottom is firm, about 3 minutes
Flip the omelette and cook the other side. Remove, drain on paper towels and cut into thin strips
Over medium high heat, pan-fry the shrimp until it is cooked. Remove and set aside
In a wok over medium high heat, saute ginger and garlic until fragrant
Add in curry powder, chicken broth or bouillon cube, soy sauce, oyster sauce, sugar and chili paste and mix well
Add in mushrooms, onions and shrimp and toss to combine
Add in rice vermicelli and mix well, coating the noodles with the sauces
Reduce heat to medium and toss in green onions, omelette strips and bean sprouts. Stir-fry for a minute before removing from heat
Pour in sesame oil and stir to mix
Dish and serve hot
Notes
The noodles are best eaten with the condiment of pickled jalapenos mixed with thin soy sauce