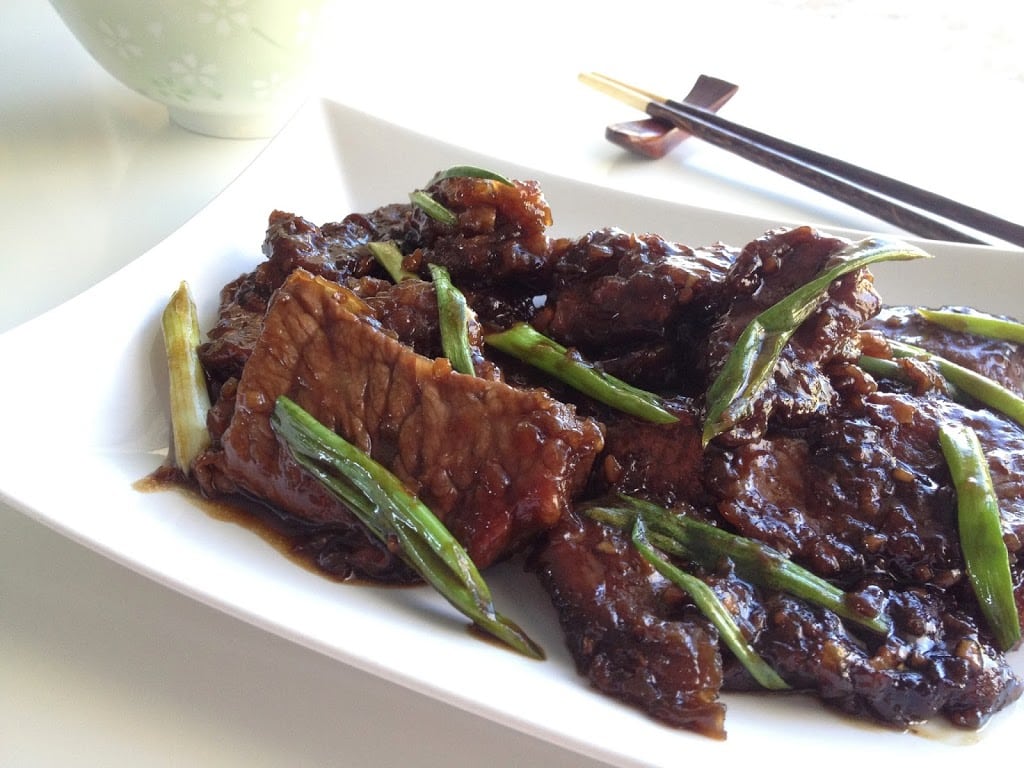 Mongolian Beef is a stir-fry where huge hunks of sliced beef are coated in a dark, thick sauce. I've heard P.F.Changs is famous for it or if you're close to where I live, P.F. angs…those neon lights don't play nice, do they? So what's the deal with Mongolian Beef, is it from Mongolia? That would be a big fat no. It's yet another creation of Chinese-American cuisine, which has slowly gained my respect over the years. They may not be authentic authentic, but they get points for being yummy.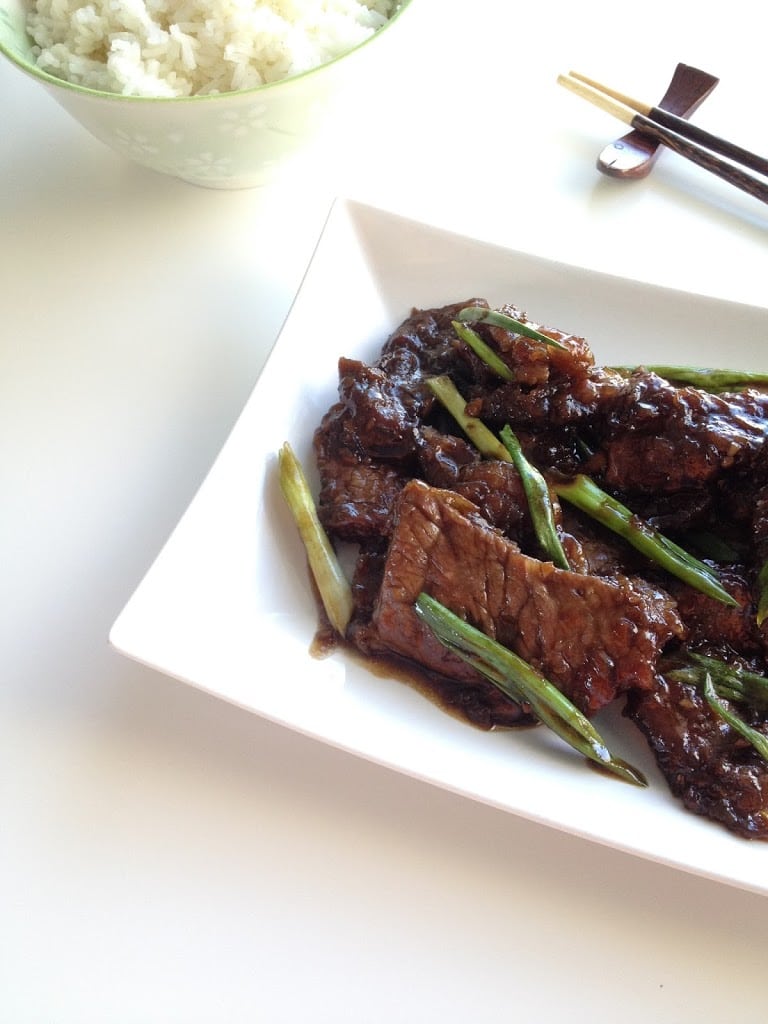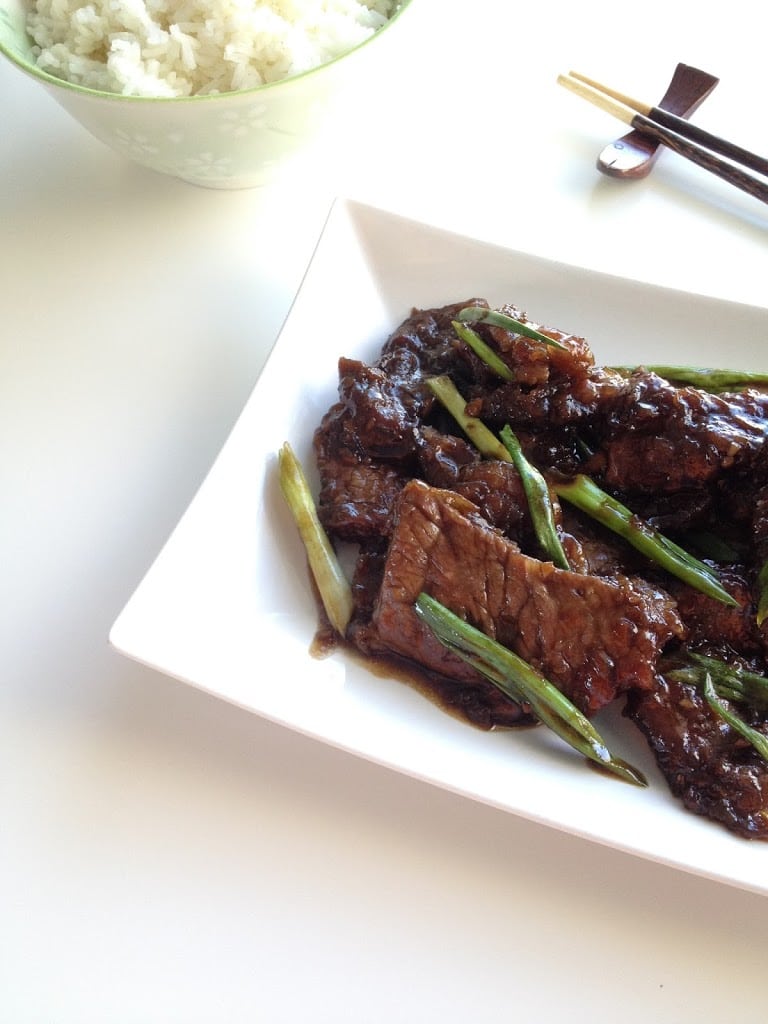 Make sure you pick flank steak or a cut of beef that plays nicely with a quick stir-fry and thick cuts. The first time I cooked this, I used some other cheaper cut and Mr. Cooking Jar and I were chewing away at it for hours. Chew, chew, chew till your jaw hurts. Lesson learned. Flank steak is our best friend.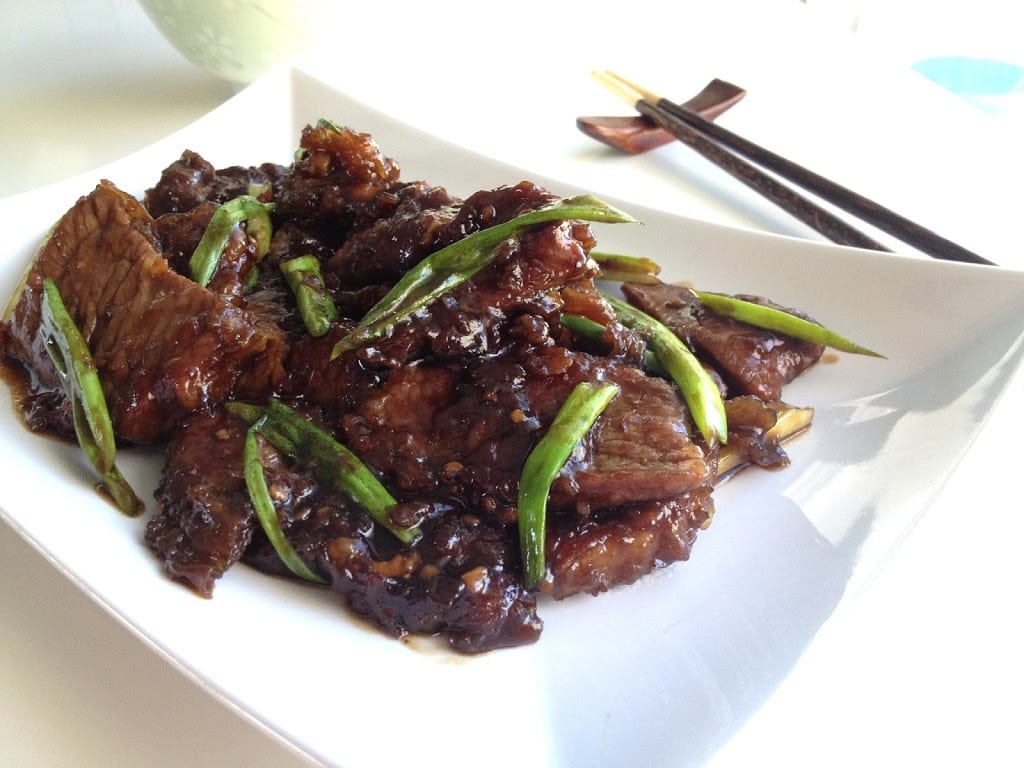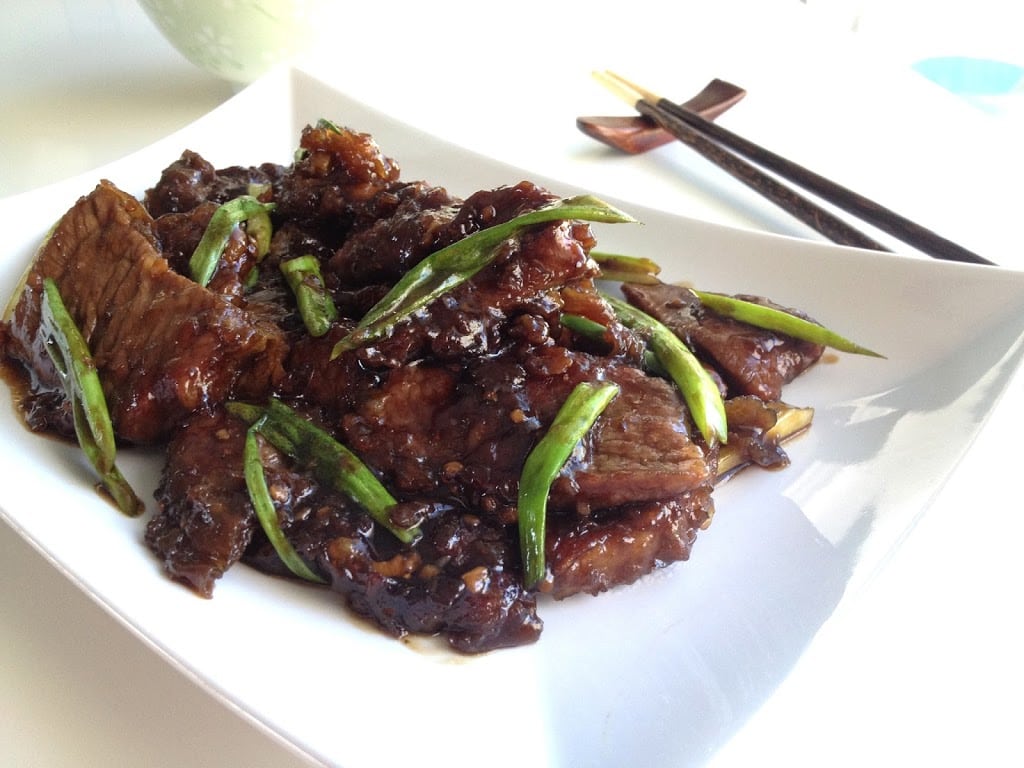 The cornstarch is used to add some texture and give it a semi-crust. When you're combining it with the sauce at the very end, be gentle! Too much enthusiasm in tossing and the crust will get stripped away. I was a little put off by the amount of brown sugar in the recipe but, surprisingly,  it marries well with the soy sauce and isn't overtly sweet as you might think. At first I was thinking to myself, "3/4 a cup? What is this…diabetic beef?!" But it works. It really does. The guilt from using all that brown sugar can be partially eased knowing that we don't need to add any salt as the thin soy sauce takes care of it.
Print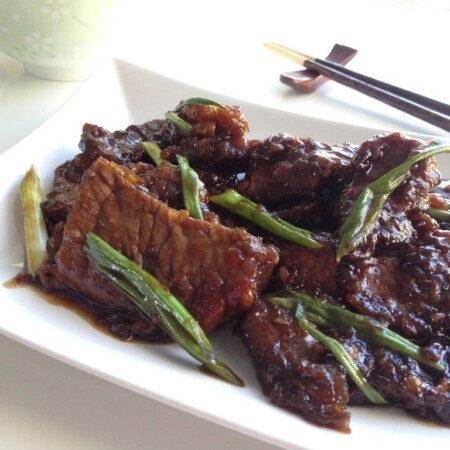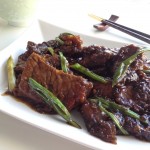 Mongolian Beef
---
1 lb. flank steak, cut into thick strips
1 tablespoon garlic, minced
1/2 teaspoon ginger, minced
1/2 cup thin soy sauce
3/4 cup brown sugar
4 tablespoons cornstarch
2 green onions, cut diagonally into 2" slices
1/2 teaspoon cornstarch mixed with 1 tablespoon cold water
---
Instructions
Coat the beef strips in cornstarch on both sides, shaking off excess flour and let it sit for 10 minutes to absorb
Over medium high heat, saute ginger and garlic until fragrant then pour in the thin soy sauce and brown sugar
Stir to dissolve the brown sugar and bring to a boil
Add the cornstarch slurry and simmer until the sauce has thickened. Remove from heat and set aside
In a separate pan over medium high heat, pan-fry the beef strips in batches until golden brown, about 2 minutes per side. Drain on paper towels
Pour out excess oil from the pan and return to heat. Toss in the beef slices and pour in the brown sauce, stirring gently to combine
Simmer for about 1 minute then toss in the green onions, stirring to combine for another minute
Dish out the beef strips and green onions, leaving the excess sauce in the pan