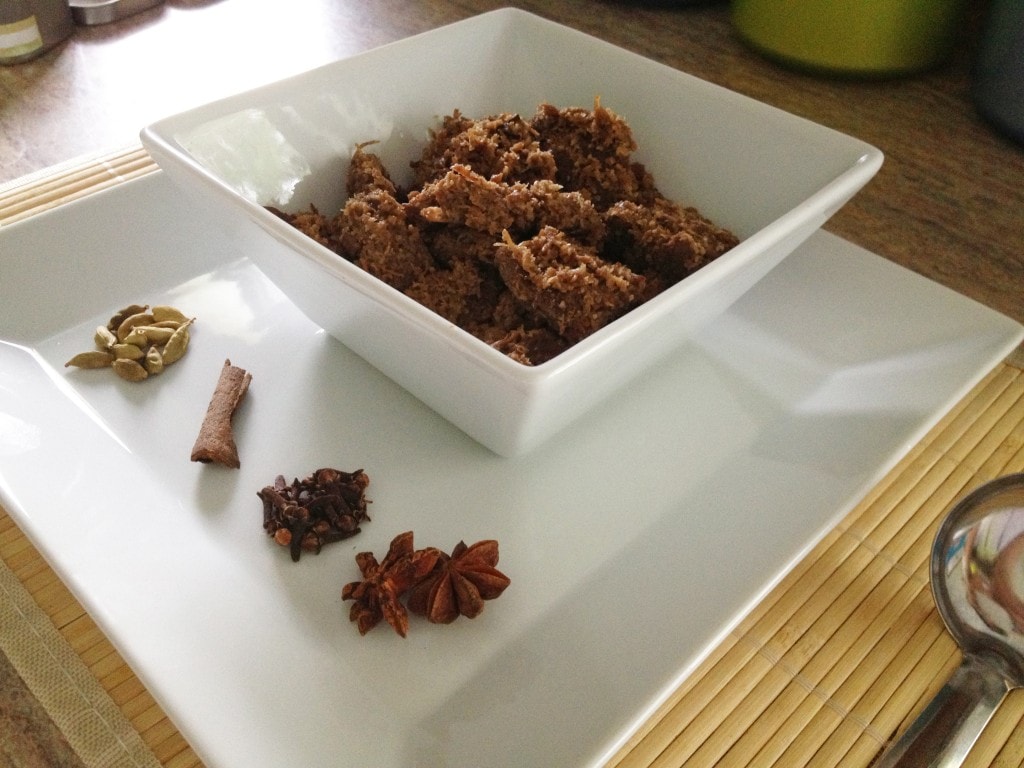 Minangkabau beef also known as Beef Rendang is another one of my mom's recipes passed down to me through helping her in the kitchen. Beef is simmered for hours in coconut milk, thickened with toasted coconut and flavored with spices to create melt-in-your-mouth beef with a complex and unique taste. Every time I smell this, I think of home. What's your 'homey' dish?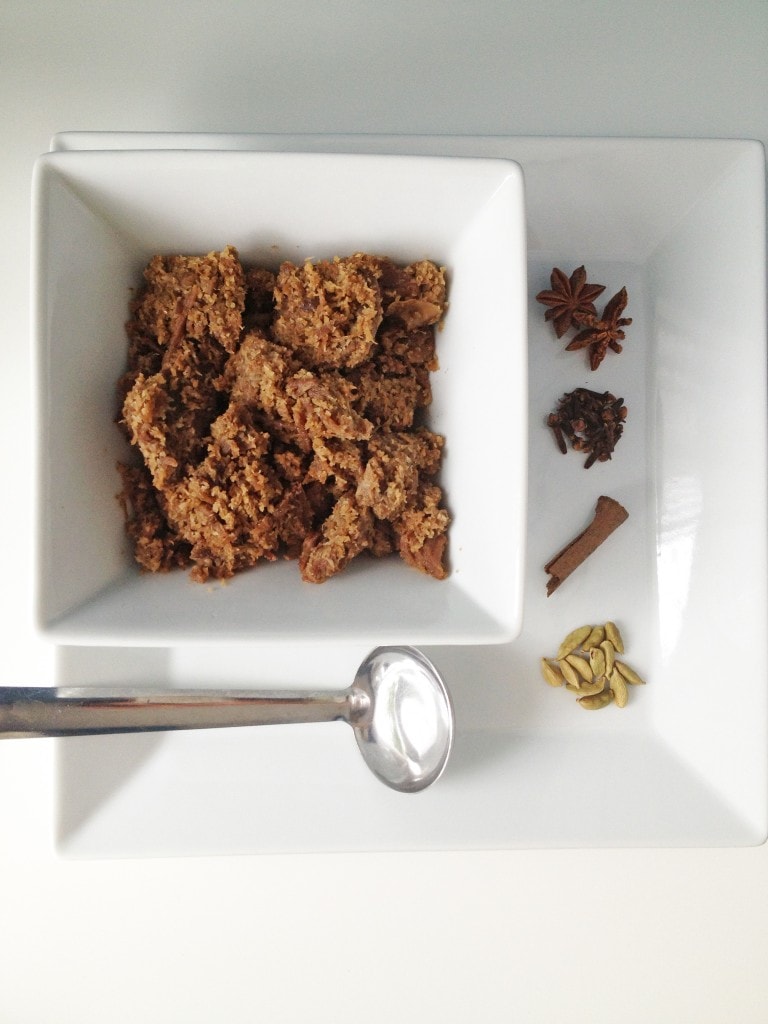 Four meat spices are used to give it more flavor. I'm not sure where I've heard this before but I call them the four brother spices because they are frequently used together; cinnamon, star anise, clove and green cardamom. The four brothers. If you have any trouble finding them in regular grocery stores, check into an Indian grocery store. They usually sell them in bulk there but they last for years. Big honking packets of them. I usually fill up my spice tins and wrap up the rest by stuffing them into storage containers. Then I refill as needed.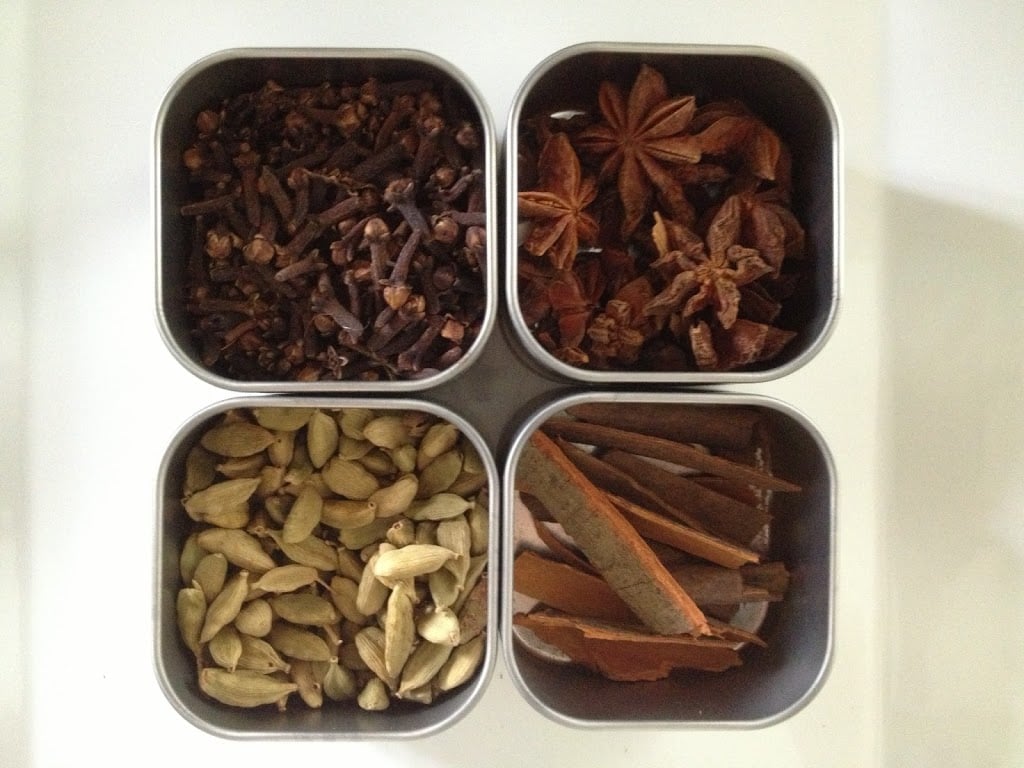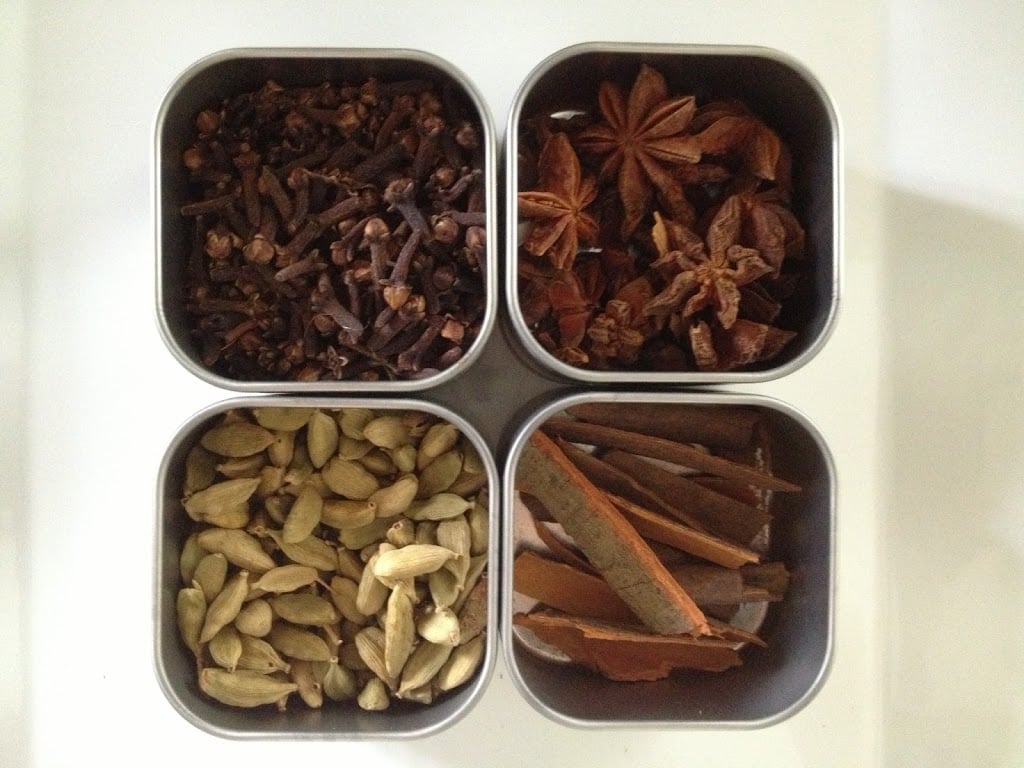 The traditional way this is cooked is to simmer it for hours until the beef falls apart and the sauce boils down.Today I wanted to try it with a pressure cooker for 15 minutes to see the result. Oh did it work! The only downside was I didn't get them in big cuts like they usually are. The big cuts of beef were so tender in the pressure cooker they started breaking apart as soon as I looked at them.  Happy accident or disaster? I don't mind, the taste was the same to me. Those that are sticklers for tradition however or those who simply prefer the aesthetics of big slabs of beef and like chewing can always opt to go the long, simmering route. Happy simmering to you!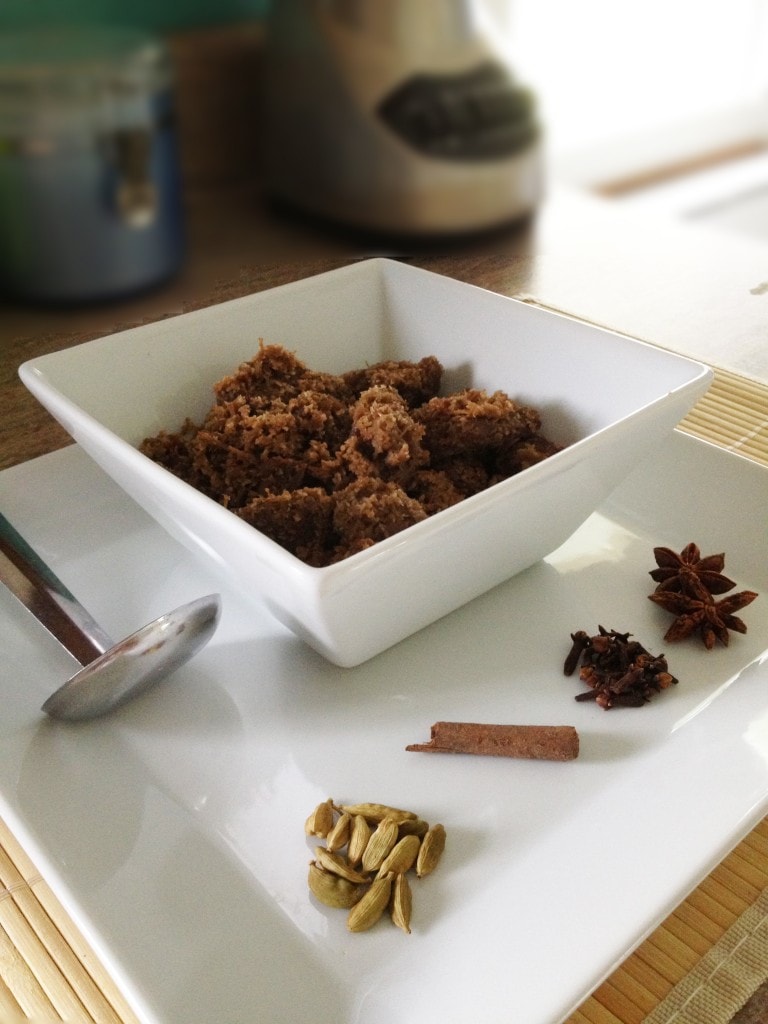 Coconut plays a big role and emerges in two forms, the coconut milk and the desiccated coconut which is dry-fried to a light brown hue. The coconut milk acts as a tenderizer while the toasted coconut lends it's hue to the beef, doubling up to add texture to the dish.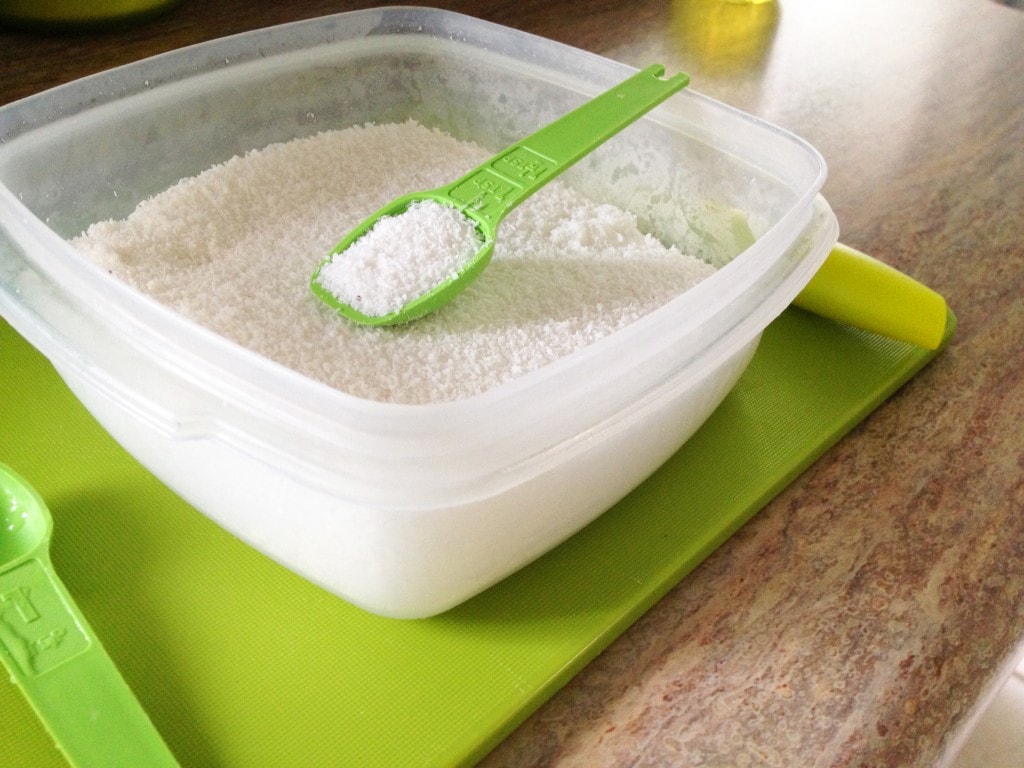 To get toasted coconut, here's what you do. Toast it in a skillet over medium high heat without any oil. Stir constantly to prevent burning while it browns. It will brown really, really fast so be on your toes! Somewhere between the beginning of the dry frying and the final result, you will touch heaven briefly, if only with your nose.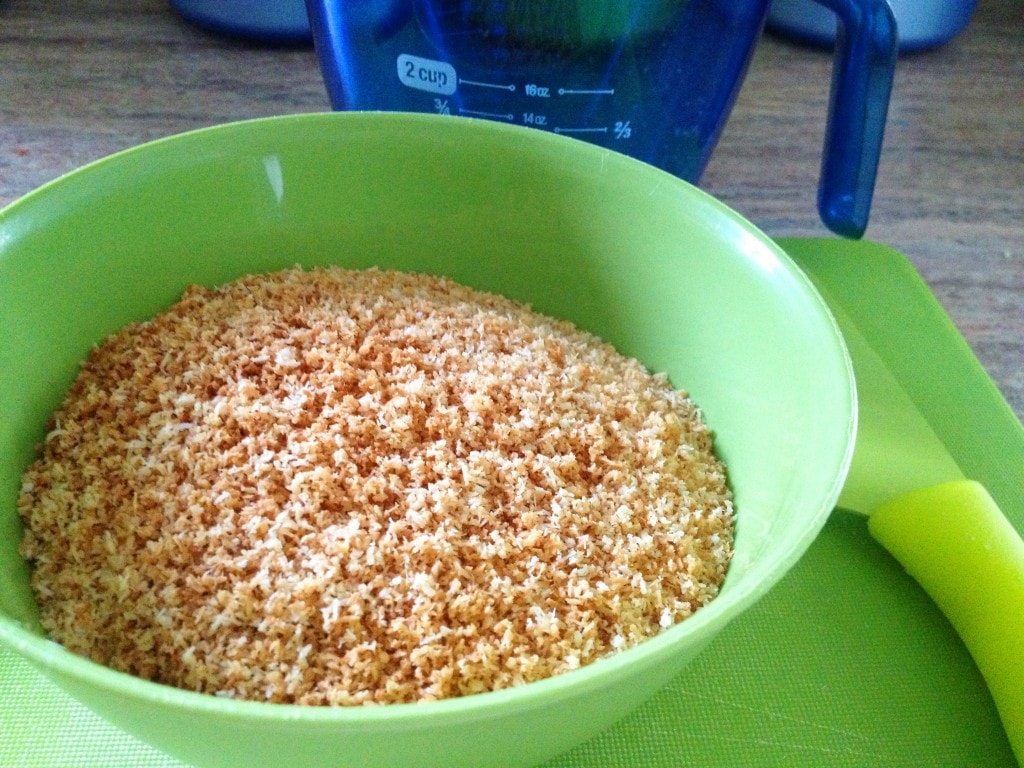 Desiccated coconut can be found in Indian grocery stores. It'll usually be in a packet in the dry section. Make sure not to get coconut flakes, it will change the texture dramatically. Coconut flakes are way too big for this. Maybe you can grind them up into smaller pieces, but I've never tested this. If you do, let me know the results!
Prior to learning Indian cuisine, this was considered one of the hardest and most challenging dishes to make. Being able to execute the dish was a hurdle and a culinary achievement. So if you manage to get this done, give yourself a pat on the back after. Or multiple pats. Or backslap yourself with much enthusiasm. You deserve it.
Print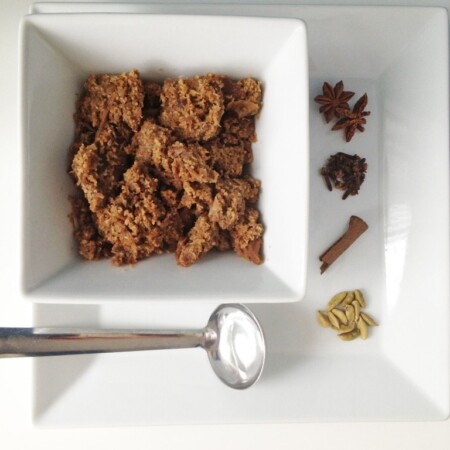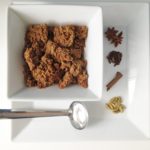 Minangkabau Beef (Beef Rendang)
---
2 lb. beef, cut into thick slices
2 cups coconut milk
2 cups desiccated coconut
Salt to taste
1 tablespoon brown sugar / jaggery
Spice paste one:
1 cinnamon stick
4 cloves
4 green cardamoms
2 star anise
Spice paste two:
5 shallots, sliced
1 inch galangal, julienned
2 tablespoons garlic, minced
1/2 teaspoon ginger, minced
1 dried chili / 1 tablespoon sriracha
1 tablespoon lemongrass, minced
---
Instructions
Over medium high heat, dry-fry the desiccated for about 3-5 minutes or until browned, making sure to stir continuously. Remove and set aside
Blend spice paste one. Remove and set aside
Blend spice paste two
Over medium high heat, saute spice paste two until fragrant
Add in spice paste one and continue to saute until ifragrant
Add beef slices and stir to mix for a minute
Add coconut milk, toasted coconut, sugar and salt and mix thoroughly
Transfer contents to a pressure cooker and bring it to full pressure on high heat until steam is released
Reduce to medium heat and cook for 15 minutes
Remove from heat and allow to cool naturally
If there is still too much liquid, boil it down over medium high heat until it reaches the desired consistency
Notes
For the traditional simmering way, reduce heat to medium low and simmer for 4 hours or until the meat tenderizes and liquid is boiled down