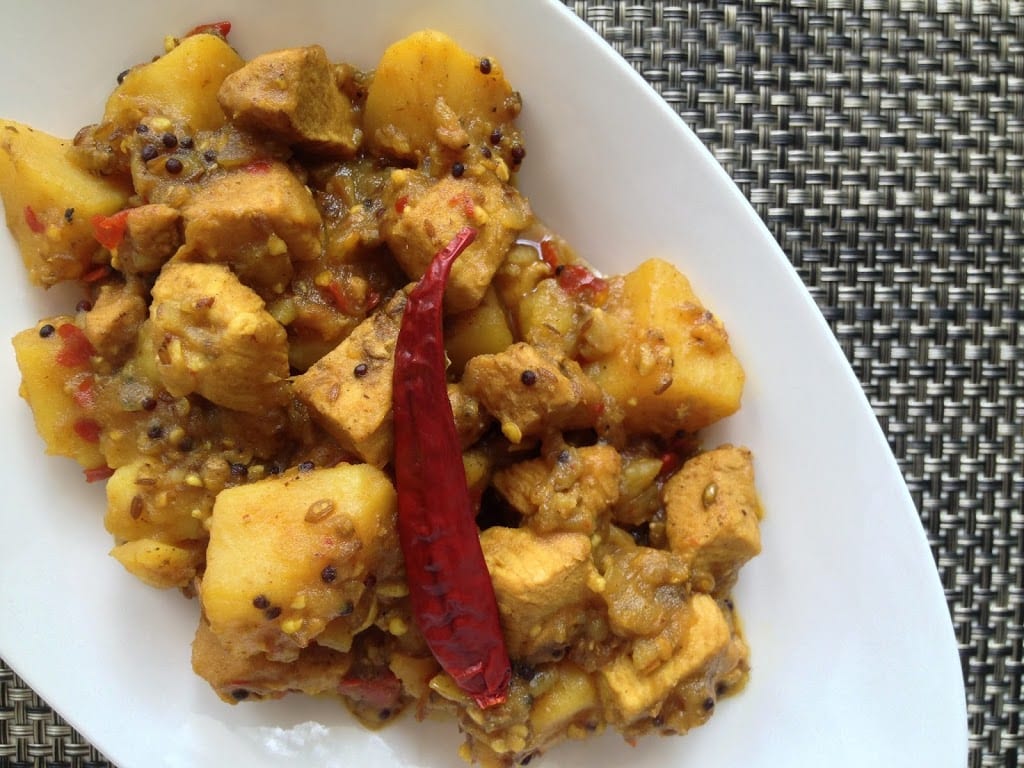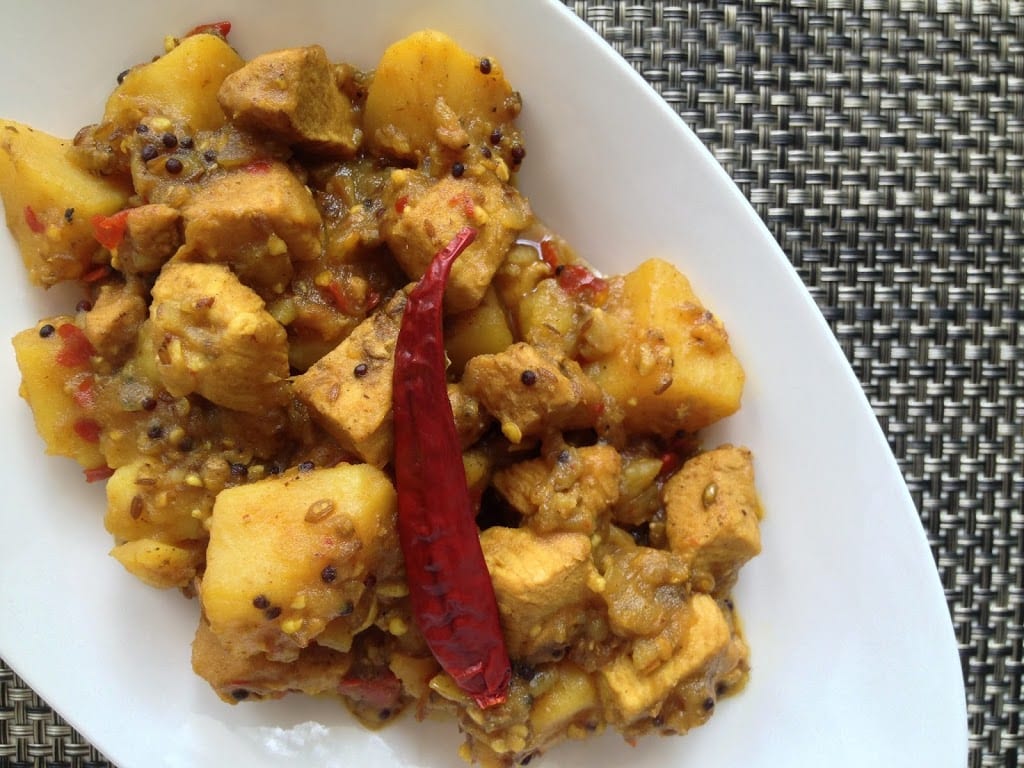 Lately I've been craving for some spicy Indian-inspired food so we will have spicy Chicken Vindaloo on the menu today. A popular curry dish from the region of Goa, Vindaloo has Portuguese roots where their meat-based soup with wine and garlic called 'Carne de Vinha d'Alhos' was eventually modified by the locals in India to cater to their spicy palates.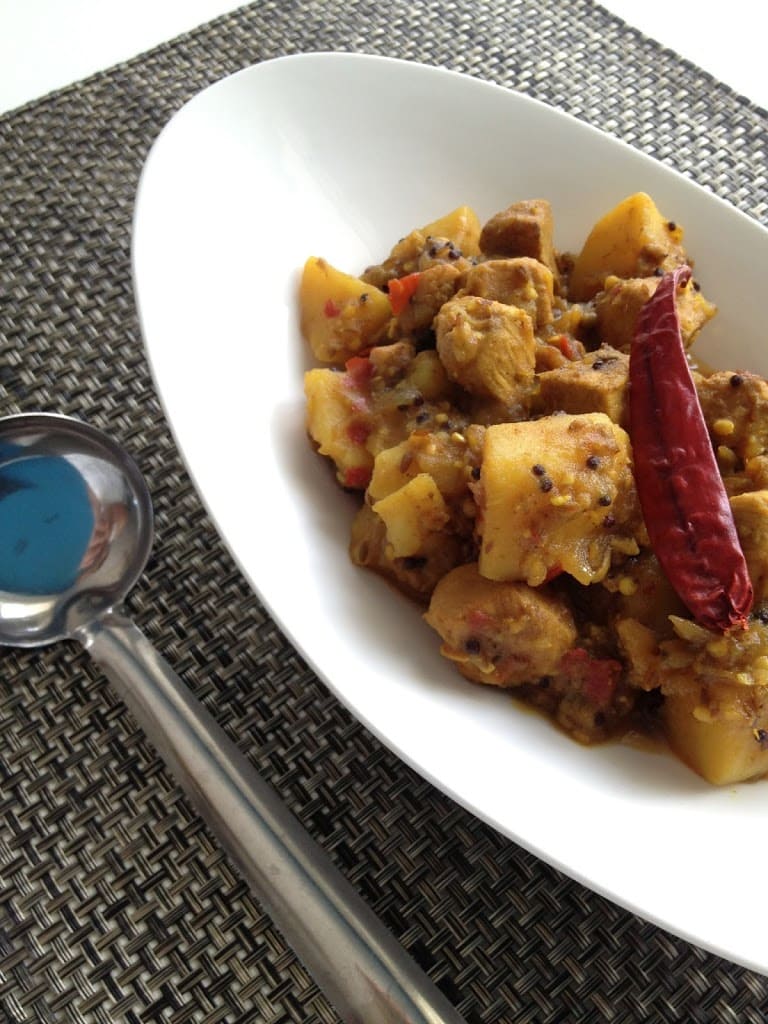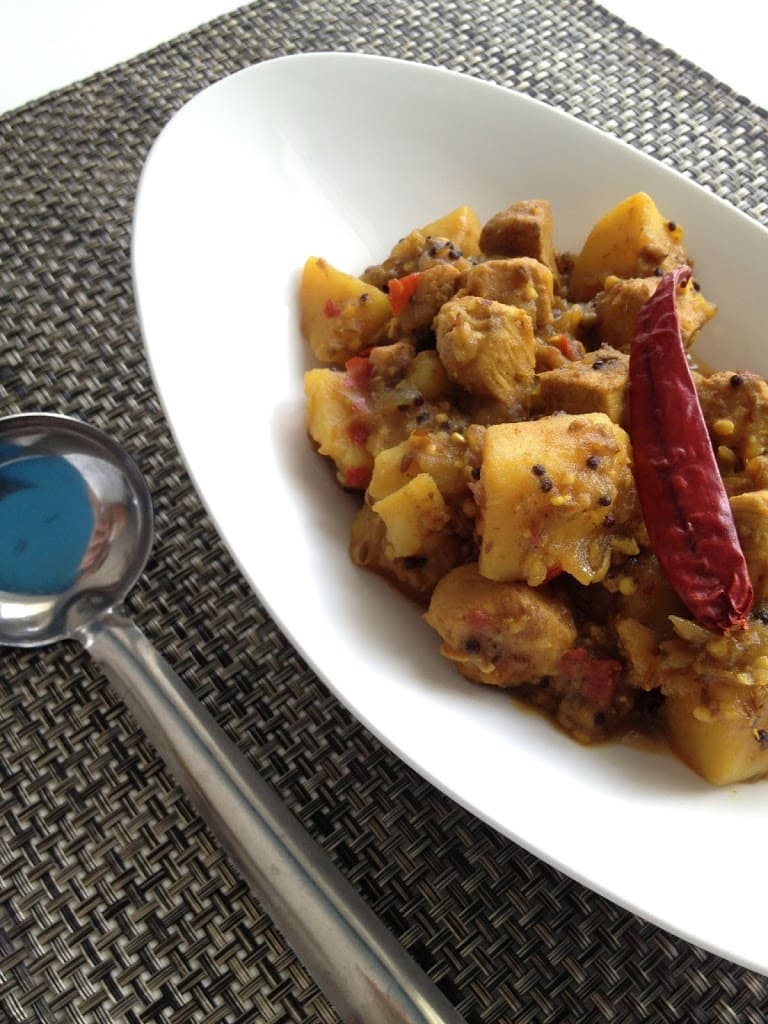 I will be posting a recipe for Goa Lamb Vindaloo later on but today we will be featuring chicken with the addition of potatoes. Adjust the amount of chilies to your liking and tolerance. Be warned, this spicy dish is sweet and sour and highly addictive!
Print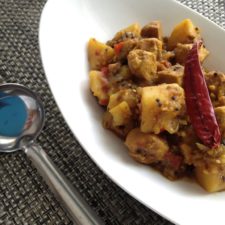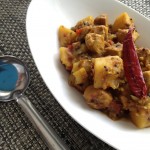 Chicken Vindaloo
---
1

boneless, skinless chicken breast, cut into bite-sized pieces

1

Yukon Gold potato, cubed

1

medium sized onion, chopped

1/2 tablespoon

mustard seeds

1

bay leaf

1 tablespoon

jaggery/ brown sugar

1 tablespoon

cider vinegar

1/4 teaspoon

turmeric powder

1/2 teaspoon

chili powder

1 cup

water
Salt to taste
Spice paste:
5

dried chilies

1 tablespoon

garlic, minced

1 teaspoon

ginger, minced

2 teaspoons

cumin seeds

1 tablespoon

coriander seeds

1/2 teaspoon

fenugreek seeds

2

cloves

3

green cardamoms

1/2

cinnamon stick

1/2 teaspoon

black pepper
---
Instructions
Soak the dried chilies in a little water to soften them up
Blend the spice paste ingredients into a fine paste
Add jaggery, vinegar, turmeric powder, chili powder and salt to the paste and stir to mix
Over medium heat, saute the mustard seeds until they start to crackle
Add the onions and saute them until they turn golden brown
Toss in the chicken and cook until it is no longer pink
Add spice paste and stir to combine
Add water, potatoes and bay leaf and stir to mix
Cover and simmer over medium low eat for an hour or until the potatoes are cooked
Uncover and turn the heat up to medium high and simmer until the sauce has boiled down
Dish and serve hot
♡ Affiliate disclosure: As an Amazon Associate, I earn commissions from qualifying purchases from Amazon.com. You can learn more about it here.