These cute hash brown egg nests with avocado are fun to make with shredded hash browns and cheese baked into a crispy nest then topped with an egg, crumbled bacon and even more cheese.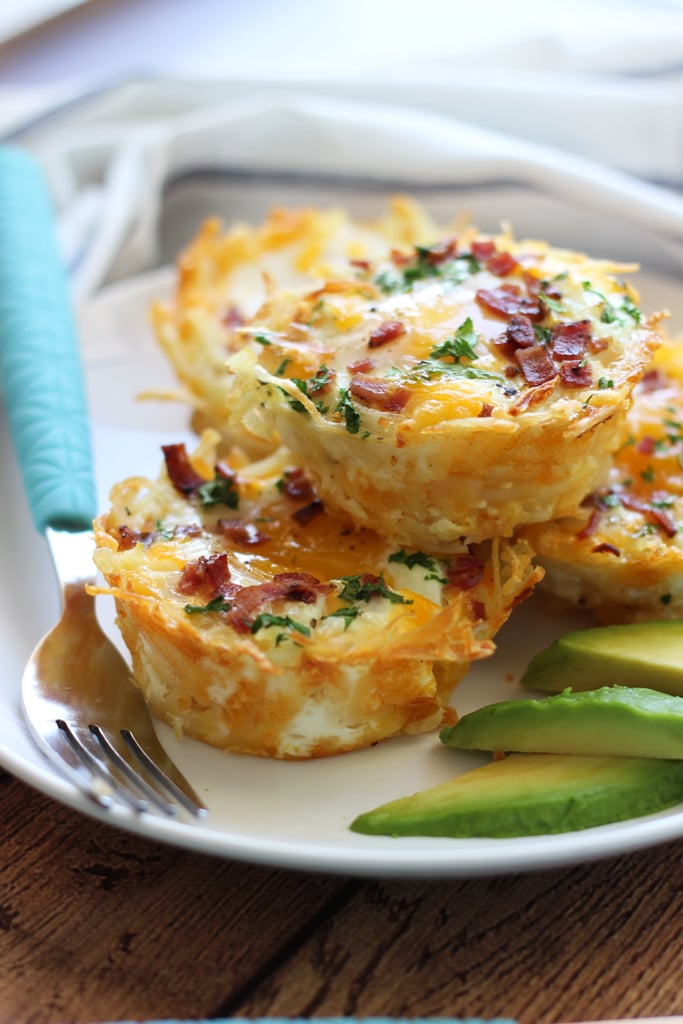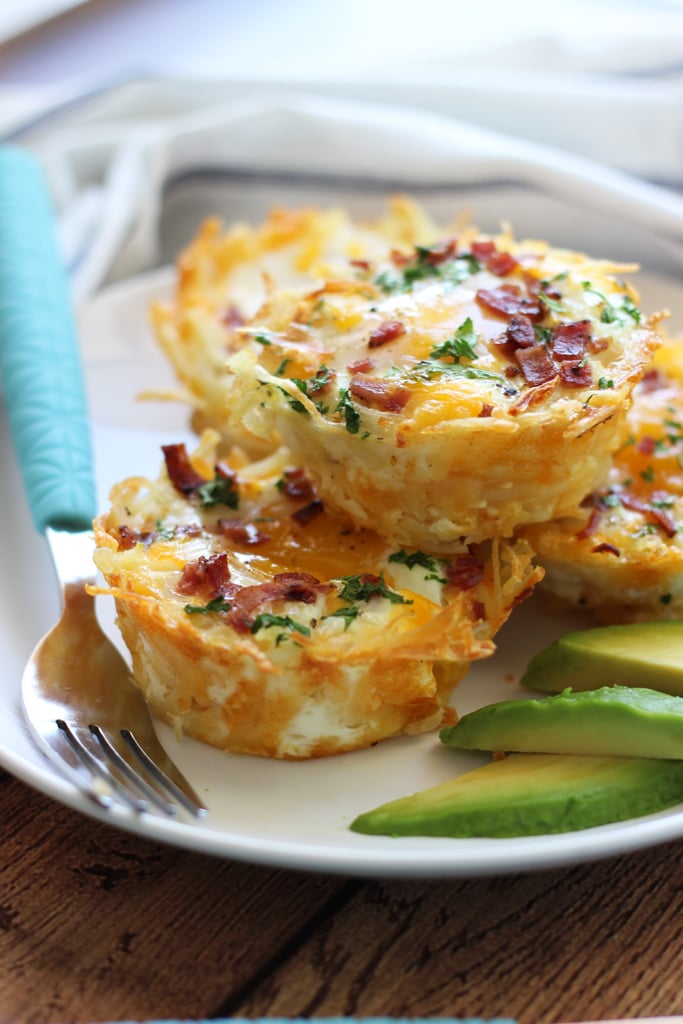 These egg nests will make your grumpy mornings not so grumpy. I'm not a morning person so I can relate. But if you're the type to be bright-eyed and bushy-tailed in the mornings, this will make things even better. I've also found these nests are super popular around Easter, Mother's Day, and Christmas mornings so this is something you can make together as a fun group activity.
Pair it with creamy chilled avocado slices for that hot and cold combo. While you're busy chasing around that runny egg with crispy hash browns, bacon, and melty cheese, you can nip out a corner of chilled avocado to add to your fork. Yummy!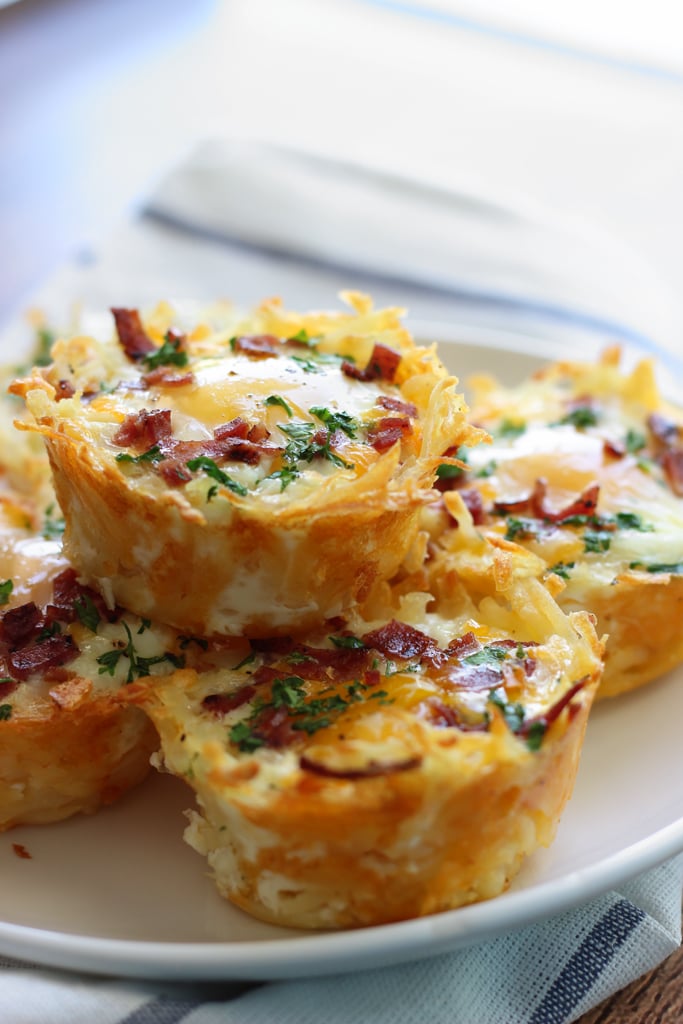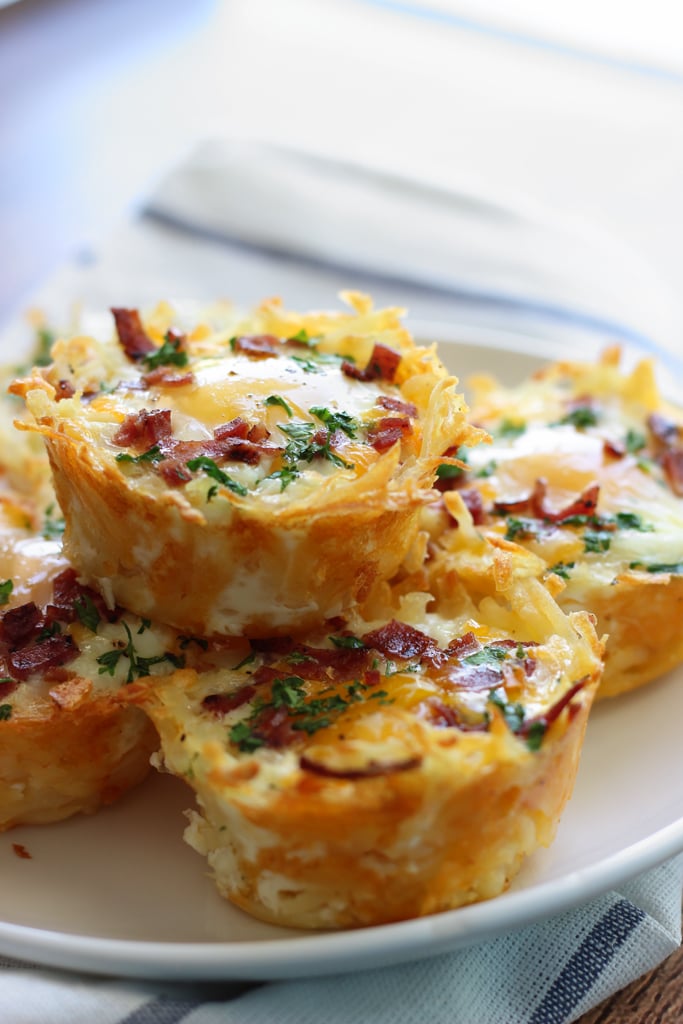 And if these egg nests are too delicate for you, you can try out a whole hash brown breakfast quiche instead. This one is equally fun to make but has even bigger portions and is filled with custard, zucchini, mushrooms, and bacon.
But back to these super cute, tiny nests! Let's get started.
How To Make Hash Brown Egg Nests (1 Min Video)
HASH BROWN EGG NESTS RECIPE TIPS
‣ Muffin pan – I used a non-stick regular-sized muffin pan then sprayed it down with nonstick spray to prevent the nests from sticking and falling apart when you try to pry it out. Make sure to wait for a little once they are out of the oven for them to cool down, settle and solidify or they will fall apart. Once cooled, use a butter knife and work your way around the edges to loosen it from the muffin pan before prying them out gently.
‣ Making a nest – You'll want to fill each muffin mold up with shredded hash browns and then using your fingers, press down in the middle to create a depression and force the hash browns to cover the sides. The more it sticks out the better! This is what makes it look like a nest.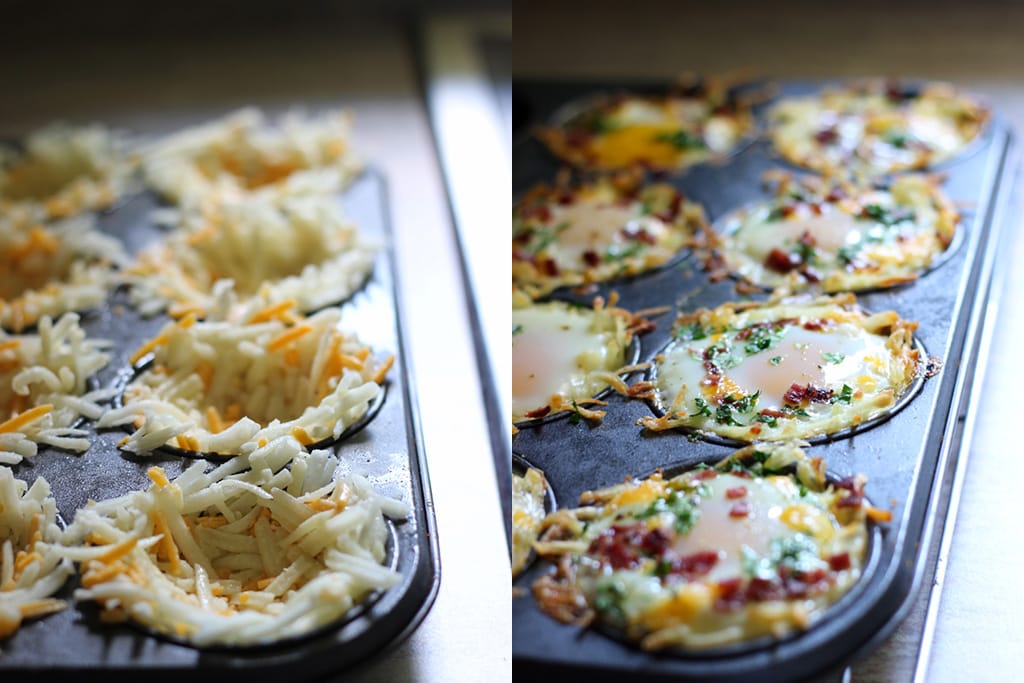 ‣ Blind baking – Pre-bake the nests so it sets before adding in the egg. This is to provide a firm base and foundation for your egg and toppings. Once that's done crack the eggs into each nest and top with bacon bits, cheese, and parsley. Then bake again until the egg whites settle. You can opt to bake a little longer if you don't like your eggs runny.
‣ Scrambled – If you're not a big fan of sunny-side-up eggs, you can beat the eggs beforehand instead.
‣ Avocado – Feel free to leave out the avocado if you're not a fan. The sensation of hot nests with creamy chilled avocado is a fantastic combination but if you only want the nests, this can be skipped.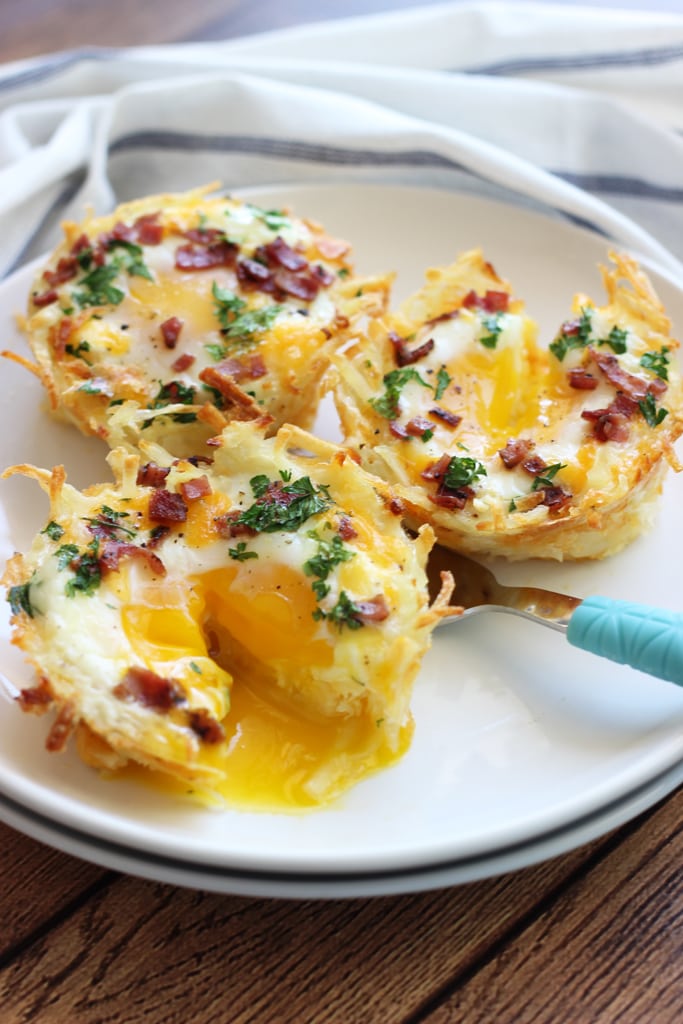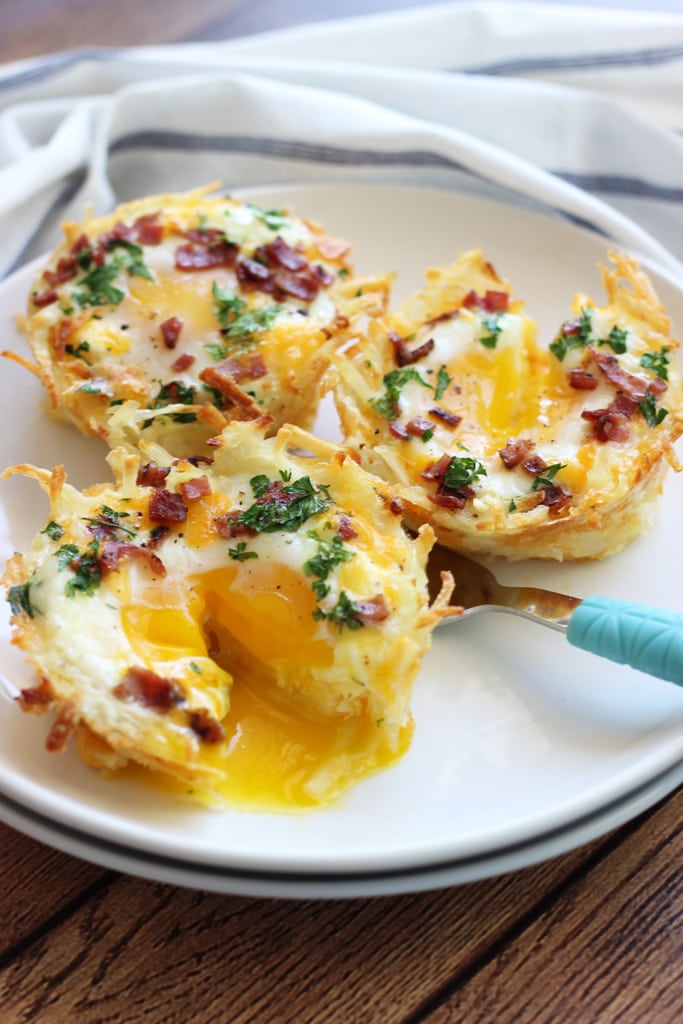 Ta-da! You have breakfast. Or brunch, or a snack. Whatever time you decide to eat this, you will be munching happily. Serve with fresh chilled avocado slices or skip them if you're cursed like me with two settings: unripe avocados and too-bad-you-missed-the-one-day-I-was-ripe avocados.
MORE BREAKFAST RECIPES TO TRY
Did you make this recipe? Rate it!
♡ If you liked this recipe, giving it a star rating ★★★★★ in the comments below really helps! For more recipes, subscribe to my newsletter or follow me on Facebook, Instagram and Pinterest.
Print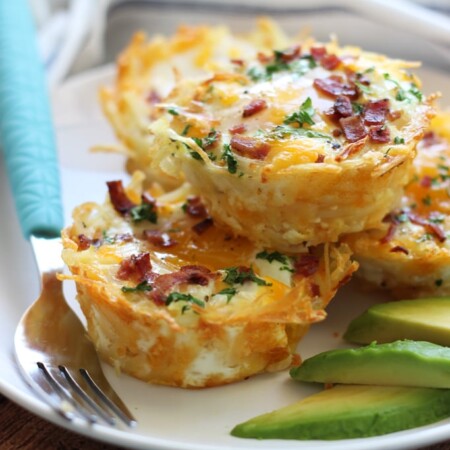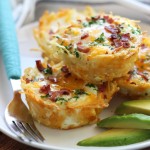 Hash Brown Egg Nests with Avocado
---
Author:
Total Time: 40 mins
Yield: 8 nests 1x
Description
Shredded hash browns and cheese nests baked until crispy topped with a baked eggs, crumbled bacon and more cheese. Served with chilled avocado slices.
---
15 oz. frozen shredded hash browns, thawed
1 1/4 cup cheddar cheese, shredded and divided
1 tablespoon olive oil
Salt and pepper to taste
8 medium eggs
2 slices cooked bacon, crumbled/2 tablespoons bacon bits
1/2 tablespoon parsley, chopped
2 avocados, sliced and chilled (optional)
---
Instructions
Mix the shredded hash browns, 1 cup of cheddar cheese, olive oil and salt and pepper to taste in a mixing bowl.
Grease a non-stick regular muffin pan and divide the hash brown mixture. Use your fingers to pack them tightly and shape them into nests.
Bake at 425°F or until the edges have browned and the cheese has melted, about 15 minutes.
Crack a medium egg into each nest and season with salt and pepper to taste.
Top with crumbled bacon, remaining 1/4 cup cheddar cheese and parsley.
Bake at 350°F until the egg whites set, about 13 to 16 minutes.
Let it cool, gently slide a knife along the edges and use a fork to lift it out of the pan.
Dish and serve with chilled avocado slices (optional).
Enjoy!
Notes
If you don't have frozen shredded hash browns, bake 4-6 russet potatoes. Let them cool off, then peel and grate them to form shreds.
Prep Time: 10 mins
Cook Time: 30 mins