If you're here wondering how to go about starting a blog, you've come to the right place! Firstly, what is a blog? A blog is a place where you can express yourself creatively with full control over the look and feel of your site. It can be about anything you want: food, fashion, home, family, DIY, crafts. The possibilities are endless! But before you start a blog, there's a few things you should consider first:
What is your blog going to be about?
What will your blog name be?
These things are important to figure out before you go ahead and start blogging. You'll want a niche so you're not spread too thin and your readers are not confused about what to expect from you. Your blog name ideally should be the same name as your site address. So if it's called 'My Awesome Blog', your site url should ideally be www.myawesomeblog.com. This is important so people can easily remember your blog name and how to get there because they are one and the same.
You'll want to think long and hard about your blog name because it will be a hassle changing it later on. Blog names should be short and sweet so their address can be short and sweet too. It makes things easier for people to remember. Don't be like me where my first blog was www.cookingjarhappyaccidents.blogspot.com! That was way, way too long. You'll want something catchy and easy to remember, but something that relates to the theme of your blog and content.
Alright! Now that all that's covered, here's how a blog works behind the scenes. This is what you'll need:
Hosting and a domain name
Free blogging software (WordPress)
A theme
Hosting and a domain name
A blog contains content written by you that is hosted on web server. Think of it as you having a pile of folders filled with pics and articles but you need a bag to put it in. There's many, many hosts out there that will happily host your blog for you but for starters I recommend Bluehost. It's one of the cheaper options and you can cancel any time you want. Bluehost also gives you a free domain name. A domain name is your blog address, the www.myawesomeblog.com I mentioned earlier. Typically you buy that name for the period of one year for about $10 or so and renew it every year, but Bluehost gives you one free of charge.
If you've figured out your blog name and theme, you are set to go! Are you ready?
First go to Bluehost.com to get your hosting and domain name. Click on 'get started now'.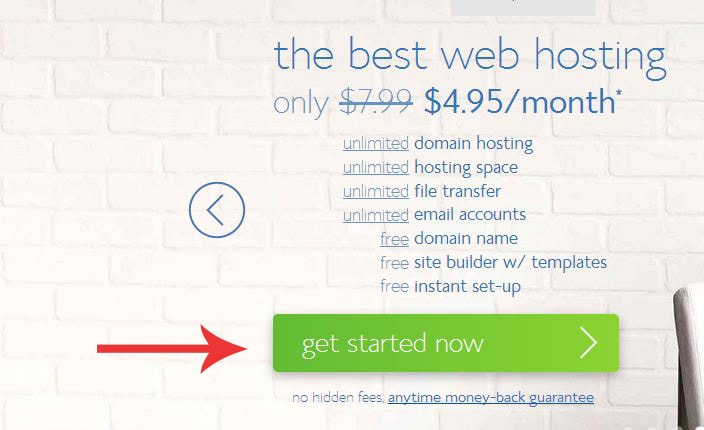 Type in the blog name you want in 'new domain':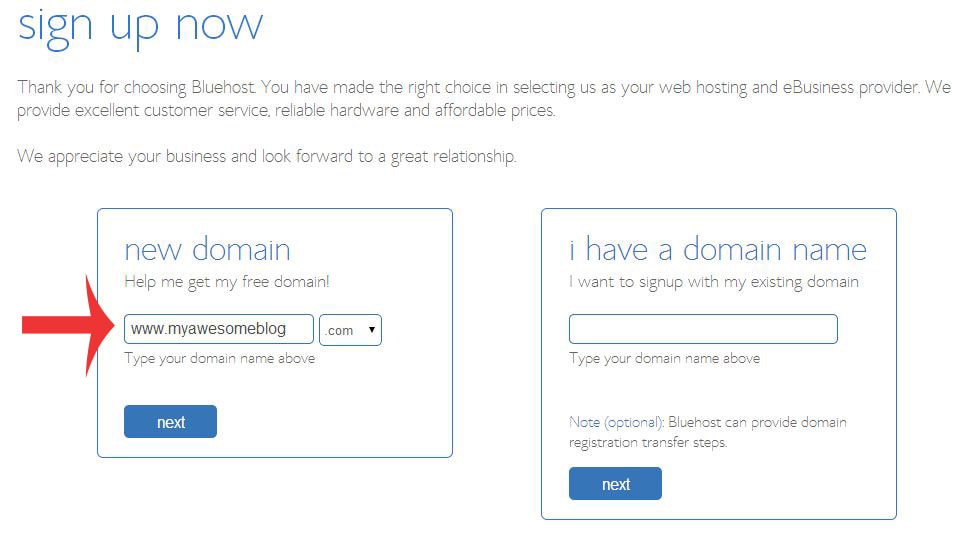 If the name is taken you'll get something like this. At this point, you can either find a new name or go through the suggestions: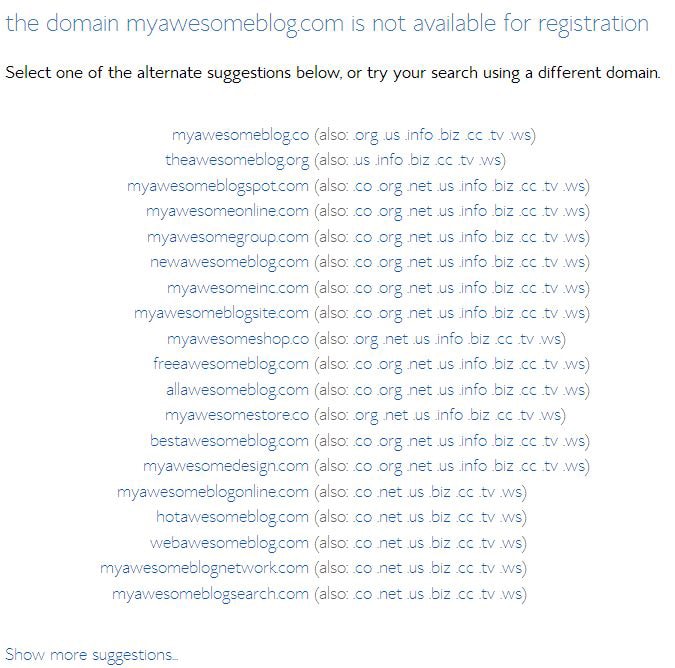 Let's go with myawesomeinc.com. That sounds just as awesome. Now go ahead and fill in your personal information. Notice how they ask you for your address. Once you're at 'package price' select 12 months hosting. I know it's a lot to pay upfront but on the bright side, if you change your mind you can cancel anytime and they will refund you based on a prorated amount.
You'll also want to check the option for 'domain privacy protection'. Remember how I mentioned they ask for your address earlier? Well if you leave this unchecked, anyone can Google the owner of your site and find this information. So it's always good to protect your privacy.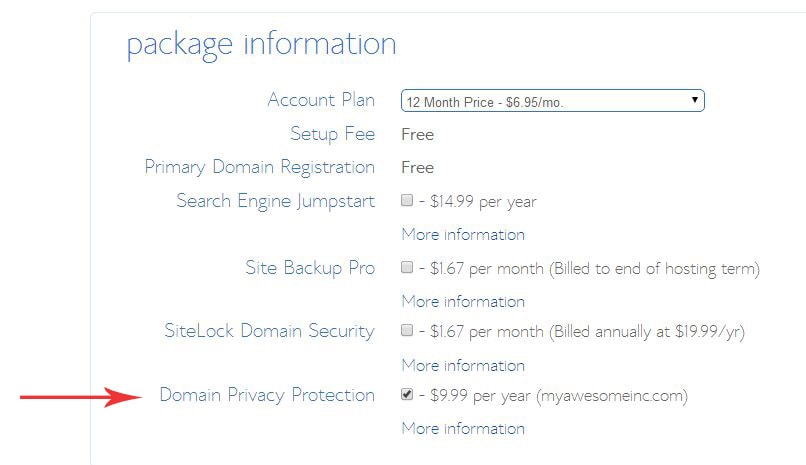 Enter in your billing information, click next and now you're an owner of a domain name! Congratulations!
Now it's time to log into Bluehost and install WordPress.
Free blogging software (WordPress)
Once you get a host and a domain name, you'll want to install WordPress. WordPress is a content management system that is FREE as long as you have hosting and a domain name. Think of WordPress as your filing system for all those files in the example I mentioned earlier. There are other blogging software companies out there like Blogger but WordPress is vastly superior to managing your content minus the headache. Take it from me, I migrated from Blogger to WordPress after one year and was kicking myself for not doing it earlier.
Go to bluehost.com and log in to your site. At the 'Home' tab if you scroll down a little, you will see a 'Website' section. Click on 'Install WordPress'.

Go through the next page and pick a version (go for the one with the higher number as it's the latest and greatest version) and make sure to to point 'where would you like WordPress  installed?' to your brand new domain name. For us it would be http://www.myawesomeinc.com in our example earlier. Click to install and once complete you are ready to log into your domain!
Your domain admin login address will be your domain name with some more text added at the end. In our example, it would be http://www.myawesomeinc.com/wp-admin/
Type this into your browser and you should see something like this: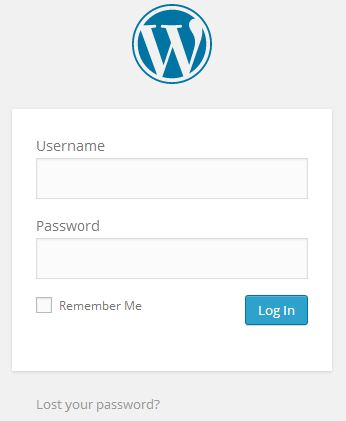 Log in with your username and password and you'll come to the WordPress dashboard. It will take awhile to get used to it but experiment and play around! For now, here's a quick video on how to make your first WordPress post.
A theme
Lastly, you'll want to get a theme for your blog. You can go for free themes on WordPress or paid themes. These themes control the look and feel of your site. You'll probably not like the default theme that comes with WordPress. The good news is you can customize it however you want. If you want to start with a free theme, click here to check out the options.
If you want a paid or premium theme (these are usually more pretty and more customizable), check out these options:
Genesis Framework – Genesis is a framework, a sort of a tool that enables you to have a higher degree of customization and control over the look, feel and functionality of your blog. Think of it as working with a reputed detailer of cars that can get you fancy rims or a snazzy paint job. If you have Genesis, you'll also be able to buy child themes it supports. I'm using a child theme of theirs called the Foodie theme.
Elegant themes – Elegant Themes are premium WordPress themes. They offer 89 different themes for $69. It offers the chance to test and play around with whatever themes you like for a single price instead of being locked into one theme per purchase.
Note: As an added quick start guide, here's a list of plugins I currently use. And here is a codex on how to get started with the WordPress interface so you can blog on your merry way.
That's about it! Enjoy your new blog, congratulations and happy blogging! 🙂