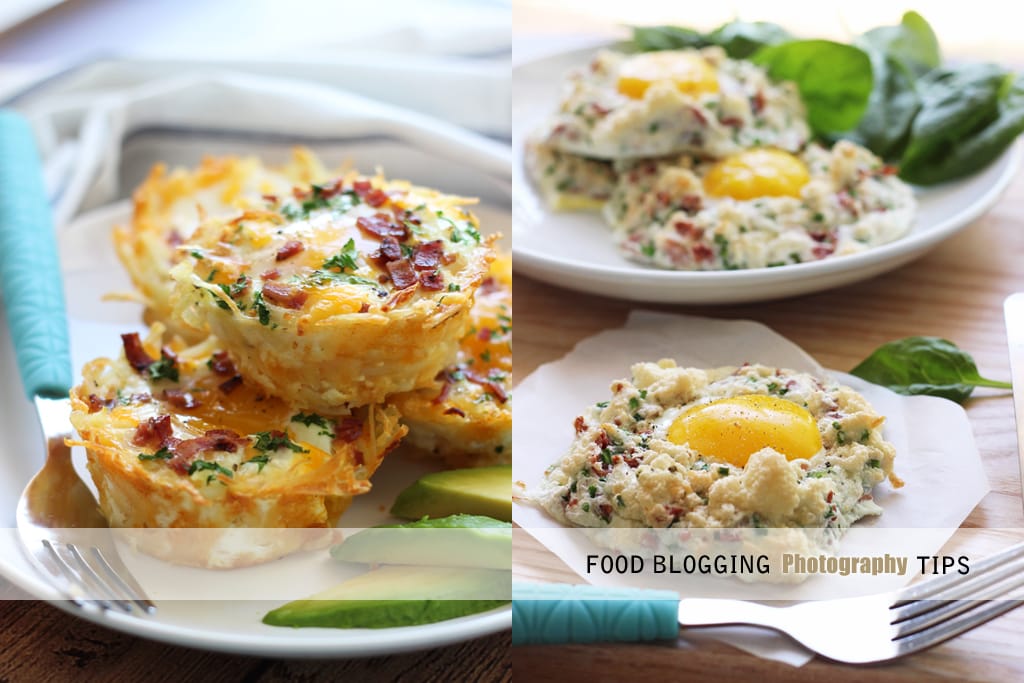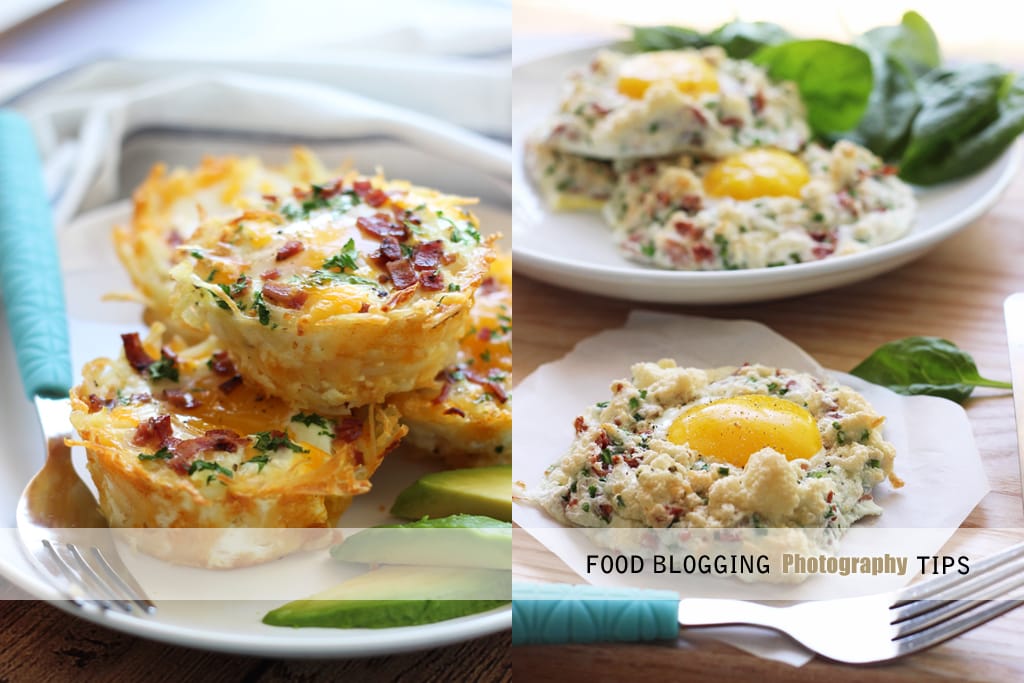 If food blogging is the way you share your food and recipes, then your food photography is the way you sell it. In today's world where everything is image heavy, especially at places like Pinterest which is saturated with food recipe images, you'll need to stand out and make your food look yummy. You have one chance of doing that and that is with your pictures. I can't stress enough how important your food images are in driving traffic to your food blog and increasing your exposure. You eat with your eyes first.
So there are several things you can do to make this happen. One is to improve your food photography. Another is to make your images the focal point in your blog. If you look at each of my posts, my food images are the first thing you will see. I make them big and visible with every grain on the food exposed so people can see what they are getting themselves into. While there are some people that can look at a list of ingredients and visualize what the food will look like, others are not so gifted. People are lazy. They want to be SEE what they are considering making. You are trying to convince people to use their money to buy ingredients and then use their time to cook it. You must convince them it is worth it. You do that with your pictures.
So here's a few tips and tricks to get you started based on what I've learned so far:
Natural lighting
Always, always, always use natural lighting if you can. By this I mean shooting by a bright window. Here's the difference between natural lighting and artificial (overhead kitchen lights):


Which looks better? Artificial lighting from overhead lights will always give your pictures that yellow hue. It doesn't capture and bring out the true colors of your food and makes it look unappetizing and unappealing. Look around the internet and you will see tons of these kind of pictures, usually taken from inside restaurants. Natural light always wins. Through natural light, you can control the mood of the picture, whether it's dark or light. This gives you an opportunity to match the mood of your picture to your dish.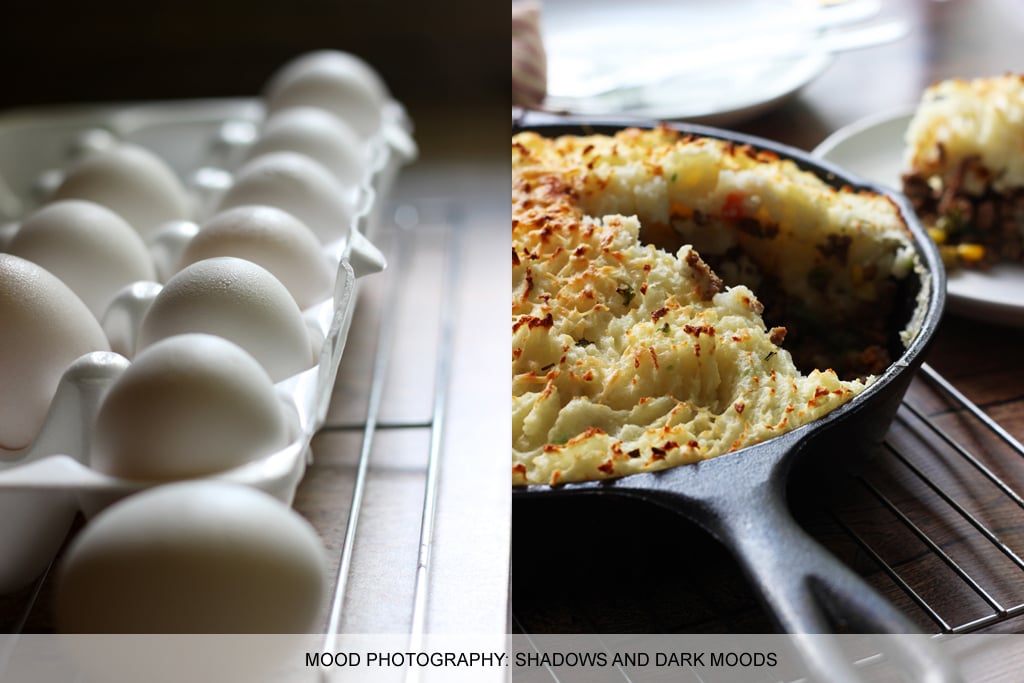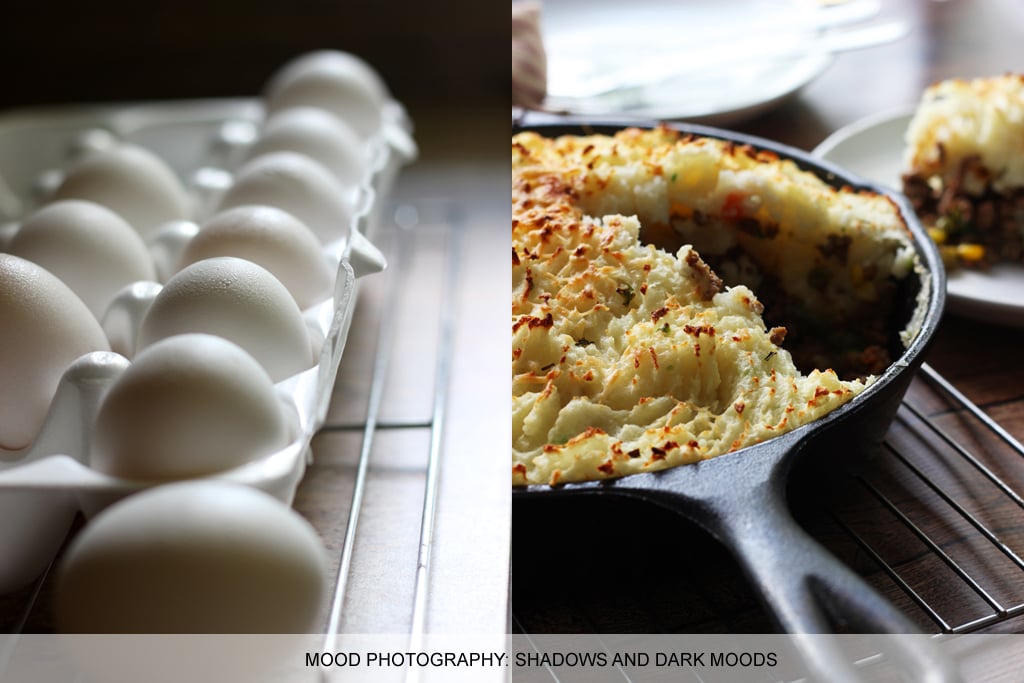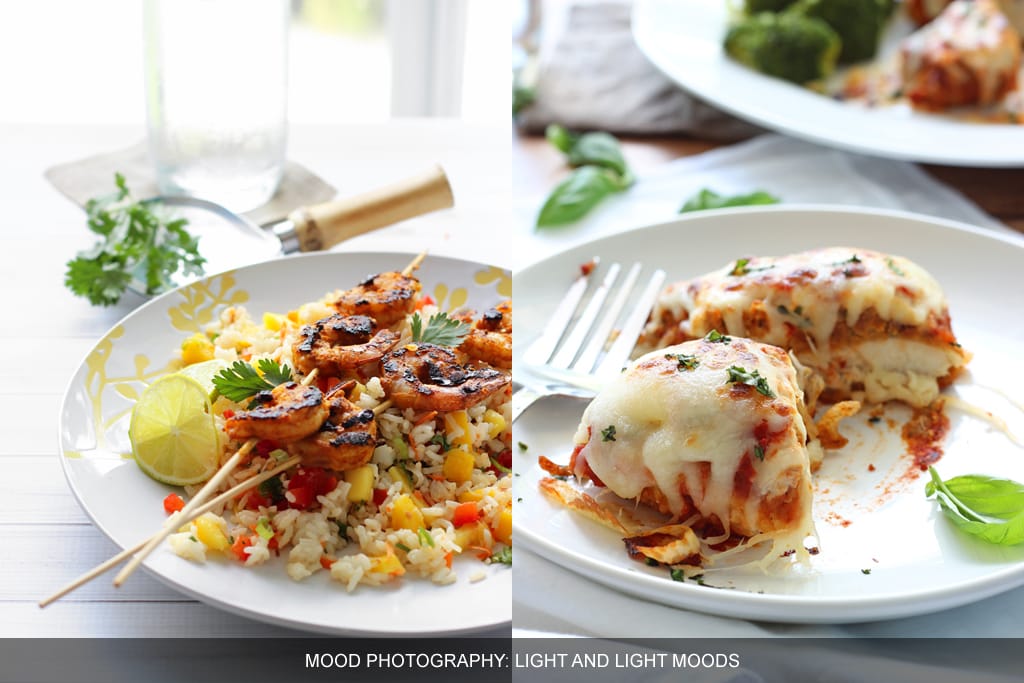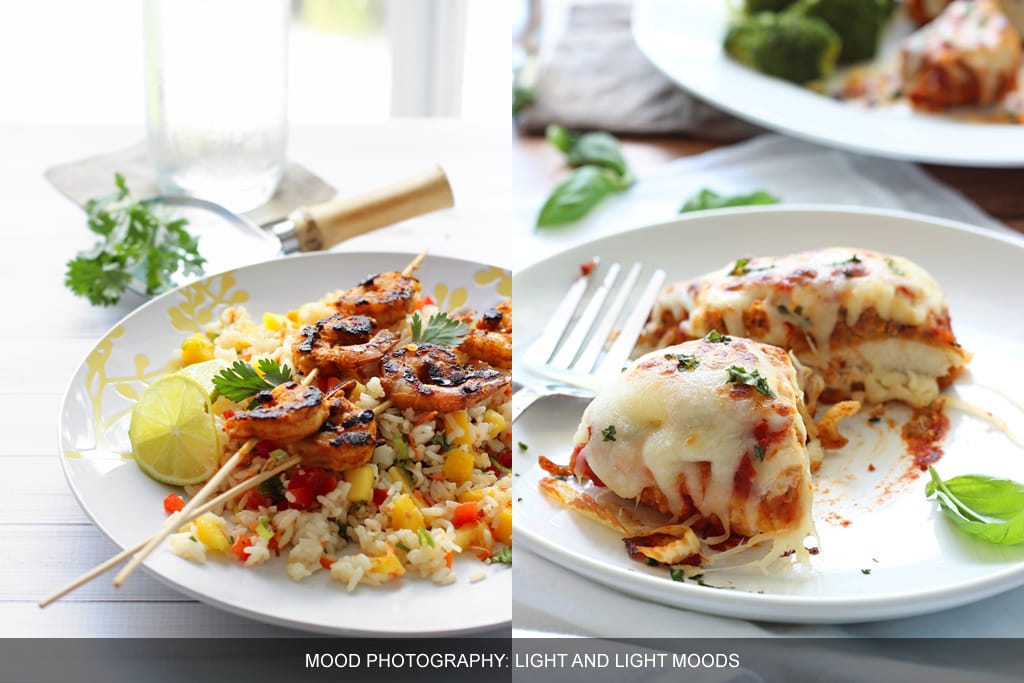 This light manipulation to create moods in your images is only possible with natural light. With artificial light, all you'll get is orange, yellow and orange.
Props
While food is great for food photography, adding props brings depth. A single plate of food will look good by itself, but add some props and you'll have created a story. It brings more character to your photography. This works great for all angles of photography, whether it's bird's eye view or a side angle close up.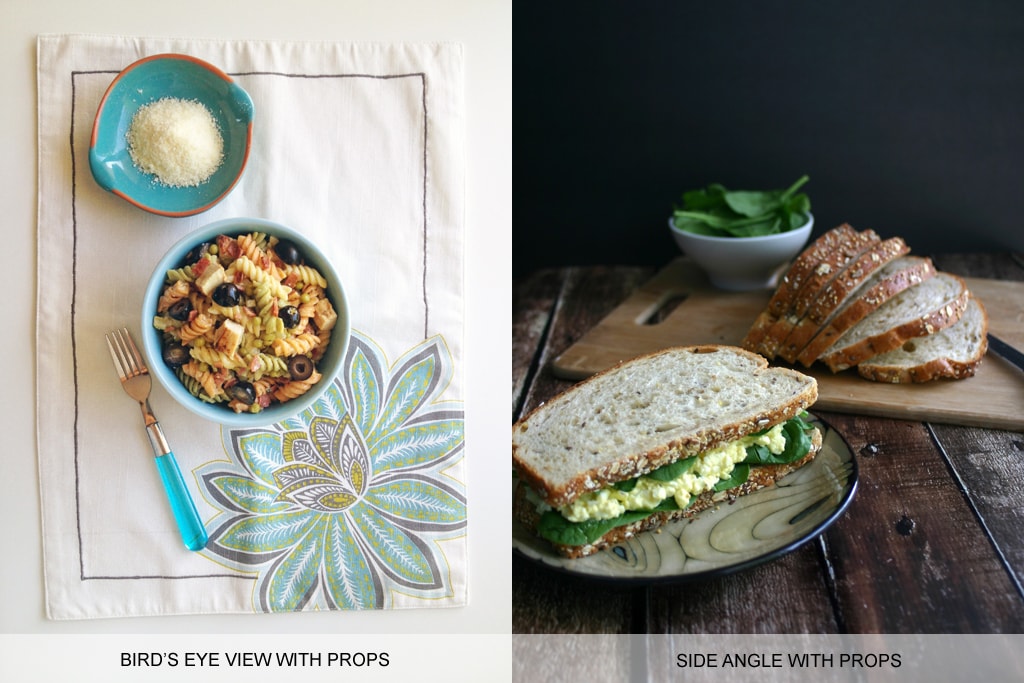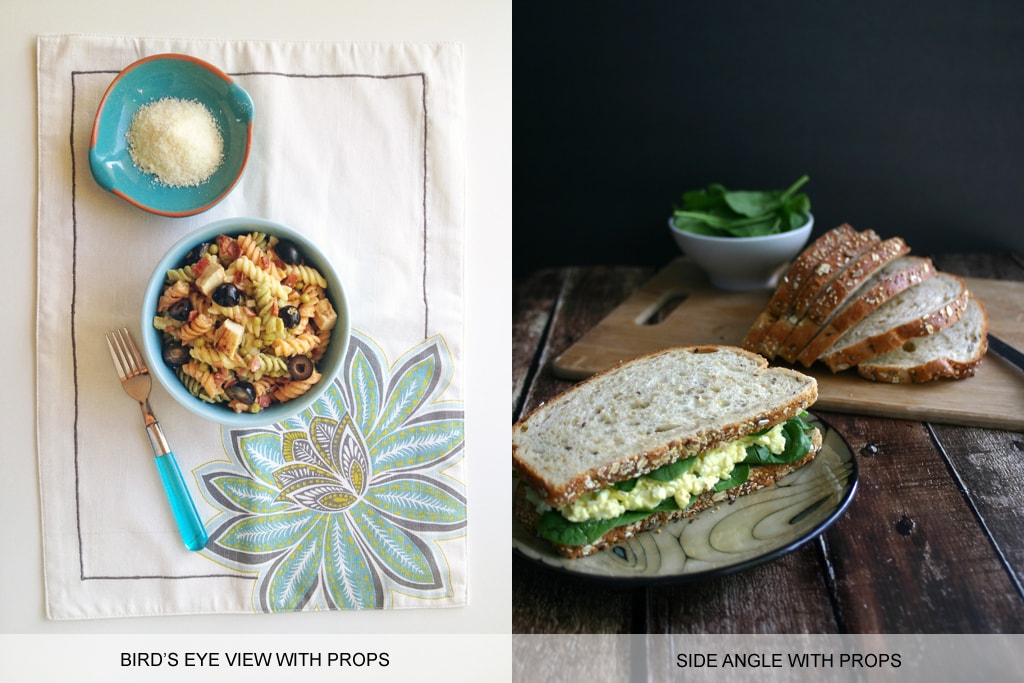 I typically add relevant props. Your props can be anything from dinnerware to bowls, to flatware, to drink-ware to linens or even raw ingredients themselves. If the recipe calls for herbs like cilantro, parsley or chives, I'll add in some of them in the setting to emphasize the food and add some color. In this instance, I added a bowl of dry Parmesan to the pasta salad, and bread with a bowl of spinach to the egg salad sandwich. It can be as simple as that.
Collecting props is the fun part about food blogging. It does not necessarily have to break your bank either. There are plenty of places to hunt for some props. You can get them new at stores like Home Goods, Crate and Barrel. Pier 1 and Ikea. These places sell lots of single plates, bowls and linens so it works out. If you don't mind second-hand stuff, there's Ebay, garage sales, flea markets and tons of others. Collecting props takes time, so be patient and have fun!
Photo Manipulation
Sometimes the image doesn't turn out the way we want. This is where photo manipulation software comes in. I use both Adobe Photoshop and Adobe Lightroom. Lightroom is a little easier to pick up for people new to photo manipulation and there's tons of good tutorials to get you started. You can purchase them separately or opt to go for the monthly subscription for $9.99 a month which gives you access to both. I'm currently under the subscription. With these, you can take an image from good to great. Sometimes, the colors aren't as vibrant as you like so with these you can adjust the color intensity. Maybe you want your image brighter or darker with more or less contrast. Or sometimes you'll want to fix the exposure. Here's a few examples: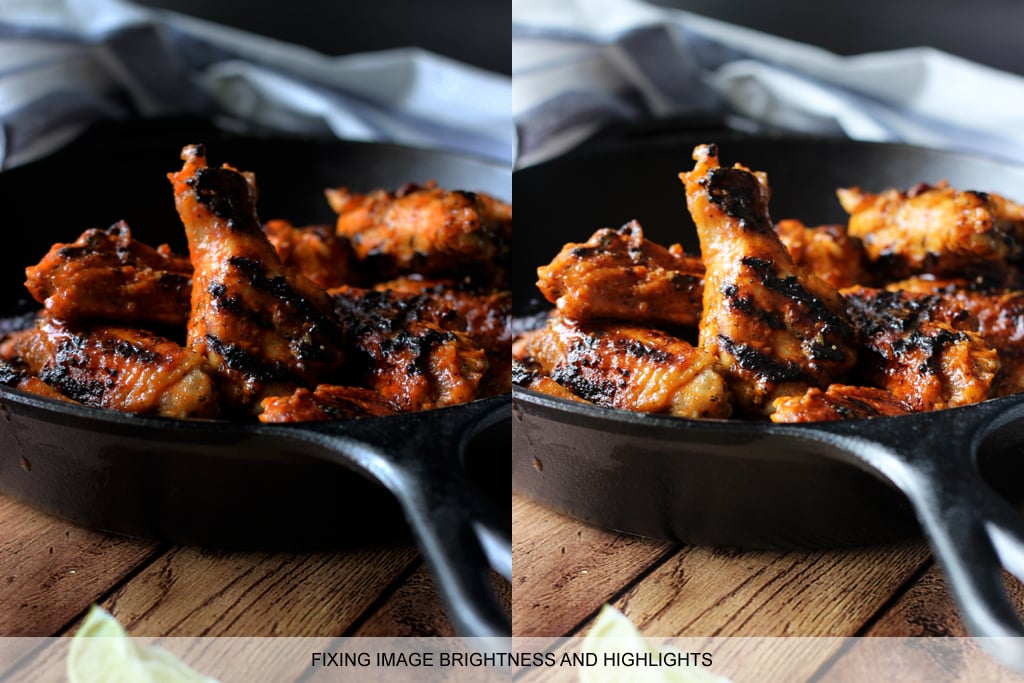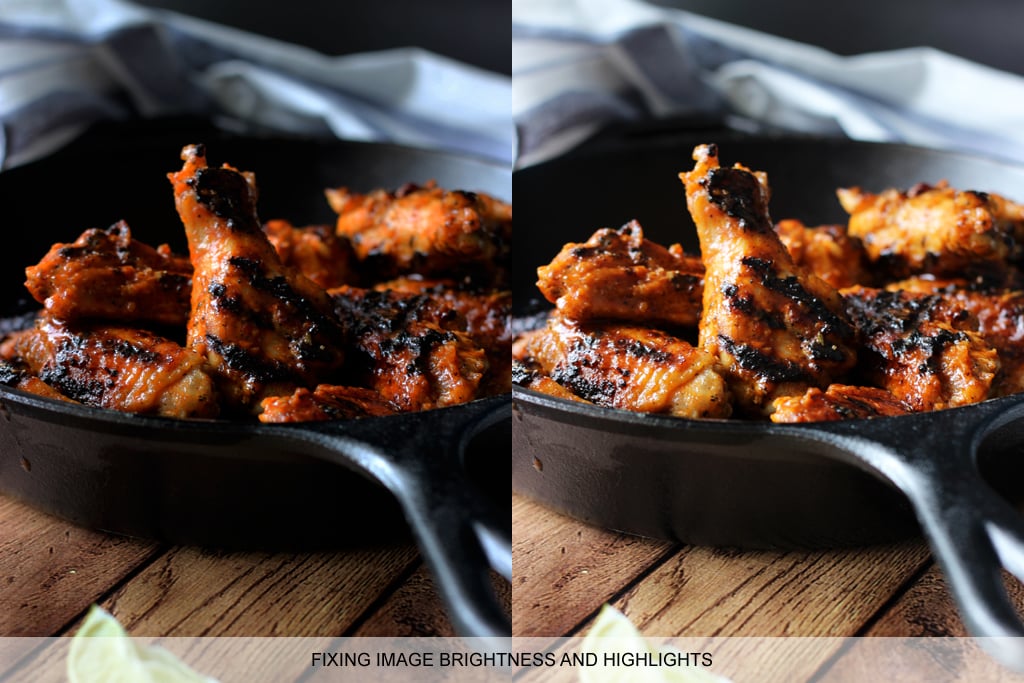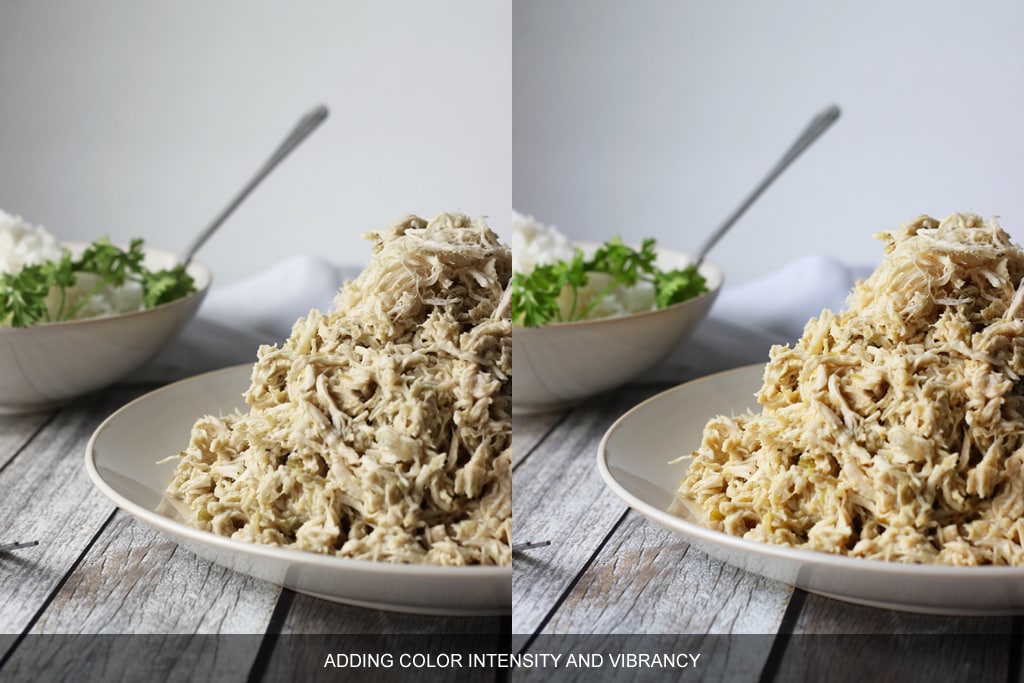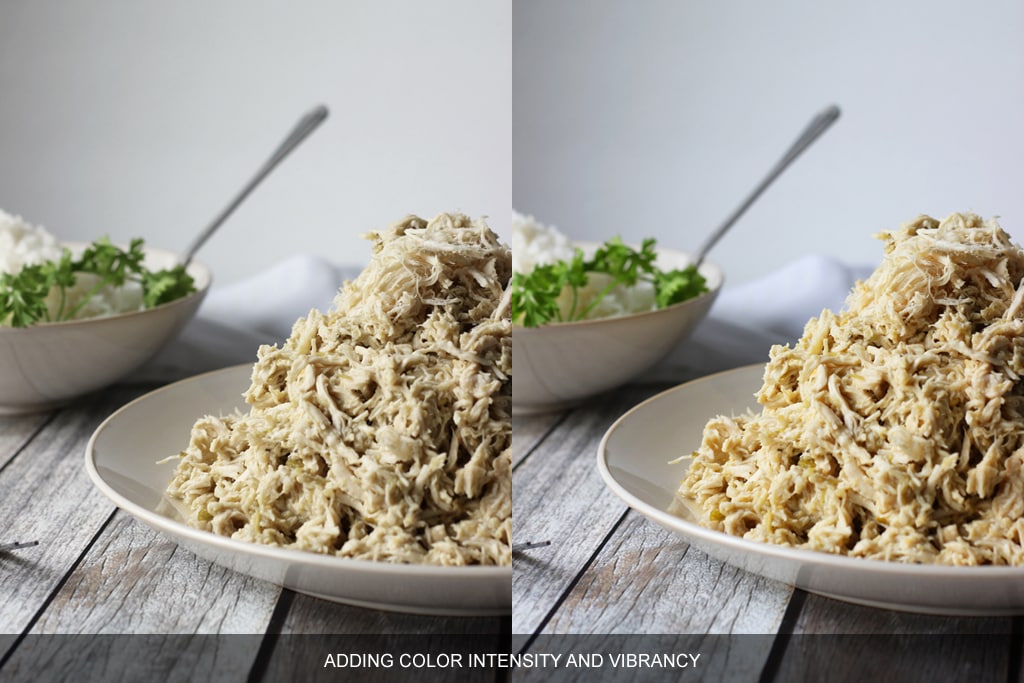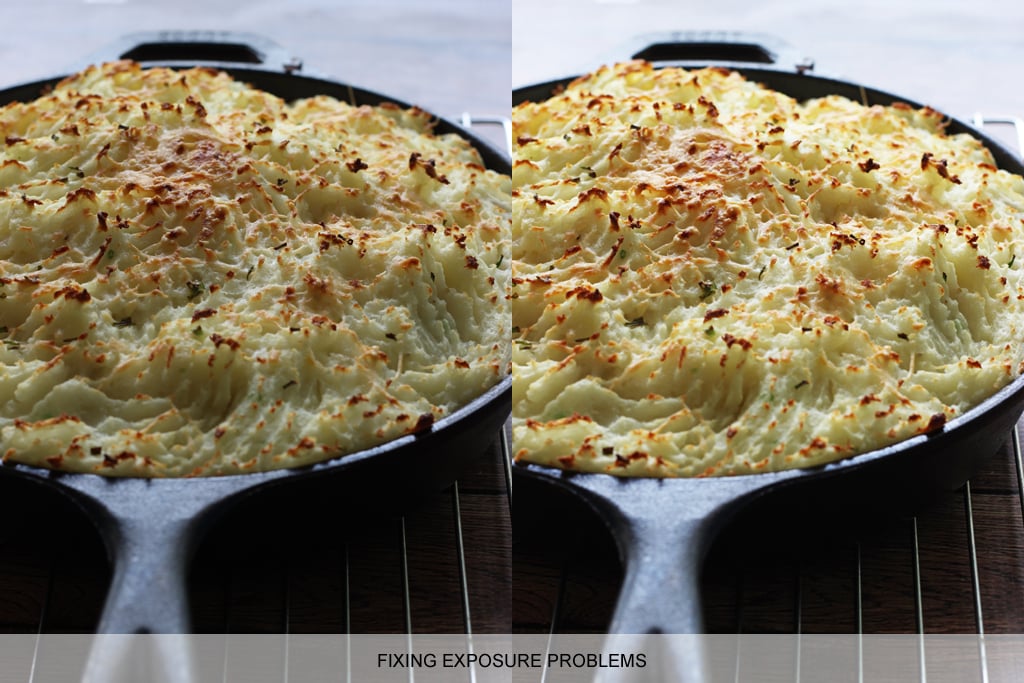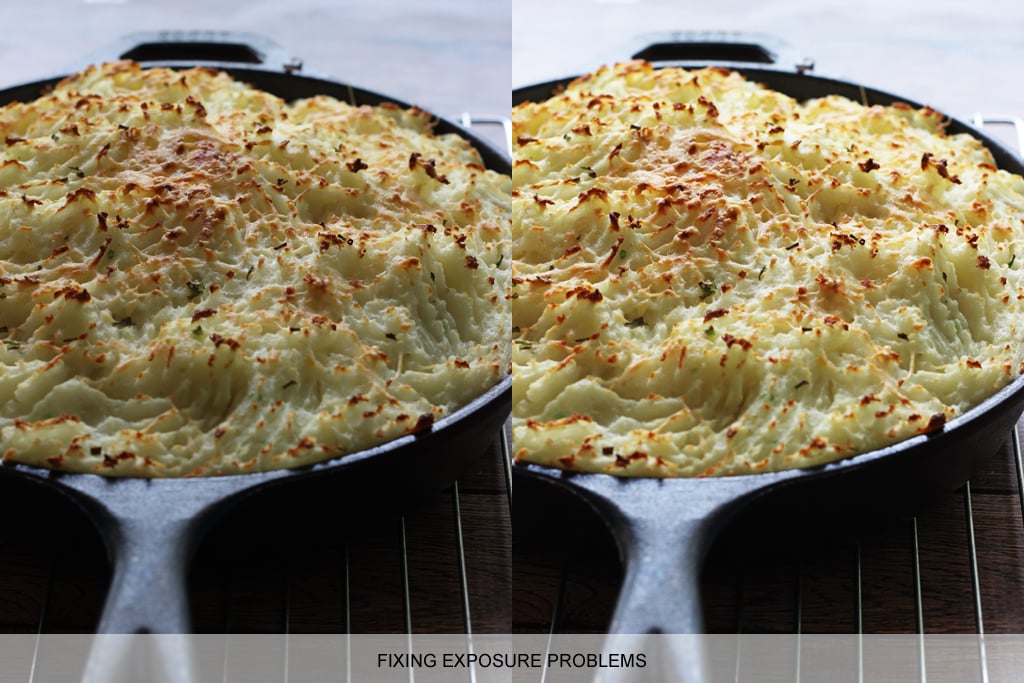 Awareness
Why is awareness important? Because to improve your food photography, you need to know what needs improving. You sharpen this ability by being more aware of the finer details in food images you like. A good practice is to start a food photography board on Pinterest. Pin any style or image you admire. This way you'll figure out what kind of food photography style you tend to lean towards and through the mere act of looking for things to pin, you'll be more aware of each minor detail. It could be the lighting. The angle. The plate, the bowl, the fork. The raw food props. The arrangement. The backdrop. This awareness will help you figure out how you want to set up your photography session.
Once you start noticing the little details, it becomes second nature and it's hard to turn off! You'll end up dissecting every food image you come across. Which is a good thing. If you want an example of how to start up a food photography inspiration board, here's mine.
Learning and practice
One thing about food photography is you need to practice. This is one of those instances where practice makes perfect. You'll make mistakes, you'll figure them out and you'll improve. Then you'll make more mistakes and improve some more. It is a never-ending process of learning, but a fun process. It'll take sharing your food and recipes to a whole other level.
I practiced a lot and also did my learning through supplemental books. If you're interested in reading some good stuff about food photography Helen Dujardin's book called Plate to Pixel is a good starting point. It covers all the basics and advanced techniques.
There's also a free e-book: 30 food photography tips for bloggers up for grabs.
And if you're wondering what kind of gear and equipment I use for my images, here's quick rundown:
Camera: Canon EOS Rebel T3i as listed here. It's a good starter camera for beginners with all the bells and whistles.
Lens: Canon EF 50mm F1.8 is a good lens for food photography with great depth of field. Depth of field is what makes the background in an image out of focus, blurry and dreamy.
Tripod: Amazon Basics 60 inch lightweight tripod is a great starter tripod for beginners. I works well for me and I love how easy it is to use.
That about covers the basics and general tips for food photography from me this time round. Stay tuned for the next tutorial!